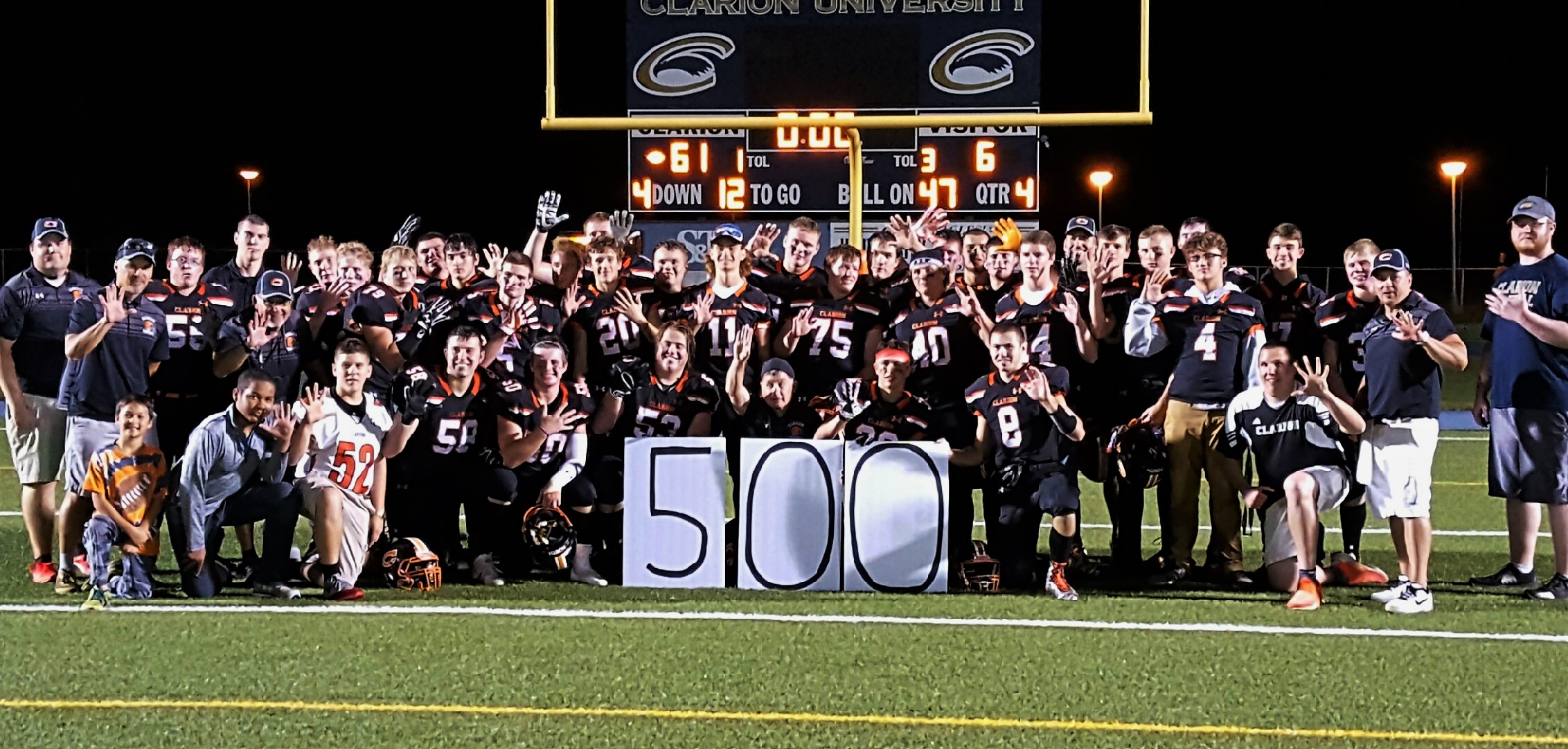 Week 3 football recaps.
All games are posted.
Click here for Curwensville vs. Port Allegany recap – Curwensville's Stewart becomes all-time leading rusher in D9
COUDERSPORT 14, ELK COUNTY CATHOLIC 12
ST. MARYS, Pa. – Coudersport's defense came up with a defensive stop on an Elk County Catholic two-point conversion try with 6:12 to play, and the visiting Falcons hung on for a 14-12 win over the Crusaders.
The two-point stop came after Alec Bittler's 2-yard scoring run got the Crusaders within two.
Coudersport led 8-6 at the half after the team's exchanged touchdowns.
The Falcons (1-3) took an 8-0 lead when Stephen Kelly scored on a 9-yard run and Jared Green ran in the two-point conversion.
Tyler Dilley answered for ECC (2-2) with a 7-yard run, but the Crusaders two-point try failed.
Green helped extend Coudersport's lead to 14-6 in the third quarter when he hit Derek Keglovits with an 8-yard scoring pass. The two-point try failed.
Green was 5 of 7 passing for 43 yards, a touchdown and an interception and led the Falcons with 54 yards rushing on 15 carries.
Kelly added 49 yards on the ground on 14 carries, while Keglovits had two catches for 15 yards, a carry for seven yards and an interception on defense.
Bittler ran for 130 yards and the score on 25 carries with Dilly adding 22 carries for 69 yards and the touchdown while going 1 of 4 passing for three yards and an interception. He returned the favor by intercepting a pass on defense.
CLARION 61, KEYSTONE 6
CLARION, Pa. – Clarion won the 500th game in it's program's illustrious history with a 61-6 throttling of visiting Keystone at Clarion University's Memorial Stadium.
Colton Rapp scored four touchdowns for the Bobcats, including two on the ground and two through the air, and Clarion's defense returned a pair of Nate Wingard interceptions for touchdowns in the victory.
Rapp needed just six carries to gain 106 yards and scored on second-quarter runs of 45 and 32 yards. He also caught a 10-yard first-quarter touchdown pass from Spencer Miller and a 16-yard scoring pass from Miller in the third quarter finishing the game with two catches for 26 yards.
Meanwhile, Zak Bauer (10 yards) and Sam Minich (47 yards) returned interceptions for scores in the opening half, as Clarion (3-0) scored 26 second-quarter point to take a 40-0 halftime lead.
Sam Minich, one of three North Clarion students to score touchdowns for the Bobcats Friday night as part of the co-op between the schools, also added a late 26-yard scoring run and had four carries for 46 yards, while his brother, Logan, added a 20-yard touchdown run in the third quarter. Another North Clarion product, Keeven Weaver, scored on a 34-yard run late in the first half.
Clarion outgained Keystone 440 to 139 with the Panthers (1-2) being held to negative six yards rushing. The lone Keystone touchdown came on a 51-yard Isaak Jones to Skylar Kagle touchdown pass in the fourth quarter.
Jones was 2 of 6 for 41 yards and the touchdown but also threw three interceptions in relief of Wingard, who was 10 of 21 for 96 yards with a pick.
Miller was 8 of 11 for 118 yards and the two touchdowns and added three carries for four yards. Weaver had four catches for 56 yards and the one carry for 34 and the touchdown.
Clarion is the sixth District 9 football program to reach 500 wins joining DuBois (616), Clearfield (579), Bradford (553), Ridgway (553) and Curwensville (534).
KANE 63, CAMERON COUNTY 0
KANE, Pa. – Kane cruised into AML South play with a 63-0 victory over visiting Cameron County in the final AML Crossover of the season for both teams.
Erik DeLong and Ange Costanzo combined to rush for 241 yards and six touchdowns for the Wolves with DeLong leading the way with 10 carries for 127 yards and three touchdowns and Costanzo adding eight totes for 114 yards and three scores while also catching one pass for 23 yards.
Ray Maze (3 catches, 101 yards) added a pair of touchdown catches from Reed Williams, who was 8 of 12 for 172 yards and the two scores, and Jake Alcorn added seven carries for 79 yards and a touchdown for Kane (4-0), which rolled up 438 yards of offense against winless Cameron County (0-4).
BROOKVILLE 36, PUNXSUTAWNEY 0
PUNXSUTAWNEY, Pa. – Sacking Punxsutawney quarterback Dylan Ishman seven times and limiting the Chucks to minus-1 yard of offense, Brookville notched its first shutout in seven years with a 36-0 win in Friday night's Route 36 Trophy Game.
John Frank had three sacks and led a defensive line surge that tackled Stone Smith in the end zone for a safety and set the Mercy Rule running clock into motion at the 1:25 mark of the third quarter. Cabe Park and Trenton Gilhousen each had two sacks with Park causing an Ishman fumble and picked it up himself for a 29-yard return for the game's first points.
Raiders quarterback Jack Krug completed 19 of 24 passes for 250 yards with three touchdowns and two interceptions. He threw a 4-yard scoring strike to Ian Thrush, 35-yarder to Bryan Dworek and a 42-yarder to Nick Keth. Dworek caught nine passes for 133 yards while Keth grabbed three balls for 71 yards.
Brandon McGranor ran for 76 yards on 15 carries, scoring on a 2-yard run to give the Raiders a 27-0 lead just before halftime.
Ishman completed 5 of 14 passes for 45 yards and the Raiders' seven sacks totaled 64 yards in losses.
The last Raiders shutout was a 28-0 blanking of the Bobcats in 2010.
REDBANK VALLEY 40, CLARION-LIMESTONE 14
NEW BETHLEHEM, Pa. – Amassing 403 yards on the ground, Redbank Valley pounded out a 40-14 win over visiting Clarion-Limestone in a key KSAC-Small School division matchup on Homecoming Night Friday.
Clint Thurston led the way with 193 yards on 16 carries with four more TD runs of 84, 10, 1 and 56 yards. He now has 13 in the 2-1 Bulldogs' three games. Brock Barrett ran for 114 yards on 15 carries and quarterback Keaton Kahle added 87 yards on five carries, 70 of that coming on his first-quarter TD run. He also scored in the third quarter.
The Bulldogs led the Lions (3-1) 19-8 at halftime before scoring twice in the third on Thurston's 1-yarder and Kahle's 4-yarder that put the Bulldogs up 33-8 at the 1:41 mark.
Chris Peace ran for 61 yards on 16 carries, scoring the Lions' first TD on a 1-yard run with one second left in the first half. Ayden Wiles scored the other TD on a 1-yard run with 5:09 left in the game. Lions quarterback Brenden Makray completed 19 of 27 passes for 180 yards with an interception. Riley Hummell had eight catches for 42 yards.
MONITEAU 18, UNION/A-C VALLEY 8
WEST SUNBURY, Pa. – Steven Fawcett kicked a 22-yard field in the third quarter and Manny McLean ripped off a 75-yard touchdown run late in the fourth quarter as Moniteau broke a halftime tie and beat visiting Union/A-C Valley, 18-8, Friday night.
The Falcon Knights (0-4) took the early lead with their lone points on quarterback Lucas Bowser's 3-yard run at the end of the third quarter and the following two-point conversion pass from freshman Luke Bowser to the senior Lucas Bowser.
Moniteau tied it with Cody Wise's 7-yard TD run late in the second quarter followed by Chance Nagy's two-point pass to Brayden Risinger.
McLean ran for 96 yards on eight carries while Wise ran for 90 yards on 19 carries.
Greg Duncan ran for 75 on 14 carries for the Falcon Knights.
RIDGWAY 58, SHEFFIELD 6
JOHNSONBURG, Pa. – Sometimes life and football combine for a special moment.
That happened Friday night in Johnsonburg when Ridgway special-needs kid JJ Epley scored a touchdown on a 27-yard run late in the fourth quarter of the Elkers 58-6 win over visiting Sheffield.
Ridgway head coach Mark Heindl credited Sheffield head coach Dave Fitch for allowing the special play for a special player to happen, according to the Warren Times-Observer.
"Dave Fitch is a class act," Heindl told the Times-Observer. "We have a special needs kids on our team, and we just wanted to get him in the ballgame. It was his first year. And Dave was a class act for letting him go in there and score. He didn't have to do that. It speaks volumes for Dave and the Sheffield program."
It was a great ending to a strange game that saw two kids taken from the field in ambulances and halftime happening with 4:53 left in the first half after the second kid was taken from the field after helmet-to-helmet collisions.
During game play, Phillip Shipe returned a pair of fumbles for the Elkers in the second quarter, while Jake Zimmerman had a 58-yard interception return for a score.
Also scoring for the Elkers were Joey Elinski (2-yard run), Evan Furlong (6-yard run), Neil MacDonald (12-yard run), Matt Dush (4-yard run) and Cole Secco (70-yard run).
Josh Agudio, who ran 18 times for 112 yards, scored for Sheffield on a 70-yard run.
Ridgway (4-0) outgained Sheffield (0-4) 287-188 with Secco leading the way with the one carry for 70 yards.
BRADFORD 27, OTTO-ELDRED 8
DUKE CENTER, Pa. – Derek Sunafrank scored twice and visiting Bradford pulled away from Otto-Eldred for a 27-8 victory.
Sunafrank caught a 25-yard pass from Donny Pattison near the end of the first half to put the Owls (4-0) up 13-8 at halftime and then scored on a 10-yard run midway through the third quarter helping Bradford outscored Otto-Eldred (1-3) 14-0 in the second half.
Donny Pattison and John Eakin also scored for Bradford.
Sunafrank finished the night with 10 carries for 92 yards and the touchdown while catching three passes for 34 yards and the score. Eakin had another 100-yard rushing game with 15 carries for 117 yards and a 5-yard touchdown in the first quarter, while Pattison ran eight times for 73 yards and a touchdown and was 5-for-10 passing for 43 yards. Pattison also had an interception on defense as did Jaron Ambrose and Caleb Nuzzo.
Sawyer Drummond was 15 of 22 passing for 184 yards, a touchdown and three interceptions for Otto-Eldred. He also ran for 17 yards on nine carries, but the Terrors were held to just 43 yards on the ground on the night.
Cameron Magee caught the touchdown pass for O-E and had six catches for 122 yards. Dylan Close added seven grabs for 74 yards.
BROCKWAY 41, SMETHPORT 6
SMETHPORT, Pa. – Tyler Serafini scored two touchdowns and Peter Downer threw a pair of scoring passes to help visiting Brockway to a 41-6 win over Smethport.
Serafini scored on a 5-yard run and on a 49-yard pass, while Downer also hit Noah Vokes with a 23-yard scoring toss. Jon Woods, who ran for 1287 yards, had an 80-yard scoring run for the Rovers (4-0). Dylan LeCates also intercepted two passes on defense and scored on a 9-yard run.
Smethport did get its first points of the year on a Grant Ognen to Noah Costa 58-yard touchdown pass. Costa had two catches for 81 yards with Ognen going 4 of 13 for 85 yards and the score. Ognen also ran seven times for 31 yards, while Nathan Hollowell led the Hubbers (0-4) on the ground with 13 carries for 35 yards.
DUBOIS 38, OIL CITY 19
OIL CITY, Pa. – Kyle Hopson scored twice – once on the ground and once through the air – and Matt Miller threw a pair of touchdown passes to give first-year DuBois head coach Justin Marshall his first career victory, 38-19 at Oil City.
Hopson scored on a 12-yard run in the first half and then on a 46-yard pass from Miller early in the third quarter to help DuBois (1-3) grab a 20-0 lead just under four minutes into the second half.
Miller, who was 16 of 26 for 252 yards, his third straight 200-yard passing game, also hit Eric Schneider with a 34-yard scoring pass to open the scoring.
Hopson finished with five catches for 102 yards and ran the one time for 12 yards, while Schneider had six grabs for 82 yards.
Oil City actually outgained DuBois 428 to 309, as the Oilers (1-3), who had thrown for just 295 yards on the season through three games, threw for 205 vs. the Beavers.
Dylin Chapin was 12 of 20 for 205 yards and a touchdown but was also intercepted three times, including once by Hopson and once by Schneider – Buddy Lines had the third DuBois pick off. He tossed a 7-yard scoring pass to Hunter Haun at the start of the fourth quarter.
Christian Cole (28-yard run) and Noah Petro (40-yard run) also scored for Oil City.
Cole ran the ball 21 times for 136 yards with Petro adding 53 yards on the ground. Haun had six catches for 117 yards. Caden Highfield added four for 71 and also recovered a fumble on defense.
HUNTINGDON 45, CLEARFIELD 27
HYDE, Pa. – Ian Border shredded the Clearfield defense for four touchdown runs, including two over 50 yards, as the visiting Bearcats handed the Bison their second straight defeat, 45-27.
Border scored on runs of 54, 5, 27 and 52 yards with three of the scores coming before halftime, as Huntingdon (4-0, 3-0 Mountain League) led 31-14 at the break.
Andrew Hundy also hit Jonathan Price with a 17-yard scoring pass before halftime, and Giovan Scaccia hit a 20-yard field goal. In the second half, Broder added a scoring run, and Price caught a 72-yard touchdown pass from Nick Trocha.
For the Bison (2-2, 1-2), Isaac Rummery scored on a 66-yard run and also threw a touchdown pass to Micah Heichel.
It is the first time Clearfield has lost two games in a row in the same season since dropping back-to-back decisions to Brookville (35-28) and Hollidaysburg (42-35) in 2007 after which the Bison ran off eight straight wins.
KARNS CITY 61, ST. MARYS 6
ST. MARYS, Pa. – Dalton Beham ran for 150 yards and three touchdowns, on eight carries as visiting Karns City rolled past St. Marys, 61-6.
Sophomore quarterback Anthony Kamenski also threw a pair of touchdown passes for Karns City, his only two completions of the day, hitting Nick Schill from nine yards out and Brandon Hesidence from 17 yards away. Kamenski was 3 of 7 for 38 yards and the two scores.
Clay Garing, who ran for 65 yards on six carries, chipped in a 30-yard scoring run for Karns City while Hunter Jones (48-yard run) and Dalton Pyle (2-yard run) also scored for the Gremlins, who racked up 571 yards of total offense.
Beham was one of two Gremlins to go over 100 yards on the ground with Sebastian Troutman adding 122 yards rushing on five carries.
St. Marys' lone score came on a 26-yard Todd Taylor to Cody Ritter pass. It was Taylor's only completion of the game, as he was 1-for-7.
Carter Julian led the Dutch (0-3, 0-2) with 47 yards rushing on 11 carries with Tim Beimel adding 43 yards on 11 totes.