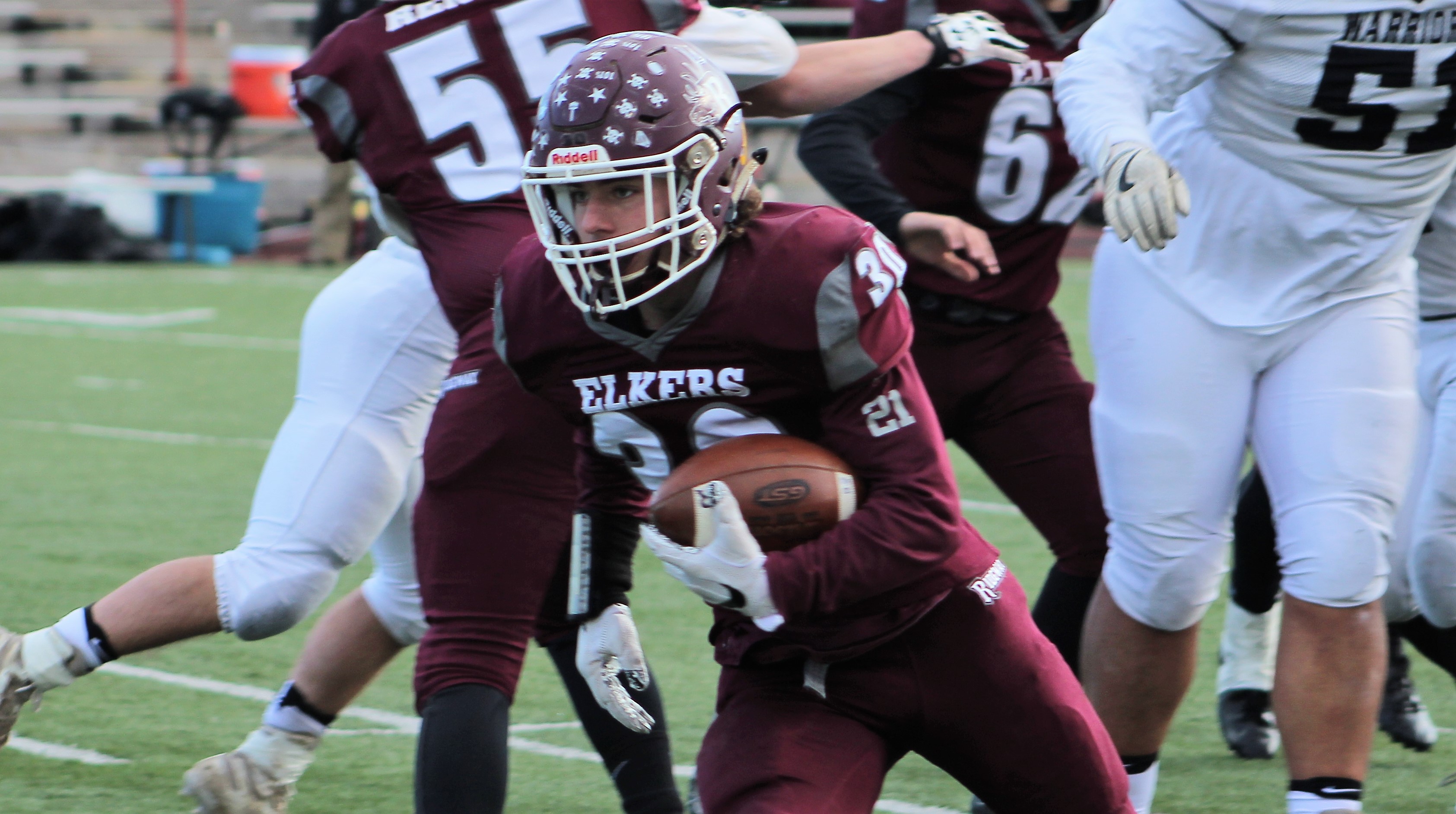 Week Six football recaps.
(Photo: Jake Wickett had a pair of touchdowns for Ridgway in the Elkers 42-0 win over previously unbeaten Clarion Friday night. Photo by Jared Bakaysa of JB Graphics. See more of Bakaysa's work here)
Click here for Redbank Valley beating Curwensville story from Thursday, Oct. 3
SHEFFIELD 22, PORT ALLEGANY 14
SHEFFIELD, Pa. – Mirahn Price caught a 17-yard touchdown pass from Aujamier Slappy-Washington with 2:08 to play broke a 14-all tie and lifted Sheffield to a  22-14 win over visiting Port Allegany.
Port Allegany (1-6 overall, 1-3 D9 League Small School North) had fought back from a 14-0 halftime deficit to tie the score at 14 on a 2-yard touchdown run from Blaine Moses with 8:43 left.
The Gators had gotten within six on a safety on the first play of the fourth quarter after reaching the end zone for the first time on a 6-yard Noah Archer scoring run late in the third quarter.
Sheffield (2-5, 2-2) took the 14-0 lead on a pair of big plays.
First, Slappy-Washington hit Caden Smead with a 67-yard touchdown pass. Then, Jahid Bennett scored on an 80-yard run.
Slappy-Washington was 7-for-16 passing for 128 yards, two touchdowns and an interception with Smead catching two passes for 70 yards and the score and Price two catches for 46 yards and the touchdown.
Bennett carried the ball 20 times for 154 yards and the touchdown while catching two passes for seven yards.
Taro Tanaka ran for 94 yards on 21 carries. Moses ran 11 times for 40 yards and the score.
RIDGWAY 42, CLARION 0
RIDGWAY, Pa. – All season long people have talked about a powerful co-op being the favorite to win District 9 Class 2A.
What people weren't accounting for was that co-op being the defending D9 Class 2A champion Ridgway Elkers who have won three straight D9 titles when you take into account their Class 1A titles in 2016 and 2017.
But make no mistake, the Elkers (6-1) are still the big dog in D9 after a 42-0 thrashing of previously unbeaten Clarion, which came into the game averaging 46.5 points per game while winning all six of its contests by double digits.
But Ridgway's defense, which has allowed 54 points all season, limited the Bobcats (6-1), who were without star running back Austin Newcomb, to 289 yards of offense while getting two touchdowns from Jake Wickett and two from Gabe Watts and rolling up 445 yards of offense including 315 on the ground.
A 21-point second quarter left no doubt as to who the winner was going to be, as Ridgway led 28-0 at halftime.
Watts scored on first-half runs of one and four yards, while Wickett scored on second-half runs of 30 and 19 yards. Paul Gresco added a 1-yard rushing touchdown and threw a 34-yard touchdown pass to Matt Dush.
Wickett led the ground game for the Elkers with 10 carries for 150 yards with Watts adding 13 for 68, while Gresco, who ran twice for six yards, was 8 of 10 passing for 130 yards. Dush caught four passes for 61 yards and ran twice for 82 yards with Austin Green adding two catches for 66 yards and Watts (1 yard) and Wickett (2 yards) each catching one pass.
Colton Zacherl led Clarion with 18 carries for 110 yards with Cutter Boggess adding 10 for 81. Cal German was 8 of 21 passing for 106 yards including three passes to Boggess for 68 yards.
KARNS CITY 22, KANE 9
KANE, Pa. – Trailing 9-0 early in the fourth quarter, visiting Karns City scored 22 unanswered points to stun Kane, 22-9.
The big play for the Gremlins was a blocked punt and return by Riley Davis.
With the Wolves (5-2) up 9-6 but punting from their own 37-yard line Davis came in untouched on Kane punt Ryan Buhl and not only basically took the ball off of Buhl;s foot but returned it to the Wolves' 3-yard line setting up the go-ahead 3-yard scoring run by Luke Garing that gave Karns City (5-2) a 15-9 lead.
Kaden Scherer then picked off a Zuke Smith pass – one of two interceptions by Sherer and three in the game by the Gremlins – setting up a 6-yard scoring run by quarterback Anthony Kamenski that put the game away.
Kamenski actually had a 16-yard scoring run called back earlier in the drive, one of two scoring runs by the Karns City signal-caller that were called back on Gremlin infractions.
After a scoreless first half, Kane took a 3-0 lead in the third quarter on a 39-yard Aaron Hottel field goal that was set up by a 47-yard Smith to Jake Alcorn screen pass.
After a Scherer fumble gave Kane the ball back at the Karns City 40-yard line late in the third quarter, the Wolves made it 9-0 early in the fourth on a 9-yard Smith to Ricky Zampogna touchdown pass.
Kane then seemingly had Karns City where it wanted the visitors, as the Gremlins faced a third-and-10 from their own 13. But Kamenski, who ran 11 times for 69 yards while going 2-for-9 passing for 26 yards, was able to scamper for 31 yards to the Karns City 44-yard line giving the Gremlins life.
After a 5-yard penalty set the Gremlins back to the 39, Hunter Rowe, who ran 15 times for a team-best 85 yards while also picking off a pass on defense, got loose for a 49-yard run to the Kane 12-yard line. That set up a 50yard touchdown run by Rowe that got Karns City back in the game down 9-7.
It was on Kane's next drive that Davis then blocked the punt changing the course of the contest in the visitors' favor.
KEYSTONE 44, UNION/A-C VALLEY 14
RIMERSBURG, Pa. – Scoring 30 points in the game's first 15:17, visiting Keystone rolled to a 44-14 win over Union/A-C Valley at Union in a battle of teams that entered the night at 5-1 overall.
Relisten to the game:
Nick Weaver (19 carries, 142 yards) scored three times on the ground for the Panthers (6-1 overall, 2-1 D9 League Small School South) while Tyler Altman (12 carries, 88 yards) added a pair of touchdown runs, Alex Rapp intercepted two passes on defense and Logan Sell caught a 52-yard touchdown pass from Isaac Jones.
Weaver and Rapp talked about the victory.
Jones went 2-for-4 for 63 yards and the touchdown.
Tony Thompson (3-yard run) and Tanner Merwin (16-yard pass from Luke Bowser) scored for Union/A-C Valley (5-2, 2-1), which played without one of its top players, Caden Rainey.
Bowser was 5 of 17 passing for 51 yards, the touchdown and the two interceptions, while Merwin had two catches for 24 yards and Thompson ran six times for 20 yards. Kyler Culbertson had a team-high 53 yards rushing on eight carries and made a team-best 12 tackles. Colton Hoffman and Gaven Bowser each added nine stops on defense for the Falcon Knights.
MONITEAU 14, BROCKWAY 7
WEST SUNBURY, Pa. – Mason Mershimer scored on a short run late in the second quarter to give Moniteau a 14-7 halftime lead, and the Warriors defense pitched a second-half shutout to secure their second win of the season, 14-7 over visiting Brockway.
Mershimer ran 13 times for 43 yards, while JD Dessicino had a game-high 103 yards on 23 carries.
Moniteau (2-5) also scored on a 30-yard David Stamm to A.J. McElravy pass that put the Warriors ahead 6-0 at the time.
Brockway answered with a Jon Wood touchdown run to go up 7-6 in the second quarter.
Wood ran eight times for 57 yards while also going 8 of 12 passing for 102 yards and an interception. Ben Glasl had four catches for 49 yards.
CLEARFIELD 28, TYRONE 14
HYDE, Pa. – Oliver Billotte threw a pair of touchdown passes, and Clearfield scored the game's first four touchdowns to beat visiting Tyrone, 28-14.
Billotte hit Matt Pallo and Karson Kline for scores, and Brett Zattoni had a touchdown run to give the Bison (6-1 overall, 4-1 Mountain League) a 21-0 halftime lead.
Billotte was 8 of 13 passing for 83 yards and the two scores with Pallo catching five passes for 41 yards and a score. Zattoni ran 24 times for 131 yards and two scores.
SMETHPORT 39, CAMERON COUNTY 7
SMETHPORT, Pa. – Noah Lent ran for two touchdowns and threw for a third to help Smethport to a 39-7 win over visiting Cameron County.
Lent ran 11 times for 113 yards and two scores and also was 4 of 7 passing for 84 yards and a touchdown to help the Hubbers improve to 5-1 overall and 4-0 in the D9 League Small School North.
Braedon Johnson also scored twice for Smethport – once on the ground and once through the air. He ran seven times for 93 yards while catching two passes for 60 yards.
Lucas Fowler (7 carries, 58 yards) also scored a rushing touchdown for the Hubbers.
Cameron County's lone score came on a Nick Peters touchdown run. Peters ran six times for 28 yards, while Dylan Reider had a team-best 56 yards rushing on nine carries. The Red Raiders fell to 0-6 overall and 0-3 in conference play.
BROOKVILLE 42, ST. MARYS 22
BROOKVILLE, Pa. – Robert Keth scored three third-quarter touchdowns to help Brookville go from being tied with visiting St. Marys, 14-14, at halftime to a 20-point, 42-22, Raiders win.
Keth scored on runs of six and two yards in the third quarter and also caught a 23-yard touchdown pass from Jack Krug, who threw three touchdown passes and ran for a fourth.
Keth had five carries for 21 yards and caught six passes for 71 yards.
Krug, who also threw touchdown passes to Kyle MacBeth (13 yards) and Ian Thrush (38 yards) while running in from 48 yards away, was 21 of 32 passing for 209 yards while rushing four times for 42 yards.
Thrush added three catches for 59 yards for the Raiders (6-1) with MacBeth catching six passes for 49 yards.
Lucas Kline scored all three St. Marys touchdowns on the ground. He ran 14 times for 49 yards scoring on runs of two, 26 and three yards.
Christian Coudriet was 18 of 25 passing for 153 yards for the Dutch (3-4) with Bryce Walker catching four passes for 51 yards.
BRADFORD 59, PUNXSUTAWNEY 34
BRADFORD, Pa. – Outscoring visiting Punxsutawney 25-7 in the second half, Bradford picked up its first win of the year with a 59-34 thrashing of the Chucks.
The Owls (1-6) led 34-27 at halftime after the teams combined for four scores in a span of 1:44 seconds late in the half including three in a span of 48 seconds.
Derek Sunafrank led Bradford with 21 carries for 198 yards and five touchdowns helping offset a big game from Punxsutawney's Max London, who had 12 carries for 175 yards and two touchdowns and two catches for 124 yards and a score. Two of London's scores were at least 80 yards (80-yard catch from Peyton Hetrick; 85-yard run) while he also added a 67-yard scoring jaunt.
Caleb Nuzzo got the fireworks started returning the opening kickoff 70 yards for a touchdown. Nuzzo also threw a 10-yard touchdown pass to Austen Davis (10 catches for 87) yards while going 12 of 20 passing for 97 yards.
Also for Bradford, Jonah Rowry returned an interception 45 yards for a touchdown, and Nolan Gonzalez (13 carries, 97 yards) scored on a 3-yard run.
Kameron Falgout added a pair of touchdowns for Punxsutawney (0-7) scoring on a 26-yard pass from Hetrick and on a 44-yard run. He ran 11 times for 88 yards and caught three passes for 32 yards.
Hetrick was 6 of 13 passing for 145 yards, two touchdowns and an interception, as the teams combined for 876 yards of offense (456 by Punxsy and 420 by Bradford) including 634 on the ground (311 by Punxsy and 323 by Bradford)
COUDERSPORT 73, OTTO-ELDRED 12</strong.
DUKE CENTER, Pa. – Travis Gleason ran 17 times for 255 yards and three touchdowns to lead visiting Coudersport to a 73-12 win over Otto-Eldred.
Kolby VanWhy and John Minor each added a pair of touchdowns for the Falcons (6-0 overall, 3-0 D9 League Small School North) with Hayden Keck throwing a touchdown pass and running for a score.
VanWhy ran three times for 79 yards and his two touchdowns while also catching one pass for eight yards. Minor had two catches for 69 yards and a touchdown and returned a kickoff for a score, and Keck ran eight times for 82 yards and a score and was 5-for-5 passing for 129 yards and a touchdown.
Dylan Kelly (7 carries, 30 yards) also scored on the ground for Coudersport, while Dylan Keglovits had a pick-six and also caught one pass for 26 yards.
FORT LEBOEUF 42, DUBOIS 14
DUBOIS, Pa. – Trailing by just seven at halftime, 14-7, DuBois came out flat in the second half falling 42-12 to visiting Fort LeBoeuf.
The Bison (4-1 overall, 4-3 District 10, Region 7) used a strong ground game to get the win putting up 259 yards and five touchdowns on the ground with five different players scoring.
Jack Rimpa led the way with 17 carries for 91 yards and a touchdown, Max Endres added 10 carries for 65 yards and a score, Ben Turi had eight totes for 51 yards and a touchdown, Tristin Harris added four carries for 14 yards and a score and Dominic Gentile scored from nine yards out on his only carry.
Aidan Castro (8 carries, 38 yards) scored on the ground for DuBois (0-7, 0-5), while Zach Shilala hit Dale Kot with a touchdown pass.
Kot had two catches for 12 yards, while Chase Husted had three for 54 and Nick Dilullo four for 47.
Shilala was 2-for-8 passing for seven yards and the score with Alex Kovalyak going 13 of 25 for 132 yards and two interceptions.