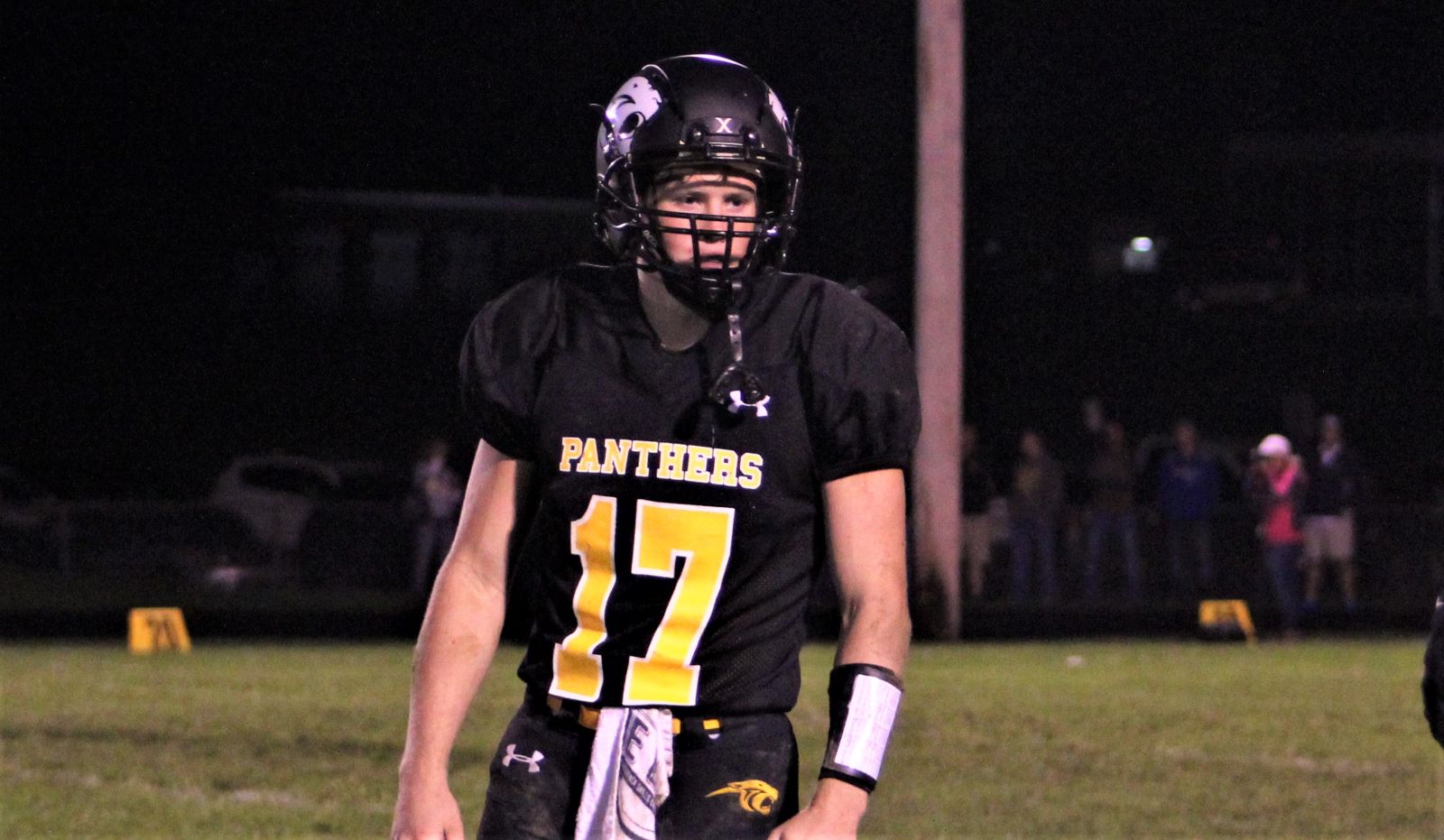 Week Three recaps
(Photo: Isaak Jones of Keystone helped the Panthers move to 3-1 on the year for the first time since 2009 by throwing 3 TD passes. Photo by Jared Bakaysa of JB Graphics. See more of Bakaysa's work here)
KEYSTONE 49, CAMERON COUNTY 12
KNOX, Pa. – Keystone is 3-1 for the first time in a decade after a 49-12 win over visiting Cameron County.
Isaak Jones threw three touchdowns passes, two to Jayden Balzosky, to help the Panthers to their first 3-1 start since 2009 when they started the season with victories in three of their first four games. It is also the first three-game win streak for the Panthers since Oct. 9-23, 2009.
Jones was 9 of 13 passing for 237 yards, three touchdowns and an interception while carrying the ball three times for 26 yards.
Blaszoksy had a pair of catches for 34 yards and the two scores with Alex Rapp grabbing two balls for 95 yards and a touchdown with the score coming on an 80-yard pass from Jones late in the first half.
Backup quarterback Jonathan Lee also threw a scoring pass for the Panthers (3-1) connecting with Ian Keth from 17 yards away. Lee was 2 of 4 passing for 46 yards, the TD and an interception.
Keystone added three rushing touchdowns as well with Nick Weaver, Tylar Altman and Tim Baughman scoring on the ground. Weaver led a balanced ground attack with 11 carries for 85 yards, Altman added 12 totes for 77 yards and Baughman had four carries for 21 yards.
Caleb Nellis paced the Panthers defense with eight tackles including a pair of sacks.
Cameron County (0-3) did score its first points of the year as Ebon Jackson hit Connor Nolan from 15 yards out and Nick Peters scored on a 60-yard run.
Peters finished with 54 yards rushing on three carries, while Dylan Baney had a team-best 64 yards on 12 totes. Jackson was 3 of 13 passing for 22 yards.
CLARION 29, BROOKVILLE 12
BROOKVILLE, Pa. – Cal German threw a pair of touchdowns passes, Austin Newcomb ran for two touchdowns and Ethan Buford had a solid all-around game to help visiting Clarion stay unbeaten by knocking Brookville from the ranks of the unbeaten with a 29-12 win.
Relisten to the game:
German was 5 of 12 passing for 170 yards and hit Burford with a 36-yard scoring pass late in the first half to give Clarion (4-0) a 7-6 halftime lead and then found Cutter Boggess with a 49-yard strike early in the third quarter to make the score 14-6. Burford caught two balls for 71 yards and Boggess had two catches for 78 yards.
German and Burford talked about the victory.

Austin Newcomb added a pair of touchdown runs for Clarion rushing 20 times for 136 yards scoring on second-half runs of two and 26 yards but also lost a fumble.
Brookville, which grabbed a 6-0 lead on the game's first drive on a 10-yard Jack Krug run, lost Krug to an ankle injury on its next possession and didn't score again until the fourth quarter.
Krug was 6-for-12 passing for 59 yards and ran four times for eight yards and the touchdown.
Robert Keth replaced Krug and went 9 of 20 for 39 yards and an interception while rushing 11 times for 12 yards. Keth added an interception on defense.
Cole Labenne led the Raiders (3-1) on the ground with 36 yards on 15 carries including a 3-yard touchdown run late in the fourth quarter. Ian Thrush caught six passes for 54 yards.
UNION/A-C VALLEY 32, OTTO-ELDRED 26
RIMERSBURG, Pa. – In a back-and-forth game, Union/A-C Valley outlasted Otto-Eldred, 32-26, to pick up its third straight victory.
Kylar Culbertson had a big game on the ground for the Falcon Knights (3-1) rushing 19 times for 150 yards and two touchdowns, while Luke Bowser scored three rushing touchdowns carrying the ball nine times for 31 yards. He was also 6 of 12 passing for 87 yards and two interceptions. Tanner Merwin had
Carter Terwint had eight tackles to lead the Union/A-C Valley defense with Caden Rainey and Leroy Byler each added seven tackles and Colton Hoffman chipped in five stops, a sack and a fumble recovery.
Cole Sebastian had a big game for Otto-Eldred going 21 of 40 passing for 266 yards and three touchdowns with Ethan Smith catching seven passes for 195 yards and a score and Cameron Magee grabbing nine passes for 56 yards. TJ VanScotter (3 catches, 25 yards) and Colton Gietler (2 catches, 10 yards) also caught touchdown passes. VanScotter was the leading rusher for the Terrors (1-3) toting the ball seven times for 39 yards.
KARNS CITY 21, MONITEAU 6
KARNS CITY, Pa. – Scoring three touchdowns after halftime, Karns City beat visiting Moniteau, 21-6.
The Gremlins trailed 6-0 at the break but got a pair of touchdowns from Hunter Rowe and a third from Kaden Scherer – the last two in the fourth quarter – to get the victory.
Rowe scored on runs of 9 and 23 yards and ran 13 times for 78 yards, while Schrerer added a 43-yard scoring run and ran three times for 51 yards.
Anthony Kamenski added 16 carries for 56 yards for Karns City (3-1). Kamenski had an interception on defense as well.
JD Dessicino scored for Moniteau (0-4) on a 4-yard run in the first quarter.
CLEARFIELD 28, HUNTINGDON 16
HYDE, Pa. – Scoring a touchdown in each quarter Clearfield stayed unbeaten with a 28-16 win over visiting Huntingdon to run their regular-season win streak to 16 in a row
The Bison (4-0) scored three times on offense and once on defense with touchdown runs coming from Jake Plubell and Mark McGonigal while Oliver Billotte hit Matt Pallo with a touchdown pass. Nick Domico added a defensive touchdown.
Billotte was 13 of 31 passing for 171 yards with the touchdown and two interceptions.
Plubell ran seven times for 52 yards and a touchdown while McGonigal ran nine times for 25 yards.
Jake Lezzer had eight catches for 103 yards and added an interception on defense while Pallo had three catches for 44 yards and a touchdown.
ELK COUNTY CATHOLIC 35, PORT ALLEGANY 7
PORT ALLEGANY, Pa. – Sam Kaul ran for 216 yards and two touchdowns on just 12 carries to lead Elk County Catholic to a 35-7 win at Port Allegany.
Kaul scored on runs of 67 and 80 yards in the first half to help the Crusaders open up a 35-0 halftime lead.
Raivis Bobby (5-yard run), Leo Gregory (2-yard run) and John Wittman (interception return for a touchdown) also scored for the Crusaders (2-2).
Bobby added 72 yards rushing on 10 carries.
Drew Evens threw a 32-yard touchdown pass to Howie Stuckey for Port Allegany's score.
Evens was 12 of 22 for 139 yards, a touchdown and an interception. Stuckey caught four passes for 108 yards and a touchdown for the Gators (1-3), who were without leading rusher Josh Rees.
ST. MARYS 60, PUNXSUTAWNEY 21
ST. MARYS, Pa. – A career nigh by Christian Coudriet helped St. Marys claim its third straight win with a 60-21 win over visiting Punxsutawney.
Coudriet threw for 452 yards and six touchdowns and ran for a seventh while going 22 of 31 passing with an interception and running six times for 57 yards.
Coudriet found six different receivers for his scoring passes hitting Logan Mosier (76 yards), Jake Kline (14 yards), Bryce Walker (8 yards), Terry Williams (73 yards), Michael Fitzgerald (35 yards and Conner Staub (6 yards). Coudriet also scored on a 10-yard run.
Straub actually caught two touchdowns hauling in a 6-yard pass from Christian Coudriet's brother, Charlie Coudriet.
James Davis added a 23-yard interception return for a score for the Dutch (3-1).
Mosier caught three passes for 120 yards, while Walker had 10 catches for 113 yards and Williams four for 89 yards. Kline added four catches for 50 yards and ran 13 times for 60 yards.
Max London scored twice for Punxsutawney scoring on a 5-yard run and an 89-yard kickoff return.
London had 11 carries for 105 yards while catching one pass for four yards.
St. Marys intercepted Punxsutawney quarterback Kameron Falgout four times. Falgout was 10 of 24 passing for 44 yards.
REDBANK VALLEY 61, SHEFFIELD 28
NEW BETHLEHEM, Pa. – Eight different Redbank Valley players scored to help the Bulldogs roll past visiting Sheffield 61-28.
Ray Shreckengost found the end zone twice for the Bulldogs on runs of two and 17 yards in the first quarter, as Redbank Valley (4-0) built a 21-0 lead after 12 minutes.
Ethan Hetrick (9-yard pass from Gunner Mangiantini), Hudson Martz (4-yard run), Kobe Bonanno (7-yard run), Joe Mansfield (14-yard run), Justin Ferringer (2-yard run), Kade Minnick (recovered an offensive fumble in the end zone) and Brenden Shreckengost (10-yard run) also scored for Redbank Valley, who outgained Sheffield 399 to 253 including 306 to negative 48 on the ground.
Mansfield led the Bulldogs with two carries for 70 yards with Martz toting the pigskin six times for 59 yards, Bonanno four times for 51 yards and Ferringer seven times for 46 yards. Hetrick had three catches for 67 yards.
Mangiantini was 6 of 13 passing for 93 yards and the touchdown.
Mirahan Price caught a pair of touchdown passes for the Wolverines (0-4) catching a 39-yard pass from Slappy Washington and a 55-yard strike from Walker Kyler, while Caden Smead also found the back of the end zone twice through the air catching a 7-yard pass from Kyler and a 35-yard strike from Washington.
Washington was 12 of 26 passing for 216 yards and two touchdowns while throwing three picks, while Kyler was 4-for-4 for 85 yards and the two touchdowns.
Price caught seven passes for 191 yards and the two scores with Smead hauling in five passes for 81 yards and rushing twice for 34 yards.
Redbank Valley interceptions came from Sam Hetrick, Ferringer and Trenten Rupp.
SMETHPORT 26, CURWENSVILLE 0
SMETHPORT, Pa. – Braedon Johnson scored three touchdowns to keep Smethport unbeaten with a 26-0 win over visiting and winless Curwensville.
Johnson scored on runs of 3 and 4 yards and also returned a punt 85 yards for a touchdown. He finished the night with 15 carries for 137 yards and was one of two Hubber runners to break 100 yards.
Noah Lentz led Smethport (3-0) with 138 yards on 17 carries with one touchdown on a 47-yard scamper. He was also 6 of 11 passing for 81 yards and an interception.
Smethport's defense, meanwhile, held Curwensville (0-4) to 19 total yards of offense.
RIDGWAY 55, BRADFORD 0
JOHNSONBURG, Pa. – Paul Gresco threw three touchdowns passes and Austin Green and Gabe Watts each scored twice to lift Ridgway to a 55-0 win over visiting Bradford at Johnsonburg.
Gresco was 8-for-11 passing for 184 yards while adding two carries for 16 yards.
Watts scored on a 51-yard pass and a 20-yard run and carried the ball four times for 38 yards while catching three passes for 85 yards.
Green, meanwhile, had four catches for 76 yards and two touchdowns hauling in scoring passes for 20 and 30 yards.
Also scoring on the ground for the Elkers (3-1) were Jake Wickett (14-yard run), Josh Sorg (1-yard run), Ben Briggs (6-yard run) and Camron Marcinak (1-yard run).
Sorg ran four times for 46 yards with Dominic Cherry adding five carries for 48 yards.
Ridgway's defense limited Bradford to 88 total yards of offense led by Caleb Nuzzo going 7 of 21 passing for 65 yards and an interception. Austen Davis had two catches for 39 yards for the Owls (0-4).
FRANKLIN 42, DUBOIS 35
DUBOIS, Pa. – Franklin's Ian Haynes surpassed the 8,000-yard passing mark in his career throwing for 335 yards and five touchdowns to lift visiting Franklin to a 42-35 win over DuBois.
Haynes was 26 of 40 with an interception and now has 8,094 yards passing in his career including 1,178 in just four games this year with 12 touchdowns for the Knights (2-2). Haynes is the all-time leading passer in District 10 history having reached that mark last week.
Haynes threw two touchdown passes to Dalton Buckley and two to Cade Adams while also finding Eli Stewart for a score. Stewart added a 2-yard touchdown run giving him two scores on the night as well
Adams caught 14 passes for 198 yards with Buckley adding six grabs for 79 yards and Stewart two for 21 while rushing for and additional 96 yards on 22 carries as Franklin had a fine night on the ground with 115 yards as a team.
The Knights built leads of 21-0 and 28-7 in the first half only to see DuBois (0-4) get within a touchdown one play into the second half thanks to a late first-half 1-yard touchdown run by Alex Kovalyak and a 96-yard return of the second-half kickoff by Dale Kot.
But Franklin answered back with an 8-yard Haynes to Adams touchdown pass to make it 35-21 and never led by fewer than six points the rest of the way.
Adian Castro added a 24-yard scoring run for DuBois, Michael Eisman had a 9-yard scoring run and Ruben Estrada a 2-yard touchdown run.
Eisman ran 13 times for 100 yards with Castro adding four carries for 48 yards and Estrada seven for 47. Kovalyak was 10 of 16 passing for 75 yards and an interception with Zach Shilala catching four passes for 46 yards.
KANE 41, BROCKWAY 0
KANE, Pa. – Kane remained unbeaten with a 41-0 win over visiting Brockway.
Jake Alcorn scored three times for the Wolves, while Teddy Race scored twice and put together a great game on both sides of the ball.
Alcorn ran seven times for 73 yards and two touchdowns and caught three passes for 61 yards and a score, while Race ran nine times for 104 yards and two scores and had over 10 tackles on defense while making 2 ½ sacks for the unbeaten Wolves (4-0).
Josh Buhl ran for a team-high 85 yards on 15 carries for Kane, while Zuke Smith was 5 of 14 passing for 89 yards and a touchdown while rushing six times for 32 yards.
Conner Ford paced Brockway (0-4) rushing 12 times for 70 yards while going 4 of 15 passing for 60 yards. Jon Wood had two grabs for 43 yards and ran 10 times for 18 yards.