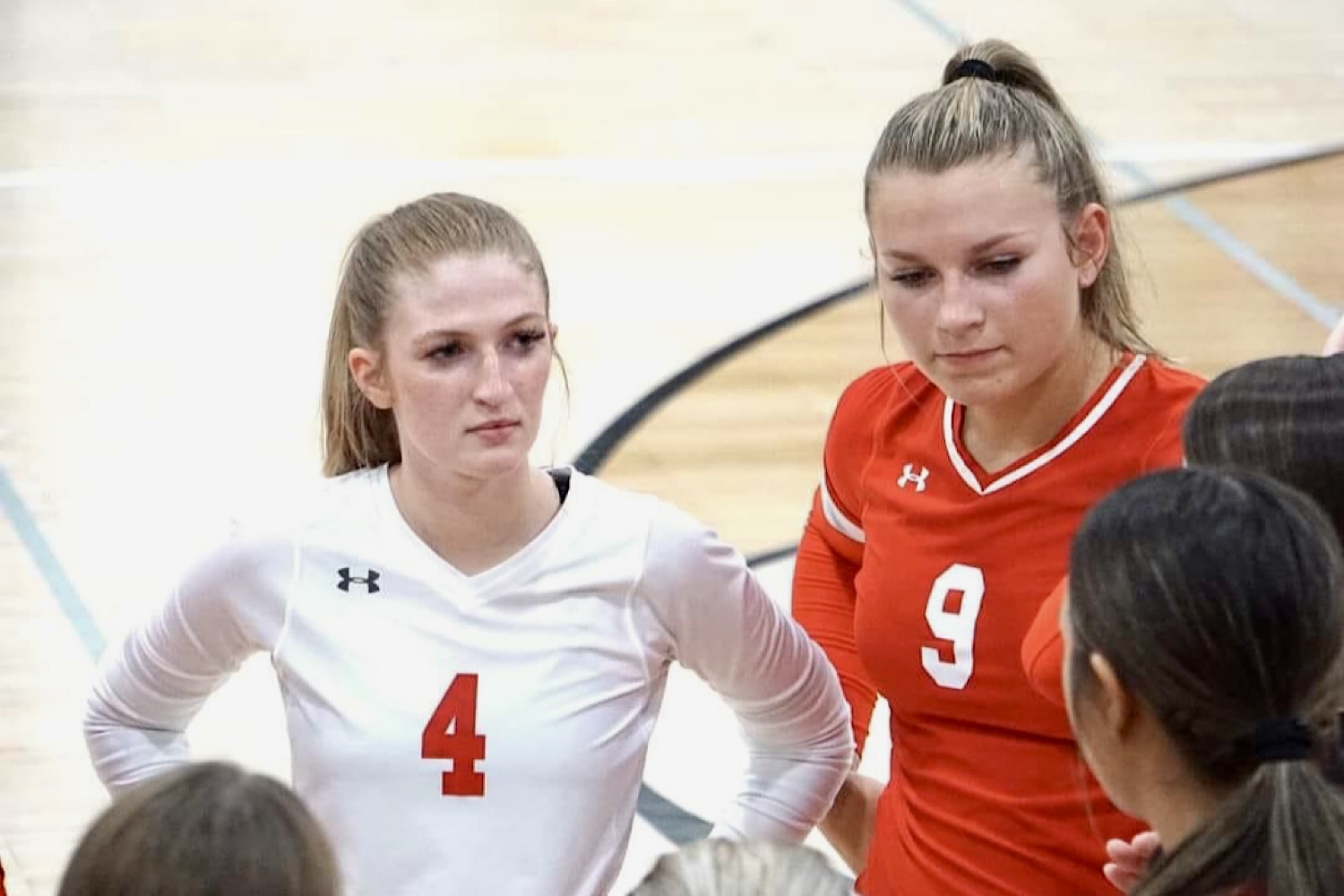 FOXBURG, Pa. (EYT/D9) — Alivia Huffman had a monster match with 22 kills and 20 digs as the Redbank Valley volleyball team downed A-C Valley on the road, 25-18, 27-25, 23-25, 25-22.
Caylen Rearick was also strong defensively with 28 digs. Mylee Harmon contributed 17 assists, 17 digs and three kills. Allyn Hagen 14 assists and Taylor Ripple seven kills, 12 digs and four aces.
(Pictured above: Redbank Valley's Caylen Rearick, left, and Alivia Huffman)
Lexi Ruckdeschel had nine kills, six blocks and six aces to lead A-C Valley.
Mackenzie Parks pitched in seven kills and 10 digs and Jenna Stefanacci had 15 assists and four kills for the Falcons.
KEYSTONE 3, CLARION-LIMESTONE 1 — Leah Exley put away 12 kills while Natalie Bowser and Audrey Burrows added seven kills each to help the Panthers defeat the Lions 25-17, 25-17, 21-25, 25-19.
Reagan Mays had a solid match for Keystone with 15 assists, nine digs, and six points with three aces. Kennedy Kaye served for 15 points with three aces while picking up 17 digs.
C-L did receive 13 kills each from Jenna Dunn and Maddy Greeley while Alyssa Wiant added nine. Kendall Dunn handed out 36 assists with 10 digs. Kaylee Smith picked up 15 digs while Wiant and Jenna Dunn each picked up 12 digs. Wiant served for 11 points.
After an 11-all tie in the opening set, the Panthers got on a roll and took command with a 14-6 run to take the first set 25-17.
Keystone led 13-7 early in the second set before C-L closed to within three at 16-13.
A 9-4 run by Keystone gave it another 25-17 victory.
C-L led 12-8 in the third set before Keystone used a 6-1 run to take a 14-13 lead. C-L took the lead for good at 15-14 and used a 10-7 advantage for a 25-21 to send the match to the fourth set.
Keystone jumped to a 14-7 lead in the fourth set, but thanks to six straight service points by Wiant, the Lions tied things up at 16-all.
Keystone led 19-16 and appeared to hit a cross court shot out of bounds cutting the lead to 19-17. However, it was ruled a C-L player touched the ball giving the point to Keystone thus a 20-16 lead. C-L gained a side out to cut the lead to 20-17. The Panthers responded and finished out the set and the match on a 5-2 run for the 25-19 victory.
ELK COUNTY CATHOLIC 3, RIDGWAY 0 — Reagan Bauer helped keep the Crusaders perfect so far this season with 17 kills and five aces in a 25-18, 25-17, 25-10 sweep.
Tori Newton and Maddier Bierley each had 10 kills and Madison Marzullo pitched in six kills and a pair of aced for ECC, which improved to 13-0.
MONITEAU 3, UNION 0 — Marissa Pry had six kills and five aces to lead the Warriors to a 25-15, 25-14, 25-8 victory over the Damsels.
Hannah Migliorsi had five kills, Sophia Fleeger two kills, three aces and six assists and Abbey Jewart 12 assists for Moniteau.
GIRLS SOCCER
McKenna Martin scored four goals as Karns City blanked St. Marys, 7-0.
Cece Morrow, Sophia Bonetto and Hanna Dailey also scored goals for the Gremlins (14-3).
Emma Dailey, Emily Griffiths, Paige Dodd, Hanna Dailey and Martin also handed out assists in the win.