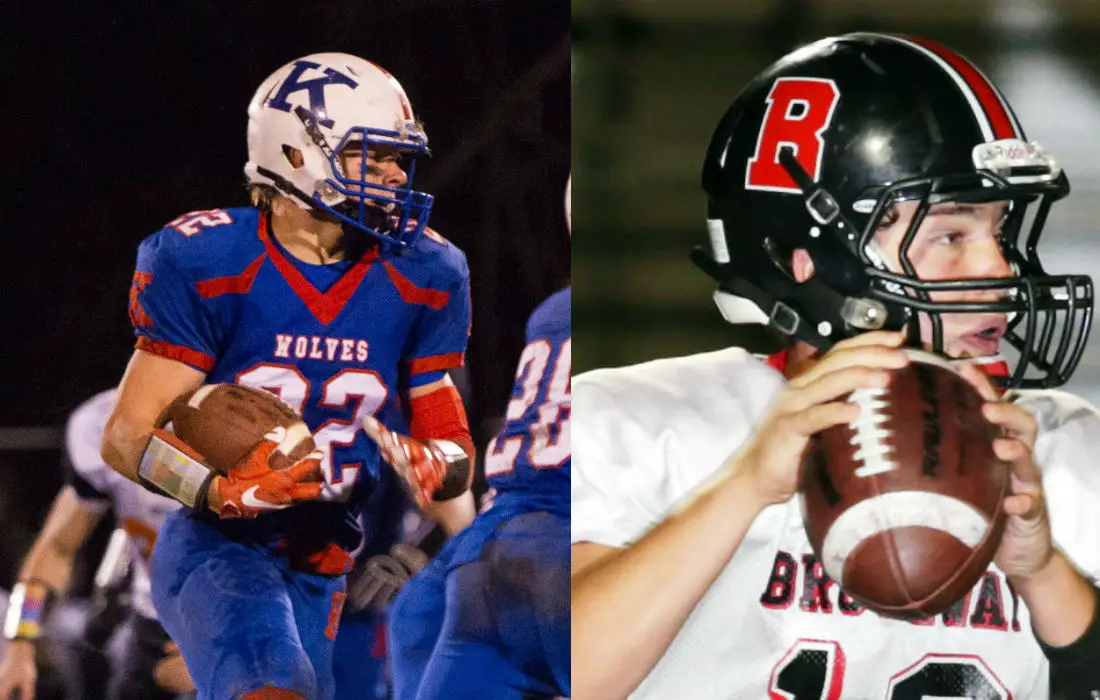 GAME INFORMATION 
When: 1 p.m. Saturday, Nov. 28 • Where: E.J. Mansell Stadium, DuBois, Pa. • District 9 Title game history
Listen Live: WDDH • WDSN • WXZY
TEAM INFORMATION 
Starting Lineups • Brockway Roster  • Kane Roster
Brockway Stats  • Kane Stats •  Brockway Schedule  • Kane Schedule
GAME PREVIEW STORY
By Chris Rossetti
DUBOIS, Pa. – In a rematch of last year's District 9 Class A title game, defending champion Kane looks for its second straight title when it takes on Brockway at 1 p.m. Saturday at DuBois' E.J. Mansell Stadium.
"I've always respected their program," Brockway head coach Frank Zocco, whose team lost 33-14 in last year's title game said. "They've done a great job up there. You can always count on a team that has been coached very well. It brings a lot of satisfaction to play these types of games, especially if you are on the winning end. Unfortunately, we haven't been on the winning side for a while. We have to break that hex. Their stars can't align anymore. Something has to break those stars. Hopefully, we do it."  
This is the second game of the year between these teams with Kane winning a tight contest, 21-14, Oct. 9 in Brockway on a blocked field goal that was returned for a touchdown for the winning score. It was the Wolves fourth straight win over Brockway including the third in the last two seasons.

"That was the best game of the year for both of us, I think," Kane head coach Todd Silfies said. "We learned from it that they are really good. They are a great team. They have a great offensive line, and dual-threat quarterback and great backs. It kind of confirmed what we thought, that Brockway is a really, really good football team."  
There will be skill all over the field Saturday starting with Kane's twin attack of senior twins Shane and Tyler Rolick.
Shane is the quarterback, and he pretty much can do it all and is a big reason the Wolves are 11-0 and are riding a 15-game win streak vs. District 9 opponents.
He has thrown for 384 yards going 29 of 64 on the year with four touchdowns and five interceptions while adding a team-high 1,298 yards rushing and 22 touchdowns on 128 carries. Shane had a huge game in a 49-13 win over Curwensville in the semifinals rushing for 240 yards and four touchdowns and going 4 of 6 passing for 100 yards, two scores and an interception. He also added an interception on defense giving him a team-high six picks.
Tyler is right there with Shane. He has run for 1,266 yards and 14 scores while adding 13 catches for 179 yards and two scores. Shane is also the kicker and is 39 of 43 on extra points.  
"No team has corralled them," Zocco said. "Hopefully, we can figure it out. Shane's been the key to every one of their victories. You have to bottle him up first, and then you have to keep Tyler in your sights too."
Sophomore fullback Erik Delong has to be accounted for as well for Kane. He has 832 yards rushing and seven touchdowns on the season and averages over 8.4 yards per carry.  
While Kane's offense is a load to handle, so is Brockway's.
The Rovers have overcome the loss of star tailback Anthony Isabella (522 yards, 9 touchdowns in just four weeks) to a torn ACL as well as the loss of star linebacker Mike Martino to a torn ACL in the offseason – Martino is back snapping on field goals and extra points.
Junior quarterback Hunter Miller and junior tailback Mark Latuska are big reasons for the continued success of the Rovers (10-2).
Miller completes over 60 percent of his passes (92 of 152) for 1,042 yards, 12 touchdowns and eight picks while adding 724 yards rushing and four touchdowns.
Latuska has stepped into the tailback spot and has averaged 5.6 yards per carry while rushing for 959 yards and a team-best 15 touchdowns.
Another junior, Jake Gorham, gives the Rovers a solid threat at receiver catching 26 balls for 322 yards and four scores.  
"We are going to have to do an excellent job of playing assignment football and making sure we are rallying to the football at all times," Silfies said. "They have some strong kids in the backfield and on the line. We have to make sure we have more than one hat at the ball at all times. Being disciplined and not being outside of ourselves is going to be key. Everyone doing their job and trusting each other is going to be important."
The Rovers also have a strong weapon on special teams in junior kicker Jarrett Esposito, the 2014 The Rehab Centre D9Sports.com Special Teams Player of the Year.
Esposito is 42 of 49 on extra points and 3 of 6 on field goals including going 2 of 2 with a long of 42 in the Rovers 32-6 win over Redbank Valley in the semifinals. Esposito is also a weapon on kickoffs and was a big reason the Rovers won the field-position battle against Redbank last week.
"Brockway does an extremely good job on special teams including in the field goal department, which is typical in our area," Silfies said. "They always have a great kicker, and what he does in the kickoff game in terms of really getting the ball down field had a lot to do with their success against Redbank. It changes things from that element, and it challenges us to step up our special teams that much more."
The winner of Saturday's game moves into the PIAA Quarterfinals where it will meet the winner of the District 10 title game between Sharpsville and Farrell.
NOTES – This marks the third time there has been a rematch in District 9 Class A football championship game and the first time since Port Allegany won its second straight title in 2012 by beating Clarion. Smethport beat Clarion-Limestone in back-to-back years in 1991 and 1992 as well … Kane is looking for its third District 9 title. The Wolves also won the Class A title in 2007. Kane is 2-3 in District 9 title game losing the 2012 and 2013 Class AA championship games to Kane and the 2002 title game to C-L … Brockway has won five D9 titles, all in Class AA. The Rovers are 0-1 in Class A championship games after going 5-4 in AA tilts … Kane is making its fourth straight appearance in a title game – two in A and two in AA.