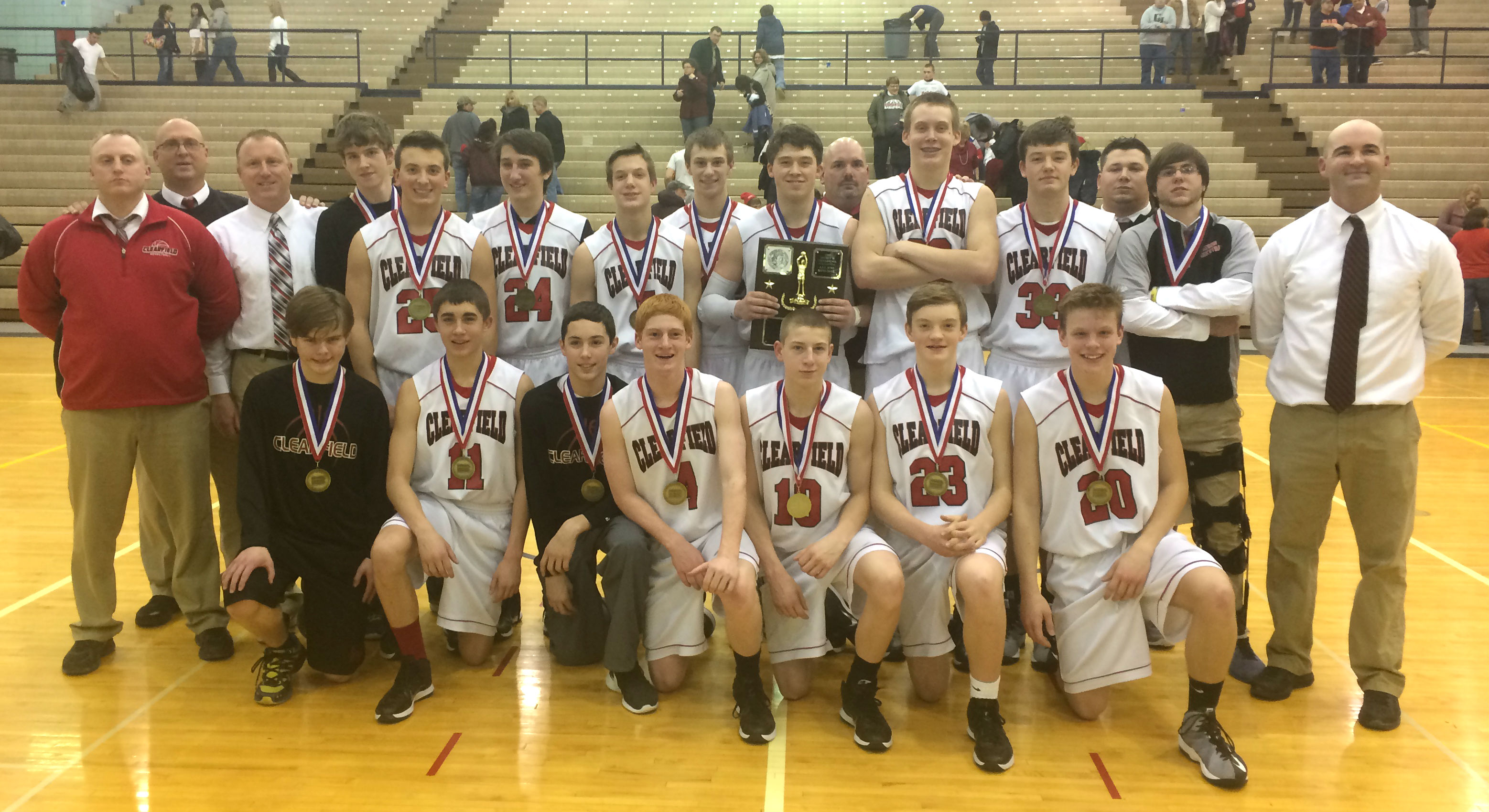 THE BRACKETS
By Chris Rossetti
Will Elk County Catholic end its title drought in Class , will Brookville make another run to a Class AA title when starting with a losing record, will Clearfield defend its title despite probably the strongest Class AAA field in recent member?
These are just some of the questions surrounding the start of the District 9 boys' basketball playoffs, which get under way Tuesday.
CLASS A
No. of teams in bracket: 11
No. of teams that get state playoff bid: 4
Championship game: Tentative Feb. 27 at Clarion University's Tippin Gym
Top seed: Elk County Catholic (24-0)
Defending champion/current seed: Clarion-Limestone (21-3; 4th)
OVERVIEW
Class A can be split into three categories: The Contenders – those teams with the best shot of winning the title – The Teams No One Wants to Play – those teams who while they probably aren't good enough to make a run all the way to the title, they are good enough to end the season title dreams of one of the contenders – and The Field – those teams who have had good seasons and are worthy playoff teams but who probably won't win the title.  
THE CONTENDERS
Any of the top four seeds could win the title.
ELK COUNTY CATHOLIC (24-0)
Notable – ECC hasn't won a title since, get this, 2011. That's almost hard to believe. And if they don't win it this year, it will mark the longest stretch since Aaron Straub took over the program in the 1980s that the Crusaders would go without a title.
ECC is coming off its first undefeated regular season since winning the PIAA title in 2006, and they also beat No. 2 seed Ridgway (21-3) three times, although all three games were within five points including one in overtime and another, the AML Title Game Saturday, being decided by a last-second shot.
Top players – Nate DaCanal (13.8 ppg), Kyle Huff (10.9 ppg), Gabe Kraus (10.5 ppg)
Why ECC will win – They are battled tested. Including the three games with Ridgway, the Crusaders have played 12 games against teams with a winning record and 19 games against District 9 playoff teams. They also are so well coached and a number of players can handle the basketball, always something important come playoff time. In addition, ECC plays great defense giving up the third-fewest points at 38.9 ppg while also being able to score ranking eighth in D9 in scoring averaging 58.6 ppg).
Why ECC won't win – Eventually the close games against Ridgway are going to go the Elkers way. Ridgway has had its chances against Elk in the first three games only to come up just short. It's very hard to beat a team four teams, especially one that you have played closely the first three times. Also, the seeding didn't exactly give the Crusaders an easy path in the semifinals where they could meet defending champion Clarion-Limestone, who beat ECC in the semifinals last year and won't be intimidated by the Crusader brand.    
RIDGWAY (21-3)
Notable – Ridgway has quickly built itself into one of the top programs in District 9, and last year marked the first time since 2011 the Elkers didn't make it to the Class A title game. They won titles since 2012 and 2014. Ridgway's three losses have all come to top seeded ECC by a combined total of 10 points. They just beat third-seeded Coudersport last week.  The Elkers got the second seed based on playing more AA, AAA and AAAA opponents than C-L and Coudersport, who they were tied with with a regular-season record of 20-2.
Top players – Jeremy Breier (17.3 ppg), Andy Breier (9.5 ppg)
Why Ridgway will win – They are due against ECC. After suffering three excruciating losses to their county neighbors, the fourth time could be the charm for Ridgway. And they seemingly have an easier path to the championship game facing a path of North Tier League teams in a year when the NTL seemed a bit down. The Elkers also are the stingiest defensive team in D9 by nearly five points per game allowing just 30.3 ppg.
Why Ridgway won't win – While the Elkers limit possessions and play strong defense, they still struggle to score and rank 18th in D9 in scoring at 50.1 ppg. On top of that, they only have one player, Jeremy Breier, averaging in double digits. If a team can take Jeremy Breier away, and get out in front of the Elkers, the chances of winning increase. In addition, the style of ball Ridgway plays tends to allow inferior teams to hang around longer than they should. And when that happens, a team can sneak up and beat you.    
COUDERSPORT (20-2)
Notable – The Falcons won their first North Tier League title since 2012 and are looking for their first PIAA playoff berth since finishing fourth in D9 in 2010. Coudy hasn't been to the D9 championship game since winning the 2008 title. Their losses came to AAA St. Marys in a game where they played shorthanded and to Ridgway. Coudy "earned" the No. 3 seed thanks to a coin flip over defending champion C-L Friday morning.
Top players – Darren Keglovits (15.8 ppg), Jared Green (14.4 ppg), Owen Chambers (12.9 ppg).
Why Coudersport will win – They are one of the deepest teams in District 9 with four players averaging 9.5 ppg or better. They also are the second-highest scoring team in the District averaging 68.1 ppg while allowing the second fewest at 35.3 ppg.
Why Coudersport won't win – The Falcons schedule was soft to stay the least. Outside of the two games they lost and a couple of non-conference matchups with Archbishop Walsh (NY) and Troy (Pa.) Coudy really hasn't been tested. And the lack of a test could become crucial in a close game. In addition, the loss of point guard Zach Layag, who was removed from the team in midseason, could be a factor. Layag could score and handle the ball. Without him, the Falcons become more prone to being pressed, as Ridgway showed in its win over Coudy.  
CLARION-LIMESTONE (21-2)
Notable – The Lions have won three straight KSAC titles and they are the defending champions having won their first title since 1961 last year over Cameron County. They are looking to become the first repeat champion in Class A since ECC won four in a row 2004 to 2007. Despite the loss of a two prominent seniors from last year – R.J. Laugand and Kolton Stiglitz – C-L has been able to reload thanks in part to the transfer of Taylor and Christian Smith from Clarion and the emergence of freshmen Ian Callen and Julian Laugand, R.J.'s younger brother.   
Top players – Dan Callen (19.4 ppg), Noah Rankin (14.7 ppg), Taylor Smith (13.6 ppg), Ian Callen (11.8 ppg).
Why C-L will win – The Lions are experienced in big games with Callen and Rankin both playing key roles in the run to the PIAA Quarterfinals last year. They also are the only team in D9 to have four players average in double digits, one of the big reasons why C-L leads the district in scoring at 76.1 ppg.
Why C-L won't win – The Lions reliance on a pair of freshmen in key spots could catch up to them in the playoffs when the stakes are ramped up another notch. They also don't play very good defense and rank 18th in D9 allowing 49.4 ppg. In addition, their persistence, at times, to rely on the outside shot instead of attacking the rim could hurt them in a close game.
THE TEAMS NO ONE WANTS TO PLAY
Union (16-7)
Notable – Union hasn't won a District 9 title since taking home the A crown in 1981. The Golden Knights lost to ECC in the 2011 title game. They have played Clarion-Limestone, their quarterfinal opponent, three times already this year. The first game was close, the second game was tight for a while and Friday's night's KSAC Championship game turned into a blowout by halftime. They rank seventh in D9 in scoring (58.8 ppg) and 15th in scoring defense (48.6)
Top players – Cole Morris (18.6 ppg), Lucas Bowser (14.1 ppg), Hank Murphy (12.3 ppg)
Why no one wants to play the Golden Knights – Morris can single-handidly beat you. He is that good. On any given night, the Union senior could take over the game and explode for 30 or 35 points and before you know it your playoff run is over.
Why the Golden Knights won't win it in the end – Union is too inconsistent. At times, and this can happen in the middle of games, the Knights look like they could beat anyone. But then it's gone, just like that, and they look like a team that would struggle to beat some of the worst teams in the state.   
CLARION (16-6)
Notable – It's been quite the unexpected turnaround year for the Bobcats, who were 5-17 last year and then saw two of their top players – Taylor and Christian Smith – transfer to C-L. But first year head coach Jess Quinn got a star of his own when Jonathan Smith – no relation – moved into the school district from Maryland. And Smith has been a difference maker averaging over 20 ppg. Smith's addition is a big reason why Clarion ranks fourth in D9 in scoring (64.2 ppg). The Bobcats are 27th though in scoring defense allowing 56.7 ppg.
Top players – Jonathan Smith (20.9 ppg), Cam Craig (11.2 ppg but Craig has missed the past five games with an injury and is questionable at best for the postseason), Ceventh Lynch-Skunda (8.6 ppg), Bo Miller (8.3 ppg).
Why no one wants to play the Bobcats – Smith makes Clarion a dangerous out, as Clarion-LImestone found out when it lost to the Bobcats last week. He can be a dominating presence on both sides of the court when he wants to be. And at 6-foot-5 with the ability to jump out of the gym, he has size and athleticism rarely found in D9.
Why the Bobcats won't win it in the end – The loss of Craig may be too much to overcome in the end. While Lynch-Skunda, Reed and Ryan Anthony and Spencer Miller have all done a nice job filling in, Craig is the rare point guard who can handle and score. If he can't return, the Bobcats don't have good enough guards to win the title. Also, it is very rare for a team ranked 27th defensively to win in D9. Unless Clarion figures out how to stop someone in the next couple of days its season will end sooner rather than later.
THE FIELD
OSWAYO VALLEY (16-6)
Notable – After flirting with getting over .500 the last couple of seasons, the Green Wave finally went over the mark this year for the first time since 2010. Brandon Brabham is one of the better players no one has ever heard of in D9. The kid can flat out shoot the basketball and is one of the big reasons OV ranks in the top 10 (9th) in D9 in scoring at 55.6 ppg. Oswayo is also in the top 10 in scoring defense ranking eighth giving up 45 ppg. The loss of point guard Dylan Buccholz to injury, though, has been huge.
Top players – Brandon Brabham (20.2 ppg), Theo Henry (8.3 ppg)
What it would take for the Green Wave to make a run – Brabham becoming unconscious. If the senior has a stretch of games where he can't miss, then maybe the Green Wave can pull an upset or two.
DUBOIS CENTRAL CATHOLIC (15-8)
Notable – The Cardinals haven't been to the PIAA playoffs since taking third in 2010, and when they fell to the eighth seed thanks to Clarion's win over C-L last week the chances of that streak ending got slimmer with Elk County Catholic looming in the quarterfinals if DCC can get past Otto-Eldred. DCC has faced Elk twice this year, and both games have been forgettable with the Crusaders winning 63-21 in the regular season and 61-27 Friday night in the AML semifinals. That could be too bad, because there are a couple of great storylines with this team including the emergence of freshman Justin Miknis and the dual-sport playing of Joey Varischetti, who is also wrestling at Brockway this winter.
Top players – Christian LaParne (19.1 ppg), Justin Miknis (10.8 ppg), Joey Varischetti (8.8 ppg).
What it would take for the Cardinals to make a run – ECC getting the flu? No, seriously, DCC's best hope is that it can put aside what happened in the first two games against the Crusaders while the Crusaders would come in taking the Cardinals lightly. But for that to happen, DCC can't have a let down against Otto-Eldred in the first round.
OTTO-ELDRED (14-8)
Notable – The fact the Terrors are even in the playoffs is something to be proud of. Just three years ago, Otto went winless finishing 0-20. So to have a 14-win season this year, the first plus .500 season in Duke Center since the Terrors won the NTL in 2000, is quite the feat considering it had a total of five wins from 2011-13. There is a little bit of District 9 royalty attached to the Terrors as well. Their leading scorer, Heath Stewart, is the nephew of the great Keystone coach, Greg Heath, and Stewart's cousin, Garrett, is the second all-time leading scorer in D9 history.
Top players – Heath Stewart (14.6 ppg), Dylan Close (9.7 ppg)
What it would take for the Terrors to make a run – Heath Stewart would need to think he is Garrett Heath for a few games. As good as Stewart has been this year, he isn't quite his cousin. But if he can channel his cousin at the most important time of year, the Terrors could beat DCC. But then ECC looms, and it would perhaps be the biggest upset in District 9 history if Otto would get to the PIAA playoffs.
CAMERON COUNTY (12-10)
Notable – The Red Raiders should be commended for not falling completely off the planet after last year's run to the D9 title game. The loss of Nate Sestina and Keith Spehalski, the top two scorers from a year ago, would have been too much for most teams to overcome. Add in a 3-6 start, and few saw Cameron as a playoff team. But here they are and with a first-round matchup against an Oswayo Valley team it just beat last week. Defense has been the name of the game this year for the Red Raiders, as they rank ninth in D9 in scoring defense at 45.3 ppg.
Top players – Trae Smith (15.8 ppg), Derek Rieder (9.0 ppg), Adam Shaffer (8.3 ppg)
What it would take for the Red Raiders to make a run – Smith exploding would help. So too could a quarterfinal matchup against a familiar team in Coudersport, although the first two meetings didn't go well with Coudy winning 67-25 and 73-36.
JOHNSONBURG (9-14)
Notable – The Rams have taken a step back since the graduation of Cameron Grumley and Cole Peterson, the fantastic guard duo that led them to the 2013 PIAA championship game and a runner-up finish. And this year's team being in the postseason on the surface is a bit of a head scratcher considering five of their nine wins have come against three teams – Smethport, Curwensville and Sheffield – that combined for 12 wins on the year. But the Rams do have a pair of wins over DuBois Central Catholic as well as a victory over Kane, the No. 2 seed in the AA bracket. In addition, they only lost to Punxsutawney by five. But they also can't score ranking 27th in D9 at 41.5 ppg. They do come in seventh in scoring defense allowing 44.7 ppg.
Top players – Kevin Benson (11.5 ppg), Ryan Kilhoffer (9.5 ppg)
What it would take for the Rams to make a run – A third player stepping up to join Benson and Kilhoffer in the scoring would be nice. No other Ram is averaging more than 5.1 ppg. Also, limiting other team's possessions could help.  
CLASS AA
No. of teams in bracket: 6
No. of teams that get state playoff bid: 1
Championship game: Tentative Feb. 27 at Clarion University's Tippin Gym
Top seed: Cranberry (14-8)
Defending champion/current seed: Redbank Valley (Failed to enter playoffs after going 8-14)
OVERVIEW
While Class A seems to have distinct differences in the field, the Class AA bracket would appear to be wide open with any of the six teams more than capable of winning the title. That being said, all those teams have their strengths and all have their weaknesses.
CRANBERRY (14-8)
Notable – The Berries seem to be in the mix for the District 9 AA title more often than not and won the championship in 2008. But since then, they have been the runner up three times finishing second to Brockway in both 2009 and 2013 and second last year to Redbank Valley. While they are the top seed thanks to record, the Berries have lost to both Kane and Karns City this year.
Top players – Evan Lutz (14.5 ppg), Brendan Zerbe (11.5 ppg)
What it will take for the Berries to win it all – Consistent play from its role players and Zerbe. Lutz pretty much shows up every night, while Zerbe has been up and down at times this year. But the Berries have been at their best when their role players like Nick Varsek, Dechlyn Sheffer, Austin Rex and Caleb McCandless have risen to the challenge. If a couple of those guys have a good postseason, the Berries could reclaim the title.
KANE (12-10)
Notable – It's been a nice bounce-back year for the Wolves, who were 3-19 a year ago. But it's still a program that hasn't won a playoff game since finishing second to Cranberry in 2008, and Kane hasn't won a D9 title since 2007. This year's team has been interesting. One would have expected a slow start with the football team coming off a run into the PIAA Class A playoffs, but the Wolves started 6-2 with the losses coming to Class A heavyweights ECC and Coudersport. But that start was followed by a horrific 2-10 slide that threatened to knock the Wolves from playoff contention. However, the return of big man Dave Bucheit, who missed three of those losses with an injury, helped Kane go 3-0 down the stretch including a win at Cranberry.    
Top players – Andrew Bucheit (20.4 ppg), Frank Truden (8.0 ppg), Davis Gardner (7.6 ppg)
What will it take for the Wolves to win it all – Bucheit staying healthy and playing to his full potential. He was dominant in the three games back after injury averaging 25.7 ppg. If he can do that in the playoffs, the Wolves will add yet another trophy to the ever growing trophy case at the high school.
KEYSTONE (11-11)
Notable – The Panthers looked anything but like a playoff team at the start of the year losing three in a row while not reaching 40 points in any of those games. They were also just 5-8 following a loss to C-L Jan. 13. But since that time, Keystone has gone 6-3 including an overtime loss to Clarion and another close defeat to Union. Greg Heath's five is also playing some of the best defense in District 9 ranking fourth in scoring defense allowing just 42 ppg. Once one of the premier programs in D9, Keystone hasn't won a District 9 title since 2006 (AA) and hasn't been to a title game since 2007 (A).  
Top players – Austin Ion (11.0 ppg), Mason Rearick (8.6 ppg), Tanner Wilson (7.1 ppg).
What it will take for the Panthers to win it all – Ion, a junior, must continue to mature into the on-court leader he has become over the past month. After averaging only 8.3 ppg through the Panthers first 15 games, Ion has upped his average to 16.6 ppg over his last seven. If Ion can continue that level of play, and the Panthers continue to play strong defense they will be a tough out because Heath is one of the top coaches in D9 and will have them game-planned for success.  
KARNS CITY (10-11)
Notable – The Gremlins have been an interesting team this year. They own a win over Clarion-Limestone and have also beaten Keystone and Cranberry. But at the same time, they got blown out by Brookville and lost to Redbank Valley in the season finale, a game that could have but didn't cost them a postseason spot. One thing is for sure, KC is better when it gets to play at home going 6-3 at home compared to 4-8 away from Karns City. The Gremlins haven't been to the D9 title game since winning it all in 2005.
Top players – Chandler Turner (9.9 ppg), Noah Pollock (8.8 ppg), Ian McElroy (7.1 ppg)
What it will take for the Gremlins to win it all – A return of the first half of the year Chandler Turner. Turners averaging 12.2 ppg through the Gremlins first 12 games but has fallen to 6.9 ppg over the last nine contests. KC may also want to bottle something – the water, the air, anything – from Karns City and take it with them on the road. Or higher a hypnotist to make the players think they are playing in KC.
BROCKWAY (10-12)
Notable – For the second straight year, the Rovers started slowly but came on with a bang. After starting the season 4-11, Brockway closed with six wins in its last seven games with the only loss coming at Ridgway. The Rovers have won the title twice in the past seven years taking home championships in 2009 and 2013.
Top players – Jake Wineberg (10.4 ppg), Corey Carr (8.8 ppg), Carter Adams (8.7 ppg).
What it will take for the Rovers to win it all – Just keep playing the way they have been over the last month. If they do that, they are good enough to win the title in an unremarkable Class AA field that is lacking true star power outside of Bucheit.  
BROOKVILLE (8-14)
Notable – Is it an omen for Brookville, the 8-14 record? That is the exact record the Raiders finished the regular season with two years ago before winning the title, their third since 2010. Like Brockway, the Raiders have been at their best late in the season entering the postseason having won three straight and four of five with the lone loss coming to unbeaten ECC. They are also just one of two teams in the field – top-seeded Cranberry is the other – to have a pair of players averaging in double digits. But defense has been an issue, and the Raiders rank 25th in D9 in points allowed giving up 56.5 ppg.
Top players – Kurt Schindler (14.0 ppg), Jimmy Moore (12.5 ppg).
What it will take for the Raiders to win it all – Moore is a bit of a wild card in the Raiders chances for a title. He has had some unbelievable games this year topping 20 points five times while scoring at least 25 four times. If he does that and Schindler continues his steady play, Brookville could repeat its run of two years ago.  
CLASS AAA
No. of teams in bracket: 4
No. of teams that get state playoff bid: 0 automatic but the D9 champion plays the D8 champion with the winner going into the state bracket  
Championship game: Tentative Feb. 19 at Clarion University's Tippin Gym
Top seed: Clearfield (20-2)  
Defending champion/current seed: Clearfield (1)
OVERVIEW
While defending champion Clearfield is the favorite, any of the other three teams – Punxsutawney, St. Marys and Bradford – are capable of winning the title making perhaps this perhaps the toughest of the three District 9 classifications.
THE TEAMS
CLEARFIELD (20-2)
Notable – Clearfield is seeking back-to-back D9 titles for the first time in school history, and a championship-game appearance would be the third straight for the Bison, who lost to Punxsutawney in 2014 (they were the only teams entered). Clearfield hasn't been to the title game three straight years since 1989-91 in AAAA (they won in 1989 and lost to Punxsy each of the next two seasons). One of Clearfield's two losses came in mid-December at Punxsutawney when the Bison were without big man Cody Spaid. They are also the third-highest scoring team in D9 averaging 67 ppg and join C-L as one of just two D9 teams with four players averaging in double digits.
Top players – Will Myers (17.4 ppg), Tommy Hazel (12.3 ppg), Cody Spaid (11.2 ppg), Evan Brown (10.9 ppg)
What it will take for the Bison to win the title – Just play within themselves. If Clearfield plays to its capability, it's the best D9 AAA team. But they can't get cost looking past an opponent like they did a couple of weeks ago against a middle-of-the-road Mountain League opponent, Central-Martinsburg. The other teams in the D9 field are just too good for Clearfield not to play its "A" game and win the title.
ST. MARYS (14-8)
Notable – The Dutch can score with the best of them and rank fifth in D9 in scoring offense averaging 61.6 ppg. But their problem has been a lack of commitment to defense. St. Marys ranks dead last among D9 playoff teams giving up 57.4 ppg, the 28th-best mark in D9. The six teams below them – Moniteau, Forest Area, Northern Potter, Curwensville, Venango Catholic and Austin – combined to win 24 games. The Dutch have beaten Punxsy twice including 64-54 last Wednesday but also lost to Bradford twice and Clearfield once.  
Top players – Jeff Wehler (14.4 ppg), Parker Housler (13.6 ppg), Brady Bauer (10.6 ppg)
What it will take for the Dutch to win the title – A little bit of defense would help. St. Marys is 9-2 when it manages to hold teams under 60 points. That isn't asking too much considering that is actually more than the season average. But the Dutch have allowed at least 60 points 11 times on the season. If that happens in the playoffs, the trip will be a short one.
PUNXSUTAWNEY (14-8)
Notable – The Chucks looked like the top AAA team for the better part of the first half of the season and were 8-1 on New Year's Day including a win over Clearfield. But 2016 hasn't been kind to Punxsy, as it's gone 6-7 including a pair of losses to St. Marys that has forced them on the road in the semifinals. The Chucks do posses a lethal offense averaging 59.3 ppg, but they have only reached that part six times since Jan. 1.  And the defense isn't there. Since Jan. 1, at least 60 points has been scored on the Chucks seven times. In addition, the loss of a couple of key players who are no longer on the team hasn't helped the depth.
Top players – Dylan Huey (13.7 ppg), Brandon Matthews (10.6 ppg), Devin Kelly (8.9 ppg), Ethan Riley (8.8 ppg)
What it will take for the Chucks to win the title – Rediscovering the early-season magic would help. Bute more importantly, just staying within the game plan and executing could go a long way. That's what the Chucks did in a 63-51 win at Bradford Friday night to close out the regular season. If they can build off that game, it's not out of the realm of possibility they could take home the title.
BRADFORD (10-12)
Notable – The Owls have won 10 D9 AAA title since 2001 with the last coming in 2013. This has been a year of streak for Bradford. The Owls started the year 2-6 but then won four in a row and 8 of 11. But they finished on a down note losing three in a row. Some of the ups and downs can be attributed to a young roster with the top three scorers – Deondre Terwilliger, Andy Pantuso and John Eakin 0  all being sophomores. They do own a pair of wins over second-seeded St. Marys, so if they could upset Clearfield they might be the favorite in the title game. Bradford does rank sixth in scoring defense in D9 (43.8 ppg) but they are 25th (44.0) in scoring offense.
Top players – Deondre Terwilliger (10.4 ppg), John Eakin (8.6 ppg), Andy Pantuso (7.0 ppg)
What it will take for the Owls to win the title –  Slow the game down against Clearfield. The Bison are more talented with better athletes than Bradford. The Owls must control the tempo and not get into a track meet with the high-scoring Bison. Bradford has only scored 50 points four times this year.