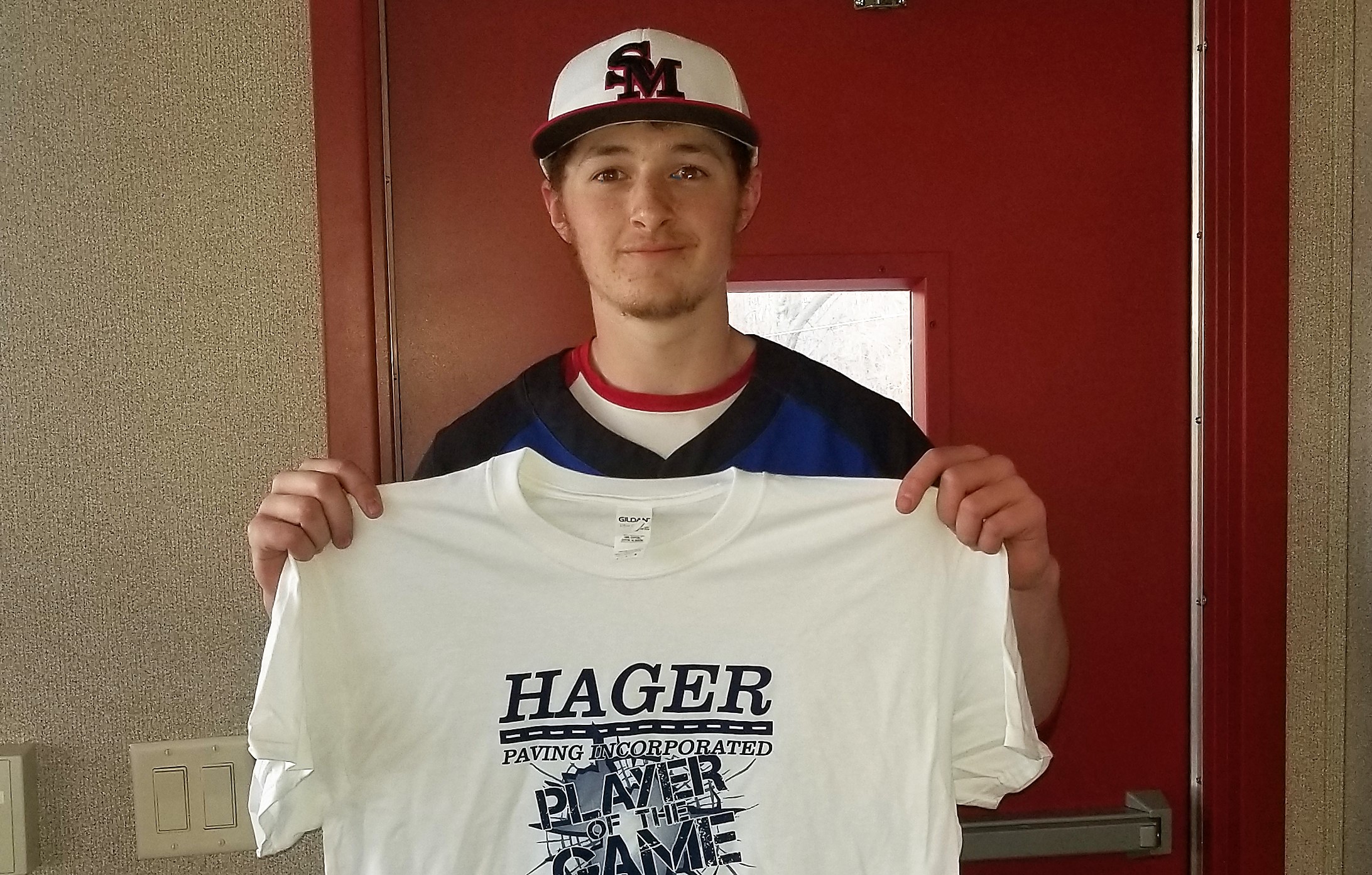 DUBOIS, Pa. – Nate Beimel was nearly unhittable over four innings to help visiting St. Marys beat DuBois, 11-4, at Showers Field in DuBois Wednesday night.
(Photo of Nate Beimel of St. Marys)
Relisten to most of the game (recording starts in the top of the third with one out and a run in)
Beimel recorded 12 outs in his four-inning outing with 11 of them being by strikeout. He allowed one hit, three walks and one run. Beimel also helped himself on offense hitting a solo home run in the third inning that staked the Dutch to a 3-0 lead at the time.
Beimel talked about the victory.
St. Marys banged out eight hits in the game and took advantage of nine walks issued by five different DuBois pitchers to score its 11 runs with six of those runs coming in a decisive fifth inning that saw the Dutch take a 4-1 lead and turn it into a 10-1 lead with a five-spot in the fifth.
Jake Meeker had the best offensive day for St. Marys going 3-for-3 with a walk, three runs scored and two RBIs. Austin Sadosky added a 1-for-4 day with a run scored and two RBIs, while Tim Beimel walked three times and scored twice and Hayden Tettis went 1-for-3 with an RBI and two runs scored.
DuBois managed just three hits off of three St. Marys pitches and scored three of its runs in the bottom of the seventh once the game was out of hand.
Garrett Starr was 1-for-3 with a two-run double and two runs scored to pace the Beavers with Peter Forardora also adding a single and an RBI and Chase Husted getting a single and a run scored.
With St. Marys ahead 10-1 after the five-run fifth, manager AJ Meeker elected to remove Beimel, who was at 85 pitches.
Jared Groll relieved and was mostly effective until tiring late when he was also hurt by a couple of defensive miscues.
Groll went 2 ⅔ innings allowing three runs, one earned, on two hits, a walk and a hit batter while striking out four. Tim Beimel came on and got the final out after issuing a walk.
DuBois starter Dylan McCluskey suffered the loss. He pitched two innings allowing two runs, both earned, on two hits and three walks. The three walks in the second were a problem with two of them coming around to score.
Starr then went two innings allowing two runs, both earned, on two hits and a walk while striking out one. Foradora was then roughed up for five runs, all earned, on three hits and two walks while striking out one in a ⅓ of an inning of action. Heath Means went 1 ⅔ innings giving up one unearned run on a hit and two walks while striking out one and Jeremy Krise finished off going one inning allowing an unearned run on a walk while striking out one.
OSWAYO VALLEY 6, CAMERON COUNTY 3
EMPORIUM, Pa. – Garren Black went 3-for-4 with a home run, a run scored and an RBI and was dominate on the mound to help visiting Oswayo Valley down Cameron County, 6-3.
Black pitched 6 ⅔ innings before having to come out of the game with 104 pitches allowing three unearned runs on five hits and no walks while striking out 13 in getting the win.
Ryan Graves, who added a double and a run scored for the Green Wave while going 2-for-3, then recorded the final out to pick up the save.
Adam Shaffer did most of the damage for Cameron County going 2-for-4 with a double and two RBIs.
Shaffer took the loss going two innings allowing an unearned run on a walk while striking out two. Marcus Brown then gave up five runs, two earned, on seven hits and a walk.
PUNXSUTAWNEY 8, BROOKVILLE 2
PUNXSUTAWNEY, Pa. – Scoring six runs in the second inning, Punxsutawney dealt Brookville an 8-2 loss Wednesday at Kuntz Field in Punxsutawney.
The Chucks were the visiting team because of a venue switch since McKinley Field in Brookville was unplayable. Five hits came in the second inning off Raiders starter Dane Lyle, including run-scoring singles by Addison Neal and Tyler Richardson. Isaac Stouffer doubled in a run while Logan Johnston singled in a run off new pitcher Brady Caylor.
Punxsutawney added runs in the third and fifth innings. Richardson, Brandon Matthews, Johnston, Derek Huey and Neal each had two hits.
On the mound, the Chucks used three pitchers with Johnston, Huey and Daren Byers. Huey threw the middle three innings to get the win, allowing five hits, one run and two walks while striking out three.
Brady Caylor and Seth Dunkle each had two hits for the Raiders, who loaded the bases in three of the first four innings, but scored one run. Dunkle had both runs batted in.
Lyle took the loss giving up five hits and six runs in 1 2/3 innings.