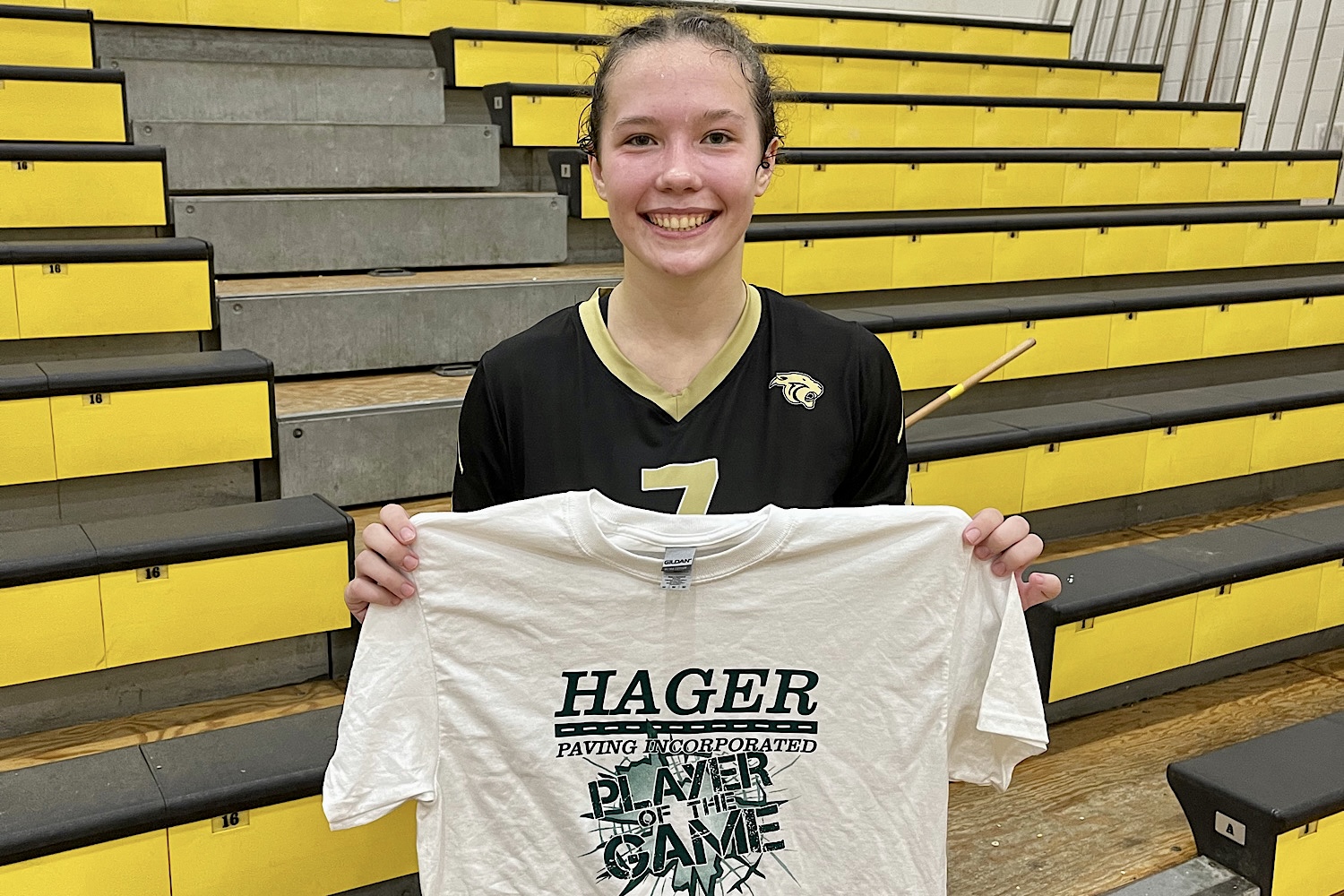 OIL CITY, Pa. (EYT/D9) — Leah Exley had 11 kills, five aces and two blocks and Natalie Bowser has four kills and 14 assists as the Keystone volleyball team survived a five-set test against Oil City, 19-25, 25-10, 23-25, 25-14, 15-5.
(Above, Leah Exley)
The Panthers were down 2-1 before rallying for the win with two decisive victories in the fourth and fifth games.
Audrey Burroughs had five kills, 13 service points and two aces and Emma Plummer pitched in eight kills for Keystone, which improved to 9-1.
Keystone was coming off a straight-set victory over Union on Saturday, 25-16, 25-12, 25-10.
In that match, Kennedy Kaye had 19 service points and five aces. Karley Callander pitched in nine points and Leah Exley and Sydney Bell each had eight kills.
The Panthers will take on streaking A-C Valley on Tuesday night.
A-C VALLEY 3, BROOKVILLE 0 — Lexi Ruckdeschel had 12 kills and 10 assists and Bella Ielase had seven kills and 16 digs to lead the Falcons to the 25-13, 25-21, 25-16 sweep of the Raiders.
Mackenzie Parks pitched in six kills, Jenna Stefanacci 19 assists and Ava Snyder 10 service points for A-C Valley, which has now won five straight and will host 9-1 Keystone on Tuesday night.
UNION 3, TIDIOUTE CHARTER 0 — Taylor Shick had five kills and Gracie Gallagher and Grace Kindel each had four aces to lead the Damsels to the 25-10, 25-16, 25-19 sweep.
Kindel also had four assists.