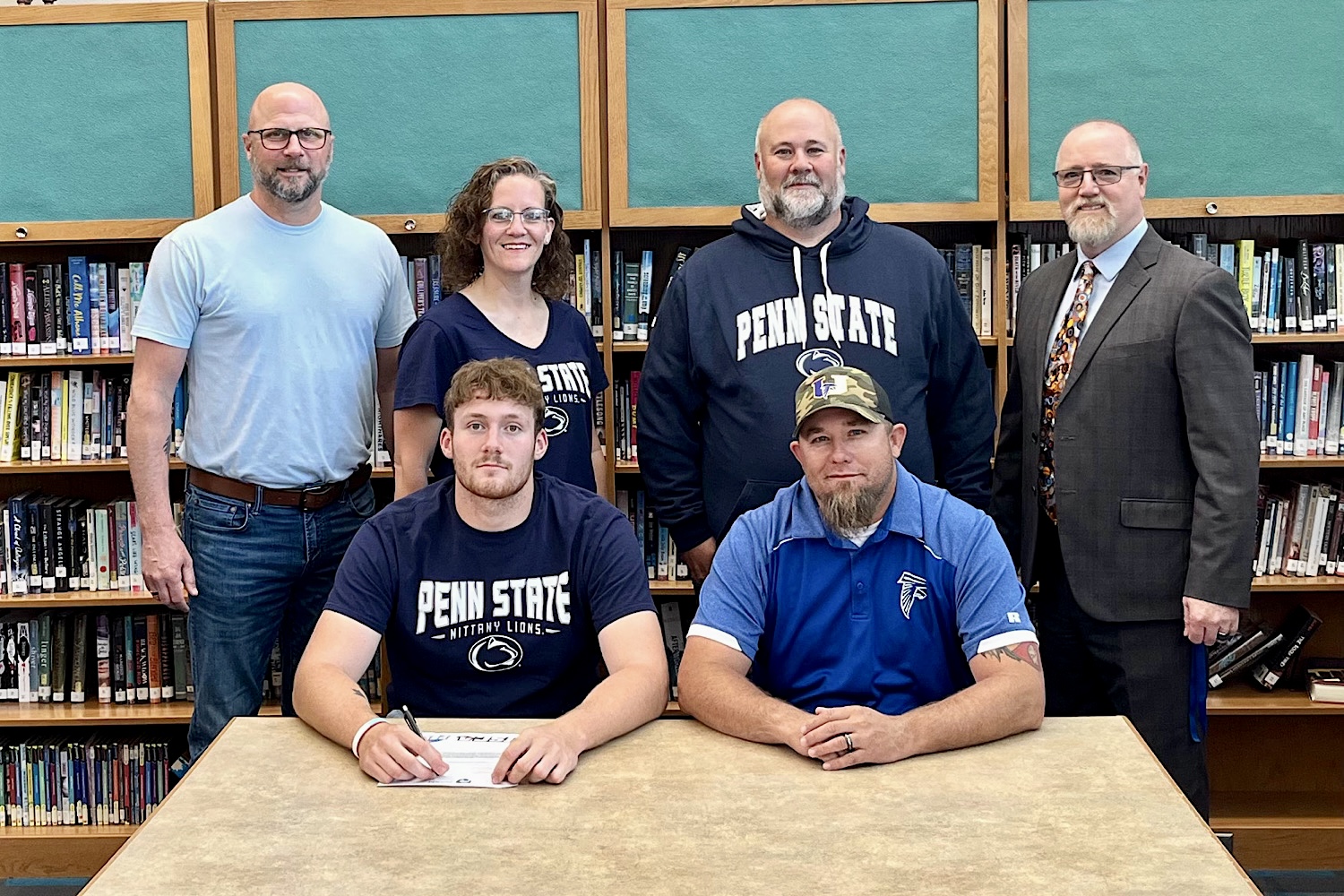 FOXBURG, Pa. (EYT/D9) — Alex Preston enjoyed being in the center of it all.
The 6-foot-5 senior forward on the A-C Valley boys basketball team was the catalyst for the Falcons' offense from the high post.
It was a role he relished.
(Pictured above, Alex Preston signs his letter of intent to play basketball at Penn State DuBois. Sitting next to him is A-C Valley boys basketball coach Chris McNany. In the back row, from left to right, is A-C Valley athletic director Dave Sherman, Heather Preston, Jamie Preston and A-C Valley principal Bill Jordan)
"It was nice because I was able to contribute to the team more than just scoring," Preston said.

Redbank Valley, Keystone, and Union/A-C Valley sports coverage on Explore and D9Sports.com is brought to you by Heeter Lumber.
Preston averaged 12.9 points and also chipped in eight rebounds per game for A-C Valley this winter.
With his size and ability to do many things on the floor, Preston was an attractive option for several colleges who were recruiting him.
When it came down to it, though, Preston had to make a choice between Edinboro University and Penn State DuBois.
He chose Penn State DuBois, signing his letter of intent to play for the Lions on Tuesday.
"I got my offer back in January or February and I was going back and forth between them and Edinboro," Preston said. "I went on their recruitment day in March to check it out and check out the overall environment and I really liked the campus. It's a nice, small campus.
"It's always been a dream of mine to play basketball at the collegiate level," Preston added. "I'm excited to get that chance there."
Preston said the recruiting process for him alternated between stressful and exciting.
"It was definitely different than I expected," Preston said. "It was more just nerves about realizing that this is my future, so I gotta figure it out and make the right choice."
Preston has no doubt that he did.
"It was a long process to get everything figured out," Preston said. "But I figured it out."
Preston's size can be a weapon, but also his overall skill.
He has the ability to post up or shoot from the perimeter. He can handle the ball and plays sound defense. Those attributes were cultivated over years of playing the game.
Preston started his basketball career as a third-grader.
His coaches during that time were the junior varsity and varsity players at A-C Valley. He remembers looking up to them. Learning from them. Wanting to be like them.
When he entered high school, the student became the coach. Preston worked with players in grades three through six, imparting the same knowledge that was taught to him when he was that age.
"That was kind of what drew me toward basketball, having these older students to coach and teach us the game they know," Preston said. "It's really neat. Getting pulled up as a freshman gave me four years to be able to work with these younger kids to coach them."
Preston said there is no better feeling for him than seeing a young player he coached use a skill he taught him.
"I get to help them learn new skills and teamwork," Preston said. "Just to see them improve throughout the four years I've worked with them has been just awesome. I get to see the whole perspective of the coaching side of things."
Preston has also coached younger baseball players.
Preston's father, Jamie, is the junior high baseball coach in the A-C Valley district.
"I've been coaching baseball longer than I have basketball because my dad's always been a coach," said Preston, who also plays for the Union/A-C Valley baseball team.
His experience working with younger kids has sparked his interest in coaching in the future.
"I would like to do that," he said. "Maybe be a high school coach one day."
For now, Preston is focusing on his first dream.

Playing basketball in college.
"It's a relief now knowing where I'm going to go," Preston said. "I can't wait to get started."

Redbank Valley, Keystone, and Union/A-C Valley sports coverage on Explore and D9Sports.com is brought to you by Heeter Lumber.