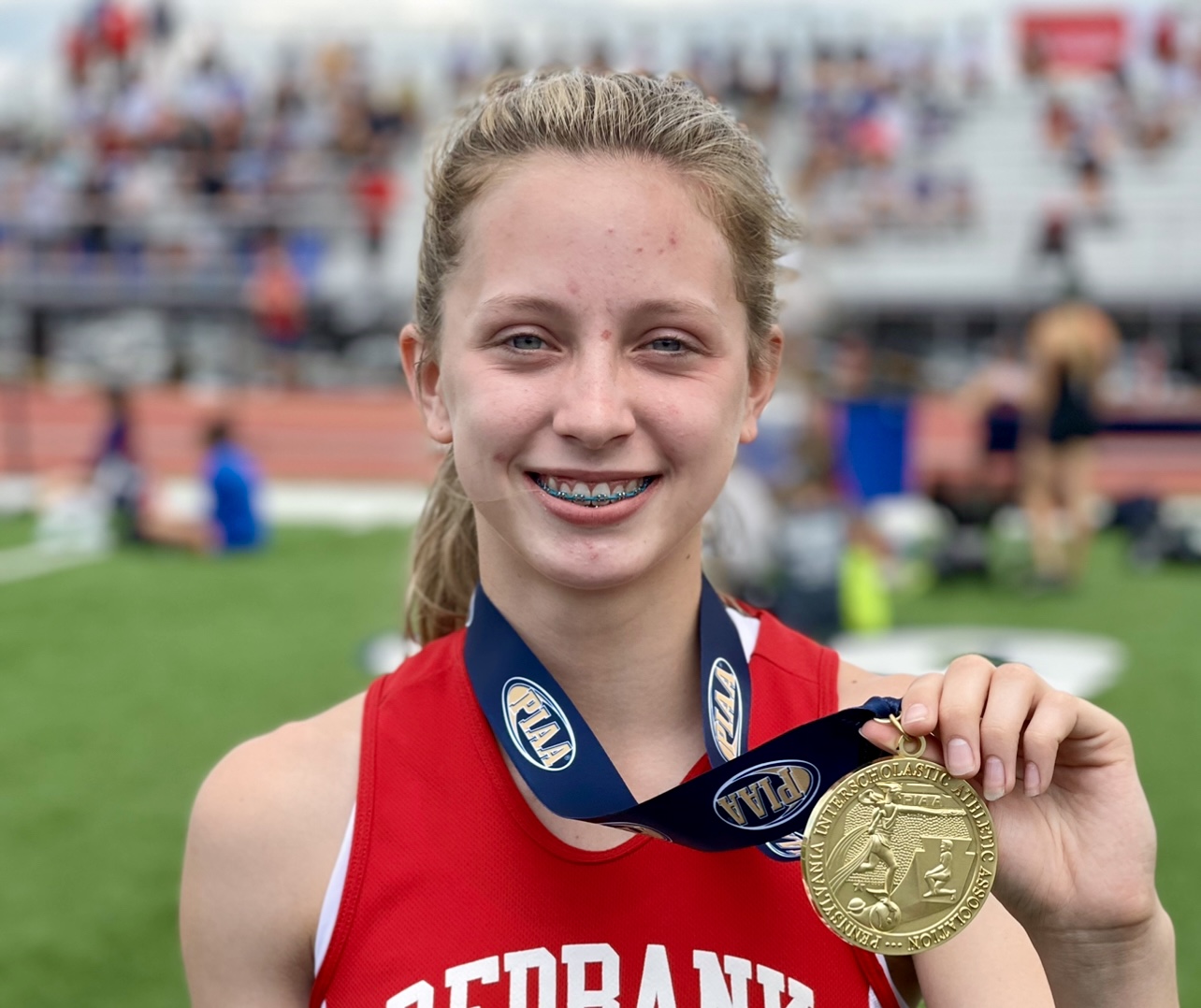 NEW BETHLEHEM, Pa. (EYT/D9) — Mylee Harmon felt a knot in her stomach and her heart hammer in her chest.
She always experienced the butterflies zipping around inside her gut before a race.
This time, though, was different.
This time, the stakes couldn't be higher.
(Pictured above, Redbank Valley's Mylee Harmon is all smiles as she holds her gold medal in the 400-meter dash)
Harmon settled into her block at the start of the 400-meter dash at the PIAA Track and Field Championships at Shippensburg University in May with a feeling she could do well. A fourth-place medal, maybe; third if she could run a good race.
Her run was more than good.
But as the event started, she lagged behind. By the final turn, she was in fifth place.
Then something remarkable happened over the next 110 meters.
Harmon still isn't sure what came over her. It was like an outer-body experience.
"I just knew they were slowing down and it seemed like I was speeding up," Harmon said. "I just said to myself that I needed to keep going, that I needed to keep pushing. Then the adrenalin just kept me going."
Suddenly, she was fourth. Then third. Then second, bearing down on the frontrunner over the final 20 meters.
As the leader, Lily Saul of Montoursville, stumbled just before the finish line, Harmon crossed, still unsure if she had won.
When it was confirmed that she had — with a school-record time of 57.15 seconds — Harmon still didn't believe it.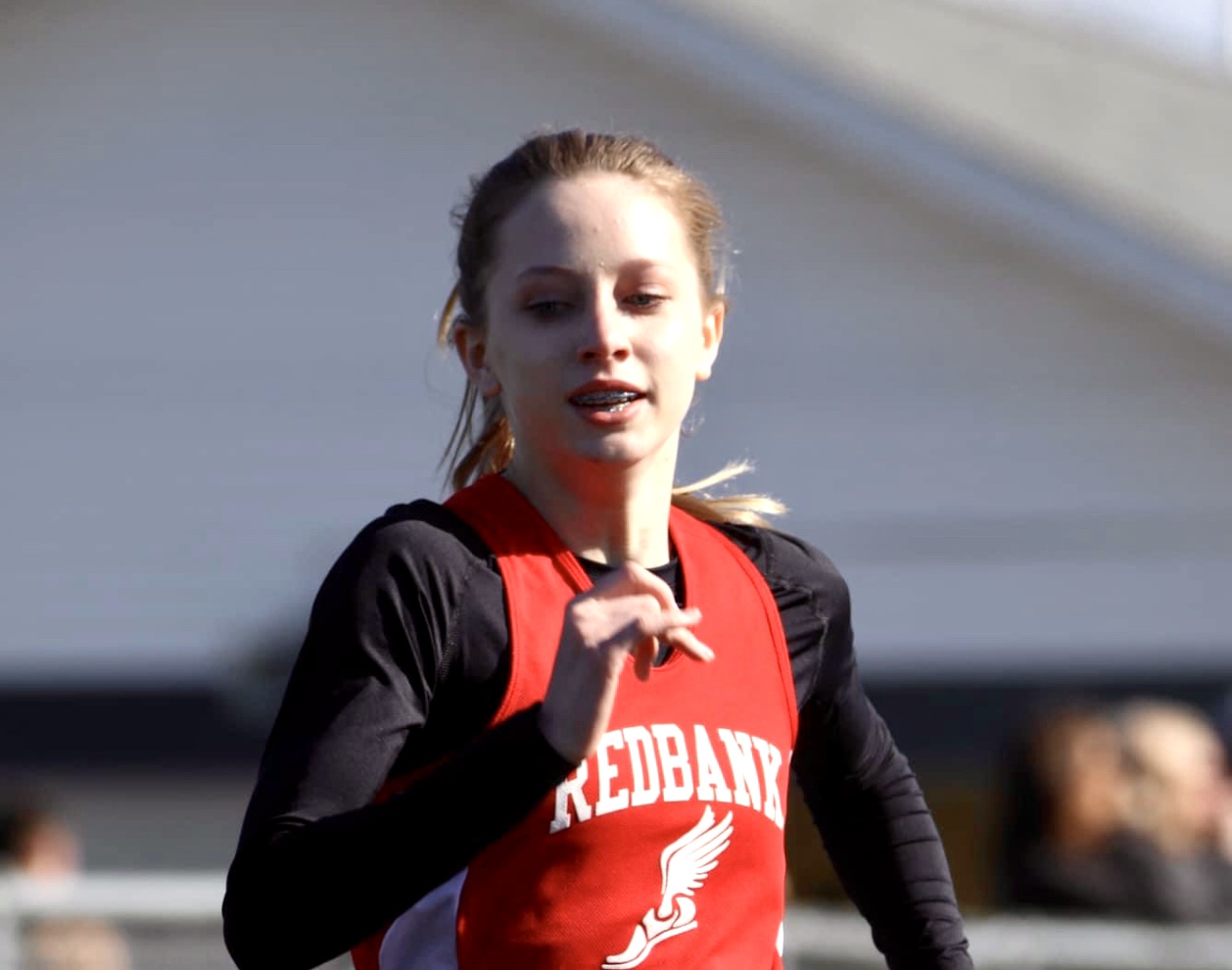 (Mylee Harmon)
"I was like, 'Are you serious?'" Harmon said. "'Is this like actually happening?' It wasn't until I got onto the podium that I was like, 'Oh, wow, I actually just did that.'"
Harmon became the first Redbank Valley track and field athlete to win a gold medal at the state championships. And she did it as a freshman.
It was just one of many top stories from 2022.
Harmon still didn't realize the scope of what she had done until she watched the video of her run for the ages.
She couldn't believe she was the person she was watching zipping past five runners in a mad dash that will likely be talked about at Shippensburg for years.
"I still can't believe I did that," she said.
Harmon had a pretty good 2022.
In addition to the state title in the 400, she won District 9 championships in three events: the 400, 200-meter dash and high jump.
She also ran a leg of Redbank Valley's 4×400-meter relay that finished second to wrap up the team title — the Bulldog girls' first in school history.
On the basketball court, Harmon also shined.
She emerged as one of the best players in the district and helped Redbank Valley to a D9 Class 3A championship.
Harmon is looking forward to another great year in 2023. She admitted, though, she feels the pressure.
"I just have to keep my head on straight and not let any outside people dictate how I play or run track or anything," Harmon said. "I just have to keep my head down and just do what I did last year, not get too cocky or anything."
Here's a look at some of the other top stories from 2022:
DuBOIS CENTRAL CATHOLIC BASEBALL DOMINANCE
On April 30, the DuBois Central Catholic baseball team dropped a 3-2 decision to Elk County Catholic.
It was a disappointing defeat.
In the end, though, it was just what the Cardinals needed.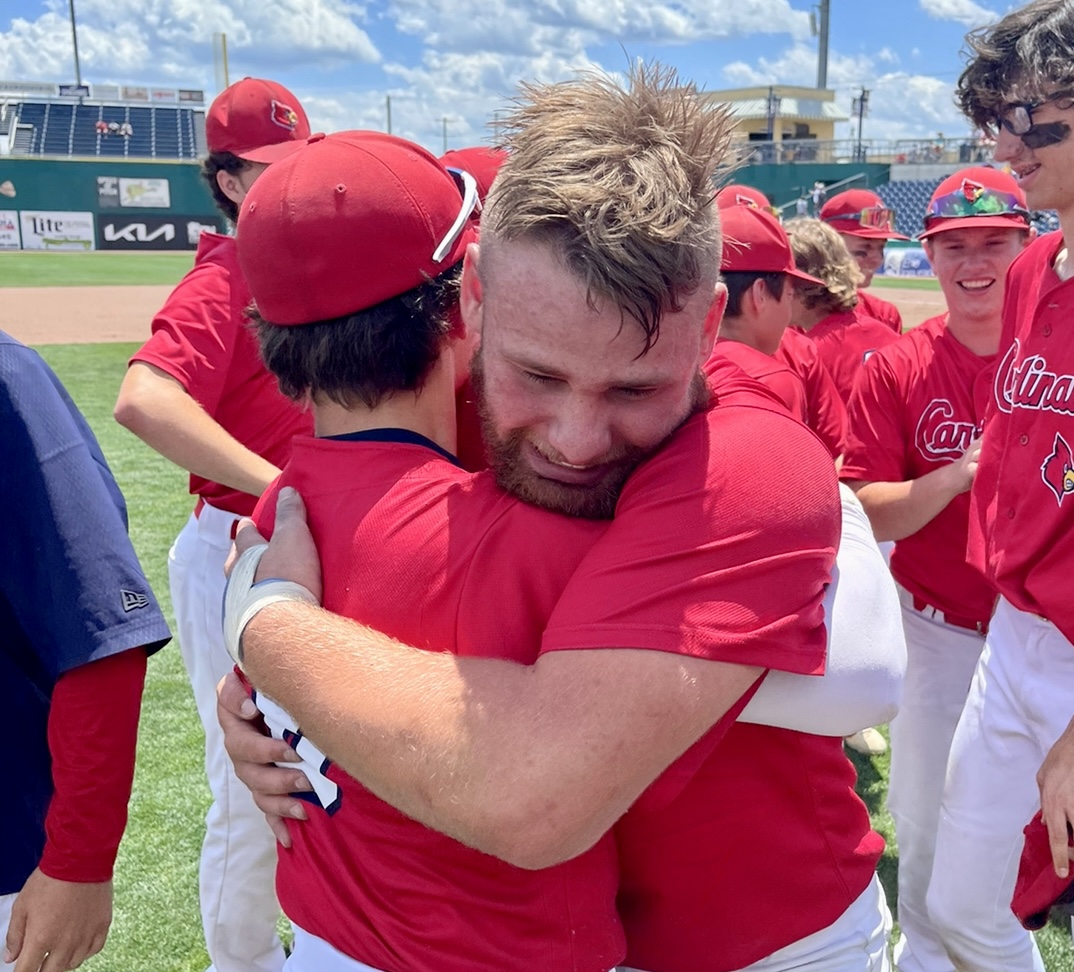 "We let our guard down. We didn't show up," said DCC baseball coach Adam Fox. "It really just set the tone for the rest of the year. We said we weren't going to take anything for granted. We knew we had a good team.
"The game of baseball can humble you, and that's what it did that day," he added. "That was the point where the guys said, 'We're not looking back. We're not losing.'"
The Cardinals didn't.
Instead, they rolled off 15 straight wins to end the season, including a 12-2 bludgeoning of Halifax in the PIAA Class A title game to win the state championship.
During its state playoff run, DCC won by scores of 15-5, 7-1, 12-2 and again 12-2 in the final.
It was an unprecedented hot streak in the PIAA postseason for a team that finished the year at 22-4.
CARDIAC CLEARFIELD
The Clearfield softball team had a much different run to the state championship.
There was a whole lot more handwringing and fingernail biting than the DCC baseball team.
The Bison played in tight game after tight game throughout the playoffs. Three of Clearfield's four state playoff wins came in its final at-bat.
Including the state final game against Tunkhannock when Alexis Bumbarger blooped a single into shallow left field to bring home Ruby Singleton with the winning run in a 4-3 win for the Class 4A crown.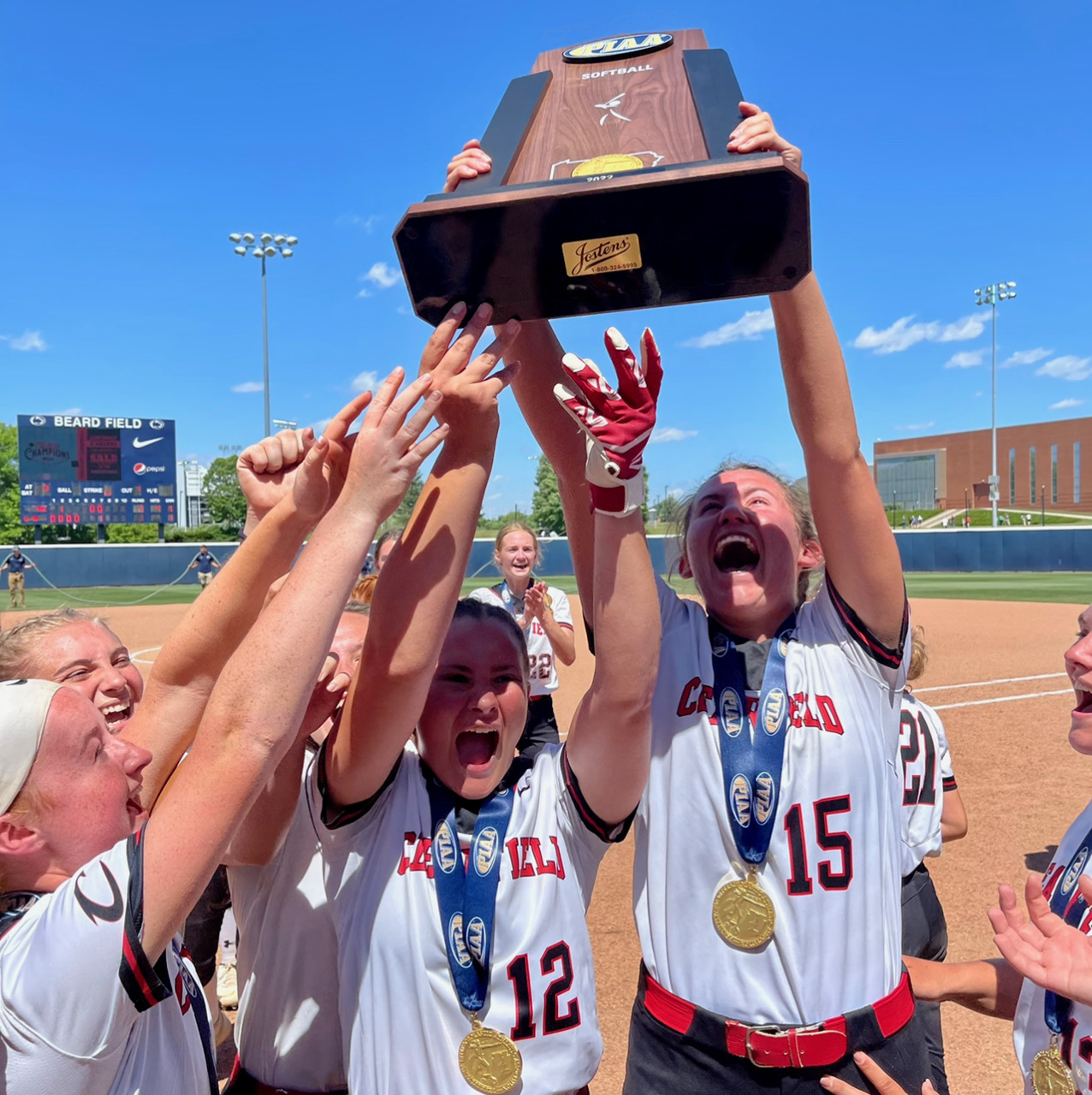 The state playoff run began with a 4-3, walk-off win over Franklin. Pinch runner Paige Houser sprinted home on a wild pitch for that victory. Then, after a relatively ho-hum 4-0 win over Hamburg in which Bison all-state pitcher Emma Hipps tossed a one-hitter, Singleton came through with a game-winning infield single to snap Beaver's 42-game winning streak, 2-1.
The weren't called "Cardiac Clearfield" for nothing.
UNION/A-C VALLEY'S SMITH, BLAUSER SOAR
Harmon wasn't the only District 9 hero at the state track meet.
Union/A-C Valley's Hayden Smith and Baylee Blauser came home with their own gold medals dangling around their necks.
Smith made huge strides in the high jump between his freshman and sophomore campaigns.
He really started to soar near the end of the season, clearing 6 feet, 6 inches at the Rock Relays and then 6-9 at the Redbank Invitational — a tune-up meet for the impending District 9 championships.
In Brookville, he easily won the D9 title.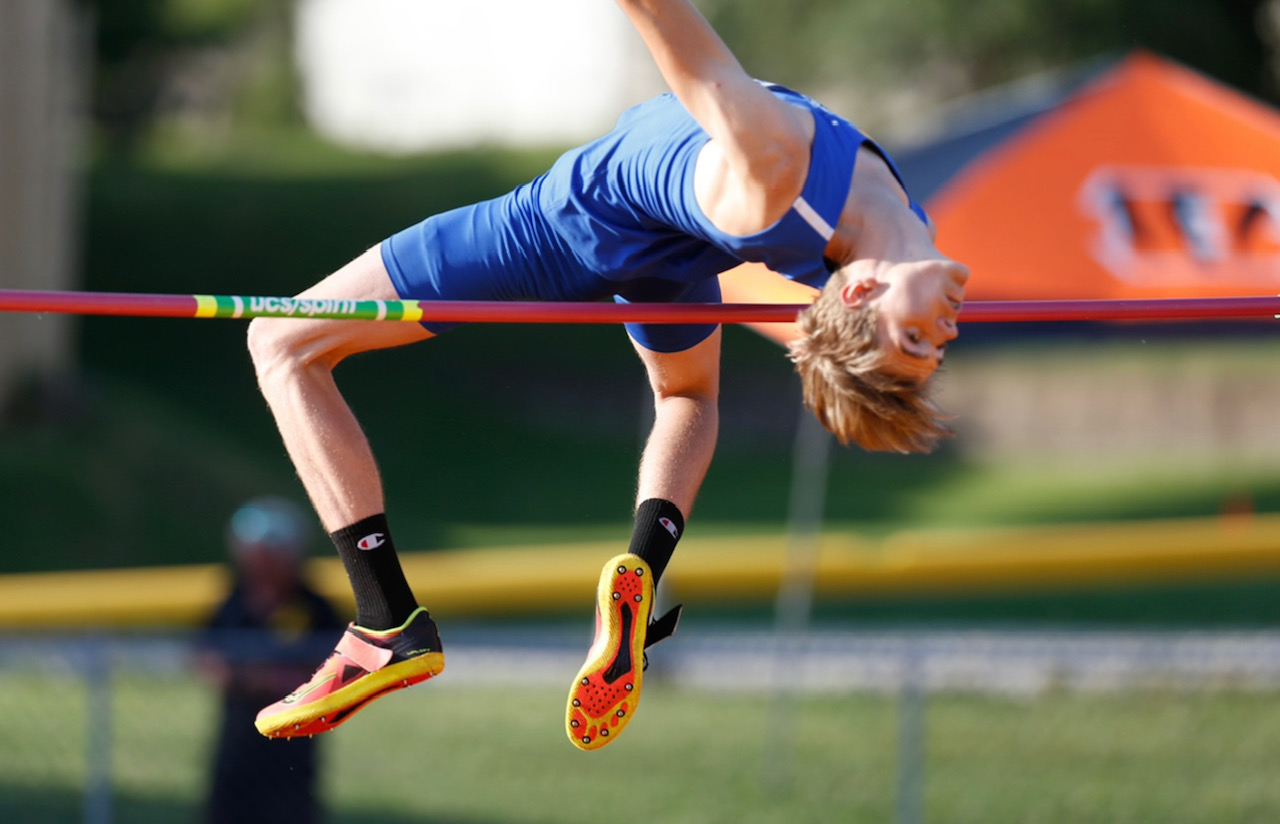 (Hayden Smith)
But in Shippensburg, adversity struck.
Because of heavy rain, the high jump was moved indoors and Smith didn't have the proper shoes. He squeezed into a pair borrowed from the father of Union/A-C Valley javelin thrower Evie Bliss and went out and cleared 6-5 to win the gold.
"I just kept calm. No nerves, really," Smith said at the time. "I'm speechless. I don't even know what to say. It's awesome."
Smith wasn't done.
During the summer, Smith traveled to Greensboro, N.C., to compete in the AAU Junior Olympic Games and won the high jump title with an effort of 6-10¾.
He bested a field of 80 of the best high jumpers in the nation.
"I had the mindset that I was going to at least get the top three," Smith said. "I came in and after my first jump, I was like, 'Yeah. I got this.'"
Smith just missed clearing 7-¾ in the competition.
Surpassing that 7-foot mark is a 2023 goal of Smith's.
Meanwhile, Blauser returned to the scene of one of her greatest disappointments to earn long jump gold.
As a junior, Blauser failed to place at the state meet because of a severely sprained ankle suffered in her last softball game at A-C Valley.
The injury sapped her speed and explosion.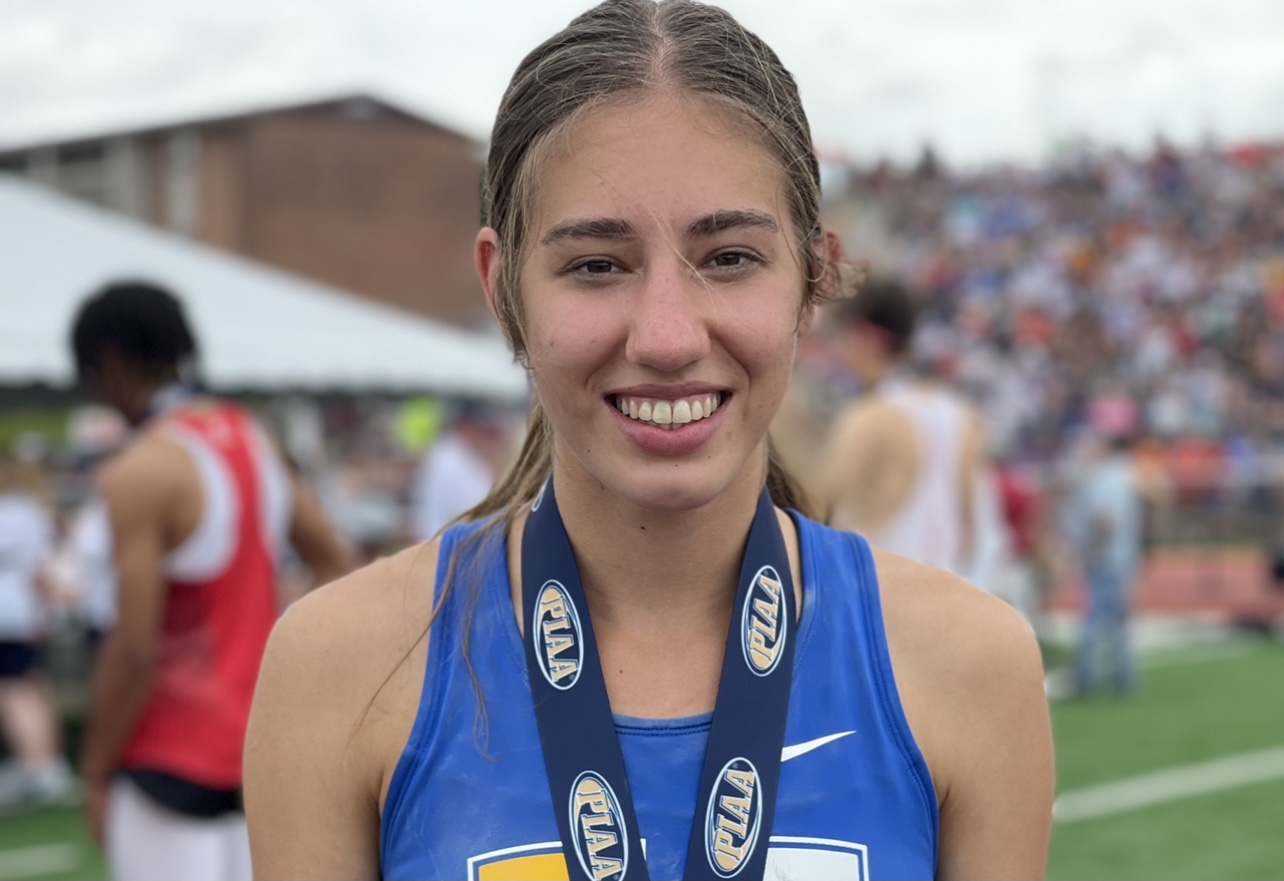 (Baylee Blauser)
Crestfallen as she hobbled away from the jumping pit, Blauser set a goal on that day to return a year later and win it.
She did just that — 364 days later.
Almost a year to the day, Blauser went 18 feet, 6¾ inches on her first jump of the finals to set the school record. That distance held up throughout and Blauser had that elusive gold.
"It feels amazing," Blauser said. "I've been working for this for a long time, since my freshman year when I came here and placed (eighth), and it felt like I could do it. Ever since then, I've been practicing and it finally paid off. I'm so happy."
Blauser continued to excel in 2022.
As a freshman at Slippery Rock University, she jumped 19-1½ at the Youngstown State University Icebreaker indoor event in early December to place second, behind a Division I jumper from Pitt.
GATORS GRIND INTO FOOTBALL SEMIFINALS
The formula was tried and true for the Port Allegany football team this fall.
Run the ball. Make a few big plays in the passing game. Play stifling, physical defense. And win.
A lot.
The Gators, behind much more than their big three of senior quarterback Drew Evens, senior fullback Blaine Moses and senior running back/receiver Noah Archer, marched into the PIAA Class A semifinal game with a hard-nosed work ethic, which was a reflection of their community and their head coach, Justin Bienkowski.
"Every step was earned," Bienkowski said. "Every level or brick or whatever you want to call it was built by these seniors and even a couple of senior classes over the last year or two. It was built in the weight room and on the field in practices from kids who play multiple sports. They literally built it the right way."
Even in the semifinals, when all seemed lost, Port Allegany battled against Union Area (New Castle) in a 46-36 loss.
The Gators were down 28-6 and 40-14, but launched furious rallies. They just were never able to overtake the Scotties.
It was the first trip to the semifinals for Port Allegany in a decade.
FOUR-PEAT FOR BROOKVILLE'S OWEN REINSEL
Four years. Four District 9 wrestling crowns.
Not a bad career for Brookville's Owen Reinsel.
He also accomplished that feat in four different weight classes.
Reinsel was gunning for a PIAA Class 2A championship at 132 pounds and had cruised into the final with wins of 16-0, 3-0 and 2-0.
He fell just short, dropping a disappointing 1-0 decision to Brandon Chletsos of Notre Dame Green Pond to leave Hershey with a bittersweet silver medal around his neck.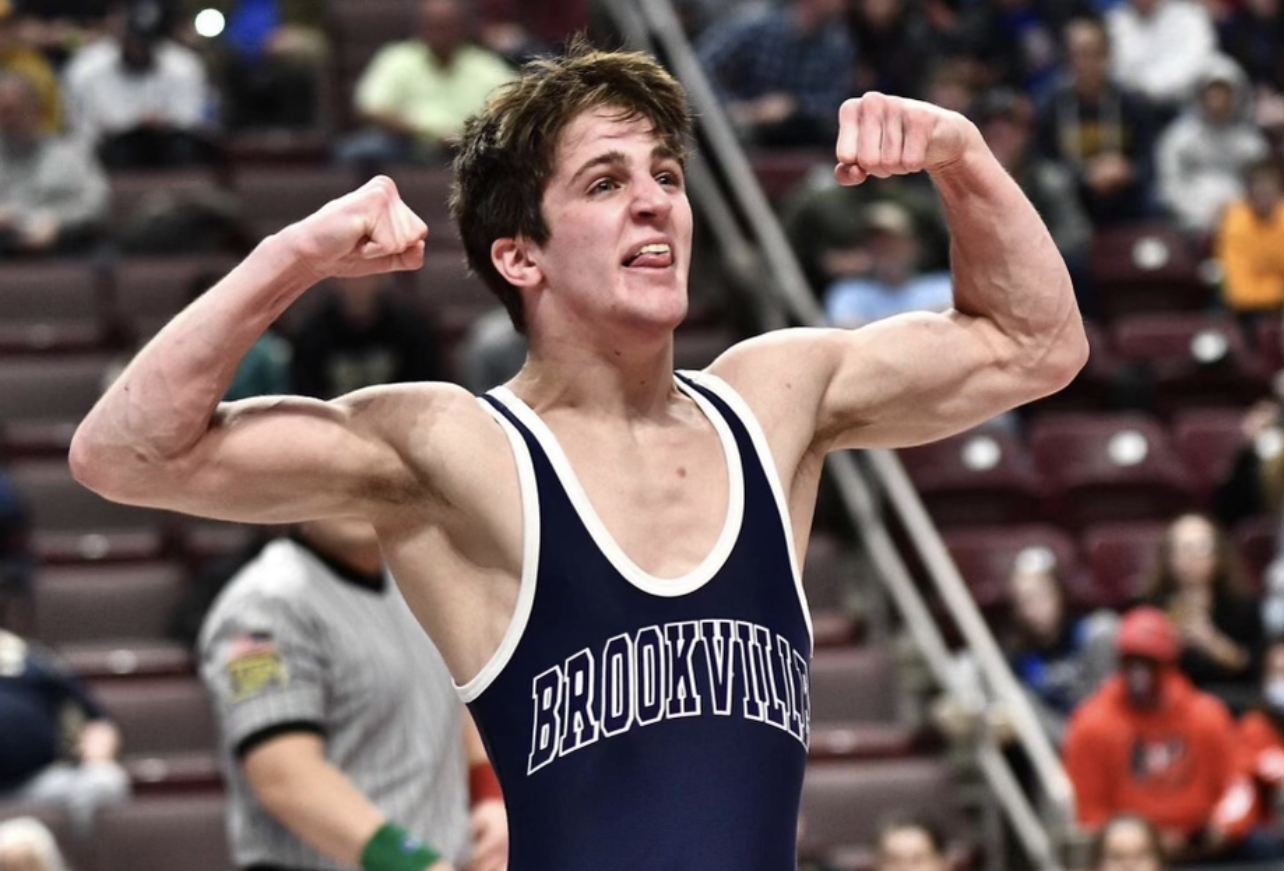 (Owen Reinsel)
"Yeah, it wasn't exactly fun," Reinsel said of finishing runner-up in the state. "I've never went back and watched that match. Ever. And I don't plan on it. Ever. I just use it as motivation now. There's always someone better than you out there on any given day."
Not many were better than Reinsel, who went 142-21 in his career at Brookville.
Reinsel is now a freshman at Lehigh.
ANOTHER WRESTLING SILVER
Brockway 126-pounder Mark Palmer also came home with state silver.
Palmer, a senior, battled his way to the Class 2A final, where he lost to Scott Johnson of Muncy, 9-2.
To get there, Palmer opened the tournament with an impressive 17-1 tech fall, then got an escape in the next round to break a 6-6 tie and then got a takedown and near fall to beat Robert Gardner of South Williamsport in the quarterfinals.
In the semifinals, Palmer was nearly pinned by Kaden Milheim of Warriors Run before pulling out a 4-3 win to advance to the final.
OTHER NOTABLE D9 SPORTS HAPPENINGS IN 2022
The Brockway girls basketball team won the D9 title for the first time in 50 years. … The DuBois Central Catholic softball team marched to the PIAA Class A championship game, but lost a heartbreaker to Montgomery, 5-1. … The Elk County Catholic boys basketball team stormed its way to the PIAA Class A semifinals, losing to power Bishop Canevin, 47-21. … The Moniteau competitive cheer team placed third at the PIAA championships. … The Oswayo Valley volleyball team made a historic run to the PIAA Class A semifinals with an unblemished record, but fell to eventual state champion Maplewood. The Green Wave won their first D9 title in the process, knocking off Elk County Catholic. … Union/A-C Valley's Evie Bliss battled her way into javelin finals at the PIAA Track and Field Championships in ninth place, but climbed into second with a career-best throw of 140-11 to go home with a silver. … The Karns City girls soccer team won another D9 title — the ninth in 10 years and 24th in the last 28. … The Central Clarion football team bounced back from a tumultuous start to the 2021 season to win the District 9 Class 2A title in 2022. … Clarion's McKayla Kerle captured back-to-back D9 girls golf championships and her brother, Kam Kerle, also won the boys title. … Karns City retired the football jersey No. 55 of Brad Miller, who is battling ALS. … Moniteau grad Aslyn Pry earned junior college All-American status in two sports — basketball and volleyball — at Butler County Community College. She will play volleyball at Slippery Rock University in in the fall. … Longtime Clarion volleyball coach Shari Campbell was inducted into Pennsylvania Volleyball Coaches Association Hall of Fame. … Clarion grad Cameron Peters finished fourth at the World Strongman finals despite suffering a serious knee injury during the competition. … Longtime Clarion softball and Little League baseball coach Dan Shofestall retired.