NEW BETHLEHEM, Pa. (EYT/D9) — Alivia Huffman is part guard. Part Forward. Part unstoppable force.
The 5-foot-10 senior star on the Redbank Valley girls basketball team has a competitive streak unmatched by many. On the court she's fierce.
Off of it?
"She's a really sweet kid," said her father and Bulldogs' assistant coach Jason Huffman.
(Pictured above, Alivia Huffman hugs her father and assistant Redbank Valley girls basketball coach Jason Huffman after scoring her 1,000th career point last week at Homer-Center)
But sweet doesn't get it done for Alivia Huffman when she is playing. Relentlessness and toughness does.
She can get it done in the paint or from beyond the 3-point arc. She had handle the ball, or post up. She can pull up for a jumper, or slash to the hoop for a layup.
It makes no difference to Huffman.
The points roll up just the same.
And she's rolled up a lot of them over the years. 

Redbank Valley, Keystone, and Union/A-C Valley sports coverage on Explore and D9Sports.com is brought to you by Heeter Lumber.
Huffman reached 1,000 in her career last week at Homer-Center. She knew exactly how many she needed — 21 — and exactly when she reached that milestone, pumping her fist when her short jumper fell through the net early in the fourth quarter.
(Alivia Huffman reacts after scoring her 1,000th career point)
Jason? Well, he was a bit in the dark.
"At first I thought someone called a timeout and I was getting ready to figure out why the game stopped," Jason said, laughing. "Then they told me she scored 1,000.
"I did know it was coming to some degree," he added. "But it was never really an open conversation with us. It was just always, 'Come in, do what you need to do, make sure we get the Ws.'"
Alivia's grand achievement holds an even more special place in the Huffman household.
Back in 1995, Jason reached 1,000 points while playing for the Redbank Valley boys basketball team.
Now, father and daughter are on a very prestigious list together at the school.
"For us, it's a pretty big deal," Jason said. "I tell you what, I'm just an unbelievably blessed person in the sense that I've had the opportunity to coach all my kids. When you get to see something special like this, and you have a father-daughter combo on the thousand-point club, it's kind of neat."
Alivia always knew her father was a standout basketball player when he was in high school.
Jason ended up with 1,253 points, which was first on the Bulldogs' all-time list when he graduated.
Since, others have leapfrogged him, but the milestone still holds great meaning to Jason.
"It was well over 20 years ago, but that was one of the things that you just kind of remember," Jason said. "You don't realize it at the time kind of what you've done. I think it happened in Brookville and they presented the ball and everything like that, but I'm pretty sure we lost that game pretty bad."
Alivia scored 27 points in that hard-fought win over Homer-Center last week to reach her 1,000-point plateau.
She became the ninth girls player in school history to scored 1,000 points at Redbank — select company, to be sure.
To Alivia, getting the victory along with the milestone made the night that much sweeter.
"I think because it was such a close game and a game that we needed to win, it was a lot more exciting," Alivia said. "The boys team was there and all our other fans were there. It made it more special. Originally I wanted to get it at home, just because I thought it would be a more special thing to me. But looking back on it, I'm happier that I got it there because off all the people who were there to support me."
Like her father.
Jason has coached Alivia since she was in the second grade.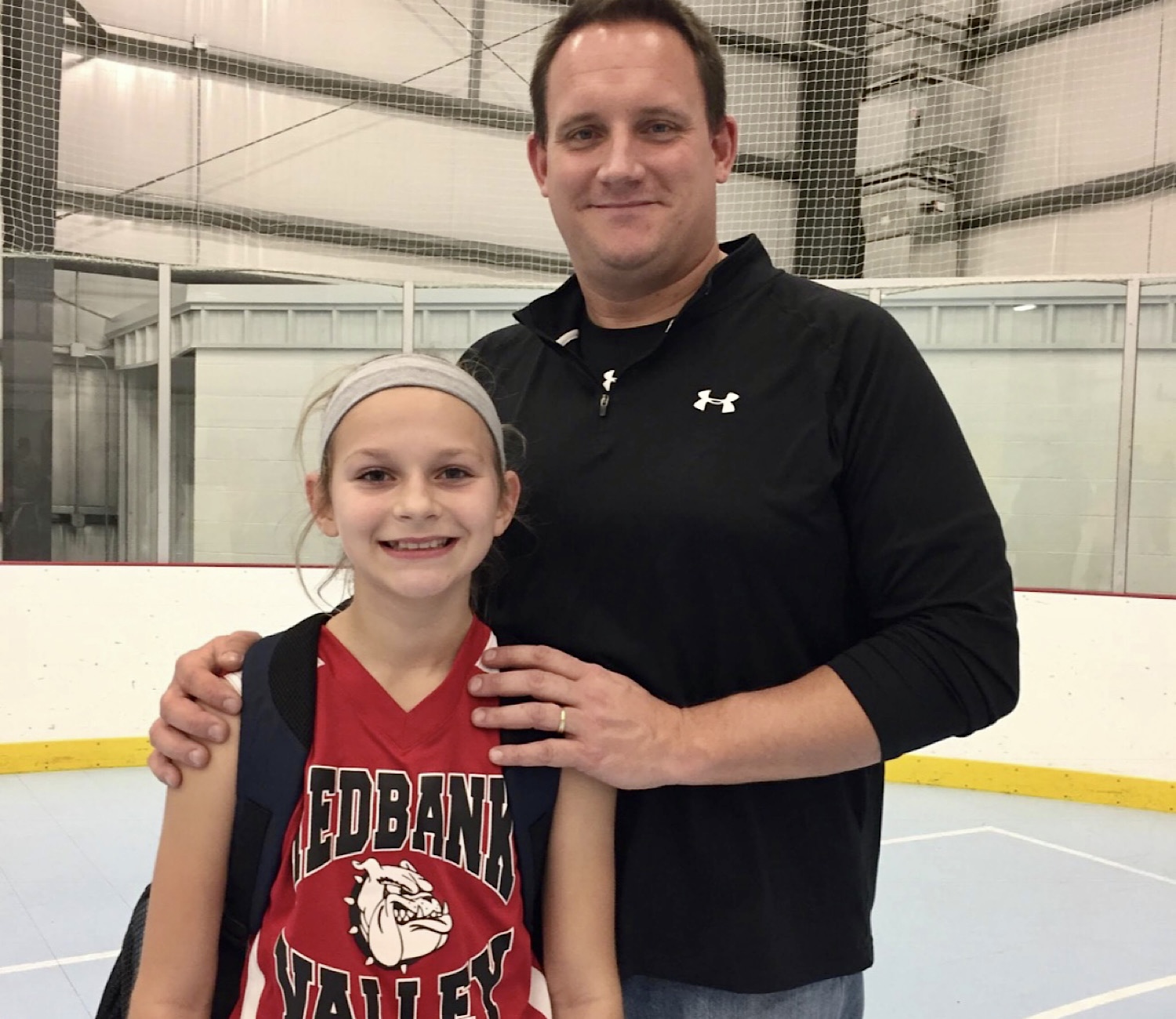 He's watched her cultivate her skills over the years to become one of the best players in District 9.
After her junior season, Alivia was named the Keystone Shortway Athletic Conference Girls Basketball Most Valuable Player.
She's playing even better this year.
Alivia said she doesn't have to look far for the reason why she has been so successful.
"My dad has taught me a lot," Alivia said. "He's gotten me to where I am today."
The road there hasn't always been a smooth one.
One thing that runs in the Huffman family without fail is competitiveness — Jason certainly has it. Alivia, too. Mother, Danielle, was a softball and track and field star at Redbank and has an unyielding competitive streak of her own.
Alivia and Jason don't always see eye-to-eye.
"There have been times when we've butt heads," Alivia said. "There have been times I've had to not talk to him for a weekend."
Jason said it has become easier to leave what happens in the gym at the door and not lug it home with them.
Part of that has to do with Alivia being a senior.
"Looking back on it, we were always hard on her because we knew we had something special and, yeah, we've butted our heads," Jason said. "There are times when Alivia looks at me and she's said, 'I need you to yell at me to get me going.' But now we've kind of both just settled in to this senior year and I'm just enjoying watching her play. I'm enjoying watching her be successful. She's doing well and she's enjoying playing."
Jason has uncovered a whole new appreciation for just what Alivia has been able to accomplish at Redbank Valley.
The 1,000-point milestone made that come even more into focus.
"She's probably the most selfless player that I've been around in coaching sports, and I'm not just saying that because I'm her dad," Jason said. "I think if there's a hard way to get 1,000 points, she's the one who's done it just because she's asked to be a lot of things that a lot of people wouldn't be comfortable doing."
Alivia just wants to do whatever she can to help Redbank make a deep playoff run.
Last year, the Bulldogs won the District 9 Class 3A championship, but lost in the first round of the PIAA playoffs.
This year, the Bulldogs dropped down to Class 2A and are 14-1.
"My freshman year, we got to the elite eight and we were a very good team," Alivia said. "But I think now, we have more girls who have a better understanding of the game and we have more athletic ability on our team. I feel like we could definitely go farther than what we did."
No matter what happens, this season will be long remembered by the Huffmans.
After all, it's not too often a father and daughter both land on a 1,000-point list at the same school.
"I never really thought about it until I realized my dad scored 1,000 points here, too," Alivia said. "It's just really neat."
"It's pretty special," Jason said. "It's pretty cool to see a father and a daughter up there on that banner."

Redbank Valley, Keystone, and Union/A-C Valley sports coverage on Explore and D9Sports.com is brought to you by Heeter Lumber.