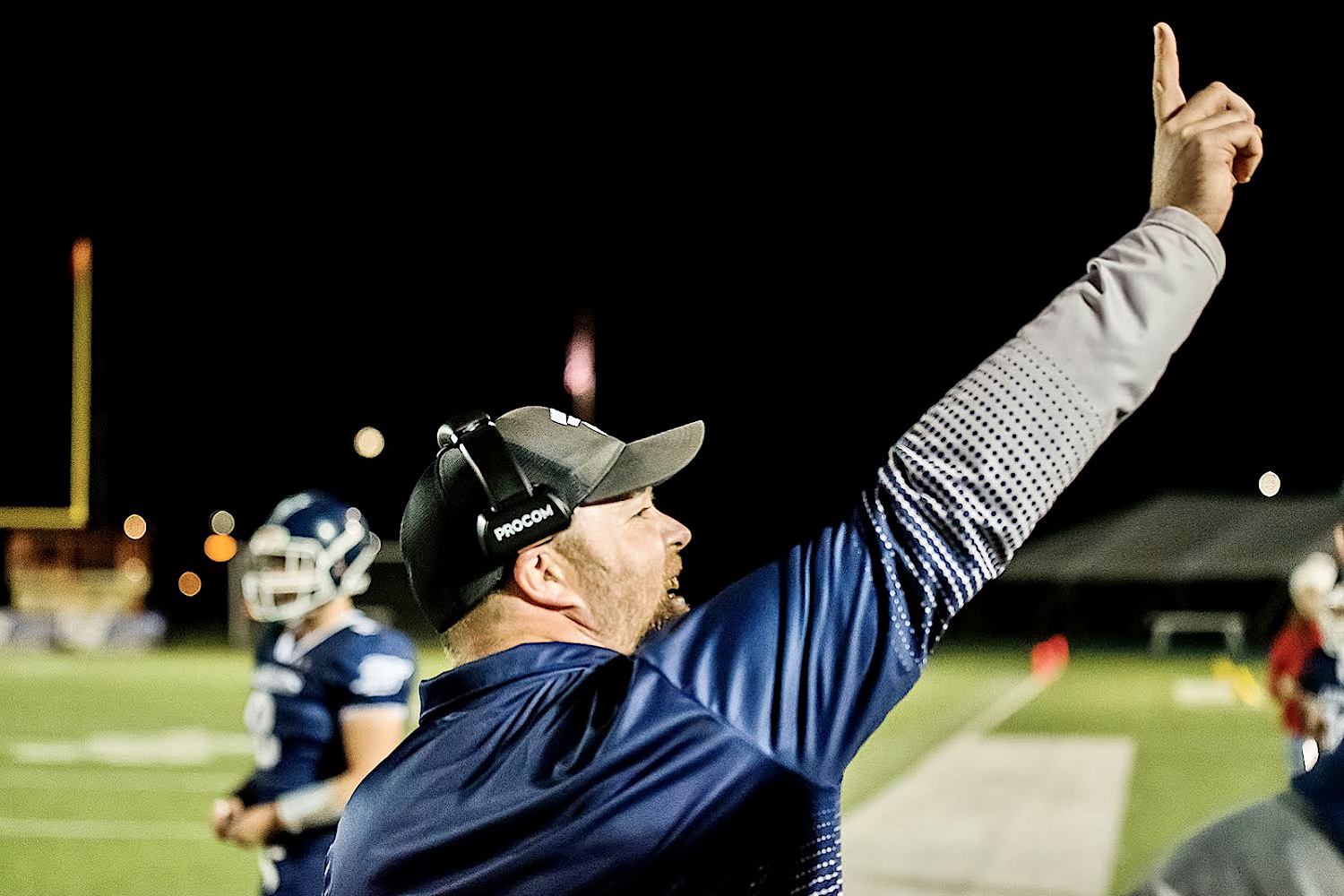 BROOKVILLE, Pa. (EYT/D9) — Gabe Bowley grew up in Reynoldsville, but his roots were always the strongest in nearby Brookville.
His mother, Jill, taught in the Brookville School District for 35 years until her retirement. His father, Dan, played multiple sports for the Raiders when he was in high school.
Even Bowley, a 2006 DuBois graduate, got an early taste of what Brookville was all about, beginning his wrestling career on a Brookville elementary team.
"A lot of my childhood was in Brookville," Bowley said.
(Pictured above, Gabe Bowley/Submitted photo)
His adult life, too.
Bowley got a full-time teaching job in the Brookville district in 2017. That was the same year he left the DuBois football program, along with legendary offensive mastermind Frank Varischetti, to join Scott Park's football coaching staff with the Raiders.
Bowley coached the offensive line and helped out with the defensive line, as well.
When Park resigned this fall after eight seasons at the helm, Bowley decided the time was right to chase his dream of being a high school head football coach.
Brookville Area High School sports coverage on Explore and D9Sports.com is brought to you by Redbank Chevrolet and DuBrook.
He had long thought about it and hoped that the opportunity would eventually come at Brookville, where he is currently the swimming and physical education teacher for the district's elementary schools.
Bowley got his wish.
Last week, Bowley was unanimously approved by the Brookville school board to take over the football program.
"Since I got into coaching, being a head coach has been definitely on my mind," he said. "Timing-wise, this one really just matched up. It's a good fit."
Park said the time was also right for him to retire. He said that decision was made easier because of the talented staff he was leaving behind, including Bowley.
"I think he's done a good job for us over the years," Park said of Bowley. "He's a teacher in the school district, and I think that's a plus for him. I'm really happy for Gabe.
"Whenever I decided I was going to be done, I wanted two things," Park said. "One, I wanted to go out on my own terms. And, two, I wanted to leave with talent still there. I didn't want the cupboards to be bare."
The Raiders will certainly have talent returning after navigating a challenging — yet fulfilling season.
Brookville started 1-4, in large part because of a rash of injuries at key positions, including quarterback, where starter Charlie Krug and backup Easton Belifiore went down for the the season early in the campaign.
That forced the Raiders to alter their offense on the fly. Out was a spread offense made popular by Varischetti when he was in Brookville. In was a power run game with a wide receiver converted to quarterback in Noah Peterson.
The results were striking. Brookville closed the season 4-1 to make the District 9 Class 2A playoffs, then beat Karns City in the semifinals to advance to the championship game against Central Clarion.
The Raiders fell short of the title, but the season was still a study in resiliency.
With Krug set to return to the quarterback position, Bowley's first challenge will be deciding on an offensive scheme.
"Personally, being an offensive line guy, I absolutely love the idea of running the football, getting four yards and a cloud of dust and grinding out a game," Bowley said. "I mean, to me, there's nothing better than that. But, with that being said, we're getting Charlie Krug back. We're losing Jackson Zimmerman, who was really good at busting the ball up between the tackles and fighting for a few extra yards and dragging people along with him. So, we're leaning more toward that spread, but I don't think you'll see it 100% of the time."
Bowley will also have a large percentage of Park's staff back.
That should make the transition even more seamless.
"I have a great support staff around me," Bowley said. "My assistant coaches, who I have worked with for the last five, six years, an administration I've got to know within the district while teaching, and an athletic director who I have a very good relationship with — it's a great fit.
"And I have coach Park, who I work with every day," Bowley added. "He wasn't fired. He wasn't let go. He stepped down and he still has a lot of love and passion for the program. So, I'm not going into this blind."
Whatever the future holds, Bowley is ecstatic about getting a shot at leading the Brookville football program, which has perennially been in the mix for district championships.
It's a place that has always been close to his heart.
That what made snagging this opportunity even more special for Bowley.
"It's amazing," he said. "It's humbling. It's exciting and a bit scary. With that being said, I don't think a job's worth going for if it doesn't scare you a little bit. This one does, in all the right ways."
Brookville Area High School sports coverage on Explore and D9Sports.com is brought to you by Redbank Chevrolet and DuBrook.