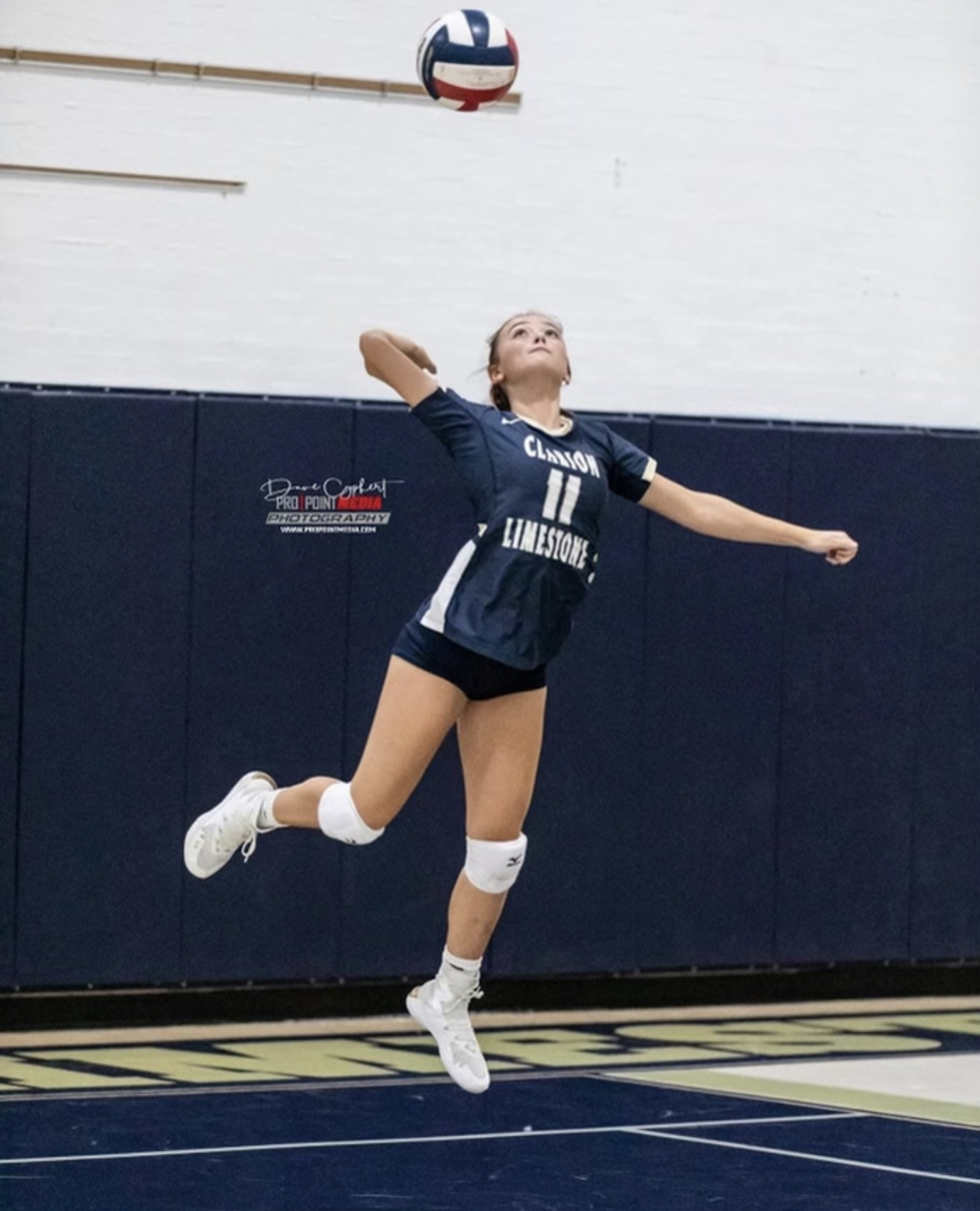 STRATTANVILLE, Pa. (EYT/D9) — Brooke Kessler collapsed to the floor in a mix of fatigue and relief.
The Clarion-Limestone volleyball team had just rallied from a horrible start and a 2-0 hole Thursday against Johnsonburg on the road. Kessler had a big part in that epic comeback and 3-2 win with 15 kills to help send the Lions roaring into the District 9 Class A semifinals, where they will meet rival and undefeated Clarion on Tuesday night.
"I just remember the last point, seeing that ball hit the ground," Kessler said. "I just laid down on my back right in the middle of the court and just took it all in. I got up and we were all bawling. And the student section came running in, jumping in. It was insane."
(Photo by Dave Cyphert/ProPoint Media Photography)
Kessler's play has been insane during the second half of the season.
The senior outside hitter has been playing the best volleyball of her career — all with a mangled pinky finger on her right hand.
"She's been playing out of her mind," said Clarion-Limestone coach Ryan Troupe. "Brooke is putting up the best numbers she's ever had. She's doubling her numbers from last year. She doesn't want it to end."
Kessler doesn't look the part of a force at the net. At a diminutive 5-foot-4, she certainly doesn't strike the image of a dominating hitter. But that's just what she's become, in large part because of her jumping ability and precision swings of her powerful right arm.
Gymnastics is where she cultivated her lower-body explosion.
Floor exercise was her favorite part of gymnastics and she relished every chance she got to do it.
"I was a big floor girl, doing the backflips and stuff," Kessler said. "That was my cup of tea.
"I was a gymnast for seven years, so I feel like that kind of helped me with my hops. Height doesn't even matter at this point, because if you go out there and know what you're doing, you don't have to be six-feet tall."
Kessler has been playing like a giant.
It's helped that the team is also on a roll with other dangerous hitters at the net, like Ruby Smith, and a setter in Kendall Dun who had also been playing at an elite level.
"Kendall is a really big asset to our team,"
Kessler said. "She has grown so much in her setting skills this past year. I don't even know where it came from. It's amazing to have someone like her on our team."
Dunn, a junior, had 37 assists in the win against Johnsonburg.
Kessler is a senior and she said that has played a part in the urgency she has shown on the court down the stretch — and especially now in the playoffs.
She knows she has precious few high school matches left. Kessler isn't sure whether or not she wants to play in college.
"I think just the fact that this is my last high school season, and the season's coming to an end, I really just try to live in every single moment each practice," Kessler said. "I try to put my best into it. And knowing that it's my last time, it really makes a big difference."
That's why she refused to see a doctor when she broke her pinky finger more than a month ago.
She feared the doctor would sideline her.
Also a standout track athlete — Kessler placed eighth in the long jump at the PIAA Track and Field Championships last spring to become the first girl at the school to medal at the state meet in more than two decades — Kendall will do anything to keep competing.
Even playing through pain. Even when she stares down at her crooked finger that just won't bend.
"Well," Kessler said, pausing to let out a soft chuckle, "it is getting better. It doesn't hurt much in game any more. But I don't think it's gonna ever be back the way it should again."
To Kessler it's a small price to pay. It will also serve as quite the conversation piece later in life, telling stories to her kids and grandkids about her senior season on the high school volleyball court.
The comeback against Johnsonburg will surely be a part of those tales.
"Even if my finger is mangled for life, it's worth it," Kessler said. "It was totally worth it."