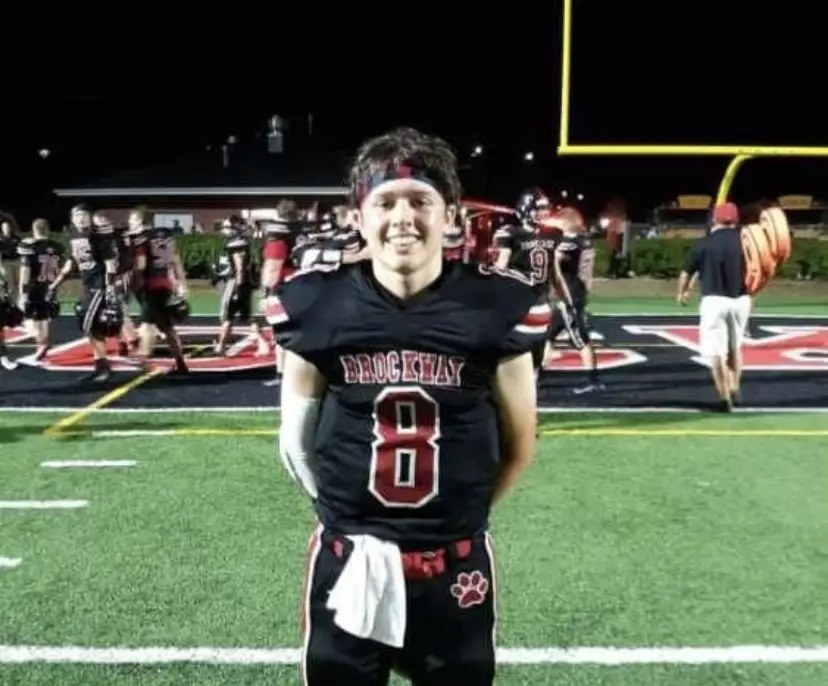 BROCKWAY, Pa. (EYT/D9) — Brayden Fox isn't sure where he gets it from.
The composure. The poise. An unflappable nature that belies his youth.
But the freshman quarterback for Brockway has it — a demeanor that makes him unbothered by the ups and downs inherent to the position.
"My dad always says it's like I don't have a heartbeat," Fox said. "I've always been that type of person. I usually don't get nervous. I don't let that stuff get into my head because it could bring me down."
Not much brought Fox down during the first half of his debut Friday night against Union/A-C Valley. Fox, a 5-foot-10 lefty, showed off pinpoint accuracy in throwing for 212 yards and three touchdowns in the first two quarters, staking the Rovers to a 21-6 lead.
He added a fourth touchdown, this one on the ground, to extend that advantage to 28-6 less than a minute into the second half, but Union/A-C Valley made some defensive adjustments and the passing yards suddenly became hard to come by.
No matter. Fox remained steady.
Brockway coach Jake Heigel calls him "Arctic Fox" for a reason.
"The defense is always going to make adjustments," Fox said. "Their defense definitely stepped up in the second half. But, you know, when our offense wasn't working, our defense really stepped up at the end of the game."
Brockway intercepted a pass in the end zone and forced a fumble inside its own 30 in the fourth quarter to preserve the 28-20 win.
To Fox, it didn't matter much to him that he threw for just 44 yards in the final two quarters. Being 1-0 was all that was important to him.
"We got beat down by (Union/A-C Valley) last year," Fox said. "Beating them this year really gives our team a boost."
Of course, Fox was not a part of that Rover team last year that lost to the Falcon Knights 37-7 and 40-7 in the two meetings. He was slinging the football around on the junior high team — his first season playing organized football.
Fox's friends finally convinced him to give football a try. Already a gifted basketball and baseball player — his father, Adam, was drafted by the Texas Rangers in the 10th round in 2003 and spent 10 years in the minors —Fox finally agreed.
"I knew I had a decent arm, so I tried out for the quarterback spot," Fox said. "I started to like it even more, so I just kept playing.
"I always visualize being successful," Fox said. "Then I go out and do it."
ANOTHER KRUG — Jack Krug (now at Indiana University of Pennsylvania) made a name for himself as a quarterback at Brookville. Now Charlie Krug is trying to follow in his brother's footsteps.
The sophomore was efficient in leading the Raiders to a 36-6 win over Bradford Friday night. He completed nearly 80% of his passes for 210 yards and a touchdown.
Brookville scored 22 unanswered points in the second half to pull away.
The Raiders battled COVID-19 issues leading up to the game.
STREAK OVER — It looked as if Cameron County's losing streak was going to reach 21 games.
Trailing by 13 points against Coudersport midway through the fourth quarter, sophomore Maddox Baughman rallied the Red Raiders with two of his four touchdown passes in the game in the final minutes for the improbable victory.
Coudersport was one of the favorites to win the District 9 Small School North Division this season.
SHEFFIELD RETURNS — After shutting the season down just one game into the 2020 campaign, Sheffield was back on the football field Saturday against Smethport.
The Wolverines fell behind 20-0 after the first quarter and lost 49-6. Just being back and playing at all, though, was a victory of sorts for Sheffield, which will play Union/A-C Valley at A-C Valley High School this coming Friday night.
TOUGH TIMES AT THE TOP — District 9 coaches picked Coudersport and Smethport to win the Small School North, Redbank Valley to win the Small School South and St. Marys to capture the Big School Division in the preseason poll.
Only Smethport won this weekend.
St. Marys managed just seven points in a 24-7 home loss to Ridgway Friday night.