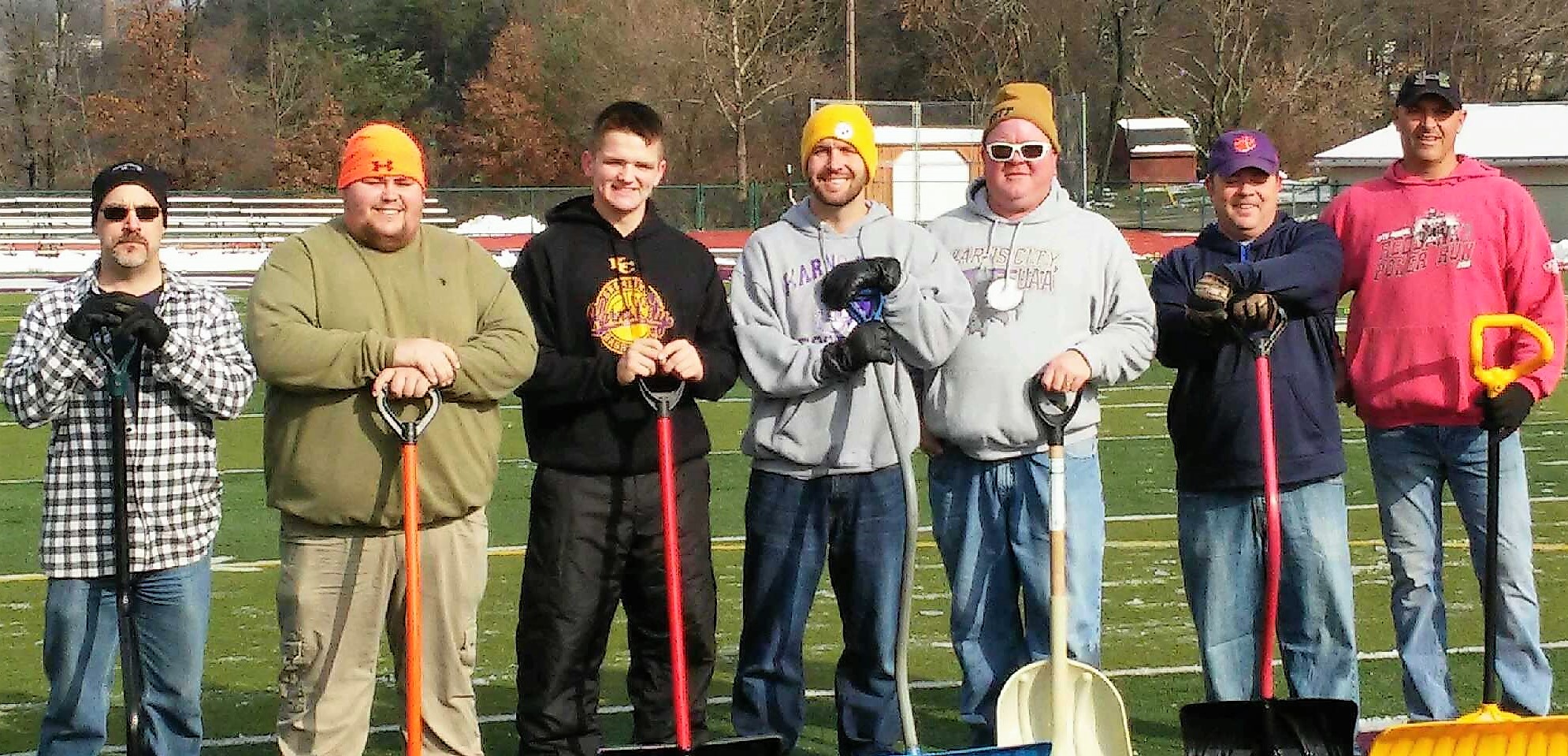 KARNS CITY, Pa. – It's just like the opening weekend in the NFL Monday, Nov. 19, in District 9.
(Photo: These individuals helped clear the field at Karns City on Sunday. Photo of those who helped Saturday wasn't available. Photo courtesy of Brian Markle, Karns City Athletic Director) 
Thanks to issues stemming from fields not being available due to the early winter (late fall) storm that hit the District Thursday, the District 9 Class 1A and Class 2A championship games will be played Monday in Karns City.
Karns City was the lone school in the District to step to the forefront to host the games and after a yeoman effort from a few diehards in that school district and someone driving down from New Bethlehem to help out, the field is ready to go Monday.
The day starts off with the Class 1A game between top-seeded Smethport and sixth-seeded Coudersport, a rematch of a regular-season game in which the Hubbers rallied from a 20-7 deficit in the fourth quarter to win 21-20. That game will be at 4 p.m.
The second game of the day/night will be the Class 2A game featuring Top-seeded Ridgway against second-seeded Brockway in a rematch of a game won by Ridgway earlier in the season. That kickoff is slated for 7:30 p.m.
District 9 has announced that one price will get fans into both games.
Here are the details of the game:
CLASS 1A
Matchup: (1) Smethport vs. (6) Coudersport
Time: 4 p.m.
Winner Gets: Farrell in PIAA quarterfinals at a date, time and location TBA
Preview: Read here
How to Listen:  (WDDH, The Hound)
CLASS 2A
Matchup: (1) Ridgway vs. (2) Brockway
Time: 7:30 p.m.
Winner Gets: Wilmington in PIAA quarterfinals at a date, time and location TBA
Preview: Read here
How to Listen: (WDDH, The Hound)