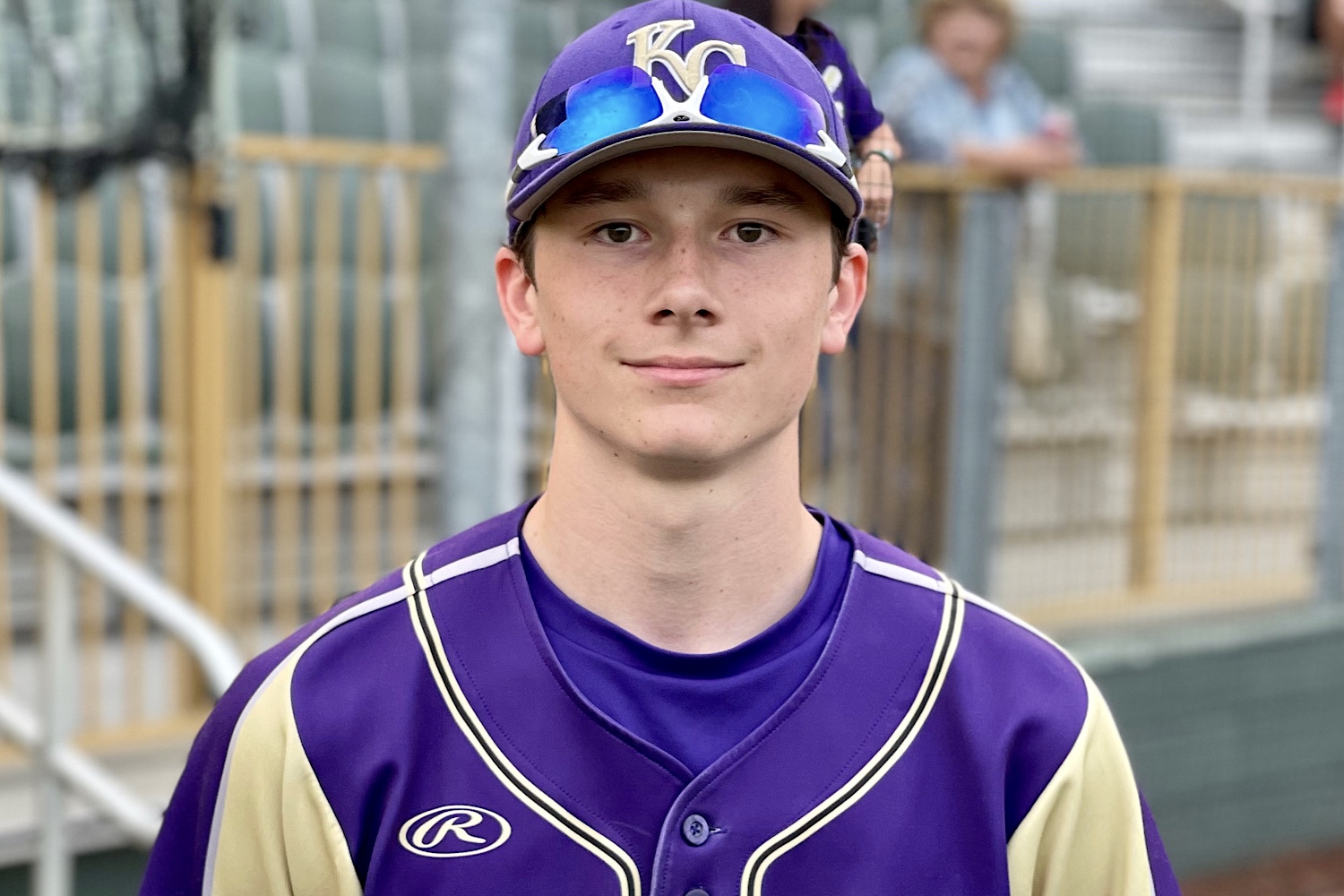 BUTLER, Pa. (EYT/D9) — There was a time this season when Karns City junior Hobie Bartoe thought his campaign was over.
Turns out it was just getting started.
(Pictured above, Hobie Bartoe)
The Gremlins' leadoff hitter dodged a serious shoulder injury at midseason. In the District 9 Class 2A playoff opener on Tuesday evening against Coudersport, he went 4 for 4 with a double, two RBIs and three runs scored in a 10-5 win over the Falcons at Michelle Krill Memorial Field at Historic Pullman Park.
"I was pretty scared; I thought I had a SLAP tear (torn labrum) in my shoulder and there goes my junior season," Bartoe said. "We had an MRI done and a few days later they told me it wasn't a SLAP tear. I was excited because I got to finish my season."
Bartoe helped finish off Coudersport.
He led off the bottom of the first inning with a double to spark a four-run first for Karns City, which trailed 1-0 after Coudy's first at-bat.
The Gremlins (14-6) had 15 hits and led 7-1 after two innings and 8-2 after three on the way to the quarterfinal victory.
Mallick Metcalfe went 2 for 3 with a pair of RBIs and runs scored; Jacob Callihan had two hits and knocked in two and Michael Neff and Jacob Jones also had multi-hit games.
Jones wasn't as sharp as he usually is on the mound. The sophomore had to leave the game at 102 pitches in the sixth inning. He came in with just six walks this season, but walked three against the Falcons.
He gave up two runs (one earned) on four hits and struck out nine in 5⅓ innings.
"He's been great down the stretch," said Karns City coach Josh "Sluggo" Smith. "We all as coaches got together and said, 'You know, Jacob gives us a great chance to win.' He didn't finish the game, but what a full effort he gave us. Normally for a 10th grader, that's a big spot for him and it looked like he was a seasoned vet out there."
Coudersport starter Mason Roessner lasted just one inning, giving up four runs (three earned) on four hits. He struck out one.
Ayers Gavyn took the mound to start the second inning and finished the game for the Falcons. He went five, giving up six runs (five earned) on 11 hits while striking out five.
Gavyn also went 2 for 3 with a double and knocked in two for Coudersport.
Karns City made it 10-2 with a pair of runs in the fifth inning. Coudy scored three in the seventh.
"Our offense showed up tonight," Smith said. "Two-out hitting — what a tremendous display of two-out hitting. Even with two outs and nobody on, we got guys on base and then hit them around. We stole bases tonight (six). We were aggressive on the base paths."
Bartoe had one of those steals. Speed is his game, especially in the spacious center field at Pullman Park.
"It's actually kind of fun because I just get to run around and catch fly balls," Bartoe said, smiling.
Bartoe said coming up with a big game in the playoffs means a lot to him.
"It feels incredible," he said. "Sluggo has told me he just wants me to hit for contact and hit it up the middle and get on. I feel like I did that tonight."
Karns City will take on Port Allegany at 4 p.m. on Thursday at Brockway in the semifinals.
"We're excited because last year we had our season cut short in the semifinals," Bartoe said. "We want to get to the finals this time."
JOHNSONBURG 4, CLARION-LIMESTONE 3
Derek Beimel's bloop single to right field scored Isaiah Jackson with the winning run with two outs in the bottom of the seventh inning as the Rams rallied from 3-1 down in the final inning to stun the Lions.
Clarion-Limestone (12-6) built a 3-1 lead thanks to a big blow from Tommy Smith, who hit a two-run homer in the first inning.
Smith though had to leave the mound when he reached his pitch-count limit with two outs in the sixth inning. He had given up one run on six hits while striking out five and walking four before his exit.
Logan Lutz came in and got the final out of the frame.
But Johnsonburg got to the left-hander, who has been solid all season on the hill, in the seventh.
After a leadoff walk to Aiden Zimmerman, Luke Zimmerman doubled to put runners on second a third.
Kaden Dennis was intentionally walked to load the bases with one out and the strategy appeared to work as Jackson hit a ground ball for a fielder's choice RBI. But an error on the play allowed two more runs to score to tie the game.
Lutz got a strikeout, but then Beimel delivered the clutch hit.
Johnsonburg (13-6), the defending D9 champs, will take on No. 1 seed Redbank Valley at 4 p.m. on Thursday at Showers Field in DuBois.
PORT ALLEGANY 10, KANE 6
Henry Troupe went 2 for 4 with a pair of doubles and five RBIs as the Gators advanced to the Class 2A semifinals with this win.
Port Allegany (15-4) led 8-2 after four innings and 10-4 after five.
Levi Howard went 3 for 4 with a double and two RBIs for the Gators.
Nick Wilfong got the win in relief for Port Allegany.
Drew Evens started, going 3⅔ innings. He struck out five.
Evens also went 2 for 3 with a double, a RBI and three runs scored.
CLASS A
Bailey Crissman fired a five-hit shutout, striking out 10, as Union/A-C Valley blanked Cameron County, 6-0, to move on to a date with top-seeded DuBois Central Catholic.
Trey Fleming went 2 for 4 with a double and a RBI. Sebastian Link also went 2 for 4 and Adrian Schmoll knocked in a pair for the Falcon Knights.
Union/A-C Valley broke open a 1-0 game with three runs in the third. The Falcon Knights tacked on single runs in the fourth and seventh innings for insurance.
Union/A-C Valley will play DCC at 4:30 p.m. on Thursday at Punxsutawney.
ELK COUNTY CATHOLIC 7, OTTO-ELDRED 1
David Anderson went 2 for 3 with a double and three RBIs as the sixth-seed Crusaders upset the three-seed Terrors.
Joe Tettis was overpowering on the hill for ECC. He struck out 12 over six innings while surrendering just one run on four hits.
Colby Nussbaum and Franklie Smith also doubled for the Crusaders, who will play No. 2 Clarion at 1 p.m. on Thursday at Showers Field.