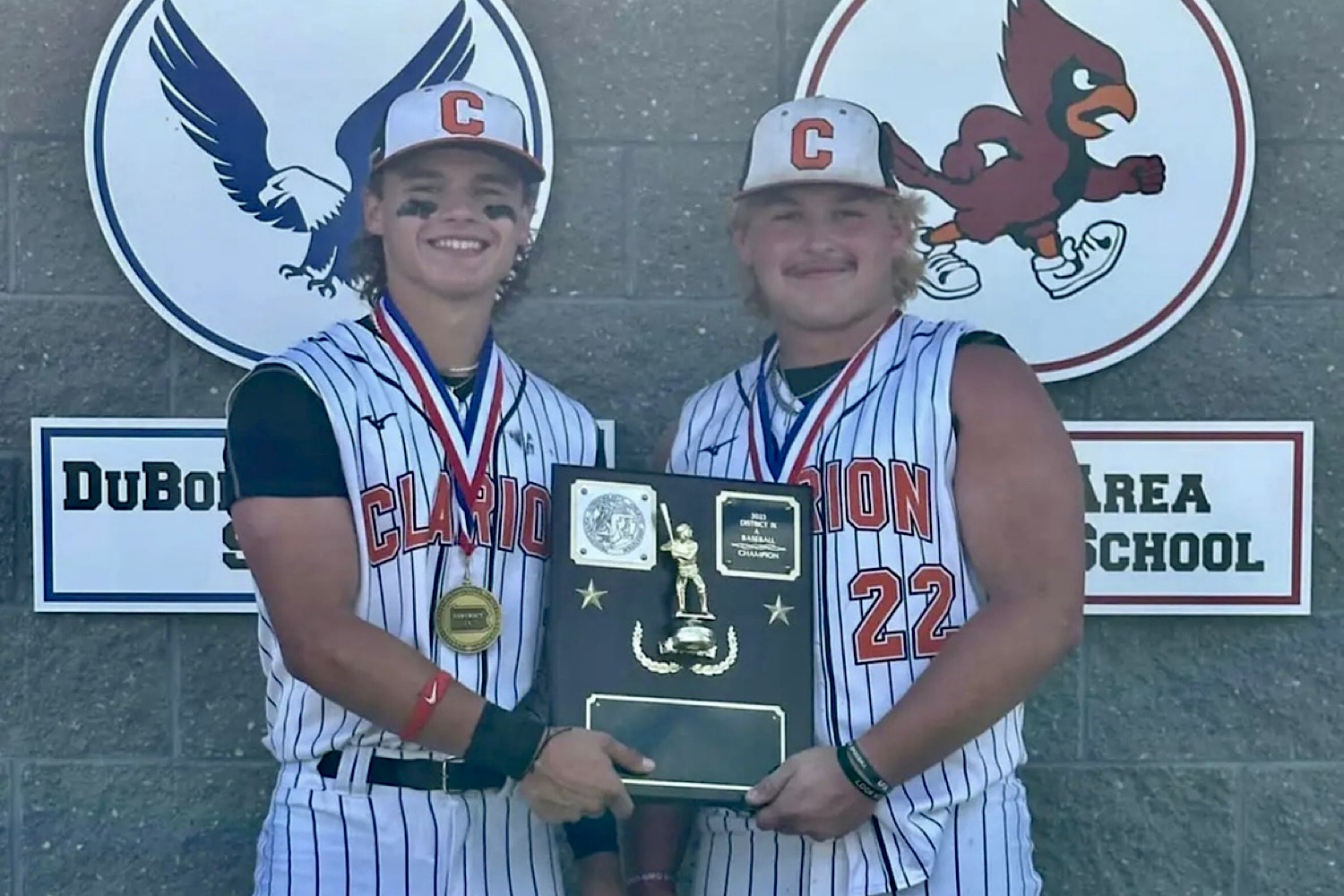 SHIPPENVILLE, Pa. (EYT/D9) — Like most siblings close in age, Dawson and Derek Smail grew up as friendly rivals.
Well, mostly friendly.
"We're a very competitive couple of people," said Derek Smail, a sophomore on the Clarion baseball team. "There was a little fighting going on during all of that, but I feel like that just made us better players."
(Pictured above, Dawson Smail, left, and Derek Smail hold the District 9 championship trophy/submitted photo)
Everything was a test of skill for the brothers. They drove each other. Pushed each other. Sparked a craving for success in each other.
Now they are key pieces of a Bobcat baseball team that won the District 9 Class 2A championship and will take on Saegertown in the second round of the PIAA playoffs at noon on Thursday at Westminster College.
Clarion Area High School sports coverage on Explore and D9Sports.com is brought to you by Redbank Chevrolet and DuBrook.
Dawson Smail, a junior shortstop, bats leadoff and is putting up some gaudy numbers this season.
With a smooth left-handed swing, he's batting .521 (37 of 71) with four home runs, 15 doubles, a triple and 24 RBIs.
After a 3 for 3 day against Harmony in the first round of the state playoffs, Dawson tied the Clarion record for career hits at 93. He carries a .477 batting average in three seasons with the Bobcats with four homers, 40 doubles, 97 runs scored and 54 RBIs in 195 at bats.
"Having a three-hit game on Monday felt pretty good, pretty great," Dawson said. "I have the rest of this year and next year to leave my mark on the program."
He already has.
The Xavier recruit has shown increased pop at the plate this season.
"I've kind of added that to my tools of hitting," he said. "I spent a lot of time in the weight room and trying to perfect my swing as much as possible and just trying to get more whip in the batter's box. The results have definitely showed."
Derek has been the masher in the family.
The right-handed slugger is a very different player than his brother.
While Dawson exhibits a great deal of finesse, hitting to all fields with his left-handed swing, Derek rarely gets cheated when he digs into the box from the right side.
"He does a great job being his own player," Dawson said of his brother.
Derek hit his first home run when he was just six years old. It took Dawson until he was 10 to mash his first homer.
This year, the brothers have been locked in a home run contest. They are currently tied with four.
"The home run record, we've been neck and neck the whole entire year because as soon as this season started, he hit one," Derek said. "He had one, then I had one. We just like to see each other succeed, but at the same time we're competitive."
Derek is having an excellent season in his own right for Clarion. The first baseman is hitting .400 with four homers, four doubles and 23 RBIs.
He's also 2-1 on the mound with a 3.65 ERA in nine appearances.
"I love pitching. Pitching is probably my favorite thing to do in baseball," Derek said. "Whenever I see my defense making plays out there, it puts a smile on my face."
He has a good time hitting, too, especially in a lineup that is loaded.
Particularly at the top.
Dawson Smail and No. 2 hitter Bryce Brinkley have set the table; Noah Harrison and Derek Smail have then feasted.
"It's really convenient to start a game off like that," Dawson said. "If I'm on base or if Bryce Brinkley's on base — he's been doing a great job here in the latter part of the year — and then to see Noah Harrison and Derek come up, you know they'll get us in 90% of the time. It just really works out well."
Clarion has made a quantum leap this season, thanks in part to the play of the Smails.
Last year, the Bobcats were 10-7 and were bounced in the first round of the District 9 playoffs.
This year, Clarion is 18-4 with a strong and deep pitching staff and a lineup that is as dangerous from top to bottom as any around.
"The atmosphere this year is so much different than any other team I've played on," Derek said. "This year is probably one of the most fun years I've had playing baseball."
Winning the D9 championship with a five-run rally in the top of the seventh inning to erase a 3-1 deficit against defending district and state champion DuBois Central Catholic was certainly the top highlight so far for Clarion.
It avenged a loss earlier in the year to the Cardinals.
"The district game felt really good because we lost to them earlier in the last inning," Dawson said. "We really turned it up out there in the last inning because we didn't want that to happen again. We're been rolling ever since."
Because of an oddity in the PIAA Class A bracket, Clarion and DCC could actually meet in the state championship game should both win on Thursday and again on Monday in the semifinals.
"I'd be great competition — I feel like they're one of the top teams in the bracket," Dawson said of a potential showdown with the Cardinals in State College.
Dawson and Derek both said they feel this team is special.
One that certainly could win a state title.
"I feel like our only competition is ourselves," Dawson said. "We have a great pitching staff and our hitters hit. I'm really excited."
Clarion Area High School sports coverage on Explore and D9Sports.com is brought to you by Redbank Chevrolet and DuBrook.