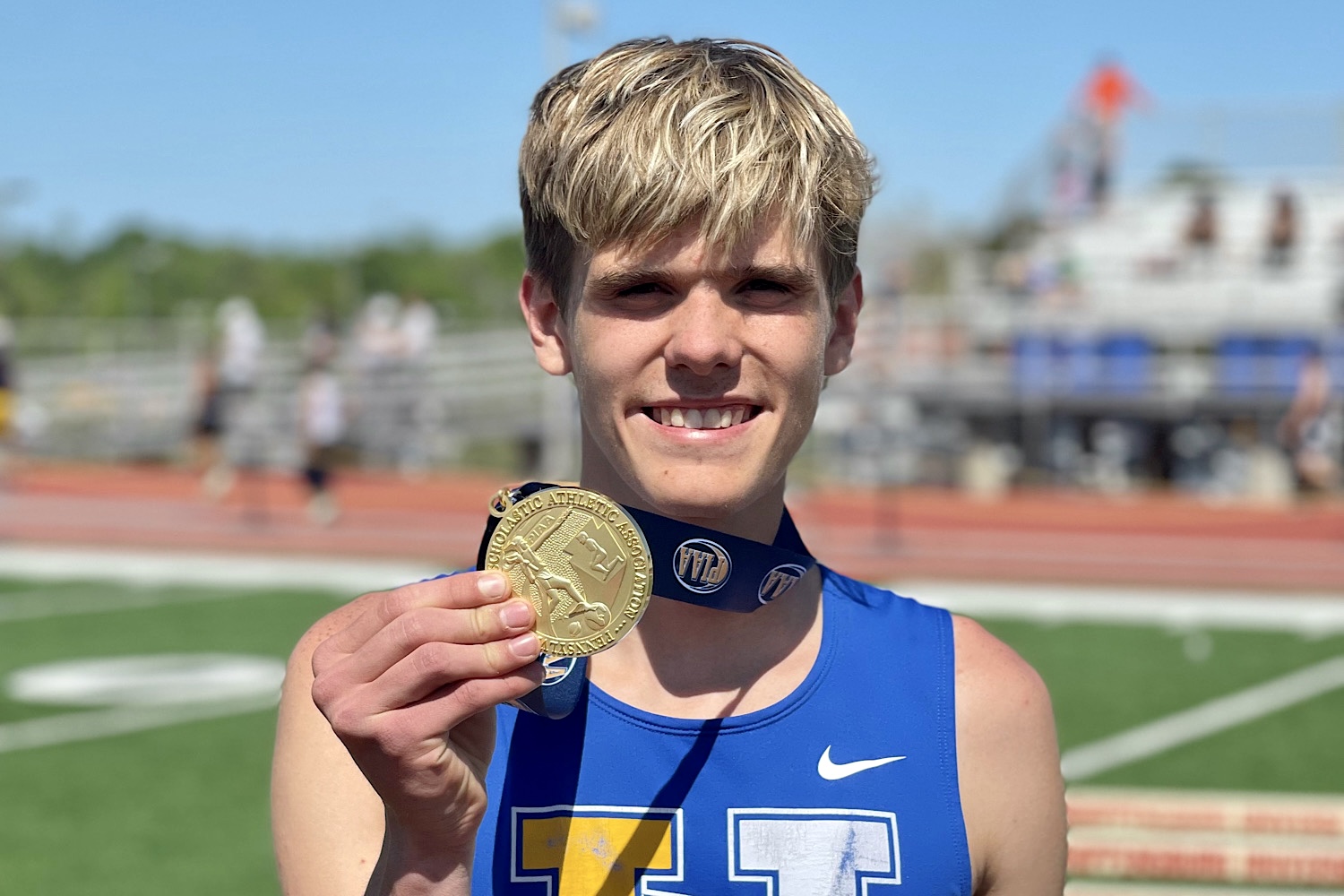 SHIPPENSBURG, Pa. (EYT/D9) — No torrential rain. No reported tornado touchdowns nearby. No competing indoors. No scrambling to find suitable shoes.
The only thing Hayden Smith had to deal with on Friday afternoon was a broken umbrella that left him exposed to the sun during his long wait to compete in the Class 2A high jump at the PIAA Track and Field Championships.
Smith, though, thrives in the sunshine and the Union/A-C Valley junior excelled again, clearing 6 feet, 8 inches to win his second consecutive state title in the event.
(Pictured above, Hayden Smith)
"My umbrella kind of went, so I didn't have any shade," Smith said, shrugging. "It didn't affect me. Just came out and did our thing."
Smith had to bide his time, waiting to compete as the other jumpers weeded themselves out at lower heights.
When Smith jumped into the fray at 6-4, he cleared it. He passed on 6-5 and then cleared 6-6 to clinch the gold.
He didn't stop there. After a miss at 6-8, he soared well over the bar in his next attempt.
Smith then opted to shoot for 6-11, but missed on each of his three jumps.
Last year, Smith won the title as the competition moved indoors because of a severe storm that dropped heavy rain and produced wicked winds. He had to borrow the shoes of teammate Evie Bliss' father to jump on the indoor surface and arched over 6-5 to win.
No such drama this time around.
"Coming into the meet, I knew there was going to be a lot of competition, a lot of better guys," Smith said. "I knew that there were going to be some higher heights today. I didn't expect 6-6 being the winning jump."
Smith has been jumping all spring on a balky right ankle which he injured during basketball season for Union.
Smith has treated it the best he could while still competing.
In the week leading up to the meet, all he did was rest.
"Coming into the meet, I had no practice at all. At all," Smith said. "Last night they, for the first time in years, allowed participants to practice, but coming in I had no practice, but I was still confident."
The ankle didn't seem in hinder him in the state final.
Smith has some big meets on the horizon this summer, namely the Nike Outdoor Nationals in Oregon in June.
But on Friday, his thoughts were spent trying to wrap his mind around winning another gold.
Has it sunk in?
"No, not really, honestly," Smith said, smiling. "I'm just so happy right now."
Smith was one of many happy District 9 track and field athletes on Friday at Seth Grove Stadium.
Two were his teammates.

Evie Bliss won the girls Class 2A javelin with a PIAA-record throw of 170 feet, 2 inches. Landon Chalmers won the discus with a mark of 171-5.
Three golds from one small co-op.
"We have a great group of people," Smith said.
D9 was also well-represented in the high jump.
Kane junior Sam Lundeen was third, clearing 6-4.
It was a great rebound for Lundeen, who was a disappointing 10th in the long jump in the morning at 20-11¾.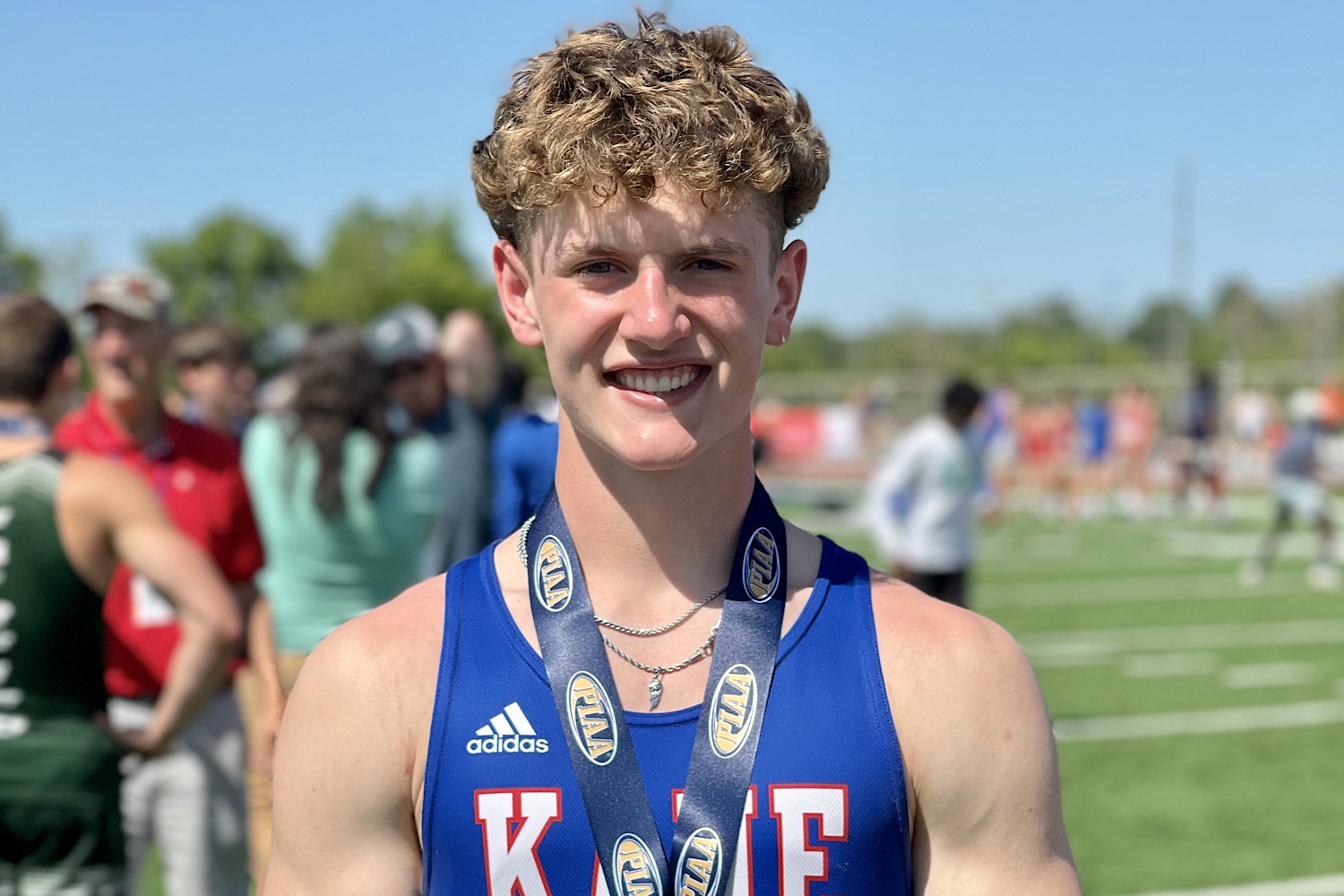 (Sam Lundeen)
"Long jump went a little rough," Lundeen said. "I was just happy to make it up with the high jump today. I knew I was going to do well today because I was pretty upset with my long jump, so when that happened, I knew I had to make up for it with the high jump."
Most can't refocus so quickly after a letdown like that.
Lundeen, though, was able to regroup.
"I just put that in the past," he said. "That already happened and I can't change that now. I just focused on what was next.
"My goal for today was top three," he added, smiling. "And I got it."
Aiden Ortz's goal was to be on top of the podium in the long jump.
It didn't quite work out for the Redbank Valley senior, who placed seventh with a jump of 21-4¾.
Last year, Ortz was ninth in the event, one place from a medal.
"I wanted first, but a medal at states — a lot of people don't really get the chance to come to states, so I'm happy that I came here. I just wanted to do a little better."
Ortz also ran the 100-meter dash and ran a leg on the Bulldogs' 4×100-meter relay on Friday morning.
The 100 overlapped with the long jump.
Ortz wanted to scratch out of the 100 and stay at the long jump pit, but he was informed that he couldn't do that. He had to run in the 100.
If he didn't, he wouldn't be able to run the 4×100, either.
"I kind of had to," Ortz said. "I didn't really want to, because I hate running and then jumping, but it's whatever."
The stage is set for more medal hauls on Saturday.
Brookville's 4×100-meter relay team of Brayden Kunselman, Hayden Freeman, Nick Shaffer and Jack Pete have the top time in Class 2A after the prelims at 43.13 seconds.
There's been some gnashing of the teeth this week for the foursome as Freeman has been nursing a sore hip.
They practiced little in the days leading up to Friday, but Freeman felt good during his run.
"Our main goal was to just get to stick around," Kunselman said. "We weren't really able to work on our handoffs much this week, so we were just kind of banking on our skill set to get us through the weekend and hopefully bring us the state title.
"As soon as he felt like anything, we shut him down," Kunselman added. "We came down yesterday and we tried doing a handoff and he said it was still a little tight. We got one decent handoff in yesterday and stopped."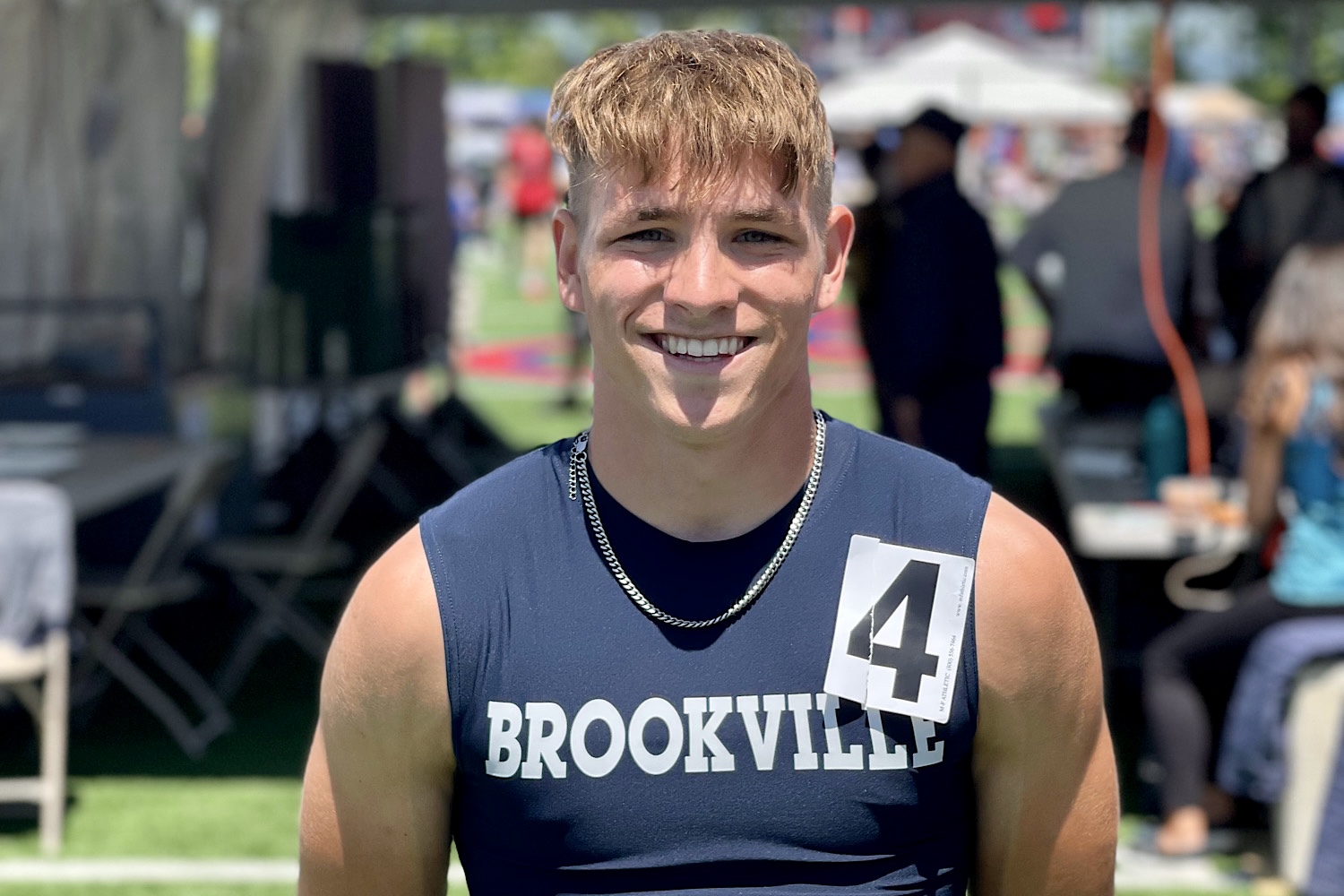 (Brayden Kunselman)
Kunselman also assured himself a medal in the 100-meter dash.
He'll enter the finals on Saturday with the eighth seed at 11.04 seconds.
Kunselman ran 10.99 at the District 9 meet last week to win.
"To go from sixth place at district last year in the 100 all the way to state just shows how much work I've put in," he said. "I want to get down in the 10s again. That would be a dream come true."
Defending 400-meter champion Mylee Harmon is back in the finals.
The Redbank Valley sophomore, whose late push in the race last year was a subject of a few conversations around the stadium on Friday, came in as the 12th seed.
She'll have the third fastest time in the field on Saturday at 58.26.
Harmon has her work cut out for her if she want to repeat. Ka'Nai Bey-English of Master Charter ran a time of 55.39 in the prelims.
MEDAL COUNT
In all, District 9 athletes won nine medals on Friday, including three golds (Bliss, Chalmers and Smith). Lundeen earned a bronze; Clarion-Limestone senior Ryan Hummell was fifth in the boys javelin; Redbank Valley senior Cam Wagner was sixth in the discus; DuBois Central Catholic senior Aiden Grieneisen was seventh in the javelin; Redbank Valley senior Aiden Ortz was seventh in the long jump; and Redbank Valley senior Alivia Huffman was eighth in the javelin.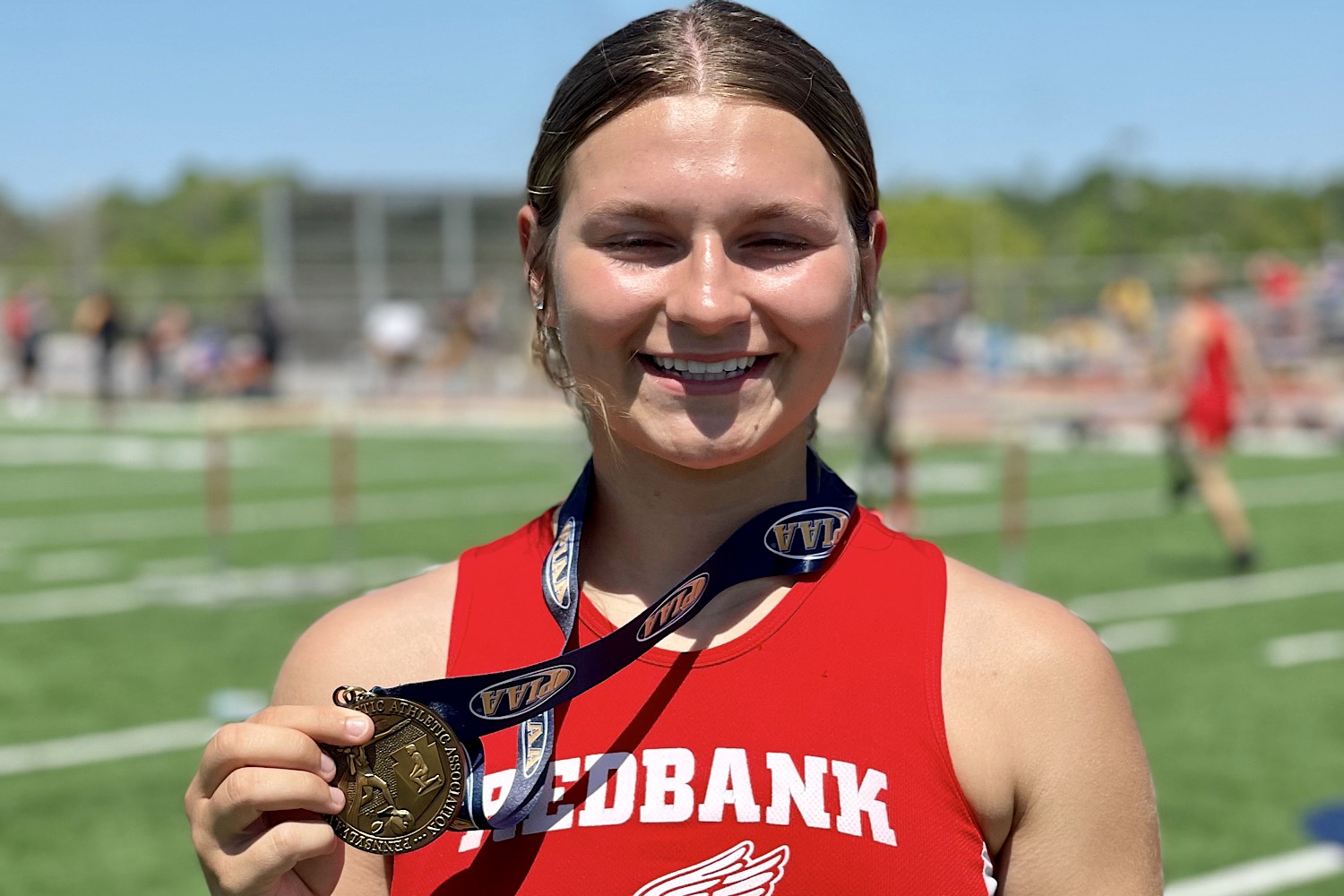 (Alivia Huffman)