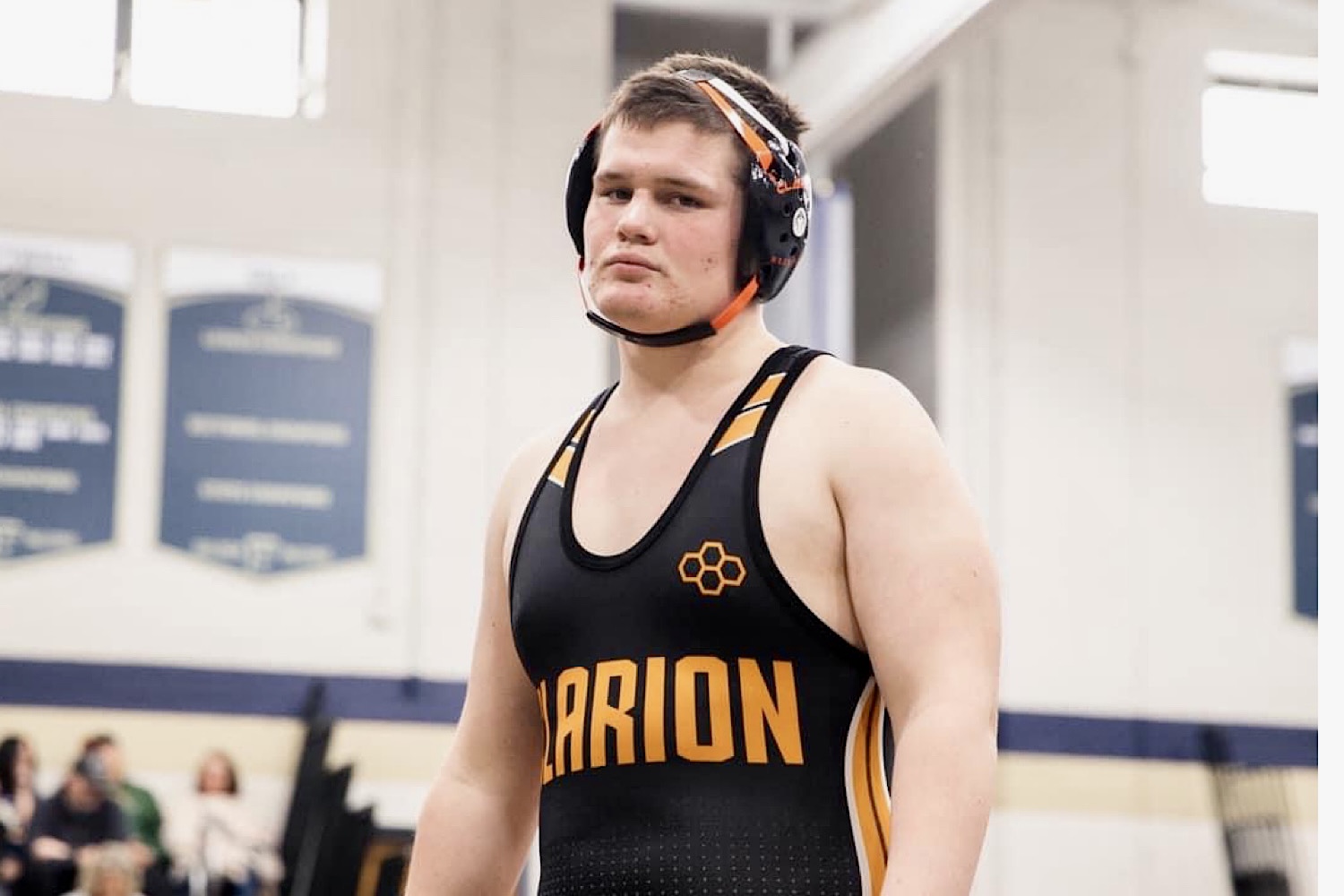 CLARION, Pa. (EYT/D9) — Clarion freshman Grayson Aaron had a simple goal heading into his bout at 114 pounds.
"I really just didn't want to get pinned at home under a spotlight," Aaron said, smiling. "That'd be embarrassing."
(Pictured above, Clarion 215-pounder Logan Edmonds)
Aaron didn't get close to suffering a fall. Instead, he controlled Brockway freshman Gage Park throughout on the way to a 4-1 decision to help the Bobcat wrestling team to a 42-23 victory over the Rovers on Thursday night.
Aaron realized soon in his battle with the equally adept Gage that turning him and earning a pin just wasn't in the cards. Instead, he grabbed a lead and spent the rest of the time keeping it by smothering Gage on the mat.
"I just played a defensive game the whole time, because I knew I wasn't gonna work anything to pin him," Aaron said. "I kept him down."

District 9 wrestling coverage on D9Sports.com is brought to you by Luton's Plumbing, Heating, and Air Conditioning.
It was an odd night for both teams. There were only five contested bouts as both Clarion and Brockway were shorthanded without three starters. That caused a no-match at 107 and allowed for the Bobcats to pick up five forfeit wins to one for Brockway.
But the weight classes that were contested offered some intrigue.
Starting with Aaron vs. Gage in a battle of rookies.
"Grayson is only a freshman and he's practicing with (121-pounder Logan Powell) every day," said Clarion coach Lee Weber. "So he's taken his lumps in practice and I think that helps him as the season progresses. He has been getting better as a year has gone on."
Good enough to run his record to 13-6.
Gage has also wrestled well in his first year for Brockway. Despite the loss, he's still 13-5 this year.
Of the five bouts wrestled, Brockway won three of them.
The Rovers got a quick pin at 133 from Parker Pisarchick, who earned a first-period fall over Zane VanTassel.
Pisarchick improved to 19-3.
VanTassel was giving up six pounds to Pisarchick — that's not a trivial amount at that lower weight class.
Weber said VanTassel will wrestle at 127 the rest of the year.
"He should be more equal in strength from here on out," Weber said.
Brockway picked up another five points on a tech fall by Colton Ross over Brendon Wright at 139 pounds.
Wright led 2-1 after the first period, but fell 17-2.
"(Brendon) opened with an explosive takedown, but the more experienced Ross beat him on the mat," Weber said. "Brendon needs to wrestle more on his feet until his knowledge on the mat catches up."
Logan Edmonds picked up a hard-fought win for Clarion at 215 pounds over Johnathan Winnings.
The two wrestles spent the first period sparring on their feet with neither gaining an advantage until Winnings got it with a 4-2 lead.
Edmonds, though, rallied with a reversal and back points to pull out a 6-4 win.
"It was just a tough match," Edmonds said. "It's kind of hard to fight through sometimes, but I still got the win. I couldn't work in what I wanted. I really wanted a bear hug for a takedown, but he wouldn't let me get in there. I was finally able to get some points against him and win."
Weber said Edmonds wore himself out in the first period, which led to his mid-match struggles.
"He finally at the end there caught him on a roll and turned him," Weber said.
In a matchup of two of the best heavyweights in District 9, Brockway's Gavin Thompson caught Clarion's Josh Beal early and pinned him in 1:02.
For Thompson, coming out fast and aggressive was the plan.
"I'm always ready early to do what I need to do," Thompson said. "I just wanted to get to my stuff as early as possible and get the pin."
For Beal, it was a disappointment, but something he can watch out for in the future.
"That's something Josh as to learn," Weber said. "Sometimes you have to weather the storm. That kids was mentally ready and we just didn't match the intensity at the beginning. It's just something Josh has to learn, to match the intensity early on. They can't maintain that for three periods. Good wrestlers, they're very strong at the beginning, especially at the upper weights, but they'll slow down as the match goes on. He has to learn from what happened to him, that you gotta be mentally ready when the whistle blows."
Still, it was a win for Clarion.
And Weber will take it.
"Any time you beat Brockway," Weber said, "you have to be happy."