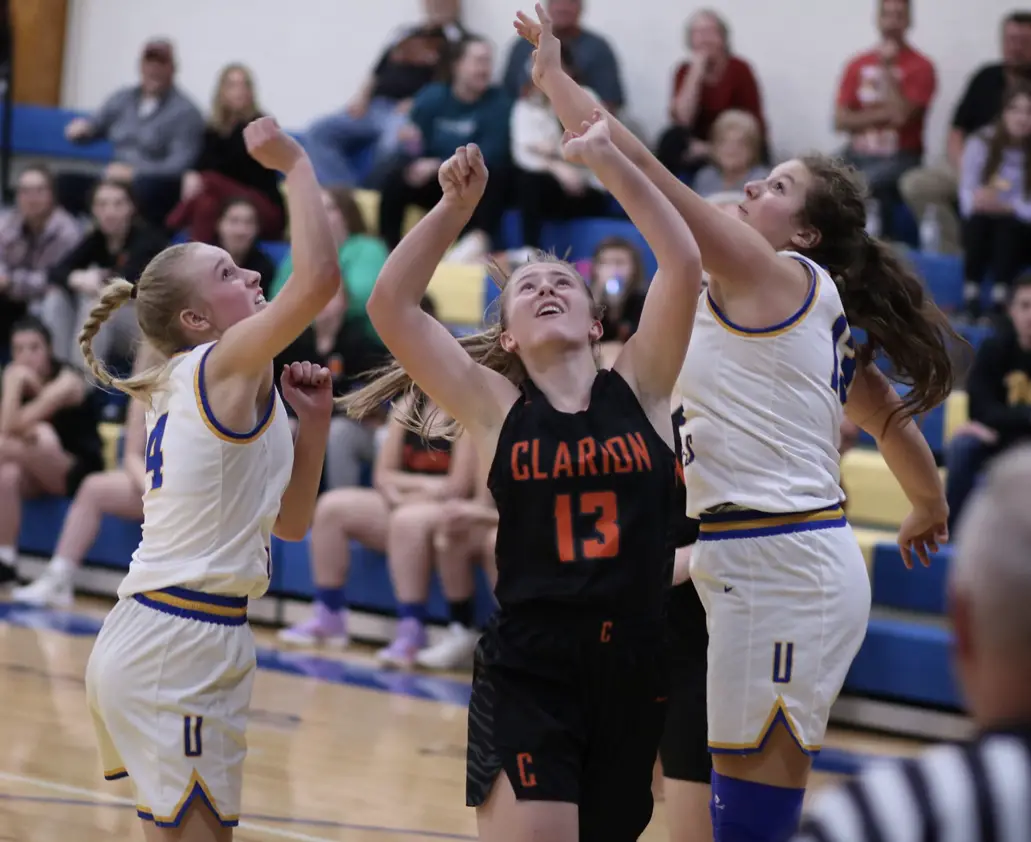 COUDERSPORT, Pa. (EYT/D9) – Quite simply, the Clarion girls basketball team feels like they have nothing to lose.
As a tenth-seed, not many have given the Bobcats much of a chance. Clarion has battled injuries, illness and adversity this season, but managed to enter the District 9 Class A playoffs with a chip on their shoulders.
(Above, Noel Anthony, center, battles against Union/photo by Shelly Atzeni)
The Bobcats made the trek to two-time defending Class A champion Coudersport, built an 11-4 lead after the first quarter, a 17-11 lead at the half and a 28-19 lead midway through the fourth quarter and hung on for a 31-27 win Tuesday night.
"I would say we weren't confident, but we were optimistic about our ability," said senior guard Noel Anthony, who scored 13 points along with Rebekah Ketner to lead Clarion. "We felt like we were a good enough team to beat Coudersport and I think we did exactly what we came in here to do."
That was to play staunch defense.
Coudersport (15-8) was flustered all night, especially by Ketner, who used her height advantage to confound the Falcons.
Defense has been Clarion's calling card this season.
"It's pretty obvious we aren't the strongest offensively," Antony said, chuckling. "But we have a strong defense. Because of that we can hang around with anybody, really. We knew Coudersport had a couple of good shooters, so we knew we had to stop them and cheat on them on the outside and we did that."
Clarion (10-10) held Emma Chambers to 10 points and leading scorer on the season, Liz Frame, to just six.
The win sets up a date with No. 2 seed North Clarion Thursday at 7 p.m. in Frills Corners.
The Bobcats feel like anything is possible now.
"It definitely feels good to prove some people wrong," Anthony said. "I think that we are a very hard-working team and there are times when we can be really on and there are times when we can be really off. But we can hang around with almost any team."
NORTHERN POTTER 42, SMETHPORT 35 – In another Class A girls playoff game, Abbie Cady scored 12 points and Riley Thompson and Rebecca Martin each added 10 to lead Nothern Potter to the win.
Elizabeth Hungiville scored 16 points to lead Sheffield.
Northern Potter will take on top-seed Elk County Catholic at 7 p.m. Thursday.