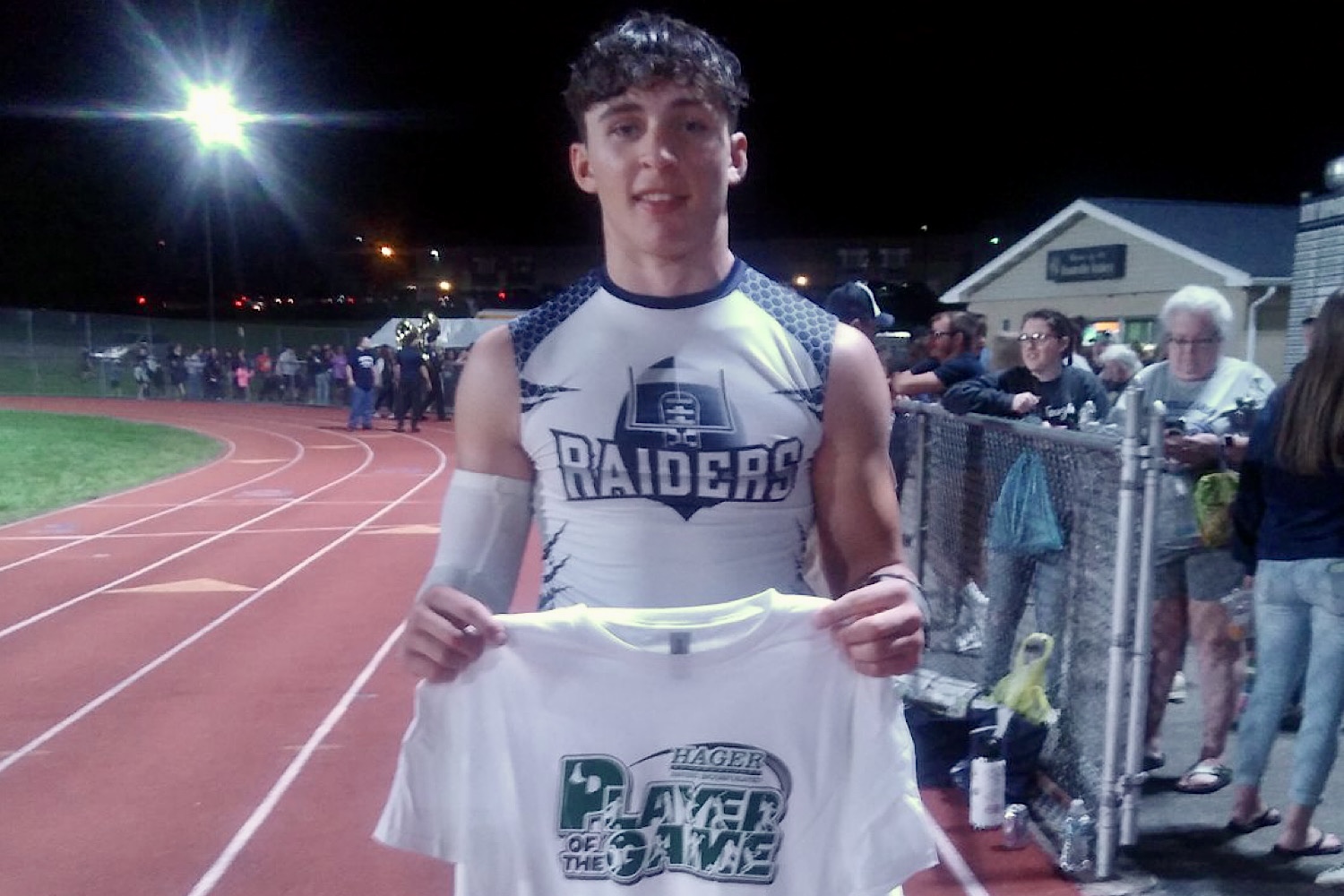 BROOKVILLE, Pa. (EYT/D9) — Charlie Krug went down.
Easton Belfiore stepped up.
(Pictured above, Brookville's Easton Belfiore was named the Hager Paving Incorporated Player of the Game)
Belfiore threw for 214 yards and four touchdowns, including two long ones to Sam Krug, as the Brookville football team broke open a close game on the way to a 42-20 win over Keystone on Friday night.
Belfiore also scored a rushing touchdown from 3 yards out in the win.
Keystone actually dented the scoreboard first when Rayce Weaver found Jacob Henry for a 35-yard touchdown and a 7-0 lead.
Brookville (1-2), though, scored the next 42 unanswered points.
Belfiore's TD run knotted things up at 7-7 on the way to a 21-7 advantage at halftime.
That lead swelled to 42-7 at the end of the third quarter.
Sam Krug caught touchdown passes of 69 and 65 yards on the night. Jack Pete and Hayden Freeman also hauled in TD strikes from Belfiore.
Henry had a big night for Keystone in the loss.
He rushed seven times for 102 yards and also caught three passes for 46 yards and a TD.
Eli Nellis ran for 90 yards on eight carries and a touchdown for the Panthers.
Weaver was 3 for 5 for 56 yards and a touchdown.
Keystone gained 330 yards in the setback that drops the Panthers to 0-3.
CAMERON COUNTY 40, MONITEAU 26
Maddox Baughman scored two touchdowns just 40 seconds apart on a pair of interception returns to clinch a win for the Red Raiders over the Warriors.
Cameron County (3-0) was up by just two points at 28-26 with a little more than a minute remaining when Baughman picked off a pass and raced 32 yards for a touchdown.
Just a few plays later, Baughman did it again, intercepting a pass and rumbling 55 yards for a score to keep the Red Raiders unbeaten.
Malakai Zucal also scored a pair of TDs on runs of 3 and 1 yard and finished with 68 yards on the ground. He also caught a pair of passes for 115 yards.
Baughman, also the quarterback, completed 4 of 13 for 131 yards.
The ending belied how tight the game was throughout.
Moniteau (1-2) led 13-6 after a pair of touchdown passes from Trent Beachem, first to Brendin Sankey for 27 yards and then a 12-yard hookup to Kole Scott.
Zucal's 1-yard run game Cameron county a 20-13 lead at the half.
The score stayed that way until a wild fourth quarter.
Ashton Grossman hauled in a 62-yard pass from Beachem after Cameron County had taken a 28-13 lead on a 1-yard run by Lathan Reed.
Beachem found Grossman again for a 35-yard score to cut the lead to two with 4:19 remaining, but the 2-point conversion failed.
Grossman caught four passes for 132 yards.
Moniteau had a chance again late when the interception dashed the Warriors' hopes.
Beachem was 13 of 29 for 284 yards in the loss. Sankey added four receptions for 61 yards and Logan Campbell caught three passes for 66 yards.
Beachem also led Moniteau on the ground with 39 yards on three carries.