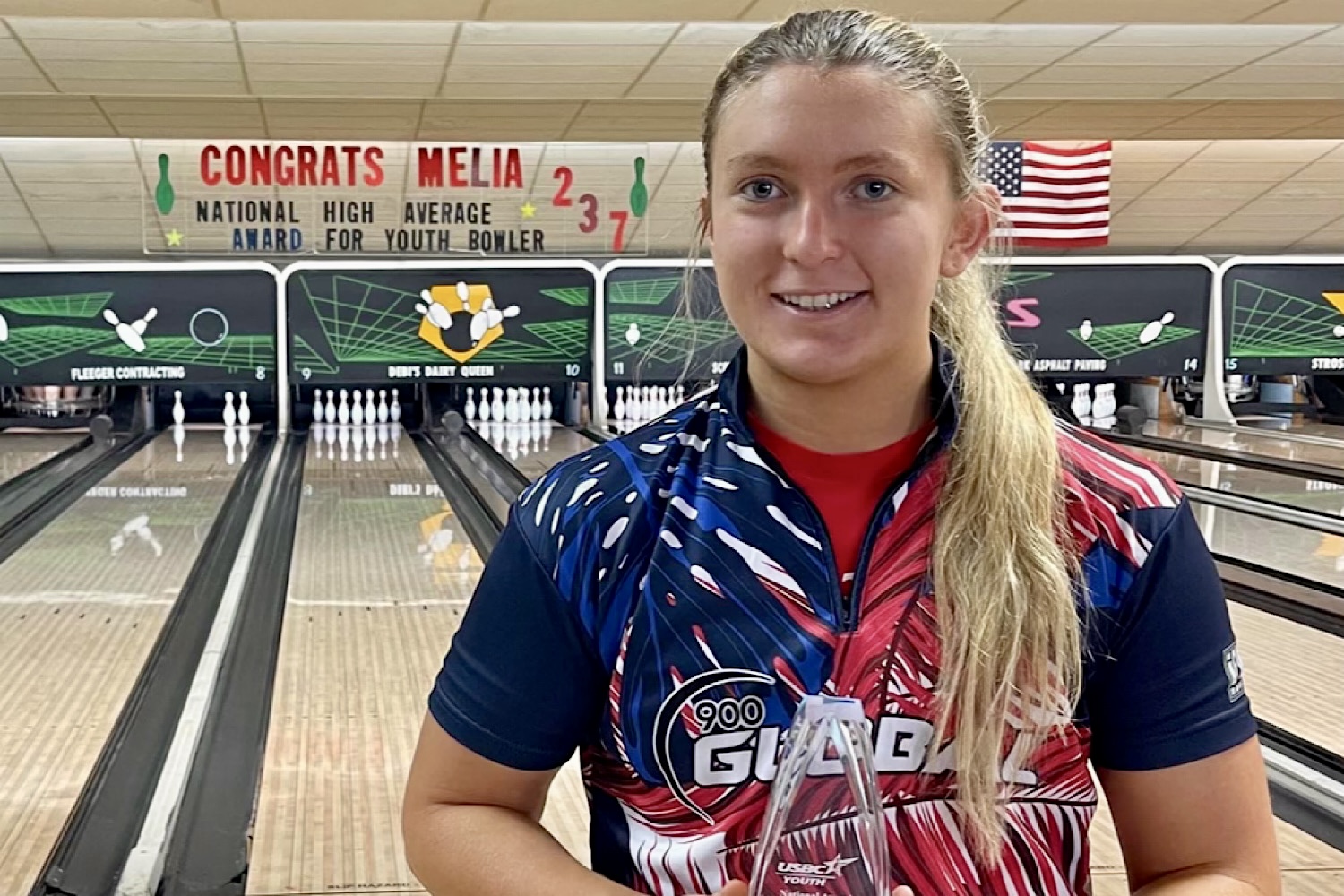 DuBOIS, Pa. (EYT/D9) — When Melia Mitskavich picks up her bowling ball and stares down at the 10 pins standing at the end of the lane, she isn't necessarily thinking strike.
It just happens more often than not.
The 17-year-old from DuBois has a simpler goal in mind.
Hit her mark. Be fundamentally sound. Everything else will fall — literally — into place.
"My mom always tells me, 'Don't try to strike because when you try so hard, sometimes it's not gonna work out,'" Mitskavich said. "You just have to roll the ball like you know how to."
That has worked very well for Mitskavich, especially over the past year.
Mitskavich rolled her fifth 300 game in December. Not long before that, she found out she had the highest youth bowling average in the country, according to the United States Bowling Congress, the national governing body for bowling.
She received the award for her 237 average late last month.
"I was so surprised. I honestly didn't even know about it," Mitskavich said. "We got a letter in November saying I had the highest average in the nation for a bowler and that I would be getting an award soon. I just got my award. It was just unbelievable. I didn't even know that was possible."
Mitskavich has grown up in an alley. The feel of bowling shoes on her feet and the sound of pins falling have made up a great deal of her childhood memories.
Her mother, Jackie (Sellers) Mitskavich, was a member of the Professional Women's Bowling Association tour in the 1990s.
Now Melia is looking to follow in her mother's approach steps.
"My mom, she's amazing," Melia Mitskavich said. "She can really see the oil patterns and know what to do. I love having her with me when I go to all these tournaments because she is a huge help with that. She's seen everything. Everything I know is because of her. I know I would not be as successful as I have been without her."
Melia Mitskavich, a junior at DuBois Central Catholic, doesn't have a big hook on her delivery.
She relies on consistency and power.
"Nowadays a lot of people I know bowl two-handed, and they are so worried about hooking the ball so much, and getting all these different kind of balls that hook," Mitskavich said. "I don't hook the ball that much. I do a little bit, but not as much as you would see if you went out on the PWBA. I think consistency is the most important thing. It doesn't matter how much you hook it, just as long as you're consistent, I think you will do well."
There are certain advantages to her approach, Mitskavich said.
For one, it makes it a lot easier for her to adapt to lane conditions, which can vary wildly from tournament to tournament.
"The ball reacts smoother, and I think it's just a little bit easier to adjust," she said. "You don't have to make as big of an adjustment sometimes, especially when I go to a big tournament where the oil pattern is extremely difficult. I think it's just a lot easier to control the ball and hit the pocket."
Mitskavich spends a lot of time at the lanes to work on her game.
The winter months are the easiest time for her to do so. At DCC, she plays volleyball, soccer and softball.
Last spring on the diamond, Mitskavich developed into one of the best pitchers in District 9, helping DuBois Central Catholic, to the PIAA Class A championship game.
But bowling is her true passion. She hopes to bowl in college and then pursue a professional career.
"Of course," she said, "education would come first."
Mitskavich is already getting a head start on that.
She bowls frequently on the Pennsylvania Junior Bowling Tour, which takes her all over the state. Tournaments feature prizes in the form of college scholarships.
That's why Mitskavich is unable to bowl in any adult leagues. The prize money could make her ineligible.
Mitskavich's biggest test will come in March when she bowls against nine others from across the country in the prestigious PBA Junior National Championships in Akron, Ohio.
Mitskavich become one of the 10 qualifiers in the 18-and-under tournament by finishing second in the East Region last August.
With only 10 bowlers in the field, it's a very select group.
The best of the best.
"It's a lot of scholarship money," Mitskavich said. "I think it's going to be a great tournament. I know most of the people who are going and I know it's going to be a very competitive field. I'm really excited for it."