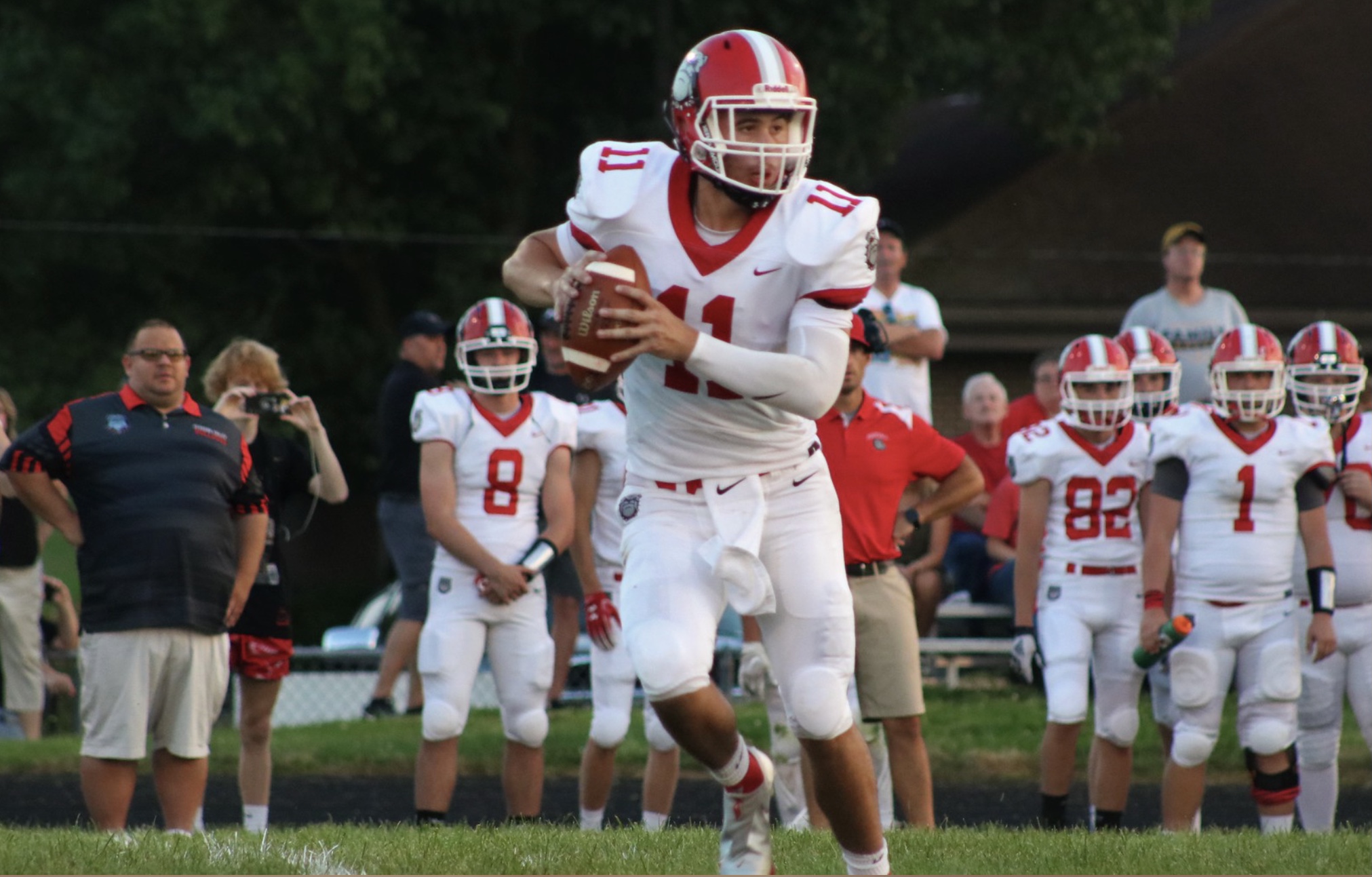 NEW BETHLEHEM, Pa. (EYT/D9) — The desire to play football had gnawed at Bryson Bain for far too long.
He could no longer ignore it. The Redbank Valley senior could no longer keep that dream at bay.
(Photo by Shelly Atzeni)
So, the standout baseball player with a strong and electric right arm decided to take a huge leap this summer and approached Bulldogs' football coach Blane Gold with a proposition: Join the football team and compete for the starting quarterback job.
It was courageous. It was bold. It was Bryson Bain.

Redbank Valley, Keystone, and Union/A-C Valley sports coverage on Explore and D9Sports.com is brought to you by Heeter Lumber.
"It was something new and I had a love for it," Bain said of football. "I always wanted to give it a try. I just never really was able to, for whatever reasons, until this year."
There were several stumbling blocks in his pursuit of football. Bain played in the junior high as a receiver, but once he hit high school, he decided to focus mostly on baseball.
He got the football itch again as a sophomore and joined the team, but an elbow injury suffered late in the summer while playing baseball scuttled those plans.
As a junior, Bain had all but given up on his gridiron dreams, instead focusing on his pitching craft and turning in a strong performance on the hill for Redbank Valley this spring. His goal was to pitch his way onto the college baseball radar and he did just that, snagging an offer from Indiana University of Pennsylvania, which he took.
Committed, Bain felt that gnawing again to play football. He decided to go for it.
Gold gave him a chance to compete with senior Gunner Mangiantini and junior Cam Wagner for the quarterback spot.
"I really appreciated that," Bain said. "He didn't have to give me that shot. I knew going in there, I was going to have a fair shot and I'd be able to take a run at it. I will always be appreciative of that."
Bain split time with Mangiantini and Wagner in the season opener. Against Otto-Eldred Friday, Bain was the guy and didn't disappoint.
He three for 236 yards and five touchdowns in the rousing 59-6 win, putting his stamp on the position.
Gold called choosing a starting quarterback out of his three talented candidates the hardest decision he's ever had to make as a football coach. Gold, though, may have found lightning in a bottle with Bain.
"With Bryson, you have a kid with a 6-foot-3 frame," Gold said. "You have a kid who is PSAC-bound as a pitcher, so you know he has the arm. You get a kid that really has a high level of sports IQ and is an extremely competitive person. He's putting extra time in before practice."
Bain had never taken a snap at quarterback in game at any level until this year, and he's the first to admit he still has a lot to learn about the position.
But he's working at the finer points with former Redbank Valley quarterback standout Jake Dougherty, who graduated in 2015, to fine tune his QB skills.
"(Dougherty) was telling me things that I've never really heard of," Bain said, softly chuckling. "He's been helping me a lot, and I'm just learning as every day goes on. I'm starting to feel like I'm getting better. I have a lot of room to grow at the position."
Mechanics have been a big focus for Bain. He acknowledges that his footwork can sometimes leave a lot to be desired.
"I'm obviously not very polished," Bain said, laughing. "I'm definitely not polished like you'd expect a senior quarterback to be."
Mentally, though, Bain has drawn on his experience in other sports.
Against Keystone in the Week 1 loss, Bain had some good moments — and some bad ones, too. He threw two interceptions that were taken back for TDs by the Panthers, but he also led a drive that gave Redbank Valley the lead in the fourth quarter.
He knows from baseball not to get too high after piling up strikeouts or too low after coughing up hits and runs.
"I just try to stay in the moment and think ahead and not dwell on the past," Bain said. "Just be where I'm at and do the best I can where I'm at."
It also helps Bain that he has a slew of weapons at his disposal.
He connected with 6-foot-3 receiver Chris Marshall for three touchdowns Friday and tossed two more TD passes to 6-4 wideout Marquese Gardlock.
"It's like basketball on grass," Bain said. "They're all special. We're six, seven dudes deep at that (receiver) position, and they're all capable of doing insane things when they touch the ball, so it definitely makes your life easier."
The biggest adjustment Bain has had to make? Acclimating to the atmosphere of football Friday nights.
"It was a shock," Bain said. "Nothing really compares to being down on that field with the lights and the fans. It's just a different feeling."
SCARY MOMENT FOR LENT — Things looked grim for standout Smethport quarterback Noah Lent when he went down with a leg injury in the first half of a 35-19 win over vastly improved Brockway.
But Lent returned in the second half and led the Hubbers to the win.
Brockway freshman phenom, quarterback Brayden Fox, had another solid game, tossing two touchdown passes as the Rovers took the preseason favorites in Smethport to the wire.
LATE-GAME DRAMA — Elk County Catholic's defense preserved its 13-12 win by stuffing Coudersport on a 2-point conversion attempt with less than two minutes remaining in the game.
Coudersport, the co-Small School North favorites, along with Smethport, are now 0-2.
Elk County Catholic is 2-0.
ANOTHER BIG WIN FOR CAMERON COUNTY — The Red Raiders are rolling and 2-0 for the first time in more than a decade thanks to a dramatic 22-20 victory over Bucktail (0-2).
HAT TRICK FOR KRUG — Charlie Krug threw three more TD passes for Brookville in a 21-7 victory over DuBois.
His favorite target, Brayden Kunselman, caught two of those TD passes and finished with more the 200 yards receiving.

Redbank Valley, Keystone, and Union/A-C Valley sports coverage on Explore and D9Sports.com is brought to you by Heeter Lumber.