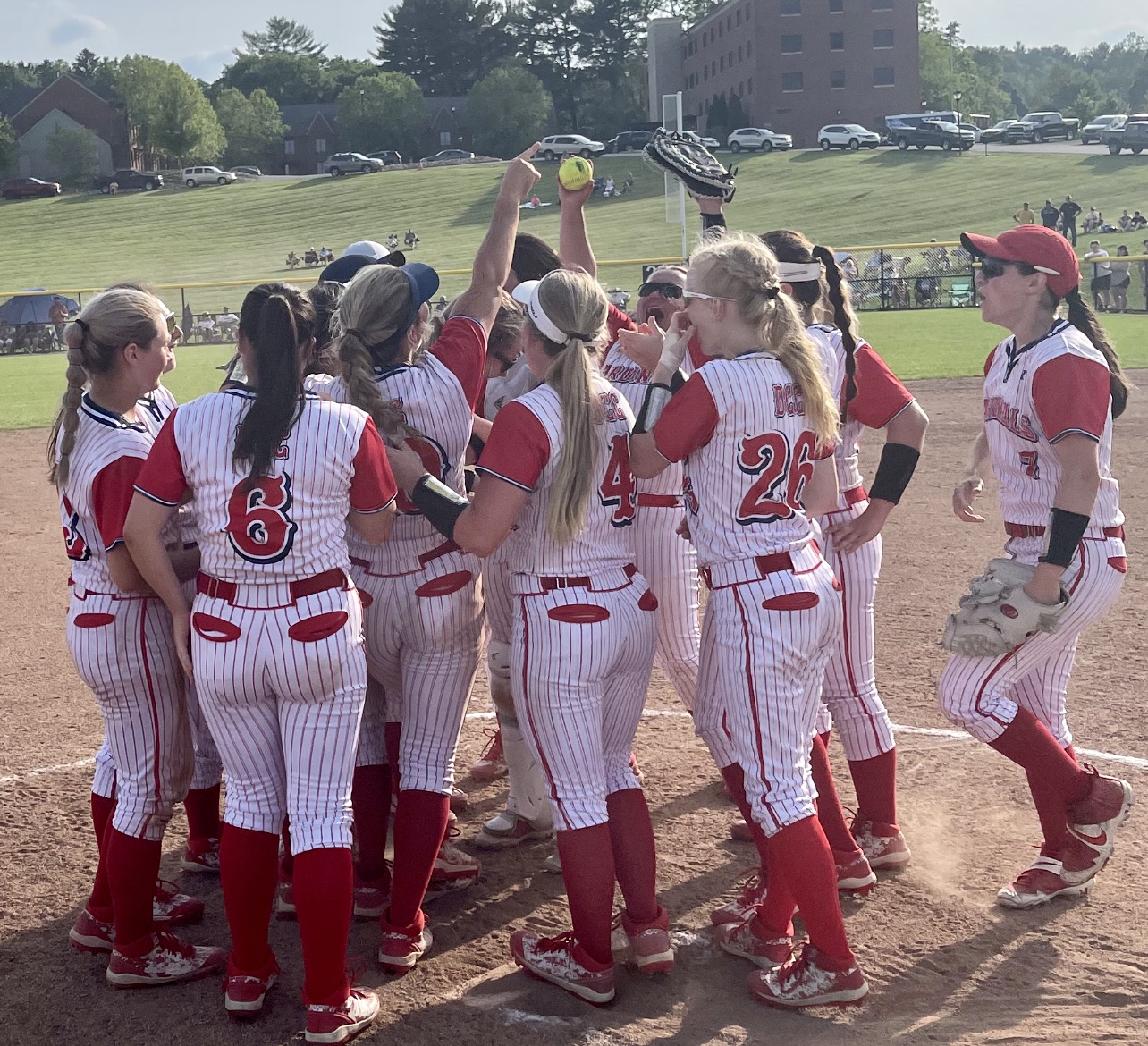 NEW WILMINGTON, Pa. (EYT/D9) — Emma Suplizio stood on second base and pointed into the DuBois Central Catholic dugout after driving in the first run of the game.
She clapped her hands and screamed.
The senior knew.
So did her teammates.
They were going to go to the PIAA Class A softball championship game.
With the pitchers matching zeros for the entire game, one run seemed like it would be enough. Four runs? Plenty.
The Cardinals broke the game open in the bottom of the sixth and Morgan Tyler shut the door on Saegertown in the top of the seventh for a 4-0 win in the Class A semifinals at Westminster College on a steamy Monday afternoon.
"I was so happy — I'm sure you could see I was freaking out when I got to second," Suplizio said, smile beaming. "I work well under pressure. I love whenever I have girls on because it makes me feel like I have to help them out. It definitely helped that Kali (Franklin) was on."
Franklin opened the bottom of the sixth with a four-pitch walk and the advanced to second on a wild pitch. That set the stage for Suplizio, who hadn't struck out all season, but had already fanned twice against Panther pitcher Mikaila Obenrader.
This time, Suplizio stayed back on a changeup and scorched a ball past Saegertown third baseman Hailie Gregor and into left field. Suplizio sprinted into second on the throw.
"We've been preaching during the last few days that we have to manufacture runs and that's basically what we did," said DCC coach George Heigel. "When we turned over our lineup for the sixth inning, I thought that would be the inning when it was going to happen."
Runs were certainly going to be at a premium in a game that featured some of the top pitchers in the state.
Obenrader had an ERA under 1.00 and had thrown a no-hitter in the quarterfinal win coming into the contest and showed early why she was a premiere pitcher.
The sophomore allowed just one hit through the first five innings.
But the Cardinals finally caught up to her.
Kayley Risser followed Suplizio's hit with a single, putting runners on the corners, then Savannah Morelli tapped the ball to Gregor, who threw wildly trying to nab her at first, leading to another run and a 3-0 lead.
Madison Hoyt added a RBI single for a 4-0 lead heading into the top of the seventh.
It may as well have been a 40-0 lead.
It was a tough loss to take for Saegertown Jenn Bowes, who had to stop an interview to gather her thoughts and then finally spoke through quivering lips and swipes of her tears.
"These kids gave everything they had," Bowes said. "We let them hang around too long. This is a heartbreaker for us. We're a very close team. We're a family and it's really hard to see it come to an end. But I'm proud of them."
Sophomore Melia Mitskavich started the game and matched Obenrader zero for zero, going five scoreless.
Tyler, a senior, relieved her in the sixth and got into a jam as Saegertown put runners on the corners. But Tyler, who has been DCC's primary pitcher for most of the season, got a strikeout to end the threat.
She went two innings, giving up three hits and striking out two.
"Our pitchers again did a phenomenal job," Heigel said. "Melia Mitskavich — teams just have a hard time hitting solid balls against her. She pitched a lot on JV and she's pitched a lot of travel ball. Toward the end of the year, I started using her a little bit more. She looked really good to me and teams had problems with her. Teams kind of caught on to (Tyler) the third time through the order, so now she's like our closer."
The tandem has DuBois Central Catholic back in the state title game for the first time since 2019.
There was no season in 2020 because of COVID-19.
"I'm so excited because during my freshman year we made it for the first time," Suplizio said. "So to be a senior now and going back, it's incredible. As a senior, you never know when your last game is going to be, so you leave it all on the field."
Suplizio now knows when her final game is going to be: Thursday at 11 a.m. against District 4 champion Montgomery for the state title at Penn State University.
They won't be alone in State College. The DCC baseball team also punched its ticket to the PIAA Class A championship game. They will play Friday at 10:30 a.m.
"We call ourselves a Central family because it really is like a family," Suplizio said. "I'm so excited, not only for us, but for those boys, too. I can't wait."