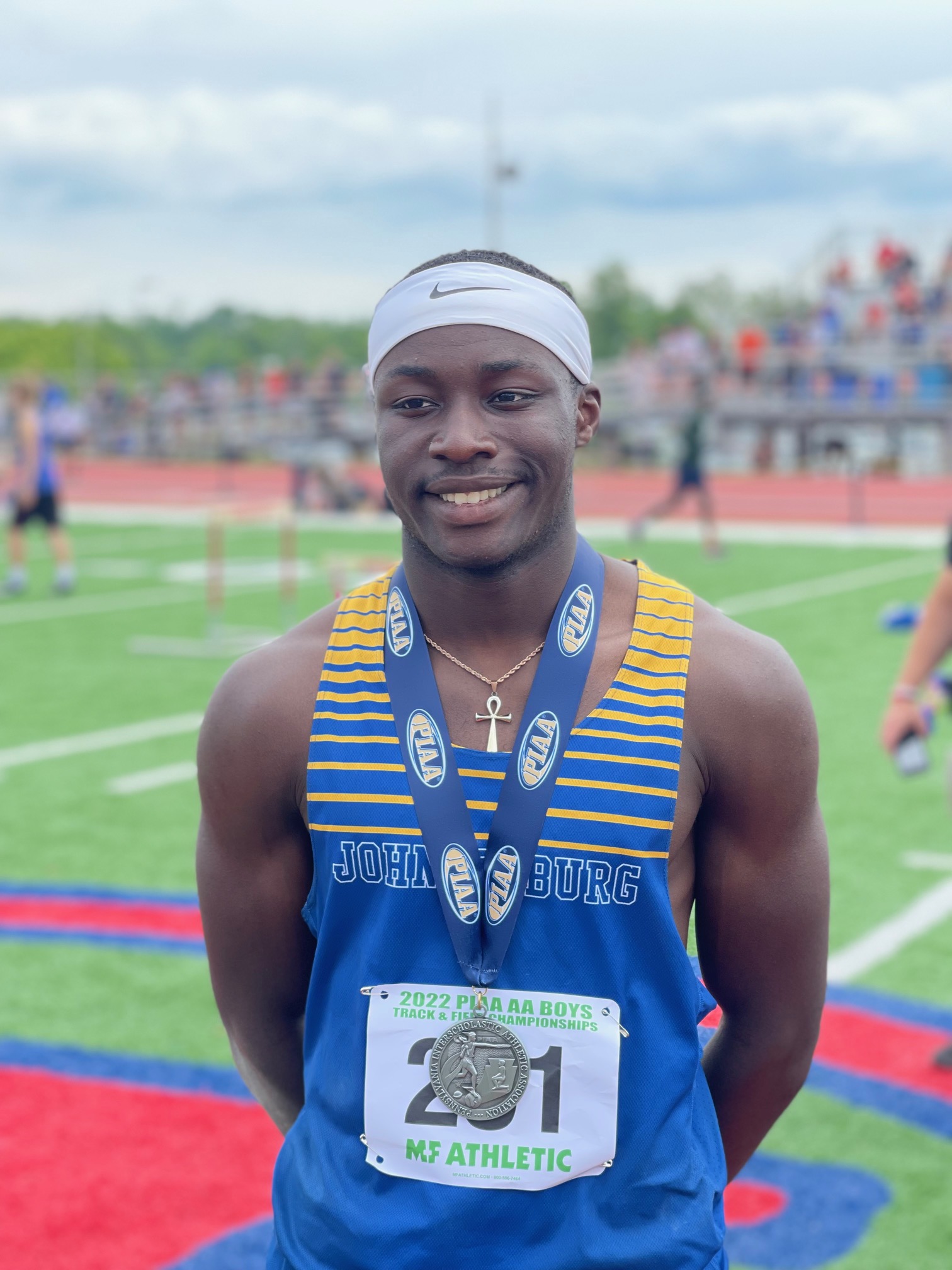 SHIPPENSBURG, Pa. (EYT/D9) — Taylor LaBarre hit the sand, stood and raised his arms to the loud cheers from the crowd.
The Pen Argyl junior had just hit 45 feet, 7½ inches in the Class 2A triple jump at the PIAA Track and Field Championships on a sun-splashed Saturday morning at Shippensburg University.
Enoch Aboussou was the first to congratulate him.
The Johnsonburg senior had three jumps better than 45 feet and was sitting in first place with one jump to go. That's when Argyl hit his career best leap — by a lot.
"It's a pretty big feat," Aboussou said. "We all work hard at this. It's something you can't just roll out of bed and do. It takes a lot of practice. I know how he must have felt because I know how I felt when I hit my PR earlier this season, so I wanted to congratulate him and let him know he was doing amazing."
Aboussou placed second Saturday with a jump of 45-5½.
Aboussou has amazed himself this season, particularly in the last few weeks.
At the District 9 meet last week in Brookville, Aboussou set a record at 45-6.
He outdid himself three times at the state meet.
"That's the most consistent I've jumped over the years," Aboussou said. "I was actually surprised I didn't foul on my last one — I felt like I was over."
The silver medal was bittersweet for Aboussou.
Her certainly jumped well enough to win, but was beaten by one big jump.
Such is life at the state meet. That's usually all it takes. One big effort to grab glory.
Aboussou, though, will gladly take his silver medal home to Johnsonburg, proud of his achievement on a big stage from a school as small as Johnsonburg.
"Honestly, I'm just happy for myself," Aboussou said. "I was surprised I was able to get anywhere near my PR today. It's definitely a blessing to be here."
Aboussou peered down at his silver medal.
"I'm just happy for myself that I got this," he said.