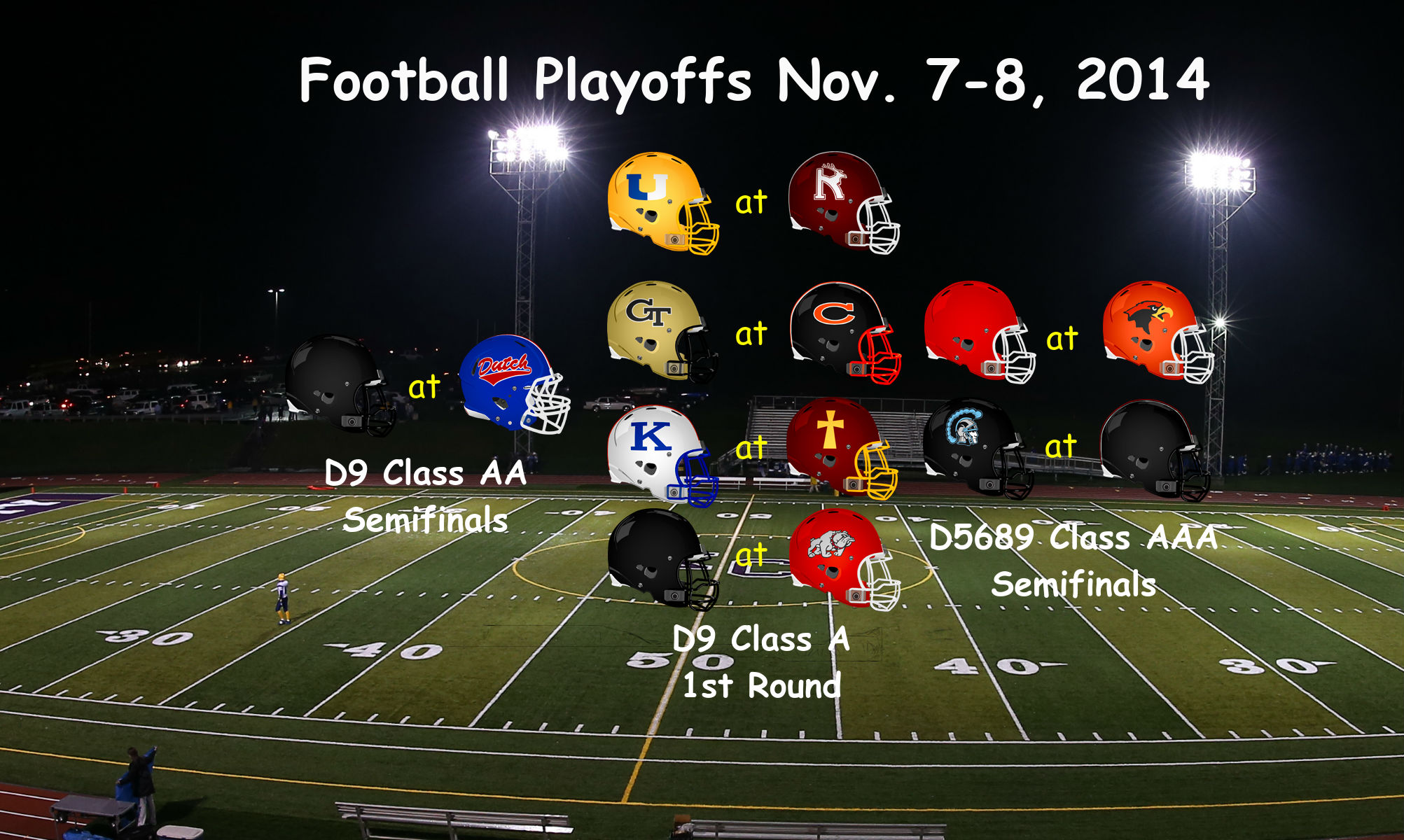 By Rich Rhoades
It's playoff time starting Friday as District 9 sends 14 teams into the postseason. Two teams — Karns City and DuBois — won't be in action this week, but the rest of the teams will be involved in seven games.
Check out the complete D9 tournament schedule here.
And for a complete rundown of state-wide playoff brackets go here, compliments of www.easternpafootball.com.
Class A bracket, Class AA bracket, Class AAA bracket, Class AAAA bracket
Here's a look at the first weekend of playoff action:
CLASS A
Curwensville (6-4) at Clarion (9-1)
Curwensville Schedule • Clarion Schedule • Curwensville Roster • Clarion Roster • Curwensville Stats • Clarion Stats 
This isn't the first time these teams have met in the postseason. It's third time they'll meet in the playoffs and Clarion is seeking its first points on the board against the Golden Tide. Curwensville blanked Clarion, 23-0, in the 2000 Class A final and 42-0 in the Class A semifinals.
The Bobcats go into the tournament as the favorite. They haven't lost to a D9 Class A team not named Port Allegany — they lost in the finals to the Gators in 2011 and 2012 — since a first-round playoff loss to Cameron County in 2010. Since the loss to the Red Raiders, the Bobcats are 27-2 against Class A teams in the district.
For anyone to beat the Bobcats, they'll have to deal with Ian Corbett, who leads the district with 1,788 yards (12.4 yards per carry) and 29 touchdowns. For his career, Corbett has 3,448 yards and 65 touchdowns, 55 of them rushing.
If Corbett is slowed down, the Bobcats have other options as four other backs have rushed for over 230 yards. Freshman Colton Rapp has 491 yards and eight touchdowns, Jacob Troutman (380 yards), Thomas Plummer (266 yards, 5 TDs) and Destin Strauser (235 yards, 4 TDs) are all factors out of the backfield.
Quarterback Taylor Smith has thrown for 537 yards with over half of his 23 completions, 12, going for touchdowns. Corbett leads the team with 12 catches for 288 yards.
Curwensville is no stranger to big running resumes over the years and it might have another big one coming as freshman Nick Stewart is off to a strong start with 1,445 yards and 16 touchdowns in his rookie season. Junior Hunter Johnson has rushed for 679 yards and 12 touchdowns.
The Tide were knocked out of last year's playoffs with a 28-22 loss to Redbank Valley in the semifinals.
Kane (6-3) at Elk Co. Catholic (8-2), Saturday
Kane Schedule • ECC Schedule • Kane Roster • ECC Roster • Kane Stats • ECC Stats 
These teams met in a tight one in Week 8 with the Crusaders edging the Wolves, 13-12.
Amazingly, the Wolves have played in and lost three one-point games this year, an extremely rare combination that hasn't happened since 2002 when Brockway went 2-1 in one-point games.
The Crusaders are coming of a 37-0 shutout loss to St. Marys. They are led by Mitchell Smith, who didn't have a carry or throw a pass in last week's game. He's thrown for 690 yards and rushed for 595 yards. Noah Werner (552 yards, 3 TDs) and Dan Singer (500 yards, 3 TDs) are also running threats for ECC.
In their regular-season meeting, Kane outgained ECC, 358-192, as John English ran for 179 yards on a hefty 35 carries with both of the Wolves' two touchdowns. Smith threw TD passes to Ryan Seelye and Kyle Huff for the Crusaders.
For Kane, John English has rushed for 1,055 yards and 16 touchdowns as he does most of the work out of the backfield with over 21 carries per game. Quarterback Jack Kocjancic has thrown for 839 yards and six touchdowns with almost half of his completions going to Shane Rolick, who's caught 26 passes for 251 yards. Tyler Rolick has 17 catches for 334 yards.
The Wolves move back to Class A after a two-year hiatus. They lost to Karns City in the last two Class AA finals. Kane's lone title came in Class A in 2007.
After going winless last year, the Crusaders are back in the postseason after a one-year absence. They opened the 2012 playoffs with a 30-6 win over Union before losing to eventual champion Port Allegany in the semifinals, 48-7.
Brockway (5-5) at Redbank Valley (7-2)
Brockway Schedule • Redbank Valley Schedule • Brockway Roster • Redbank Valley Roster • Brockway Stats • Redbank Valley Stats 
The former Little 12/KSAC rivals will meet for the fourth time in the postseason since Brockway left the KSAC after the 1998 season the Rovers are 3-0 in the first three playoff matchups.
Brockway beat the Bulldogs in the first round of the 2011 Class A playoffs, 24-10; 12-7 in the 2005 Class AA semifinals; and 31-21 in the 1998 Class AA semifinals.
This time around, the Bulldogs are the favorites, although they need to shake off a two-game losing streak, including last week's 52-6 shellacking at the hands of District 6 unbeaten Blairsville.
Bulldogs quarterback Jake Dougherty has thrown for 2,151 yards and 31 touchdowns and he's also the team's leading rusher with 417 yards and seven touchdowns.
Dougherty has four receivers over 340 yards receiving, led by Wyatt Hetrick (52 catches, 770 yards, 10 TDs) along with Connor Shoemaker (34 catches, 441 yards, 4 TDs), Nick Shoemaker (27 catches, 406 yards, 8 TDs) and Korbin Hornberger (16 catches, 349 yards, 5 TDs).
Brockway is balanced offensively, led by Anthony Benson's 624 yards rushing and 10 TDs and 25 receptions for 353 yards and four TDs. Quarterback Braden Martini has thrown for 787 yards and eight TDs and Anthony Isabella has 34 catches for 376 yards.
The Rovers, too, are trying to shake off a bad finish to the season after starting 4-0. They've lost five of six games, including last week's 43-14 loss to one-win Mercer.
Union (5-5) at Ridgway (9-1)
Union Schedule • Ridgway Schedule • Union Roster • Ridgway Roster • Union Stats • Ridgway Stats 
The Ridgway Elkers, AML champion for the first time sinc 1993, are actually the top-seeded team and Union is the eight-seeded team even though the Knights beat the Elkers, 32-7, in Week 8 also in Ridgway.
How the second matchup goes is one of the compelling first-round stories.
Quarterback Lane Cicciarelli leads the Knights as he's thrown for a school-record 1,867 yards and 18 touchdowns. Cole Morris (50 catches, 845 yards, 6 TDs) and Chet Carmichael (34 catches, 619 yards, 7 TDs) are his top receivers.
Dugan Gallagher (667 yards, 7 TDs) leads the Knights running game.
Ridgway quarterback Ben MacDonald has thrown for 668 yards and 11 TDs and run for 924 yards and 19 TDs. MacDonald's top receiving target is J.P. Cerroni (18 catches, 176 yards).
Also on the ground for the Elkers, Cole Myers has 726 yards and seven touchdowns while J.P. Cerroni has rushed for 610 yards and three TDs.
CLASS AA
Moniteau (5-5) at St. Marys (7-3)
Moniteau Schedule • St. Marys Schedule • Moniteau Roster • St. Marys Roster • Moniteau Stats • St. Marys Stats 
These teams met two weeks ago on the same field and it wasn't pretty at Dutch Country Stadium as the Flying Dutchmen posted a 35-6 rout of the Warriors.
St. Marys outgained Moniteau, 278-117, as senior Kyle Glatt ran for 130 yards and four touchdowns.
For the season, Glatt (834 yards, 14 TDs) and junior T.J. Hogan (957 yards, 10 TDs) lead the run-heavy Dutch offense.
Moniteau has faded into the postseason, due largely to its back-loaded schedule after a 4-0 start. The Warriors have lost five of their last six games.
Seniors Josh McBride (1,298 yards, 11 TDs) and Cody Skiver (1,006 yards, 12 TDs) are both over 1,000 yards for a Warriors offense that's also run-heavy.
The winner gets state-ranked and defending champion Karns City in next week's championship game. The Gremlins received a first-round bye in the three-team playoffs.
CLASS AAA
District 5-6-8-9 Sub-Regional Semifinals
Punxsutawney (6-4) at Somerset (9-1)
Punxsutawney Schedule • Somerset Schedule • Punxsutawney Roster • Somerset Roster • Punxsutawney Stats • Somerset Stats 
Clearfield beat the Golden Eagles in last year's District 5-6-8-9 Sub-Regional finals, 21-6, finishing Somerset's record at 10-2.
This year, they're back for more and they're coming off their lone loss of the season in a 27-3 setback against 10-0 Bishop Guilfoyle.
The Golden Eagles are led by junior running back Jake Heiple (1,034 yards, 16 TDs) and quarterback Dylan Barnes (1,006 yards, 14 TDs, 6 Ints.). Heiple is a playmaker on defense as well with three interceptions. Senior defensive end Bryce Mostoller has 10 1/2 sacks.
Punxsutawney, which hasn't won a playoff game since beating Clearfield in the 2009 district final, will try to bounce back from two straight lopsided losses to Karns City and Clearfield last week in the D9 final.
Dakota Thomas has passed for 1,153 yards and 12 touchdowns while running for 503 yards and eight TDs. Perry Arrington has rushed for 769 yards and six touchdowns. Braxton Giaviadoni is the top receiver with 31 catches for 734 yards and eight TDs.
Johnstown (7-3) at Clearfield (8-2)
Johnstown Schedule • Clearfield Schedule • Johnstown Roster • Clearfield Roster • Johnstown Stats • Clearfield Stats 
At Clearfield, the Bison will try to continue their postseason domination of late against the Trojans, a team they've beaten in three of the last four years.
Last year, Clearfield routed Johnstown 42-7 in the first round of the sub-regional bracket. It also won PIAA first-round matchups against Johnstown in 2011 (29-23) and 2010 (28-12).
The Bison now have a 1,000-yard rusher in Erik Sellers, who is at 1,018 yards and 20 touchdowns. Seth Caldwell has 901 yards and six touchdowns. Quarterback Cody Spaid has thrown for 961 yards and 12 touchdowns.
The Trojans are about as balanced as you can get — 1,612 yards rushing, 1,486 yards passing — as junior quarterback Jeremy Updyke has pased for 1,257 yards and 18 touchdowns against just two interceptions and five different rushers have 200 or more yards on the ground. Sophomore Tavis Price has 341 yards and two TDs. William Robinson has caught 26 passes for 458 yards and eight TDs.
CLASS AAAA
DuBois Beavers get week off
The DuBois Beavers wrapped up their regular season at 8-2 after beating Karns City, 35-31, to hand the Gremlins their first loss of the season. They'll take a week off before facing State College in the District 9-10 Sub-Regional final next week at a site and time to be announced.
Quarterback Gabe French had a game for the ages, throwing for 330 yards and three touchdowns while rushing for 249 yards and a touchdown. For the season, he's thrown for 3,362 yards with 40 touchdowns against eight interceptions. He's rushed for 580 yards and eight scores.
Here's an updated "Jim Kelly" List, that is, the top career passing yardage leaders in District 9 history:
Matt Bodamer, Port Allegany (2012) 10,948 137
Derek Buganza, Brockway (2010) 9,752 95
*Gabe French, DuBois (2014) 7,731 86
Mike DeFilippi, Smethport (1999) 6,638 59
Chad Kroell, Clearfield (1994) 6,088 79
*Jake Dougherty, Redbank Valley (2014) 5,693 60
Alec Shaffer-Doan, Brockway (2013) 5,552 66
Adam Black, Keystone (2001) 5,338 55
Tyler Armagost, Moniteau (2008) 5,278 52
Tom Pore, Keystone (1997) 4,504 46
Kyle Armagost, Moniteau (2011) 4,484 46
Curtis Frye, Clearfield (2011) 4,477 44
Hayden Johnston, C-L (2004) 4,401 70
Dan Miller, C-L (2009) 4,250 28
Dan Reed, Keystone (2009) 4,122 45
Jon Guth, Brookville (1993) 4,033 29
Jim Kelly, East Brady (1977) 3,915 44
*Active and through Week 10