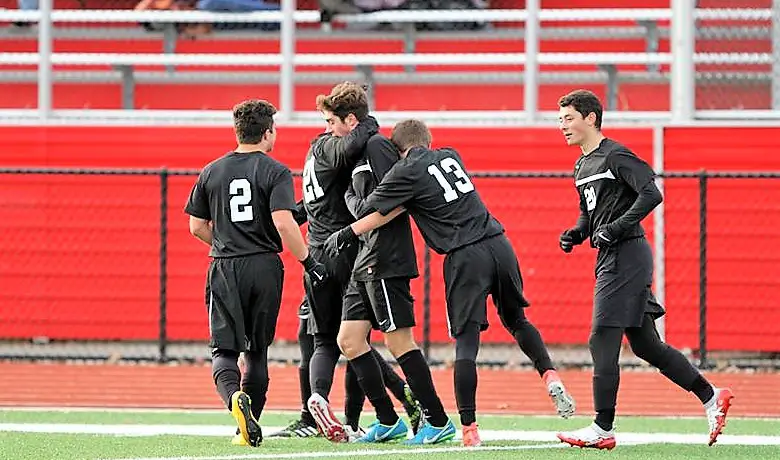 SLIPPERY ROCK, Pa. – To go where no District 9 soccer boys' or girls' soccer team has gone before.
(Cover photo of Brockway celebrating during the quarterfinals. Submitted photo. Photo by Thomas Weible)
That is the goal of the Brockway boys' team as it takes on WPIAL champion Cardinal Wuerl North Catholic in the PIAA Class 1A semifinal at 7 p.m. Tuesday at Slippery Rock High School.
The Rovers have already made history becoming the first District 9 boys' team to reach the PIAA semifinals and just the third team to do so overall joining the 2015 Karns City girls in Class 1A and the 1996 Karns City girls in Class 2A (the bracket was only an eight-team bracket that year so the Lady Gremlins needed to win one game to reach the semifinals).
A win over the powerful Trojans (22-1) would put Brockway (20-0) in Saturday's title game in Hershey, Pa., a place no District 9 soccer team has ever been.
"The kids are really excited about where they are at," Brockway head coach Rich Esposito said. "To be still playing at this time of year is a great accomplishment. The loss to Sewickley Academy last year (in double overtime in the first round) really motivated these guys to work hard in the offseason and get back to the state tournament because they realized they could compete with the best teams in the state."
The Rovers got to this point with a pair of wins over the teams that finished behind North Catholic in the WPIAL with a 3-2 come-from-behind victory in the first round Tuesday over WPIAL third-place finisher Seton La Salle – the first PIAA playoff win for Brockway since a 5-2 win over District 6 champion Nittany in 1993 and just the third PIAA playoff win in school history (the 1992 squad beat Bishop McCort 3-2).
Brockway then toppled WPIAL runner-up Springdale, 2-1, Saturday. North Catholic didn't play Seton La Salle in the WPIAL playoffs but beat Springdale, which had beaten Seton La Salle 2-1 in a shootout, 2-0 in the WPIAL title game. North Catholic had beaten Springdale, 7-1, and 1-0 in overtime early in the regular season.
"They are playing hard for each other and especially for the seniors," Esposito said. "They have been up to the challenge the last two games. They showed a lot of heart winning two close, hard-fought games against top-quality opponents."
North Catholic has been a juggernaut outscoring its opponents 144-6 on the season including 26-0 in the playoffs. The Trojans lone loss was a 1-0 shutout at the hands of Pine-Richland, the WPIAL Class 4A third-place finisher. North Catholic beat Mercer 1-0 in the quarterfinals after topping District 9 runner-up Port Allegany, 5-0, in the opening round. Brockway beat Port Allegany twice this year including 7-0- in the D9 title game and 6-0 in mid-October.
The Trojans, who were the WPIAL runner-up a year ago before beating Iroquois, 6-0, and losing to Seton La Salle, 1-0, in the 2016 PIAA playoffs are led by sophomore Joe Kearney, who has scored 54 goals on the year. Karney had a goal in the WPIAL title game victory over Springdale, as did Mike Drambel, and then added a hat trick in the win over Port Allegany while Ryan Augustine and Bryce Kopchak also scored In the win over Mercer in the quarterfinals, Kearney assisted on the lone goal, which was scored by Augustine. Keaton Jennings is the nearly flawless keeper for North Catholic.
"North Catholic has a really solid team from back to front," Esposito said. "They move the ball well and are a very organized 11 on the field. You really have to limit your mistakes against a team like them or anyone when you get to the state tournament. We definitely need to keep some possession and capitalize on our opportunities when we get them. I like the way we have been playing. Our passing and creating chances has been there throughout the tournament, and we need to keep that up Tuesday."
Brockway, which lost the before mentioned 3-2 in two overtimes game to eventual state-runner up Sewickley Academy in last year's PIAA first round, has been pretty dominant this year in its own right outscoring opponents 123-11, including 14-3 in three playoff contests.
The Rovers have shown a balanced offense this year with 18 different players scoring goals with five in double digits.
Hunter Allenbaugh and Zane Puhala are tied for the team lead in goals with 23 each. Allenbaugh had two in the first-round PIAA playoff win over Seton La Salle while Puhala netted both Rover tallies in the victory over Springdale in the quarterfinals. In four postseason contests, each player has four goals.
Also reaching double digits in goals for Brockway are Anthony Esposito, Rich Esposito's son, who has 18, Carter Adams, who has 17, and Angelo Inzana, who has netted 11. Adams had a pair of tallies in the District 9 title game with Anthony Esposito adding one in that contest.
"Our team leaders have stepped up throughout the playoffs," Rich Esposito said. "They will have to continue to do that to win Tuesday."
NOTES: History has not been kind to District 9 boys' soccer teams. Since District 9 teams started playing in the PIAA playoffs in 1986, D9 squads have gone 8-58 not including the 1988 season when results aren't readily available. Brockway, however, holds four of those wins, including two this year and the single victories in 1992 and 1993. Karns City has won a pair of games – one last season in 2A and one in 2011, while Kane in 2003 and Elk County Catholic (then Christian) in 1997 … Brockway's other PIAA wins were against District 6 champions in 1993 (Nittany, 5-2) and 1992 (Bishop McCort (3-2 in overtime) … The winner plays the winner of the Camp Hill/Masterman game in the PIAA Title game at 1:30 p.m. Saturday at Hershey Park Stadium. Camp Hill, the defending state champion, is the District 3 champion and Masterman the District 12 champion. They play at 7 p.m. Tuesday at Hamburg High School … North Catholic has never been to the PIAA Title game, but the WPIAL has been to five straight PIAA Class 1A title game, all of those by Sewickley Academy, who was knocked out of the opening round of the WPIAL playoffs by Riverview after posting a .500 record this year. District 10's Mercyhurst Prep in 2011 was the last non-WPIAL team to qualify for the 1A title game. The Lakers lost to New Hope-Solebury, 3-2, that year after losing to the same team, 1-0 the year before … The last public school to reach the WPIAL Class 1A title game out of the western side of the state was Quaker Valley in 2005. The Quakers lost to Christopher Dock, 1-0, that year. In fact, Brockway is trying to become just the fourth public school out of Western Pennsylvania to qualify for the PIAA title game in Class 1A since the PIAA expanded to three classifications in boys' soccer in (the organization went to four in boys' soccer last year) in 2000. District 6's Westmont Hilltop lost to Christopher Dock 1-0 in 2002 and District 10's Iroquois lost to Tulpehocken, 4-0, in 2001.