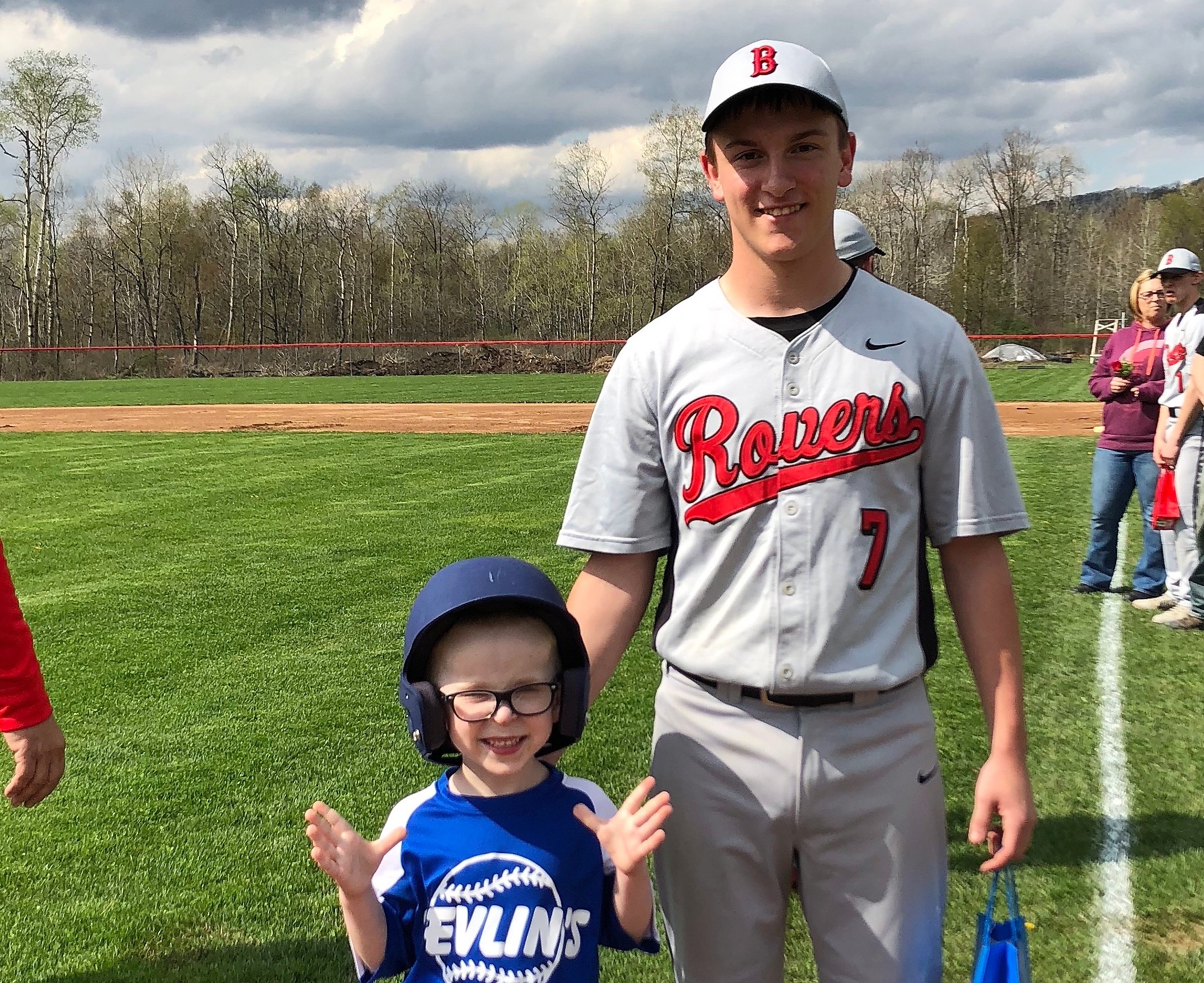 BROCKWAY, Pa. – High school sports are supposed to teach sportsmanship, teamwork, and perseverance. Sportsmanship also leads to kindness, both on and off the field. That's the lesson Brockway Area Junior-Senior High School senior Zachary Foradori got from his time playing Rover baseball.
(Photo: Noah Perrin and Zach Foradori. Photo by Judy Perrin)
Foradori is a co-captain on the team and met preschooler Noah Perrin at a youth baseball clinic.
"Zach had an instant bond with Noah," said the preschooler's mother, Judy Perrin. "For senior night, he came up with the idea to ask Noah to throw out the first pitch."
Perrin said that many things do not come easily for her son. He started having seizures at 15 months old. This caused delays in walking and talking.
"Zach saw something in Noah," Perrin said. "And when Zach asked Noah if he would like to throw out the first pitch, Noah was amazed! He thought this was something only the president can do!"
Noah threw the first pitch of the Rovers' May 7 game against DuBois Central Catholic High School. Noah and his parents went onto the field, Noah wearing his tee-ball uniform, and Foradori caught the pitch. The preschooler then got to sit in the dugout during the game.
"The players on both teams were so welcoming to Noah and went above and beyond to make him feel like he was a part of something amazing," Perrin said.
Perrin thanked the teams, the coaches, the superintendent, athletic directors, and everyone who made this event happen. She was especially thankful to Foradori.
"Thank you, Zach, for your kind gesture and sharing your senior night with my son," she said. "It's rare to find an 18-year-old boy caring enough to make a child with special needs feel this special."