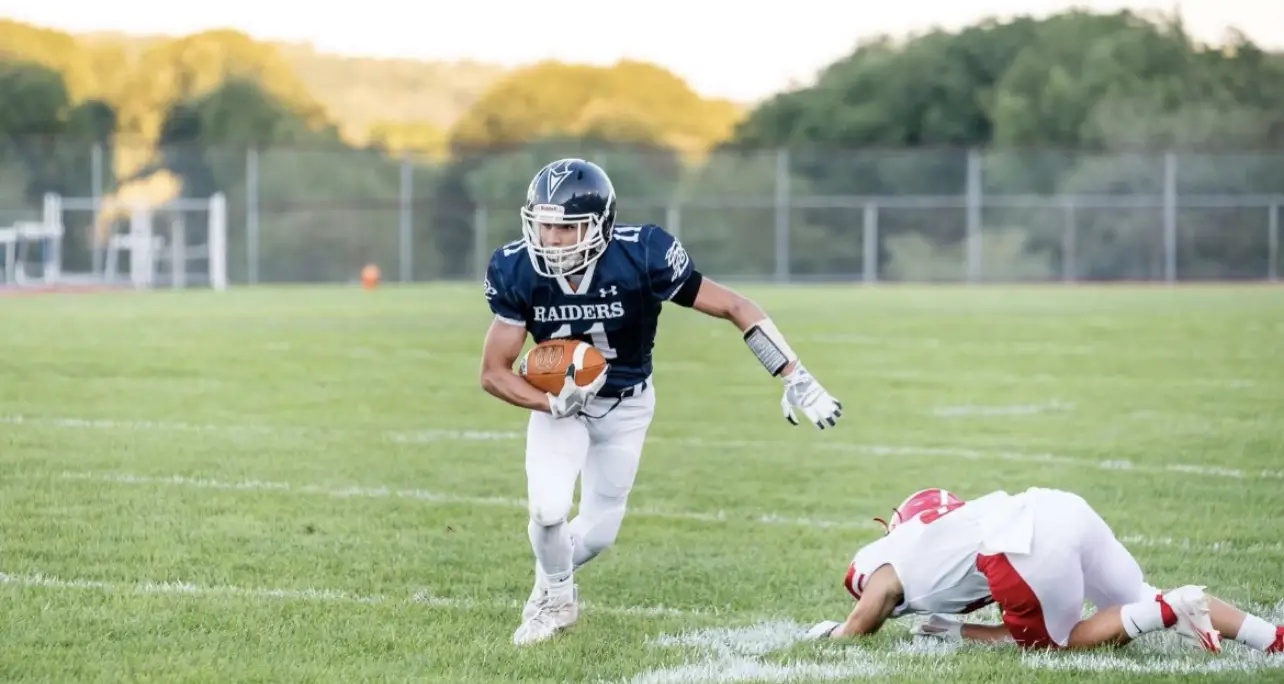 BROOKVILLE, Pa. (EYT/D9) — Brayden Kunselman is fluent in quarterback body language.
(Photo by Molly Zimmerman)
He can read their eyes. He can anticipate where they want to go with the football. And he has the athleticism to make them pay.
Kunselman is a ballhawk. Last season as a junior, the safety on the Brookville football team intercepted seven passes. Three came against Punxsutawney in Week 3; He returned one of those picks for a touchdown.
He has nine INTs in his career and has set his sights on a lofty goal as a senior this season.
Brookville Area High School sports coverage on Explore and D9Sports.com is brought to you by Redbank Chevrolet and DuBrook.
"Obviously, team success comes first — I want to win a D9 championship," Kunselman said. "But personally, I want to put up better numbers than I did last year. I want the school record for interceptions."
That record is 16. It may be a tough task for Kunselman, not because he's incapable of doing it, but because teams are going to be very wary to test him.
He already saw that last season as word got out about his penchant for momentum-shifting interceptions.
Kunselman was so dangerous as a defensive back that opponents began game-planning against him, altering what they did on offense. Teams took fewer deep shots as the campaign moved into the stretch drive. They made sure to know exactly where Kunselman was at all times.
Five of his interceptions came before Sept. 15.
His mere presence, though, hindered opposing offenses.
"Teams tried to eliminate Brayden by getting the ball out on shorter routes," said Brookville coach Scott Park. "When you have somebody like Brayden who the other team is focusing so much on, that allows somebody else to step up."
Kunselman also adjusted.
At only 5-foot-7 and 150 pounds, he's not exactly the biggest dude on the field. But Kunselman was also strong in run support.
"He plays bigger than he is," Park said. "He's not scared. He just has a knack of knowing where the ball is. Players like that don't come along very often."
Some of that has to do with Kunselman's wrestling background.
He has a career record of 74-18 with two District 9 championships. Last year at 138 pounds, he was 39-10 and reached the state tournament, but did not place.
"Football and wrestling help each other out so much," Park said. "It's just you and the other person on the mat, so you have to have mental toughness. Wrestlers have that mental toughness and they bring that to other sports, like football. That's a bonus."
When asked how he is able to anticipate where the quarterback is going with the ball so well, Kunselman shrugs — he's not entirely sure.
It's largely instinct. But he also does his homework, which gives him another edge.
"Film study helps a lot, knowing what routes come out of what formations," Kunselman said. "I know the coaches help a lot with that. I also did a lot of work during the summer — the 7-on-7s help a lot with reading the quarterback's eyes."
As good as Kunselman was last year on defense, he was just as dangerous on offense as a wide receiver.
Kunselman caught 48 passes for 824 yards and nine touchdowns. He figures to be the No. 1 option in the Raiders' passing game again this season.
Brookville has 10 starters returning on offense, including quarterback Charlie Krug and its entire offensive line and receiving corps.
"Being a receiver in this offense is fun. The quarterback has options," Kunselman said. "He's not focusing on two receivers the whole time. He's able to spread the ball around and make plays. He's able to do everything."
Kunselman said that sometimes means not getting as many passes thrown his way.
No problem. There are other ways to contribute.
"Knowing the ball is not always gonna come to you, it has its benefits," Kunselman said. "I mean, I want the ball, obviously, but you know, you don't have to make every single play. You're able to trust your teammates to play in this offense as much as you. You can still make plays, even if you don't have the ball. You can help with downfield blocking. You can block for the run. Just doing anything you can do for one another to score touchdowns."
Broovkille Area High School sports coverage on Explore and D9Sports.com is brought to you by Redbank Chevrolet and DuBrook.