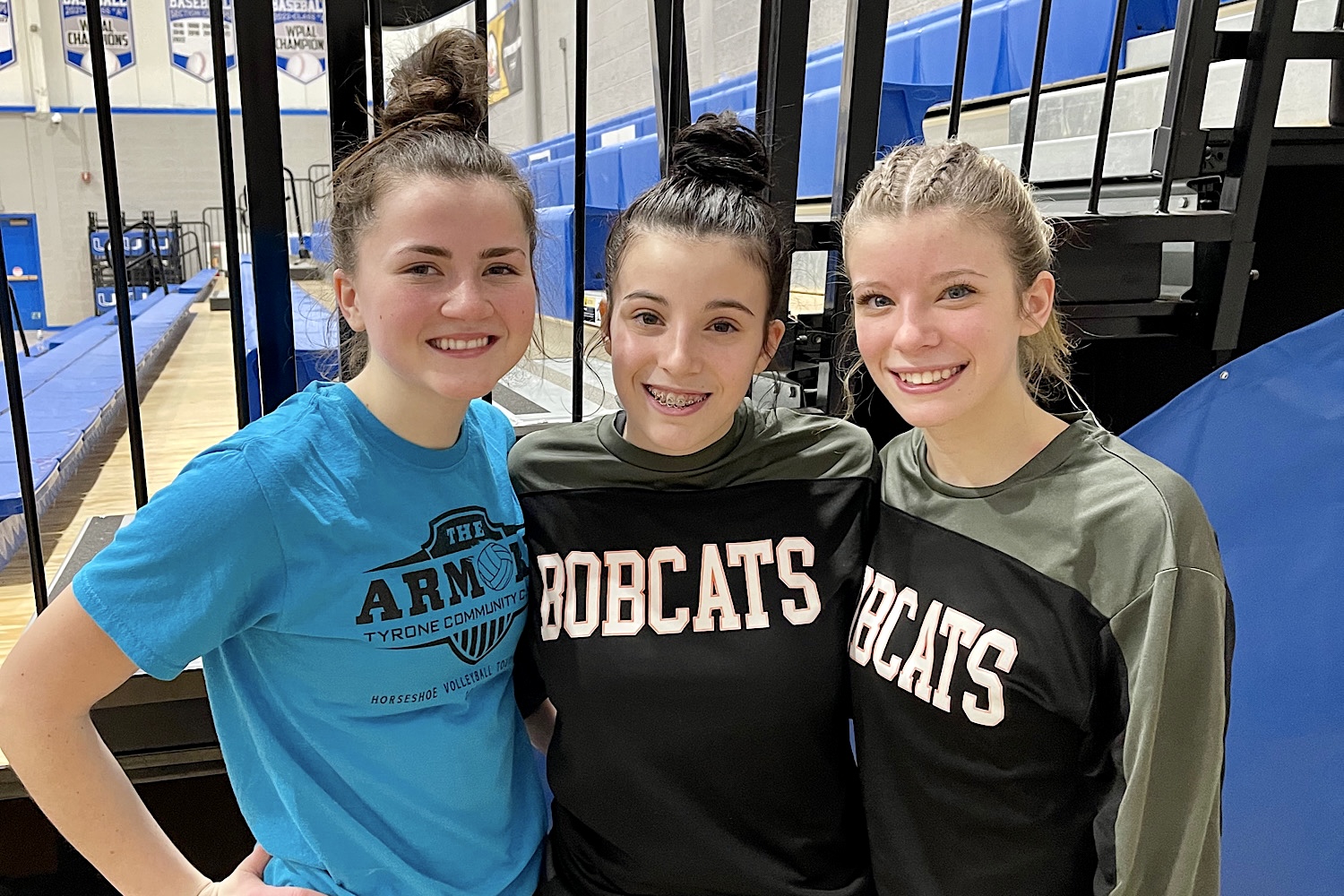 NEW CASTLE, Pa. (EYT/D9) — In Clarion's eyes, the outcome was largely moot.
This was about preparation. This was about building for the future. This was about seeing what it takes to rise to the next level.
The Bobcats took the 47-9 loss to District 7 champion Union-New Castle in the first round of the PIAA Class A girls basketball playoffs in stride. It stung, sure, but there are certainly better days ahead.
(Pictured above, from left, Taylor Alston, Sophie Babington and Gia Babington form a core for Clarion that could be a dangerous one next season)
"My message to them was to not hang their heads," said first-year Clarion coach Sam Heeter. "We had probably one of the harder roads to get here. We drew a tough one right off the bat with Elk (County Catholic in the District 9 playoffs), and then had to work our way back in through the consolation bracket. Everyone is coming back and I told them it's a really, really good experience."
Clarion Area High School sports coverage on Explore and D9Sports.com is brought to you by Redbank Chevrolet and DuBrook.
Clarion (11-15) was never really in the game against the Scotties, who raced out to an early 9-1 lead, were up 17-1 after the first quarter and 28-7 at the half.
Kylie Fruehstorfer the poured in 10 points during a 12-0 run for Union-New Castle in the third.
Fruehstorfer finished with 22 points as the Scotties moved on.
Clarion will move on, too, just in a different way.
The Bobcats will turn their focus to making another quantum leap next season.
Heeter believes that is possible with the young talent he has returning.
"I'm thrilled we have everyone returning," Heeter said "I finally have a little bit of size inside. I have guards who can handle it. I have a slasher. I have a ball-handler. I have a shooter. I have a few eighth-graders who will be freshmen who can make a little bit of a splash early on. I'm in a very good spot right now. We have a lot of potential these next few years. As I explained to them, it's going to come down to what they are willing to do from now until November."
If you ask juniors Taylor Alston and Gia Babington and sophomore Sophie Babington, they'll tell you they plan on doing quite a bit.
"We already asked when open gyms start," Alston said.
Marley Kline was a presence inside as a freshman. Sophomore Natalie Durish also had big games for the Bobcats.
They, along with the Babington sisters and Alston, form the nucleus of what could be a very dangerous team.
Sophie Babington averaged 10.2 points per game and was a second-team, all-Keystone Shortway Athletic Conference selection.
Alston averaged 9.3 points per game and made the KSAC third team.
Gia Babington was off to a promising start this year before a torn hamstring suffered during the holiday tournament sidelined her. She still wasn't 100% by the end of her frustrating campaign.
"I did a lot of physical therapy and it helped," Gia said. "It was a long recovery."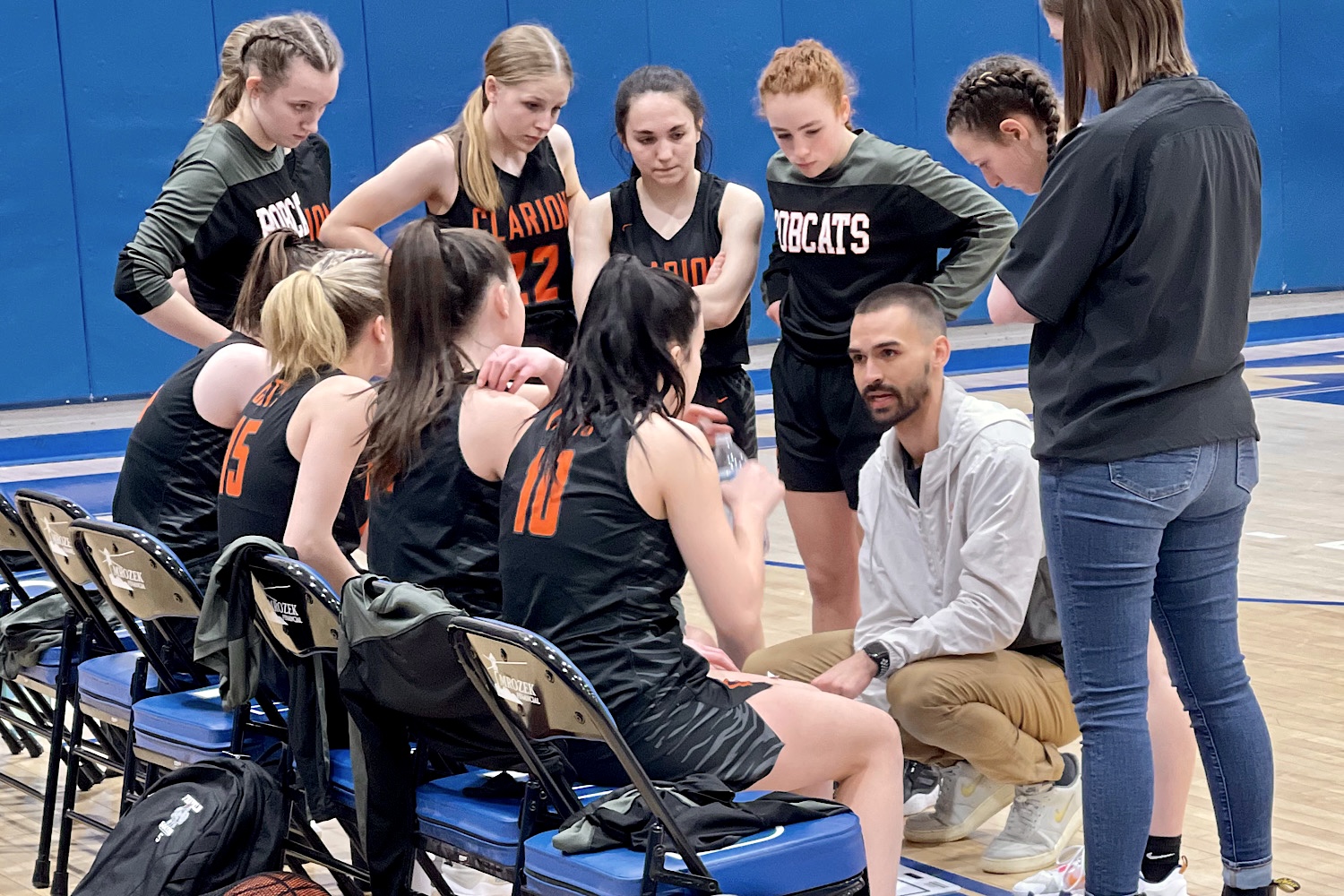 (Clarion coach Sam Heeter talks with his team during a timeout)
She's itching to get back next year healthy.
Growing up, Sophie and Gia were very competitive.
They still are.
During a two-on-two tournament at practice during the week as a fun diversion, the sisters were split up. Gia was on one team, Sophie on another.
When their teams squared off, it was intense.
"We grew up playing basketball," Gia said. "We were always playing. Oh, yeah, we're competitive. We want to win at anything we do."
Sophie is also looking forward to seeing how she can elevate her game next season.
She had some big efforts this year for Clarion, which started out the season rocky, but gained momentum toward the end with two big wins over Ridgway and Port Allegany in the consolation rounds of the D9 tournament to earn a spot in the state playoffs.
"I'm just excited we're not losing anyone and it's all going to come down to how hard we work as a team," Sophie said. "We worked really, really well as a team this year and we kind of started to put everything together."
Even as some in their own school questioned just how they were able to extend their season into the state playoffs, they were undeterred.
"The boys in our social studies class, they were on (Heeter) all day about how we made the district playoffs and we weren't even .500," Alston said. "Everybody we've talked to I know from school and social life would say, 'How'd you guys make it this far?' We just pushed through. Our team is really close and we believe in each other and we believe we can win."
Alston knows what that takes.
As a member of the Clarion's volleyball team, which won back-to-back state titles in 2020 and 2021 and had a strong season in 2022 as well, she is accustomed to success.
"The players on the volleyball team practice pretty much year-round," Alston said. "We want to do that. A lot of us from volleyball who won state championships, we have a little bit of a taste for it. Basketball is going to be a little harder because we have such a young team and the basketball history isn't as amazing as volleyball."
It all starts with a single step.
Clarion hopes this is the first foot forward.
"Honestly, if we can work on slowing things down a little bit and just work at our own speed, not letting other teams speed us up, we can be much better," Gia Babington said. "I think this experience gives us a good look for next year. We're looking forward to it."
Clarion Area High School sports coverage on Explore and D9Sports.com is brought to you by Redbank Chevrolet and DuBrook.