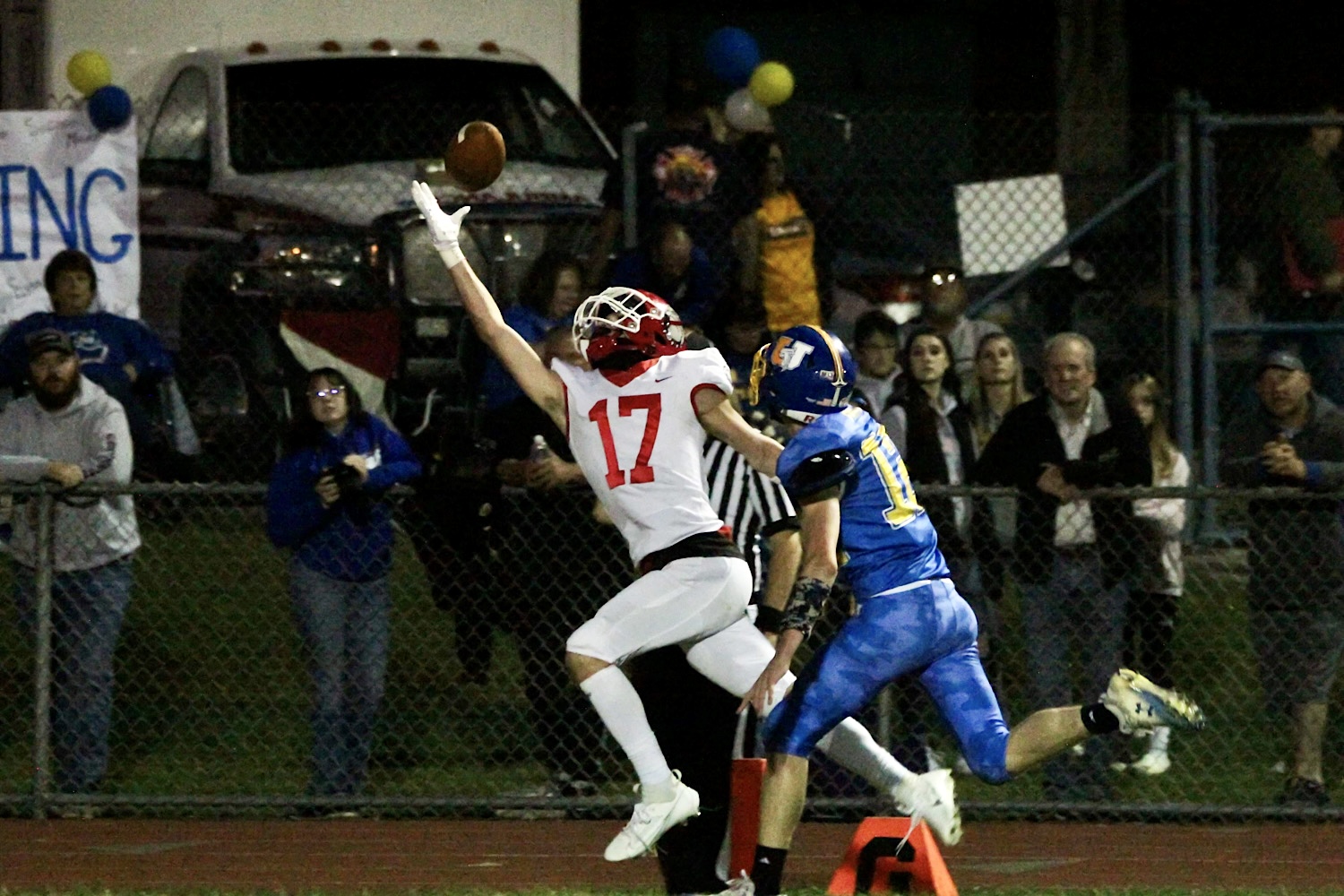 RIMERSBURG, Pa. (EYT/D9) — He's sometimes the forgotten man among a bevy of weapons.
But Ashton George is quickly making a name for himself for the Redbank Valley football team.
George made a one-handed grab for a 22-yard touchdown reception as part of a 31-point first quarter for the Bulldogs, who rolled past Union/A-C Valley, 50-6, at Vidunas Stadium on Friday night.
(Pictured above, Redbank Valley's Ashton George makes a one-handed touchdown catch as part of an early explosion of points to help the Bulldogs past Union/A-C Valley/photo by Madison McFarland)
"This is the first year he's played football since the seventh grade," said Redbank Valley coach Blane Gold of George. "He moved away for a little bit and came back this year and has really worked hard to earn everything that he's gotten. So it's cool to see him make a play like that."
George, a senior, was one of many Bulldogs to enjoy a huge night.
Sophomore quarterback Braylon Wagner was at it again, completing 20-of-26 passes for 204 yards with three more touchdowns through the air and one on the ground. Mason Clouse hauled in eight passes for 79 yards and two scores. Ashton Kahle returned a punt after receiving a handoff from Clouse and raced 66 yards for a touchdown that put Redbank up 16-0 before the stadium lights even had a chance to warm up.

Redbank Valley, Keystone, and Union/A-C Valley sports coverage on Explore and D9Sports.com is brought to you by Heeter Lumber.
Even Owen Clouse got in on the action, booting 21- and 37-yard field goals.
And the defense swarmed Union/A-C Valley, holding the Falcon Knights to minus-6 yards rushing in the first half and notching a safety.
"It was a statement win for us," Gold said. "Our No. 1 goal was to go 1-0 and we did that. Then we said you have a chance to send a message to the rest of the district and we felt like we did that."
Redbank Valley (6-0, 4-0) needed just 58 seconds to start the scoring, driving 51 yards in four plays. Wagner capped it with a 2-yard score on a QB sneak. The 2-point conversion run by Wagner made it 8-0.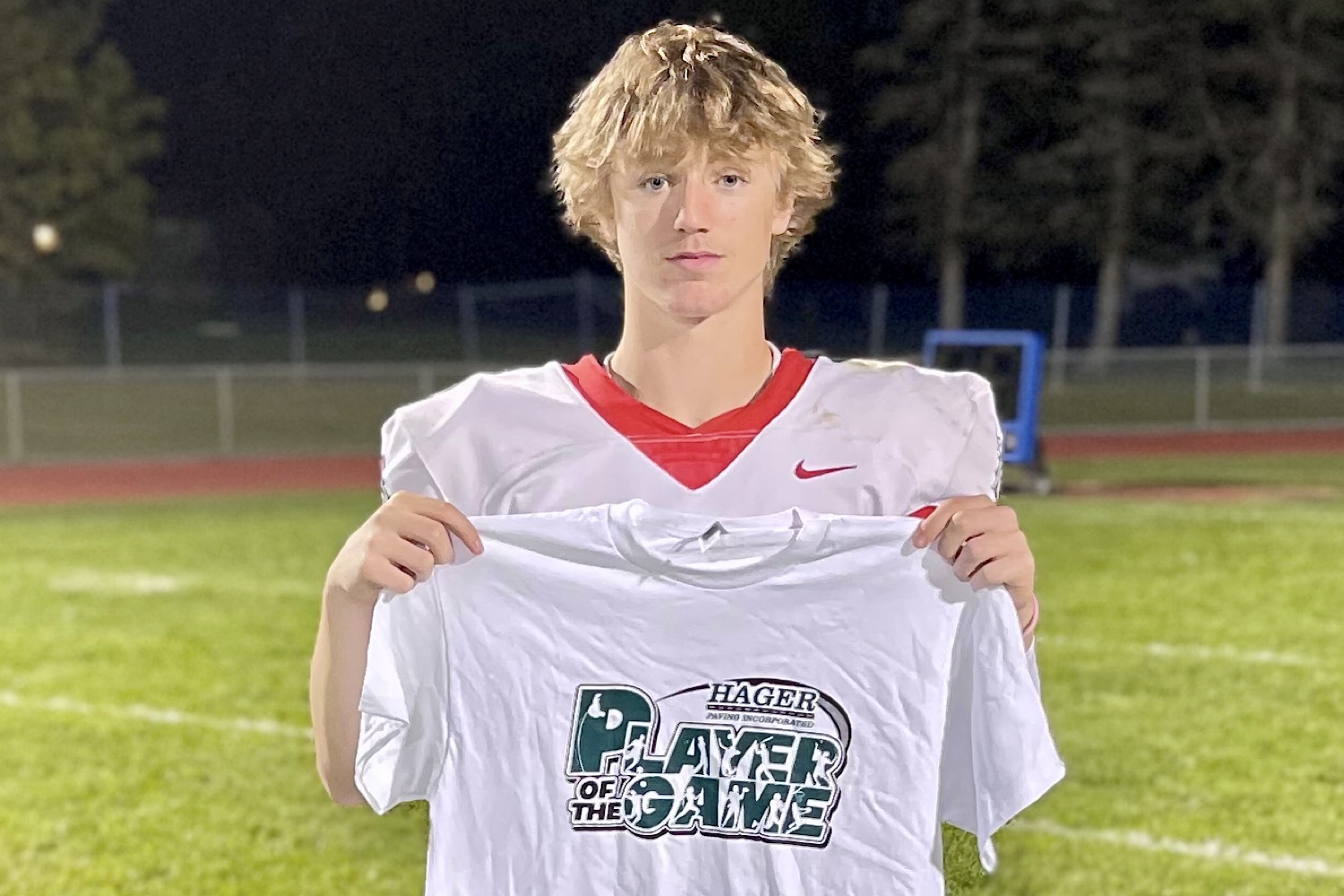 (Redbank Valley's Braylon Wagner was named the Hager Paving Incorporated Player of the Game.)
Kahle then returned the punt for a touchdown just a few minutes later and a 2-point conversion throw from Owen Clouse to Mason Clouse made it 16-0 and Redbank was well on the way to another dominating win.
"I mean, we were just overmatched," said Union/A-C Valley coach Dan Reed. "Their speed. Their strength. Just overmatched on both offense and defense. We didn't have an answer for them. They could have done whatever they wanted and they did whatever they wanted."
Even when things briefly went right for Union/A-C Valley, they went wrong.
The Falcon Knights (3-3, 3-1) forced a fumble at their own 2 to end a Redbank Valley drive, but two plays later, got stuffed on a running play for a safety to make it 18-0.
George's acrobatic catch shortly after made it 25-0, then Mason Clouse caught TD passes of 5 and 28 from Wagner to push the score to 37-0 early in the second quarter.
Drew Byers, who rushed for 76 yards on 12 carries in the game, burst up the middle for a 13-yard TD run with 3:50 on the clock in the second quarter for a 44-0 lead and Owen Clouse made a 21-yard field goal with 1:20 left to send the Bulldogs into the half up 47-0.
"Their speed and strength is something we don't match right now," Reed said. "And that's something you really can't change in the middle of the season. You look at the two teams we're been overmatched with, Central Clarion and Redbank, and both have been so fast and so physical and strong. We have to find a way to get to that point.
"Part of it is these guys just have some unbelievable athletes," Reed added. "We have some great athletes. Don't get me wrong. I'm not trying to downgrade them. I'm saying there's a noticeable difference right now."
Owen Bish scored on a 70-yard run in the second half for Union/A-C Valley.
Owen Clouse's 37-yard FG capped the scoring.
"The only thing I'm not happy with is coming out in the second half … our guys have to be conditioned to come out of halftime and be prepared to play," Gold said. "So I'm not happy with how our offense came out in the second half. We've got to do a better job from that standpoint."
Wagner again spread the ball around to his weapons. George caught four passes for 52 yards; Rylan Rupp also had four catches for 33 yards; and Kahle had three receptions for 32 yards.
Wagner threw a lot of quick, short passes against Union/A-C Valley. That was the game plan.
"What we saw on film is they really like to cover the deep routes," Wagner said. "So we just decided to throw it short and our guys made plays."
The one fairly deep ball Wagner threw was to George on a fade route down the right sideline. George stretched his right arm out, snagged the ball with one hand and pulled it in for one of the best catches this season.
George, another tall receiver paired with Mason Clouse on the other side, has already made some big receptions for Redbank this season.
"I don't know how he caught it," Wagner said, smiling. "He's a great athlete. I feel like, honestly, Ashton George gets overlooked and Rylan Rupp gets overlooked because we have those two guys (Kahle and Mason Clouse) on the left side and they're great athletes as well."

Redbank Valley, Keystone, and Union/A-C Valley sports coverage on Explore and D9Sports.com is brought to you by Heeter Lumber.