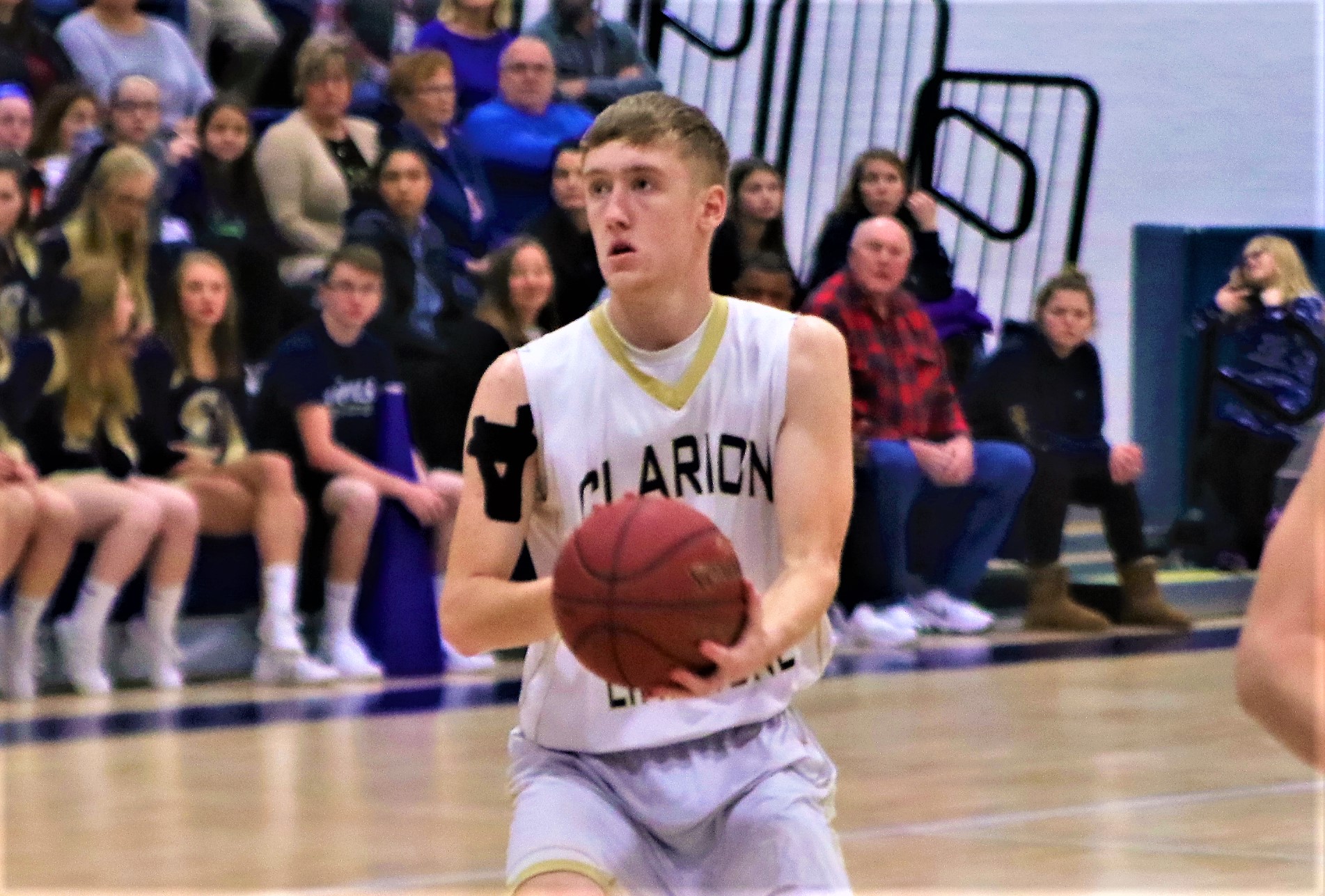 KITTANNING, Pa. – Cornell hit four 3-pointers in a span of 2:21 in the third quarter to break open a close game on its way to a 59-39 win over Clarion-Limestone in the PIAA Class 2A second round at Armstrong High School Tuesday night.
(Photo of Hayden Callen who had 18 points in the loss for C-L. Photo by Jared Bakaysa of JB Graphics. See more of Bakaysa's work here)
C-L, the third-place team out of District 9, trailed by just six, 26-20, three minutes into the second half despite struggling offensively up to that point.
But Kaden Devito hit a 3-pointer at the 4:44 mark and JeaVontae King-Walden followed with another at 3:29 with Drew Lopez then connecting from downtown at 3:07 and King-Walden hitting again at 2:23 and all of a sudden the Raiders were up 13, 38-25.
"That third quarter just really buried us," C-L head coach Joe Ferguson said. "You can't allow that team to get ahead of you. We just gave them confidence."
Confidence was something C-L seemed to lack most of the night with the Lions missing easy shots from the get-go.
"I honestly can't explain what happened tonight," Ferguson said. "We had no emotion coming in. Compared to how we played down at Altoona (in a first-round win over Juniata Valley) the other night, there was no comparison. We were just flat. We couldn't knock a shot down. We missed I think six, seven or eight layups that first half."
C-L was just 7 of 27 shooting (25.9 percent) in the opening half but found itself down just four, 22-18, at halftime after a quick 4-0 spurt to end the half with Ian Callen scoring all four points.
"Four points wasn't bad," Ferguson said of the halftime deficit. "We had no emotion coming in. I knew if we didn't start out decent in the third quarter and knock a couple of shots down, it was going to be a problem. It turned into a problem."
Another problem for the Lions was that leading scorer Deion Deas, who came into the game averaging 20.2 points per game, was held scoreless for just the third time in his three-year career that has seen him score over 1,000 points going into his senior season.
"I don't know what to say," Ferguson said. "It was just an off night. He had an off night. That is all I can say."
Deas wasn't the only Lion to have an "off night" as Ian Callen, C-L's other 1,000-point scorer, struggled with his shot most of the night before scoring six points late in the fourth quarter to end with 15. And C-L shot 15 of 54 (27.7 percent) for the game as a team.
"I tried different motivational things," Ferguson said. We ran some different sets to get guys open. We weren't moving on offense. We weren't moving on defense. We were just flat tonight.
"With the talent level we have, you blame the coach that we didn't do better than we did. We were 20-1 over our last 21 games coming into this, however, we have not played well except for Friday night. And we played three-to-three-and-half quarters Friday night. It was the first game we played well against a quality team. When we play well and play as a team, we are fine."
Searching for answers about his team's shooting woes, Ferguson pointed to the emotional win over Juniata Valley Friday and perhaps a letdown Tuesday.
"Sometimes, you have to knock down some shots to get the enthusiasm," Ferguson said. "We could not buy a shot tonight. When we missed those six or seven layups, I think emotionally you are on a long stretch of tight games and have a high emotional win you are coming off, that is a factor. It is my responsibility to motivate the guys. I take the blame."
While Ferguson and C-L have to shoulder some of the blame for the loss, Cornell deserves a lot of credit as well.
Devito came in as the second-leading scorer in the WPIAL averaging just a hair over 26 points per game, but C-L kept him in check for long stretches Tuesday despite him ending up with 19 points.
But the Raiders got contributions from a lot of different players including a monster double-double of 14 points and 18 rebounds from Isaiah Langston, whose strength and leaping ability inside seemed to give C-L fits, and 12 points and seven rebounds from Zaier Harrison.
"This is a good team we went against," Ferguson said. "They are quick. They are strong."
Hayden Callen, Ian's younger brother who should reach 1,000 points himself next season, led the Lions with 18 points.
"We have a great team," Ferguson said. "I'm very proud of the kids. It's tough to lose by this big of a spread at this point when you know you are better than that. It came down to emotion more than anything, I believe. The talent is there, but we just couldn't pull it together."
Cornell will take on Vincentian Academy, who knocked off District 9 champion Elk County Catholic, in the quarterfinals Friday, March 15, at a site and time to be announced.
CORNELL 59, CLARION-LIMESTONE 39
Score by Quarters
Clarion-Limestone 10 8 9 12 – 39
Cornell 12 10 18 19 – 59
CLARION-LIMESTONE – 39
Deion Deas 0 0-0 0, Julian Laugand 0 1-2 1, Ayden Wiles 0 0-2 0, Ian Callen 6 3-4 15, Bryson Huwer 0 0-0 0, Curvin Goheen 2 0-0 4, Kaden Park 0 0-0 0, Hayden Callen 7 2-2 18, Mitch Knepp 0 1-2 1, Drew Beichner 0 0-0 0, Hayden Siegel 0 0-0 0. Total 16 7-12 39.
CORNELL – 59
Zaier Harrison 5 1-2 12, Kaden Divito 8 2-4 19, Isaiah Langston 7 0-2 14, JeaVontae King-Walden 3 0-1 9, Luke Piccolo 0 0-0 0, Drew Lopez 2 0-0 5, Sharone Bronaugh 0 0-0 0, Patrick Scott 0 0-0 0, Craig Pulford 0 0-0 0, Nathan Wooten 0 0-0 0, Carmine D'alessandro 0 0-0 0. Totals 25 3-9 59.
Three-pointers: C-L 2 (Hayden Callen 2). Cornell 6 (King-Walden 3, Harrison, Divito, Lopez).
VINCENTIAN ACADEMY 63, ELK COUNTY CATHOLIC 57
SLIPPERY ROCK, Pa. – WPIAL runner-up Vincentian Academy used a 9-2 fourth-quarter run to propel itself to a 63-57 win over District 9 champion Elk County Catholic in the second round of the PIAA Class 1A boys' basketball playoffs Tuesday night at Slippery Rock University's Morrow Field House.
"I'm proud of the kids," ECC head coach Aaron Straub said. "They played extremely hard tonight and did a great job of battling."
ECC, which led by 29-23 at halftime before finding itself tied at 41 entering the fourth quarter, took a 49-48 lead on a 3-pointer by Alex Breindel.
But Ethan Embleton answered back with a basket that put the Royals ahead for good and started the 9-2 run that saw another basket by Embleton and a 3-point play by Nate Cullo as well as a pair of foul shots by Cullo to give Vincentian a 57-51 lead.
ECC was able to get back within two, 57-55, thanks to baskets from Carter Lindemuth and Regis Wortman but was forced to foul.
Angelo Reeves and Embleton each hit a pair of charity shots to make it 61-55 before Lindemuth scored again with 26.3 seconds left to cut the deficit to 61-57. Lindemuth was fouled on the play but couldn't hit the free throw, and Embleton and Reeves each hit one charity shot to seal the win.
ECC built the six-point halftime lead thanks to 11 points from Wortman and three 3-pointers from Lindemuth, who hit five threes on the night on his way to a game-high 21 points.
But Matt McDonough scored 10 of his team-high 17 points in the third quarter – he had all 17 after halftime – to help the Royals forge the tie heading to the fourth quarter.
Wortman added 15 points for ECC with Alec Wehler scoring nine and Breindel eight.
Alex Griggs added 14 for Vincentian Academy, who will play Cornell, a winner of D9 third-place finisher Clarion-Limestone, with Cullo adding 10.
VINCENTIAN ACADEMY 63, ELK COUNTY CATHOLIC 57
Score by Quarters
Vincentian Academy 15 8 18 22 – 63
Elk County Catholic 18 11 12 16 – 57
VINCENTIAN ACADEMY – 63
Alex Griggs 7 0-0 14, Angelo Reeve 0 4-6 4, Nate Cullo 3 3-3 10, Matt McDonough 6 4-4 17, Trey Champine 1 0-0 3, Adam Banze 4 0-0 8, Ethan Embleton 2 3-4 7. Totals 23 14-17 63.
ELK COUNTY CATHOLIC – 57
Bryce O'Leary 1 0-0 2, Carter Lindemuth 8 0-1 21, Alec Wehler 3 2-2 9, Will Uberto 0 0-0 0, Brennen Klawuhn 1 0-0 2, Regis Wortman 6 2-2 15, Brady Schneider 0 0-0 0, Alex Breindel 3 0-0 8. Totals 22 4-5 57.
Three-pointers: Vincentian Academy 3 (Cullo, McDonough, Champine). ECC 9 (Lindemuth 5, Breindel Wehler, Wortman)