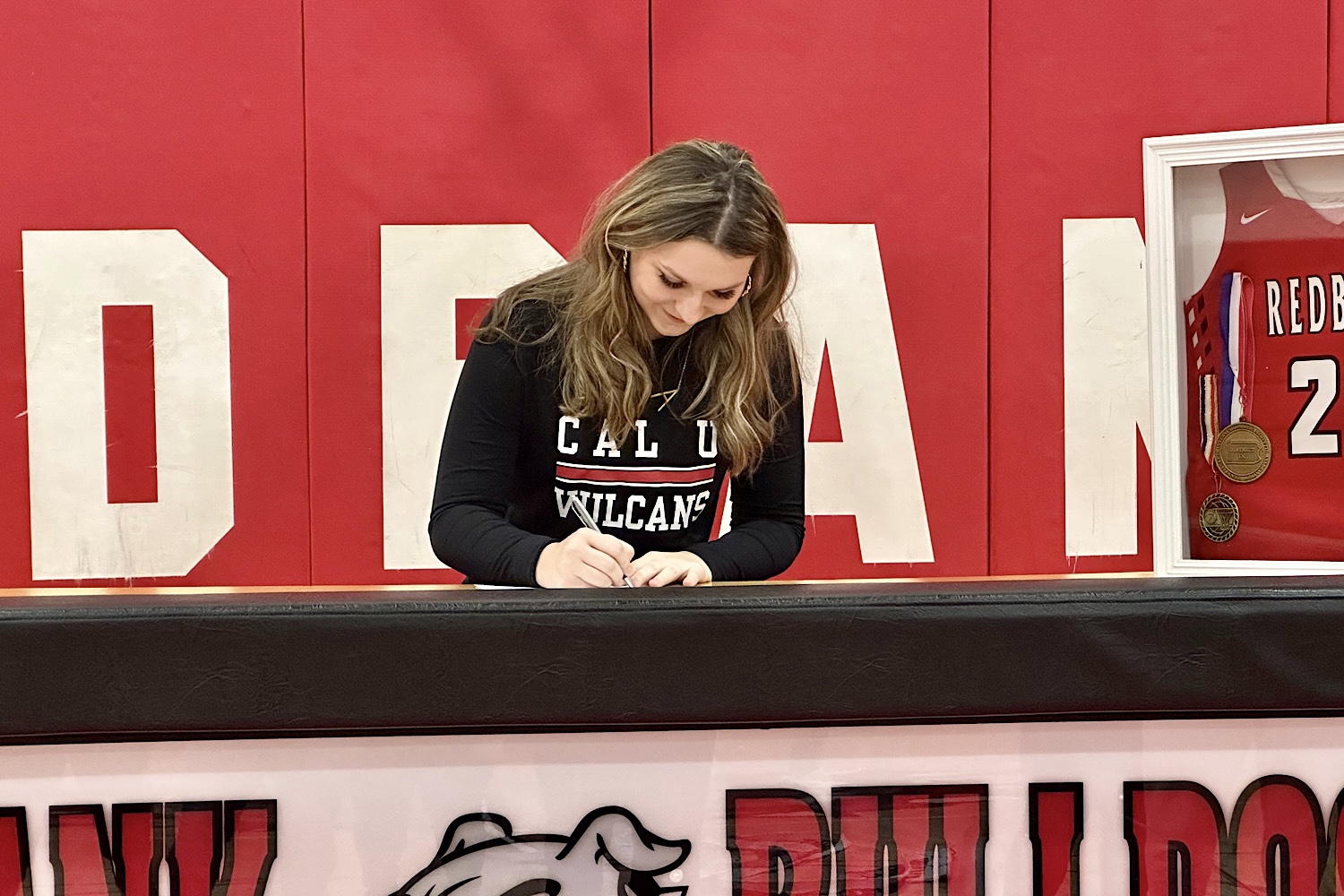 NEW BETHLEHEM, Pa. (EYT/D9) — Alivia Huffman was feeling the pressure.
The Redbank Valley senior needed to make a decision about her future.
She knew she wanted to play basketball at the next level and there were certainly programs lined up to welcome her with open arms.
Problem was, none of them wowed her.
(Pictured above, Alivia Huffman smiles as she signs her national letter of intent to play basketball at PennWest California)
"I was like all over the place," Huffman said, chuckling. "I was just trying to figure it all out. I felt sort of behind, I guess. A lot of my friends already knew what school they were going to and were already accepted and had a major and everything. I was getting stressed out because I didn't. I mean, I had places, but none I was overly excited about."
Then a fateful trip to PennWest California in December changed everything.

Redbank Valley, Keystone, and Union/A-C Valley sports coverage on Explore and D9Sports.com is brought to you by Heeter Lumber.
Redbank Valley played in a holiday tournament at Cal U and Huffman was her usual self, showing off her wide-ranging skills from being able to handle the ball to posting up in the paint.
She drew the eye of Vulcan women's basketball coach Jess Strom, who struck up a conversation with Huffman's father, Jason, an assistant coach with the Bulldogs.
Alivia Huffman and Strom, who wasn't necessarily looking to recruit another player, stayed in contact. Then Huffman made a visit to PennWest California.
Suddenly, everything came into focus.
"I really ended up enjoying how they play," Huffman said. "I feel like it matches our style of basketball. They were very welcoming, and I just thought it was a really good fit. It was pretty much smooth sailing from there."
Huffman officially docked at the PennWest California port on Thursday afternoon, signing her national letter of intent in the Redbank Valley gym to play for the Vulcans next season.
Finally, a weight off her shoulders.
The cherry on top? Jason Huffman attended Cal U.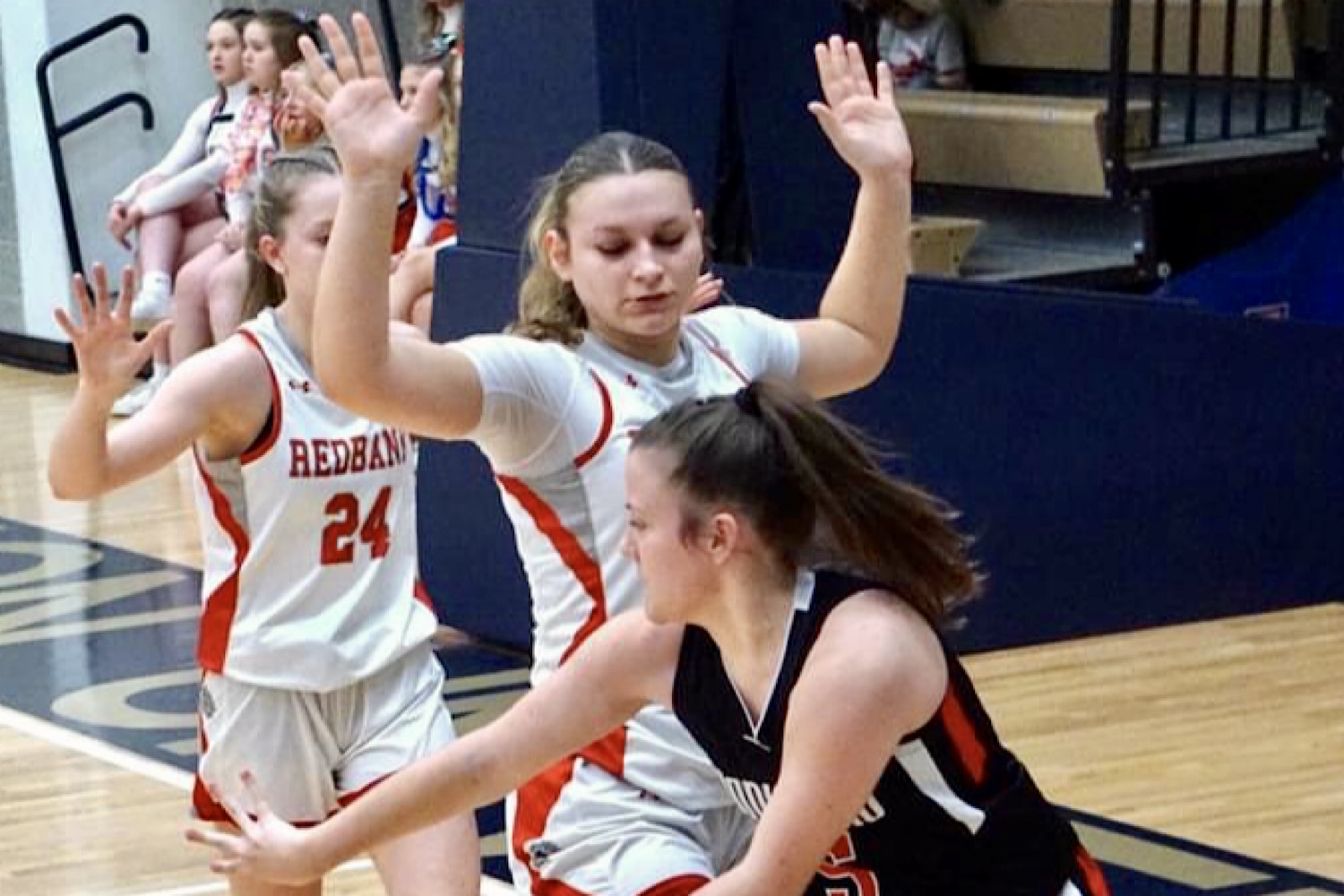 (Alivia Huffman defends Moniteau's Catherine Kelly during the District 9 Class 2A championship game/photo by Angie Rearick)
Now Huffman can focus on the immediate task at hand.
Helping Redbank Valley chase a PIAA Class 2A title.
The Bulldogs are 25-1 and Huffman has been one of the reasons for that success.
The senior, who defies a position, is averaging 16 points, 8.5 rebounds, 3.8 assists and 3.8 steals per game this season.
Huffman has an eclectic skill set, playing anywhere from the point to the block — and playing it all well.
That versatility will come in handy at the Division II level.
"They really didn't decide on what they wanted me to be," Huffman said of Cal. "I guess that will come later on. I'll do anything they want."
Huffman, who scored her 1,000th career point this season, has come a long way from her freshman year with Redbank. Each campaign she has improved, blossoming into a true force as a junior and one of the most dominating players in the state now in 2022-23.
"I am really proud of how far I've come," Huffman said. "Freshman year, I mean, it was a little rocky. There were some rough patches. I think that was just being a freshman and still having to experience everything. I feel like I've had to step up a lot in the last season or two, so it means a lot for me to be where I am."
Huffman also received some college offers to play volleyball.
Huffman was an all-state outside hitter for Redbank Valley.
Basketball, though, is in her blood. She just couldn't see leaving that behind.
"I really wanted to play basketball," she said. "I was deciding between basketball and volleyball, but not wanting to do both because I'd have to juggle that with school and I think that would have been too much. I loved volleyball, but I wasn't ready to give basketball up."
Huffman also isn't ready for her high school career to be over.
Last year, Redbank Valley was upset in the first round of the PIAA playoffs — in Class 3A — by Laurel.
It was a hard lesson learned.
The Bulldogs welcome Serra Catholic to town at 6 p.m. on Friday in a first-round game. They'll take nothing for granted.
"I'm pretty confident we're going to make up for that with a big run this year," Huffman said. "We've gotten so much better. We have a special group of girls. We have certain girls who are meant to be in certain places and we can pull anyone off the bench, cycle in another five, and not lose much. I think we've been preparing really well for these upcoming games."
Redbank Valley's average margin of victory this season on the way to KSAC and District 9 titles was 35 points.
Things won't be as smooth in the state playoffs.
Huffman said she and her teammates are well aware of that.
In the close games the Bulldogs have found themselves in, Huffman said she has been pleased with how level-headed the team has been.
"I think our girls are unique because when we are in a situation when we're down, or it's a close game, none of us ever panic," Huffman said. "We just stay together and I think that really helps us a lot and that's going to help us when we try to make this run."

Redbank Valley, Keystone, and Union/A-C Valley sports coverage on Explore and D9Sports.com is brought to you by Heeter Lumber.