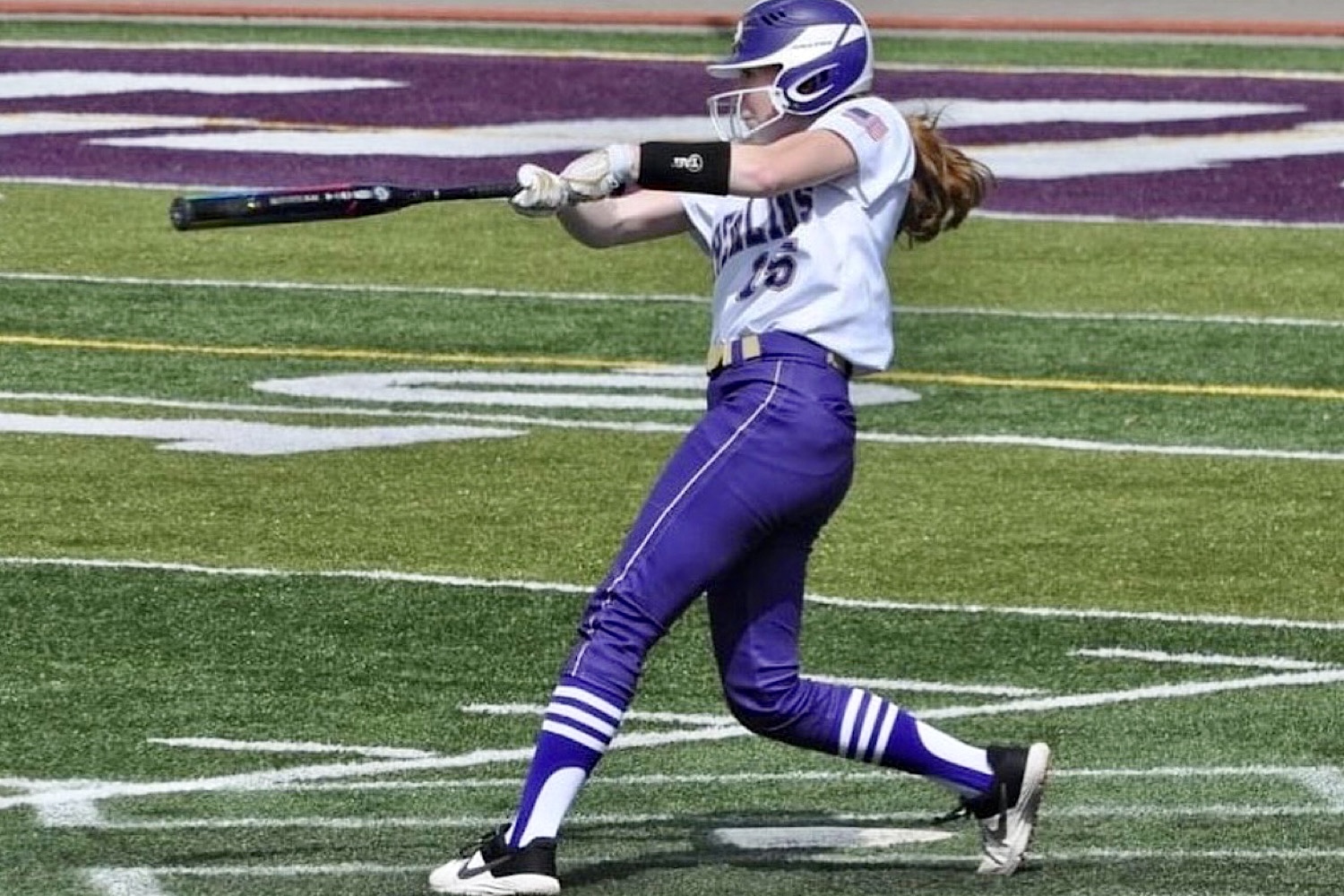 KARNS CITY, Pa. (EYT/D9) — For the better part of a decade, Jess Dunn has strapped on shin pads and a chest protector and crouched behind the plate.
Through school and travel softball, Dunn estimates she has played about 100 games a year at catcher.
That's a lot of welts and bruises and contusions from foul balls ricochetting off her body.
And the senior on the Karns City softball team wouldn't change a thing.
"I've played for 12 years and I think I've caught for 11 of those years," Dunn said. "I think my body can feel it. I don't really get a break. I mean, I play high school season, so we start that in January. That goes from January until May or June, then travel ball starts. Then I go right into volleyball and fall softball. In the winter, we play inside."
Yet Dunn keeps coming back for more.
"I don't really know why," Dunn said. "I think it's just because of my love for the game. I just think I always wanted to keep going so I never really felt burned out. I mean, obviously, you have those occasional days where you're like, 'I don't know if I can do it today,' but then you're like, 'No, I have to keep going.'"
Dunn will keep going after her Karns City career is over.
Dunn recently signed her letter of intent to play at the University of Pittsburgh at Greensburg.
She had several offers from other schools after a junior season in which she emerged as one of the top catchers in District 9, batting .333 with five doubles and a triple. She was second on the team in RBIs with 21 and played stellar defense behind the plate.
"I had two other offers, but as soon as I visited (the Pitt-Greensburg) campus, I knew this was the one," Dunn said. "It just felt right."
During the softball season, Dunn hadn't received any interest yet. It worried her.
The La Roche, St. Vincent and Pitt-Greensburg all made offers.
"I don't know what was going to happen at the beginning of the summer, if I was gonna get any offers," Dunn said. "Then, all of a sudden, they all came at once and I was like, 'Well, what do I do now?'"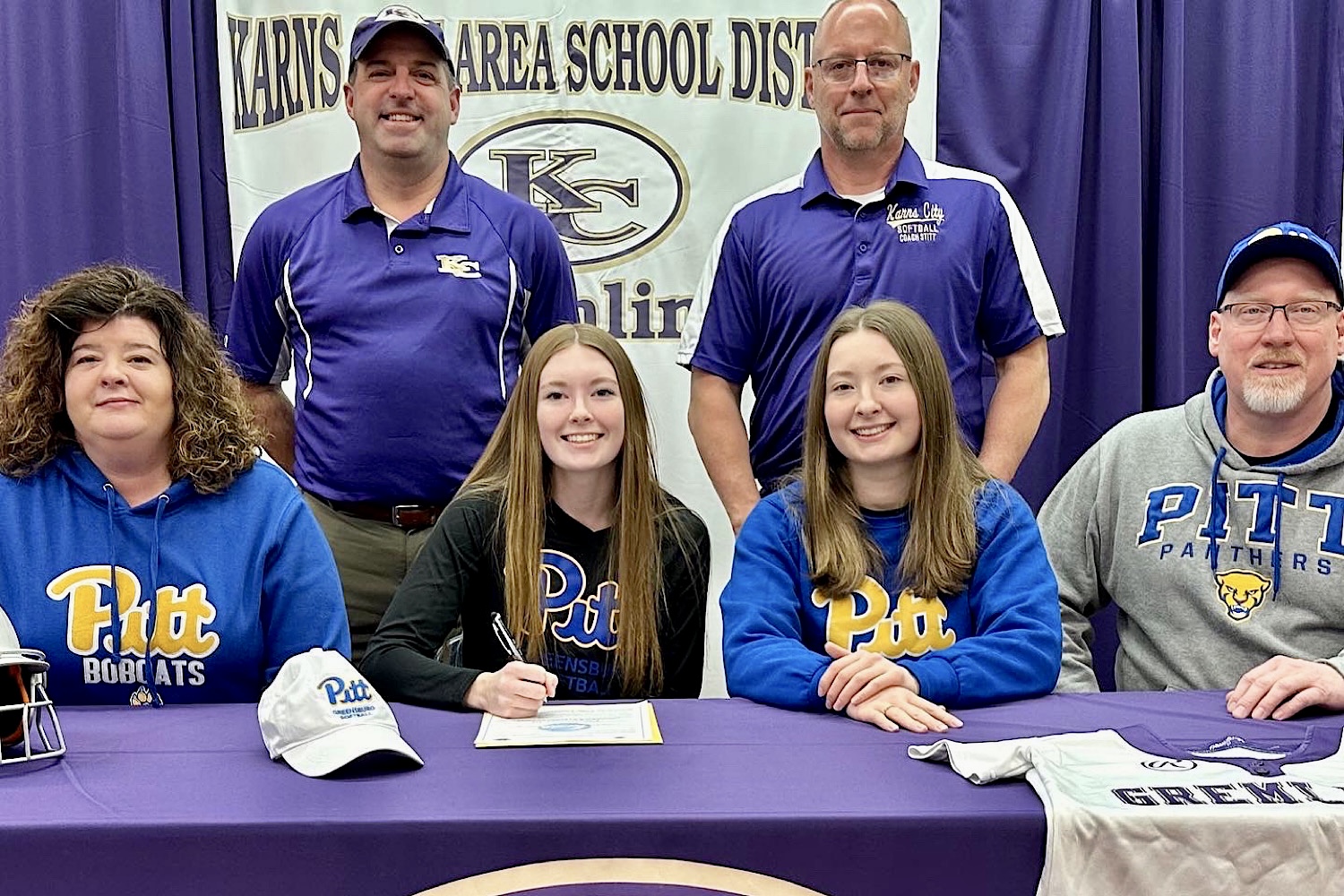 (Jess Dunn, center, signs her letter of intent to play softball at the University of Pittsburgh at Greensburg. Joining her in the front row are her mother, Christina, sister, Mackenzie, and father Russ, who is also an assistant coach on the Karns City softball team. In the back row, from left, are Karns City assistant softball coach Mike Grazioli and head coach Mike Stitt.)
It was stressful, but also flattering for Dunn.
Now that the decision is made, she is relieved and focused on helping Karns City have another strong season this year.
It will be challenging. The Gremlins lost a slew of standout players to graduation after a 15-4 season that was highlighted by a District 9 championship and the program's first-even PIAA playoff victory.
Dunn may not catch as much, instead moving around and playing other positions. That's something she is also looking forward to.
The Karns City roster is still full of talent, starting with Dunn.
"Those girls who graduated last year, those seniors, I've been with since the beginning, so it was definitely exciting to go out with a big bang like that with those girls," Dunn said.
"I think people are definitely going to underestimate us this year and we're going to show them that KC softball is not gonna end."
Dunn has always been up to the challenge.
When she first started playing softball, she played up in age group with her older sister, Mackenzie Dunn.
Mackenzie is a standout player on the Chatham University softball team.
Jess had to learn quickly playing with girls and against competition who were two — and sometimes three — years older than her.
"I played on a (10-and-under) team when I was seven," Jess Dunn said. "It was my first year playing ever. The girls on that team were so encouraging and helped me so much. I looked up to them a lot."
Jess and Mackenzie were excited years later to get the chance to play together in high school.
Then the COVID-19 pandemic hit and wiped out that season.
"Losing that COVID year, it definitely hurt," Jess said. "We were expecting to be very good that year, to be a power, and we were going to play together. Everyone was going to talk about the Dunn sisters. We were going to make a difference. But I see where she is now, and I want to be like her."
Jess said Mackenzie has already helped her when it comes to the college game.
"She brings home a lot of the stuff she learned in college and I think that's helped me a lot the last couple of years," Jess said. "She'll tell me this is what we do in college and I start doing the same thing, the same practices."
For now, Jess Dunn is just hoping she can help Karns City remain a D9 power in her final season before moving on to college.
She will be a leader this season for a team that will be on the young side.
Being a catcher comes with some inherent leadership.
Dunn has learned that over the decade of crouching behind the plate.
"I feel like I've always kind of been a leader, especially with catching," Dunn said. "You have to be a leader. A lot of the players on the team know what they are doing, honestly. Everyone on the team has played a lot of softball so they don't need a lot. I think the only thing you have to lead on is by example."