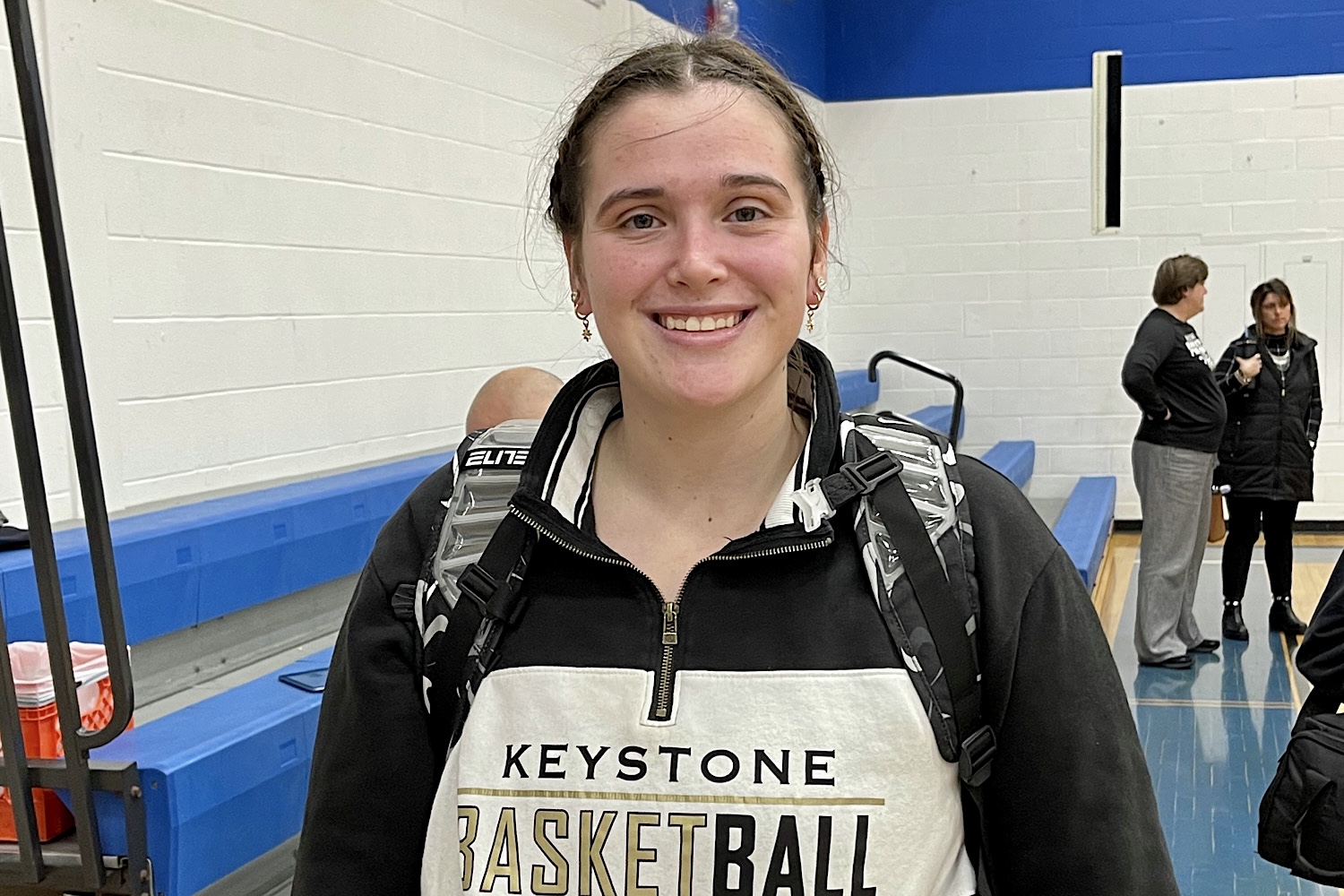 FOXBURG, Pa. (EYT/D9) — Natalie Bowser is going to see it all season.
She knows it. The coaches know it. Her teammates know it.
Bowser, a senior post for the Keystone girls basketball team, simply shrugs her shoulders at the attention she is receiving inside. She's double-teamed routinely — sometimes triple-teamed.
No matter. Bowser is still hard to stop.
(Pictured above, Natalie Bowser)
The 6-footer was a force again versus A-C Valley on Monday night. Bowser had a double-double of 10 points and 12 rebounds in the first half alone and finished with 14 points and 17 boards while seeing the floor sparingly in the second half in the Panthers' 48-24 victory.
"I've been seeing a lot of people smush on me, packing people in the paint on me," Bowser said. "I've just been trying to be more mentally prepared for it, make sure I finish at the hoop no matter what. No matter how many girls are on me."

Redbank Valley, Keystone, and Union/A-C Valley sports coverage on Explore and D9Sports.com is brought to you by Heeter Lumber.
It's no secret these days that Bowser is the engine that runs the Keystone offensive machine.
And for good reason.
There aren't many in the Keystone Shortway Athletic Conference — or the rest of District 9, for that matter — who can match up with the physical Bowser.
A-C Valley freshman Maddy Dehart tried. So did senior Mackenzie Parks and the rest of the Falcons.
Not from a lack of trying.
The Falcons did hang in with Keystone for a stretch, before the Panthers got rolling with a 14-3 run and closed the half up 32-13.
Success for A-C Valley, which has a young and thin roster with just eight players, will be measured in different ways than wins and losses this year.
"We had periods tonight that we played pretty well — better than we have been playing," said A-C Valley coach Mike Meals. "We certainly have things to improve upon. It's tough sometimes, even with eight girls. I mean, the eight girls who are out on the floor, they all play hard. But three of them play 32 minutes a night. So I think those ups and downs are them going through spells where they may be trying to catch a breath out there."
Parks has been a bright spot all season for the Falcons.
She had another strong game while battling a lingering illness with 12 points.
Dehart, just a freshman, also played well and had four points and 11 rebounds.
"She has some promise," Meals said. "She's leading our team in rebounding and is third in scoring. She has a bright future."
The future is certainly looking brighter for Keystone after a slow start to the season.
The Panthers have won six of their last eight after starting in an 0-4 hole.
"We're moving the ball better," said Keystone coach Andy Traister. "We're starting to see the floor better and I think we're not making the turnovers like we were. If we can keep the turnovers down, we're gonna be a tough team."
Keystone got a lot of players involved in this win.
Emma Gruber scored six of her eight points in the first quarter. Sophomore Ava Patrick came off the bench to score seven. And Amanda Reyes was solid inside with six points.
Even Sydney Bell, playing in her first game after a long recovery from a sprained and broken ankle, got in for a few minutes and scored two points.
In all, the Panthers had eight players crack the scoring column.
Bowser was at the center of it all.
"They pinched down on her and that's what we've been seeing lately," Traister said. "But one thing that has been happening lately is it's just not one person getting hot. Everyone has had a night. Maybe it's Jill (Winters) or Mia (Traister) or Amanda Reyes."
Bowser has been very pleased with how her team hung in there through the rough early stretch of the season to rebound with good basketball over the past month.
"I'm very proud of this team," Bowser said. "I'm so proud of the team and what we've come from. I feel like we haven't played our best game yet. Honestly, we're just waiting for that to happen, but I'm beyond proud of this team."

Redbank Valley, Keystone, and Union/A-C Valley sports coverage on Explore and D9Sports.com is brought to you by Heeter Lumber.