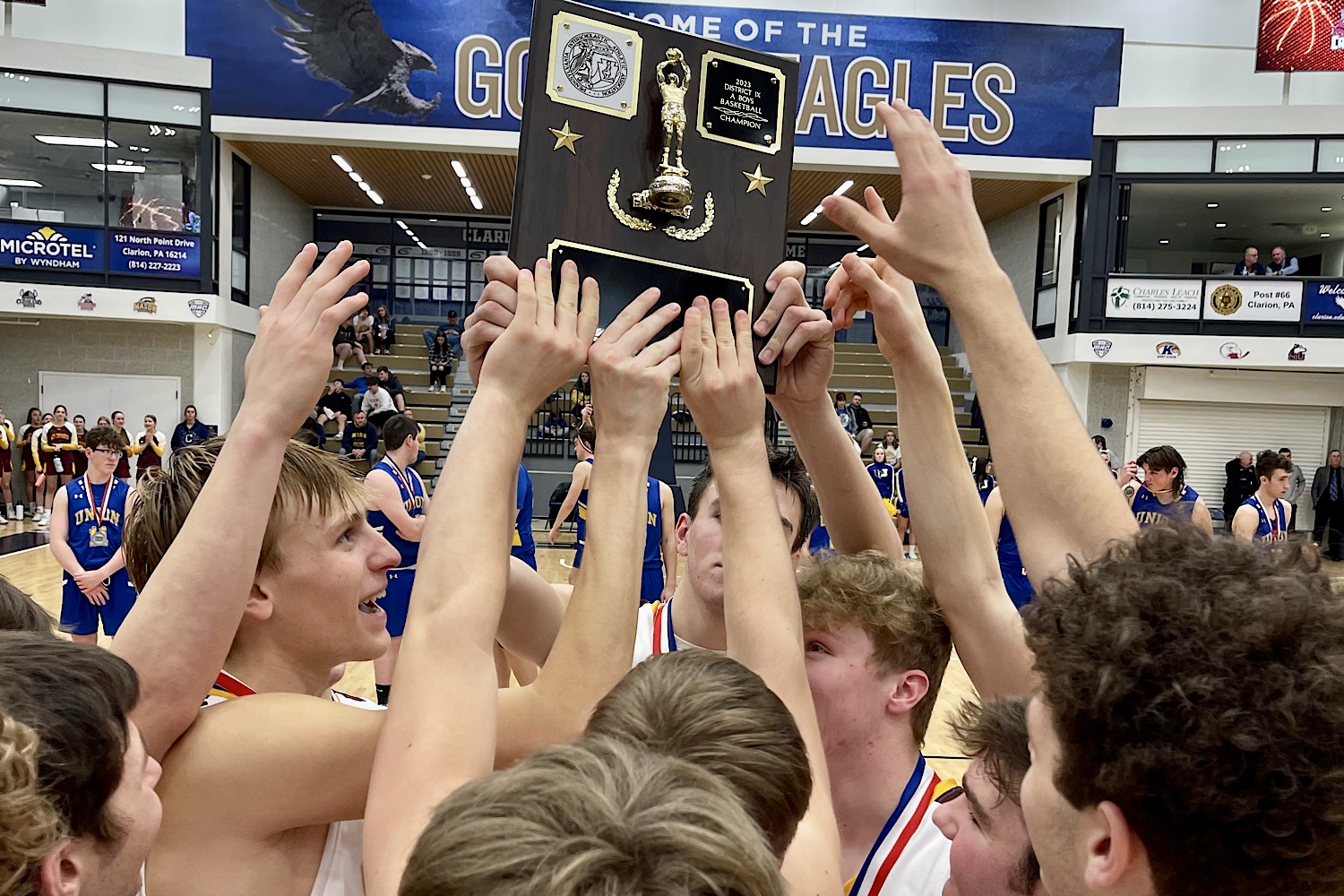 CLARION, Pa. (EYT/D9) — Down by 12 against a team that felt as though it was playing with house money, the Elk County Catholic boys basketball team had its backs against the wall.
The Crusaders trailed underdog Union by 12 points late in the first half of the District 9 Class A championship game on Saturday afternoon at Tippin Gymnasium and needed a spark.
They got it from their defense.
ECC switched to a half-court trap and pressed the Golden Knights, allowing the Crusaders to cut the lead in half by the end of the second quarter.
In the second half, ECC dominated, holding Union to just seven points — two in the final 12 minutes — for a 50-35 victory and yet another D9 title.
"We got things moving at our pace," said senior Adam Straub. "When we got the lead down to six we felt pretty good."
The Crusaders felt a whole lot better in the second half.
The momentum they had built over the final minutes of the second quarter carried over into the third.
Union led 33-24 with 4:23 on the clock in the third. ECC then went on a prodigious 18-0 run to take a 42-33 lead before Skyler Roxbury ended it with a layup.
Junior guard Jordan Wasko, still recovering from a knee injury he suffered on Feb. 7 that forced him to miss a handful of games, got the huge run started with a 3-pointer.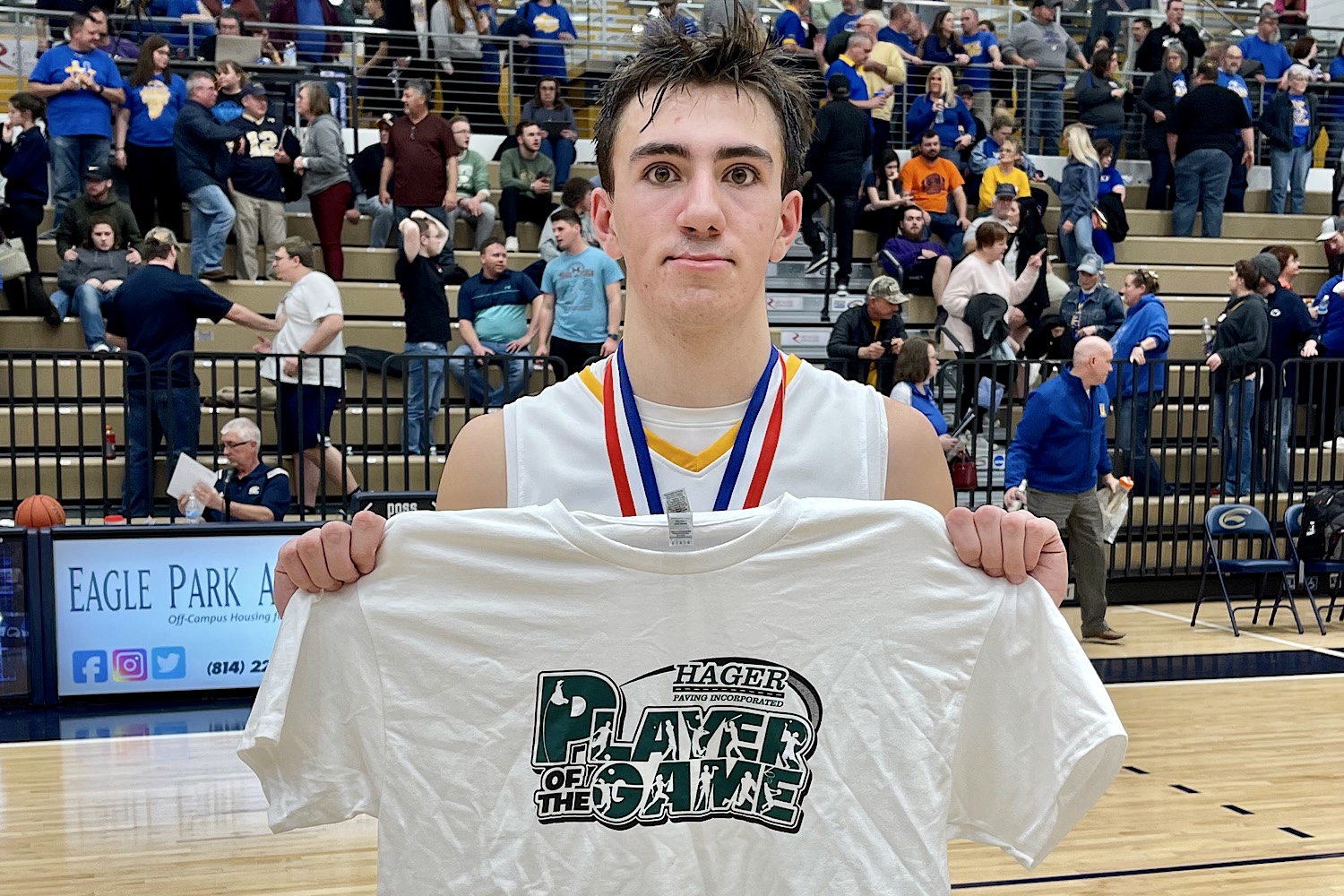 (Elk County Catholic's Adam Straub was named the Hager Paving Incorporated Player of the Game)
Colby Nussbaum gave ECC the lead for good on a putback to give the Crusaders a 35-33 lead.
Even down by double-digits and out of sorts, Wasko said there was no panic.
"That goes to the coaching," Wasko said. "When things aren't going your way, you have to stick together. You have to be a team. It's all of us. Not one player. We stuck together to the end."
Things could not have started better for Union, the sixth seed that was coming off back-to-back upset wins over Clarion and DuBois Central Catholic to get to its first D9 title game since the 2010-11 season.
Zander Laughlin scored 10 points and Payton Johnston seven in the opening eight minutes as the Knights led 18-8 out of the game.
They scored just 17 points the rest of the game.
"We hadn't seen any film on them running their trap," said Union coach Eric Mortimer. "They ran it pretty well."
Elk County Catholic, which has now won 28 district titles since 1974 and the last two crowns, outscored Union 28-7 in the second half.
Straub, who scored 12 points, along with Will Wortman, to lead the Crusaders, said experience may have been a factor in the big second half.
"He had four, five guys who were with us when we won it last year," Straub said. "That helped us go out there and weather the storm, run through the storm and come out on the other side."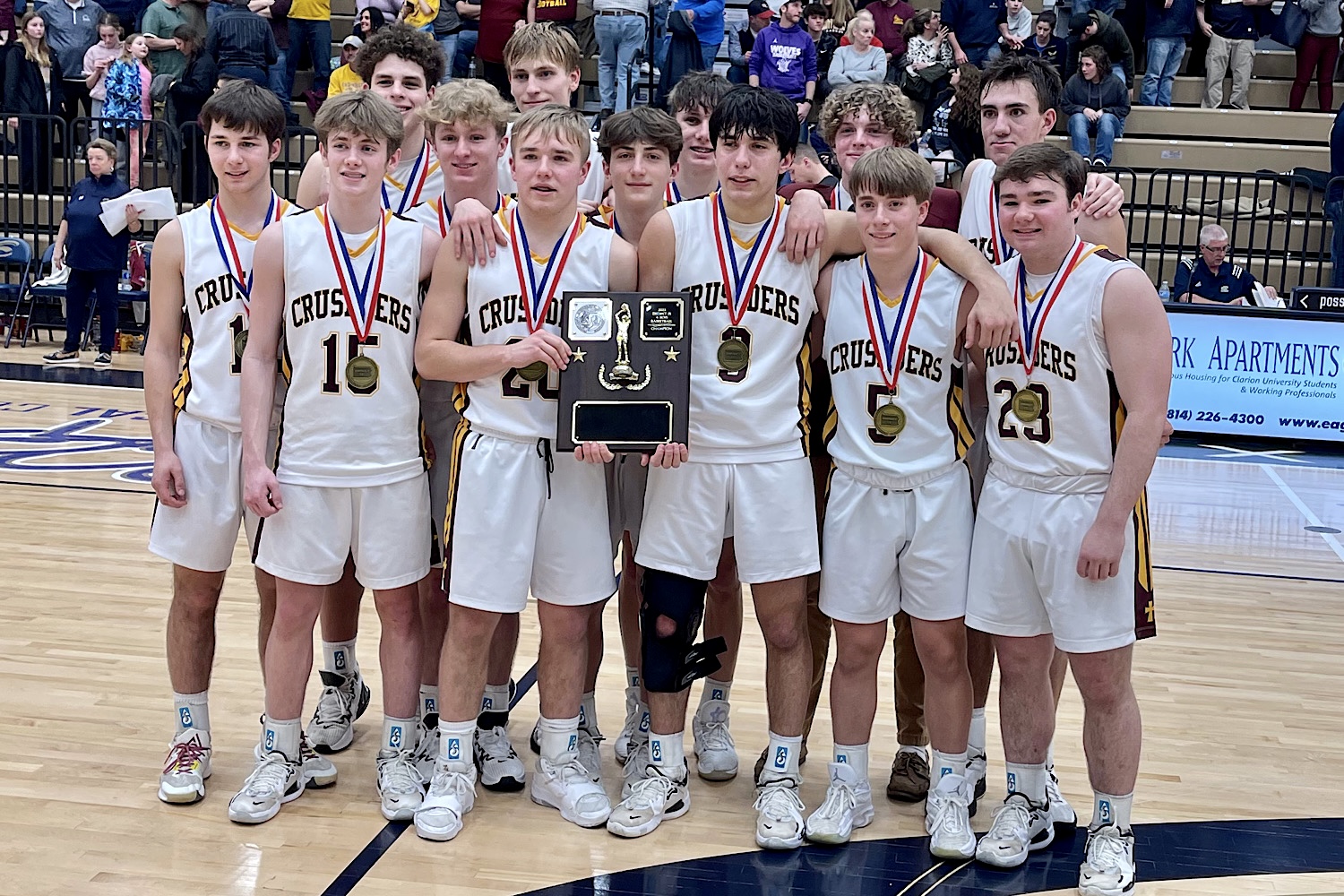 Michael Jacobs and Wasko each added eight points for ECC.
Wasko is just grateful to be playing at all after his scary right knee injury against Brookville in early February.
"When it happened, I thought for sure I was done for the season," Wasko said. "I had great doctors and a great training staff. There's nothing like being a player and being out there with my best friends who I played with my whole life. There's no place I'd rather be than on the basketball court with my guys."
Elk County Catholic (25-2) will host Neighborhood Academy in the first round of the PIAA Class A playoffs on Friday.
Union (14-12), which was led by Johnston with 15 and Laughlin 12, will also host a first-round playoff game against Turkeyfoot Valley.
"We had a great run," Mortimer said. "I think we're gonna have another good run here. We have another chance to play on Friday. It helps that the kids know they have another basketball game and it's at home."
Last year, Elk County Catholic made a great run in the state playoffs, making it to the semifinals.
"Neighborhood's going to be good," Wasko said. "I think we're ready to play. We'll watch some film and prepare and get guys ready. We have some leadership back from last year. We're a well-rounded team with a bunch of guys who can do it all night in and night out."