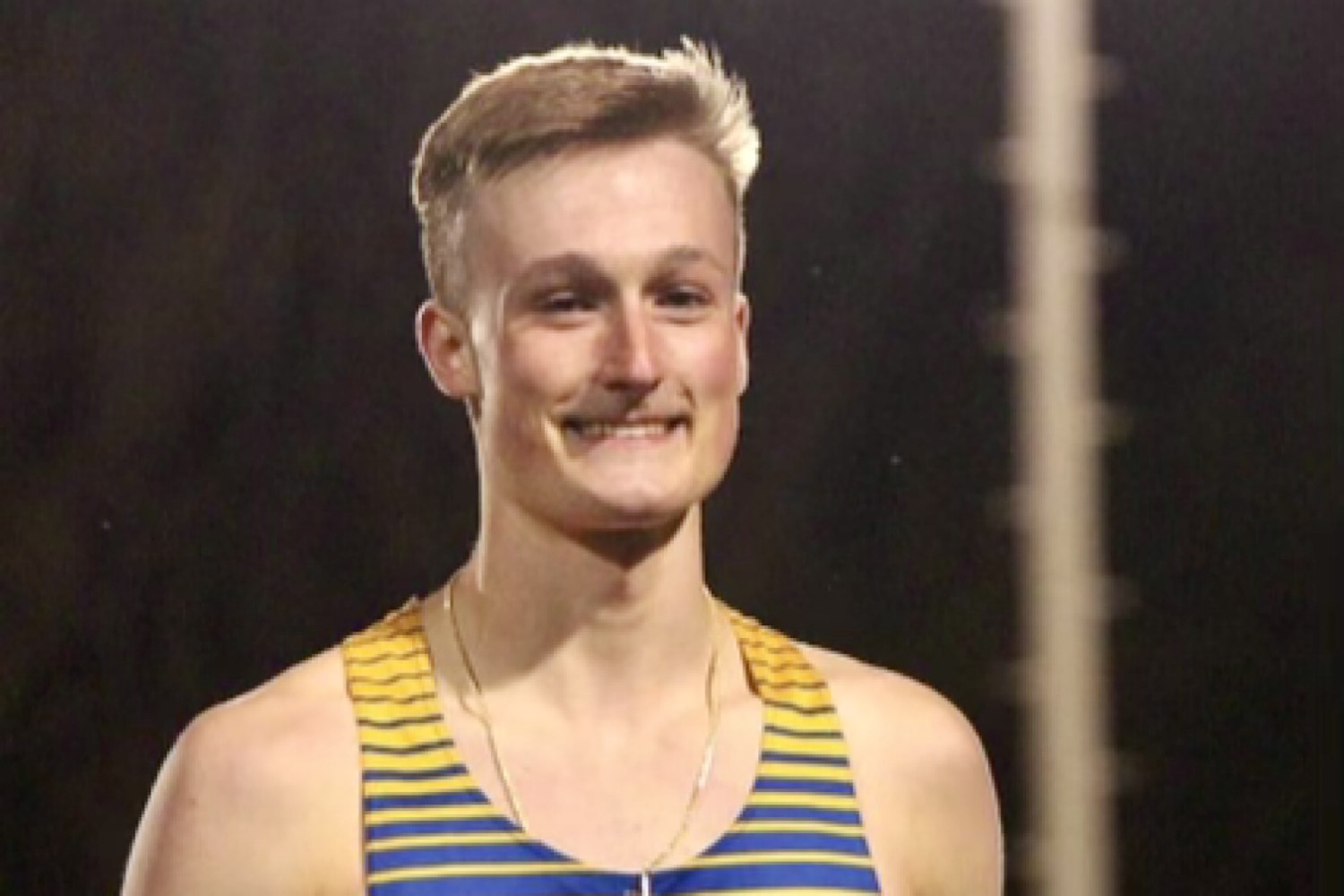 JOHNSONBURG, Pa. (EYT/D9) — It was a record that had stood since the 1980s.
And Eli Schreiber wanted to erase it.
(Pictured above, Eli Schreiber)
The junior distance runner at Johnsonburg had it in his sights.
At the 200-meter mark of each lap while running the 3,200-meter run last Monday, Elk County Catholic coach Wee J. Fernan was calling out Schreiber's times — with a little encouragement thrown in.
"You're on it," Fernan bellowed. "You're on it."
With each lap, Schreiber's confidence grew. When he finally crossed the finish line with a time of 9 minutes, 49.96 seconds and the record in hand, Schreiber was in shock.
He had finally done it.
"It meant a lot," Schreiber said. "It was a really, really big deal for me. It felt like I was in a dream. It was something."
Schreiber had broke a record that had stood at Johnsonburg for 39 years. Marlin Konen held the record of 9:51.24 since 1984.
Now it was Schreiber's.
"I felt confident throughout the race," Schreiber said. "It helped having the ECC coaches tell me where I was at at the 200 mark and then my own coaches telling me at the starting line."
Schreiber, though, wasn't taking any chances over the final 200 meters of the race.
"I was in a dead sprint," he said, chuckling.
Schreiber first identified the 3,200 record at the school as something to chase at the end of last season. As a sophomore, Schreiber cut deeply into his times in the 3,200 and that carried over into the indoor season.
A wrestler at Johnsonburg until his junior year, Schreiber decided to leave that sport behind so he could train and run during the winter.
"The first indoor meet I ran in, I ran my personal best," he said. "And that just kind of gave me a confidence boost."
Schreiber had come close to eclipsing the mark before finally snapping it last week.
Now Schreiber's goals have expanded.
Last year, Schreiber advanced to the PIAA Track and Field Championships but fared poorly.
This year, he wants to erase that sour experience in Shippensburg.
"When I got there last year, I was like, 'Man, these guys are fast,'" Schreiber said. "This year I kind of have a chip on my shoulder. I want to keep up with those guys.
"I would love to medal at states," he added. "That would be awesome. I think that would probably take a 9:30.
That seems like a lot of time to shave, but not in a long race like the 3,200.
Schreiber believes being pushed at both the District 9 meet this Friday, and hopefully the state meet over Memorial Day weekend, will get him there.
"The competition is good," Schreiber said. "But most of it is mental."
The 3,200 is not an easy race. It's long. It's arduous, no matter how hard you train.
It takes as much mental preparation as it does physical.
"If you think too much about it, the race usually goes downhill for you," Schreiber said. "You have to stay mentally tough."
Schreiber has known nothing but distance running.
He ran his first 5K race in the sixth grade. When he got to junior high, he joined the cross country team and then the track and field team in the spring, running the one and two mile.
"I just kind of stuck with it ever since," he said.
Schreiber takes his craft seriously.
"This year, I've been training a lot harder than in past years," Schreiber said. "The training is definitely tough, but it's good. I enjoy it."
Training as a distance runner means miles. Lots and lots of miles.

"Out of the season and even in the season," Schreiber said of his mile count. "Even in the summer, the ECC coaches allowed me to train with them and practice with them, so I got some miles in during the summer, too. And I think the winter miles during indoor really helped, too."
Schreiber said all of his coaches have been a tremendous help to him, even those from other schools like Fernan and Harley Thompson at ECC and John Sherry and his staff at Coudersport.
He also said Rich Quiggle and Jake Mercer have been invaluable to him as Johnsonburg's coaches.
"I wouldn't be where I am now without any of them," he said.
Where Schreiber eventually wants to be is among the best distances runners in District 9 and the state.
"My goal is to be the best that I can be," he said.