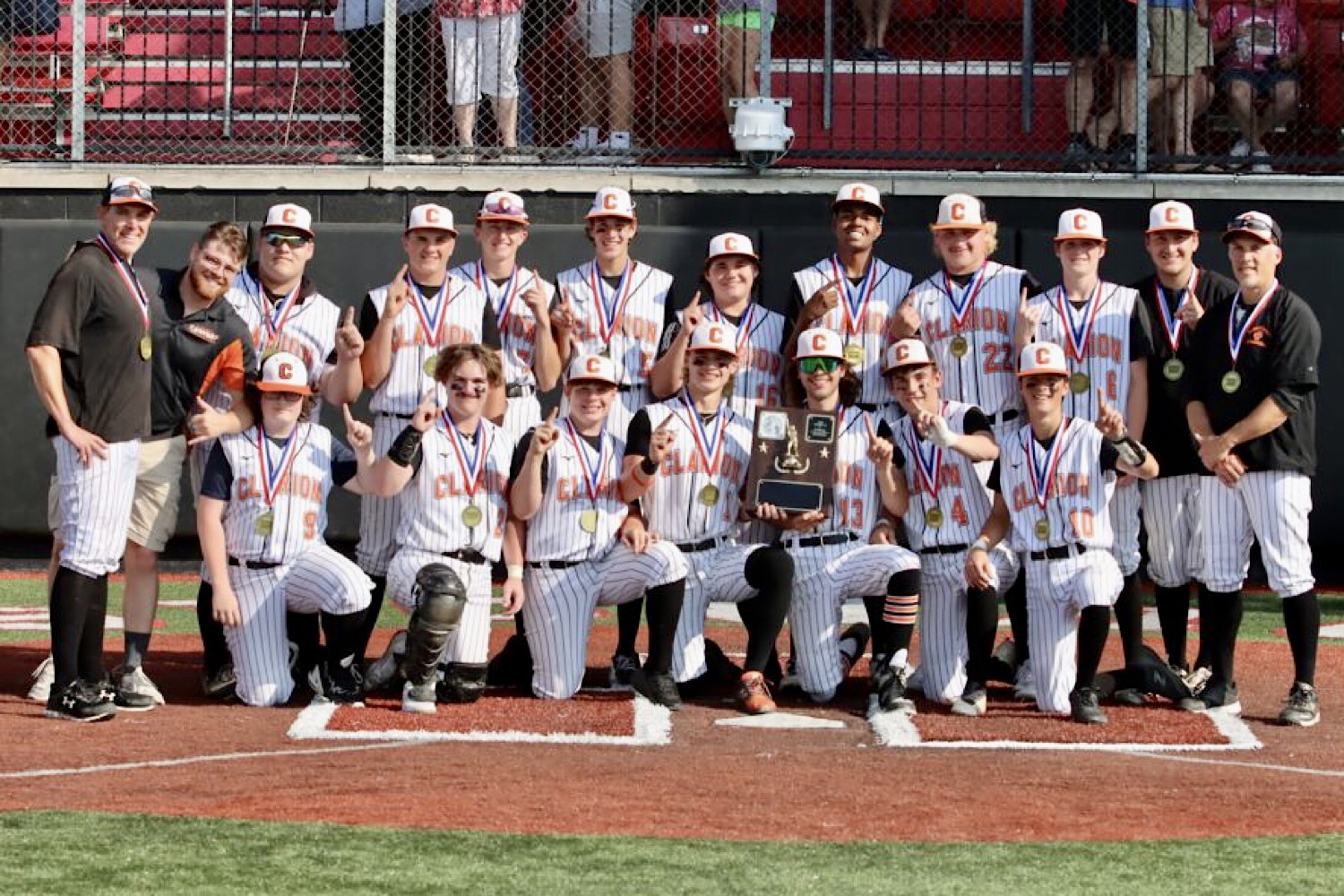 CLARION, Pa. (EYT/D9) — The surging Clarion baseball team, fresh off of 15-0 and 10-0 wins in the first two rounds of the PIAA Class A playoffs, will square off against District 5 champion Southern Fulton with a trip to the state title game on the line on Monday at 2 p.m. at Mt. Aloysius College in Cresson.
(Pictured above, the Clarion baseball team celebrates its D9 title)
The PIAA released the sites and times of Monday's semifinals on Friday afternoon.
The Bobcats (20-4) are red hot heading into the showdown with Southern Fulton.
Clarion has won seven straight since a 5-2 loss to DuBois Central Catholic on May 11.
During that winning streak, which included a come-from-behind win over DCC to claim the District 9 championship, the Bobcats have scored 68 runs while giving up only six.
"I think we are controlling the field in all aspects," said junior shortstop Dawson Smail, who leads Clarion with a .544 batting average. "We are a focused team that can get past adversity and set the tone of any game we play in.
"It means the world to see all of my teammates, coaches, friends and family excited after our performances," Smail added about reaching the state semifinals.
Southern Fulton (23-1) has won 11 straight games and has a plus-213 run differential this season.
Dane Harvey has put up eye-popping numbers for the Indians at the plate.
The senior leads the Indians with a .644 average. He has 11 home runs and 47 RBIs in 73 at bats.
Southern Fulton has a 1.48 ERA as a team.
The ace of the staff is freshman Paul Hendershot, who is 9-0 with a 0.70 ERA in 50 innings pitched.
Hendershot, though, threw seven innings on Thursday in a 6-1 win over West Middlesex. He still would be eligible to pitch on Monday with the three required days of rest.
A dream all-D9 state championship matchup in Class A is still in alive because of a six-run sixth inning turned in by defending champion DuBois Central Catholic that erased a 7-3 deficit and propelled the Cardinals to a 9-7 win over Greenwood in the quarterfinals.
DCC will take on District 1 champion Dock Mennonite at 4 p.m. on Monday at Central Columbia High School in Bloomsburg.
The Cardinals got off to a rocky start this season, getting out of the gate with three consecutive losses.
But DuBois Central Catholic (19-5) quickly rebounded, losing to just Clarion-Limestone and Clarion after the rough start.
Carter Hickman leads the team in batting at .449. Brayden Fox is right behind him at .448 as the Cards are hitting .356 as a team.
Pitching is what turned the DCC season around, though.
After giving up 34 runs in the three-game losing streak to start the season, the Cardinals have given up just 60 in the next 22 games.
Aiden Snowberger has emerged as the staff ace. The sophomore sports a 2.48 ERA with 53 strikeouts and just five walks in 42.1 innings pitched.
Fox has also come up big, as he did with the win in relief on Thursday.
Fox, a sophomore left-hander, has a 1.22 ERA. He's made nine appearances, four of them starts.
Dock Mennonite (22-3) is on a seven-game winning streak.
Sam Laux leads the Pioneers with a .623 average as the team is batting a gaudy .445.
Laux also has four homers and 33 RBIs.
Dock Mennonite is a hard team to strike out. The Pioneer hitters have only fanned 95 times and have drawn 138 walks. The team's on-base percentage is .557.
Nathan Lapp is the ace of the pitching staff. He has struck out 85 and walked just nine in 54.1 innings this season.
He has, though, given up 59 hits this season.
In Class 3A, Punxsutawney may face the toughest test of all.
The Chucks (20-2) will take on undefeated District 7 champions Riverside (23-0) on Monday at 4 p.m. at Slippery Rock University.
Freshman Nevin Day has been a standout, both at the plate and on the mound.
Day is leading the team with a .519 average. He also sports a 1.13 ERA.
Jake Sikora is the staff ace with a 1.60 ERA.
Riverside has been virtually untouchable this season, giving up just 46 runs in 23 games with a team ERA of 1.46.
Christian Lucarelli is the No. 1 pitcher for the Panthers. He's struck out 115 in 53.2 innings this season had an ERA of 1.30.
Lucarelli is a Duke recruit.
Teams are batting just .169 against the Panthers.
Riverside coach Dan Oliastro is in his 55th season.