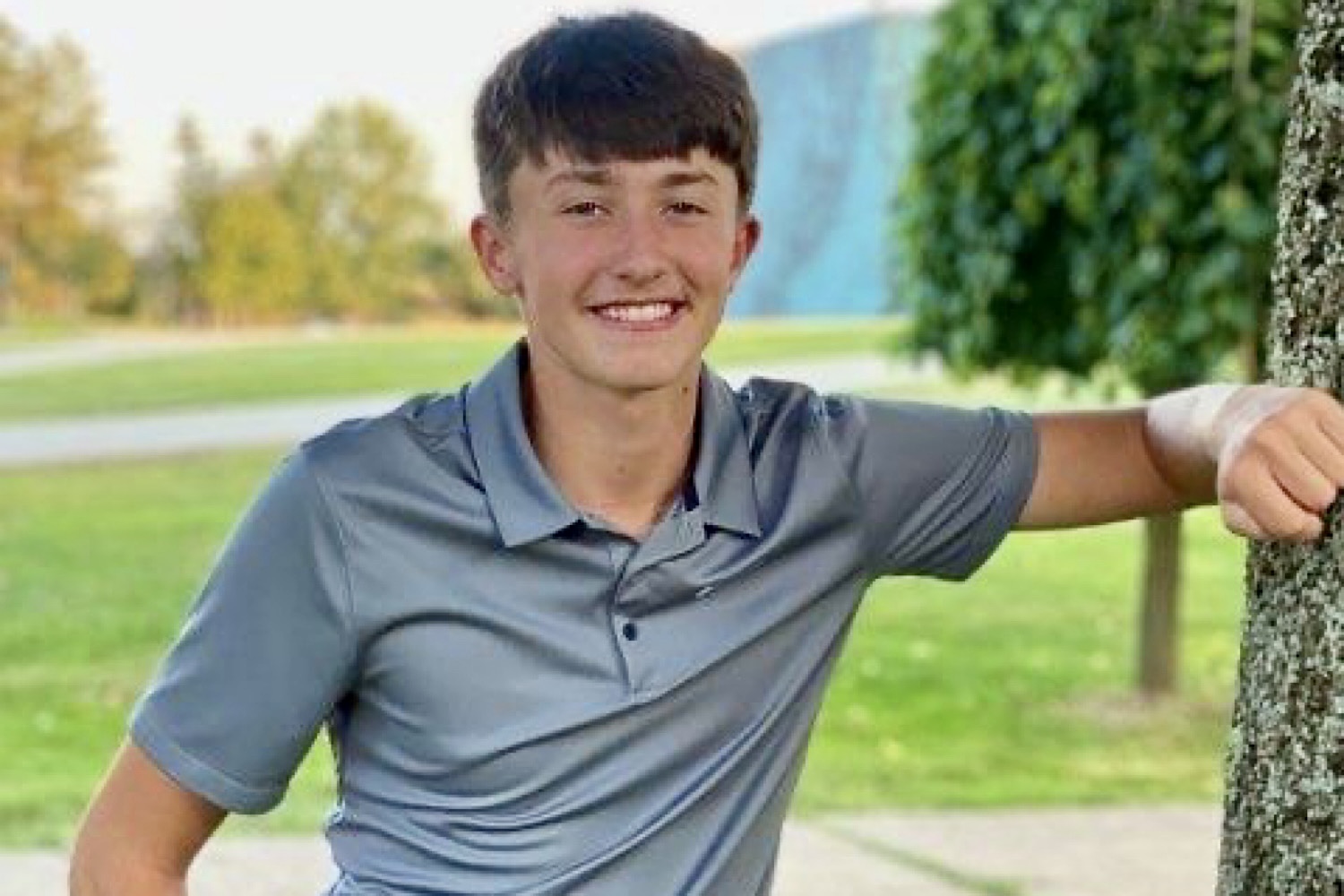 BUTLER, Pa. (EYT/D9) — Cranberry's Cayden Baker, a senior, along with Clarion senior Devon Lauer and junior Kam Kerle, shared medalist honors at the fourth Mega Match of the season – all carding 5-over-par 41s on the 3,170-yard front nine of Aubrey's Dubs Dred Golf Course on Sept. 5.
(Pictured above, Clarion's Devon Lauer)
It was the fourth time that Kerle finished atop the leaderboard this campaign and the first for both Lauer and Baker.
Kerle and Lauer led a strong Clarion contingent, which had three other golfers in the top 10 –- junior Lucas Mitrosky (42) tied for fourth, junior James Keenan (43) tied for sixth, and senior Tanner Miller (44) tied for 10th.
The quintet of top 10 placers gave the Bobcats (211) a 20-stroke victory over runner-up Cranberry, their fourth team win of 2023.
Overall, scoring was fairly tight, with most positions through the top 44 separated by a single stroke.
Sharing fourth with Mitrosky, one stroke behind the trio of medalists, was freshman Sean Karg (42) of Keystone.
Joining Keenan in a tie for sixth was Karns City's Joey O'Donnell (43), a sophomore, and Keystone's Talon Wilson (43), a freshman.
Moniteau senior Dawson Wallace (44) and A-C Valley/Union freshman Koen Strausser (44) were in a three-way tie for 10th with Miller.
Cranberry's runner-up effort was the product of rounds by Baker, Dane Wenner (45), Dalton Wenner (45), Ethan Merryman (47), and Mason Albert (53).
Keystone (236) was third, five strokes behind the Berries –- Karg, Talon Wilson, Braden Baylor (47), Jonathan Shultz (49), and Gunnar Wilson (55) contributing to the Panthers' score.
Clarion-Limestone (237) finished fourth, one stroke out of third. Nick Aaron (46), Jack Craig (45), Jack Callen (47), Aiden Coulson (48), and Josh Kessler (51) had rounds that counted toward the Lions' total.
North Clarion (237) came home in fifth, two strokes behind C-L and three better than sixth place Moniteau (242). Scoring for the
Wolves were Mason Shaftic (45), Ethan Carll (45), Kelton Stitt (45), Jack Buckley (50), and Landon Lutz (54).
Thursday, Sept. 7 at Clarion Oaks Golf Course
Devon Lauer claimed medalist honors at the fifth Mega Match of the season, firing an impressive 2-under-par 34 on the 3,117-yard back nine.
It was the Lauer's second first-place finish of the week, having secured a spot atop the leaderboard two day's prior at Aubrey's in Butler. His victory also snapped teammate Kam Kerle's streak of nine consecutive first-places that dated back to the middle of the 2022 season.
Kerle, a junior, acquitted himself well at the event, coming home as the runner-up, three strokes behind Lauer, with a 1-over-par 37.
Three other Clarion golfers were in the top-10 – junior Lucas Mitrosky (39) tied for third, senior Tanner Miller (42) tied for seventh, and junior James Keenan (43) in ninth.
As a team, the Bobcats scorched the Clarion Oaks' layout, posting a five-person total of 195 and winning the event by 35 strokes over second-place North Clarion (227).
Mitrosky shared third with Mason Shaftic (39), a North Clarion senior.
A-C Valley/Union freshman Joe Rapp (41) and Clarion-Limestone's Nick Aaron (41), a senior, tied for fifth.
Senior Ethan Carll (42) of North Clarion was tied with Miller in seventh.
A trio of golfers shared tenth, one stroke behind Keenan in ninth – Cranberry sophomore Dalton Wenner (44), Karns City sophomore Joey O'Donnell (44), and Keystone freshman Sean Karg (44).
North Clarion's second-place was the result of efforts by Shaftic, Carll, Connor Sliker (47), Kelton Stitt (48), and Jack Buckley (51).
Cranberry (230) was third, three strokes behind North Clarion. The Berries counted the cards of Dalton Wenner, Landon Baker (45), Cayden Baker (46), Ethan Merryman (46), and Dane Wenner (49).
C-L (236) was fourth for the third consecutive match, the Lions' placing based on rounds by Aaron, Jack Callen (45), Aiden Coulson (48), Jack Craig (50), and Josh Kessler (52).
A-C Valley/Union's (251) fifth was the squad's best placement of the season. The Falcon Knights five-person total, which was three strokes better than sixth-placed Keystone, came from Rapp, Hudson Bliss (48), Andrew Preston (53), Koen Strausser (54), and Jake Fisher (55).
There are two KSAC Mega Matches scheduled for the coming week –- Tuesday at Wanango Country Club (Sept. 12) and then a return to Clarion Oaks Thursday (Sept. 14).
Top-10 Individual Nine-Hole Averages (after 5 Mega Matches)
1. Kam Kerle (Clarion) – 36.40
2. Devon Lauer (Clarion) – 37.80
3. Sean Karg (Keystone) – 39.20
4. Joe Rapp (A-C Valley/Union) – 39.40
5. Cayden Baker (Cranberry) – 40.00
6. Mason Shaftic (North Clarion) – 40.20
7. Lucas Mitrosky (Clarion) – 40.40
8. Chloe Fritch (Karns City) – 41.50
9. Tanner Miller (Clarion) – 42.00
10. Nick Aaron (C-L) – 42.20
10. Ethan Carll – 42.20
10. Talon Wilson (Keystone) – 42.20
Top-5 Teams (points after 5 Mega Matches)
1. Clarion – 45.00
2. Cranberry – 37.00
3. North Clarion – 29.5
4. Keystone – 29.0