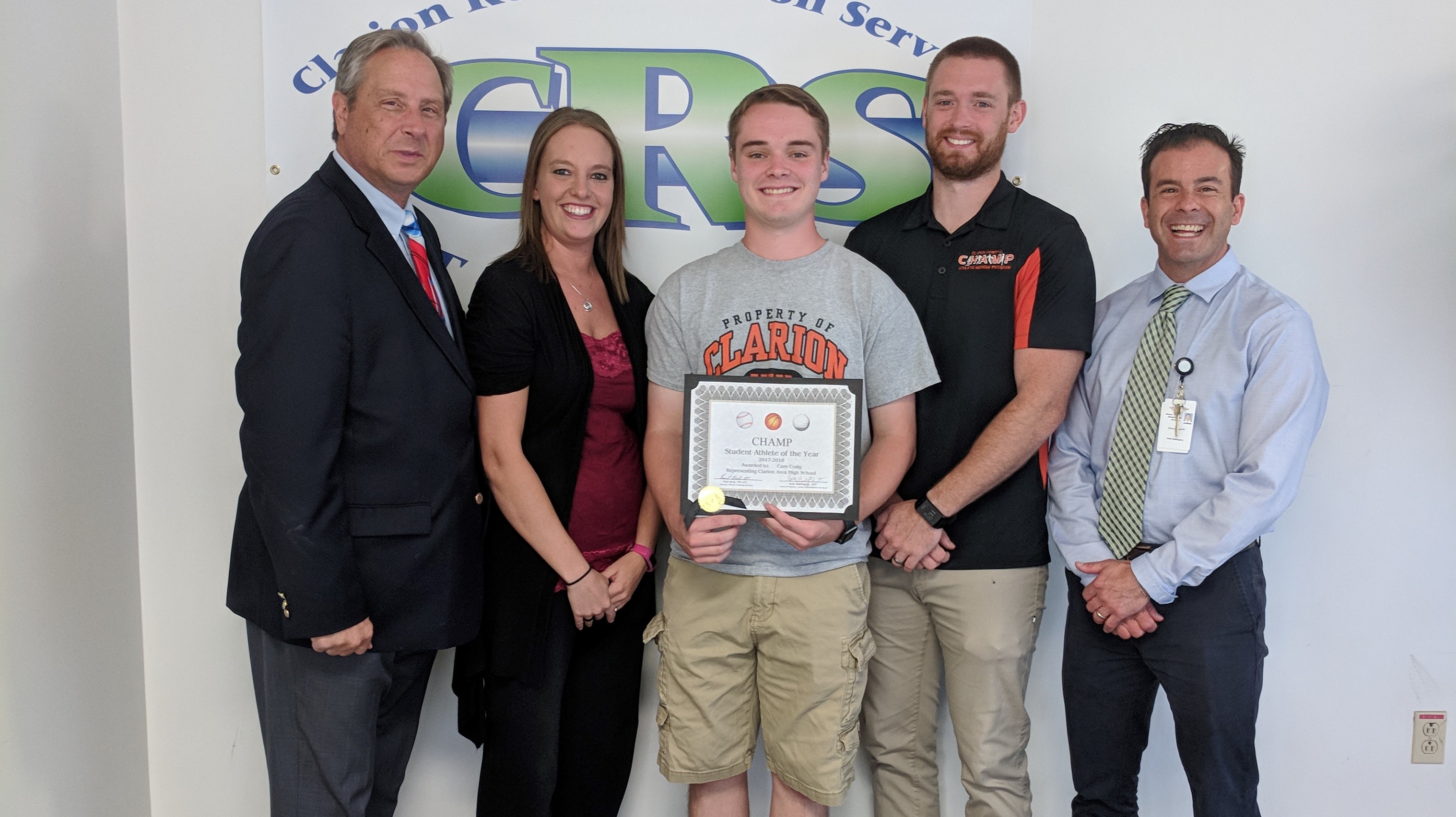 CLARION, Pa. – Clarion's Cam Craig is the 2017-18 Clarion Rehab Services and CHAMP (Clarion Hospital Athletic Medicine Program) Student-Athlete of the Year for the 2017-18 school year.
(Photo: From left, John Stroup, Clarion Hospital Foundation Director; Kari Best, Director of Sports Medicine; Cam Craig; Rich Herron, Clarion Area Athletic Trainer; and Seth Babington, Owner of Clarion Rehab.)
Clarion Rehab and C.H.A.M.P contract certified athletic trainers to four local school districts – Clarion Area, Clarion-Limestone, Keystone and North Clarion. Each month throughout the school year, the C.H.A.M.P Athletic Trainers nominate one of their current athletes for the Student-Athlete of the Month. At the end of the school year, one of those monthly winners is named Student-Athlete of the Year. The winner must not only excel in athletics but also in the classroom and community.
Craig was a senior at Clarion Area High School where he participated in golf, basketball and baseball. His hobbies include spending time with his family, friends and girlfriend, and watching the Pens. Cam serves at Keystone SMILES and volunteers at the Tri-County Humane Society when possible.
"First of all, I was impressed by the quality of candidates available to choose from," Clarion Rehab owner Seth Babington said. "There are a fair amount of excellent student-athletes in this area. What set Cam Craig apart was the fact that he excelled in the classroom, the athletic aspect and in the community. He is very well-rounded. He earned a 4.0 GPA. He was a stellar athlete in varsity sports of golf, basketball and baseball and was involved in the community in a variety of capacities. "
Craig's future plans are to attend Slippery Rock University to major in Physical Therapy.
"Cam is a hard-worker who is pleasant, courteous and respectful," Babington said. "I believe Cam has a bright future. He will go on to help people in his chosen profession and will undoubtedly make a positive impact on a lot of people and truly make a difference."
Clarion Rehab Director of Sports Medicine Kari Best said she had never met Craig until he was presented with the January Student-Athlete of the Month award.
"He blew me away from the beginning with his appreciation and humbleness he presented," Best said. "First impressions are highly important, and how he carries himself is impressive for someone of his age."
Craig said the most inspiring people in his life include his dad, Jason, and his mom, Tracy, as well as Tiki Kahle and Jess Quinn.
Clarion Rehab/CHAMP and the Clarion Hospital Foundation presented Craig with a $500 scholarship.
"We would like to congratulate Cam Craig and all the 2018 graduates in their achievements and wish them the best in their future endeavors," Best said.