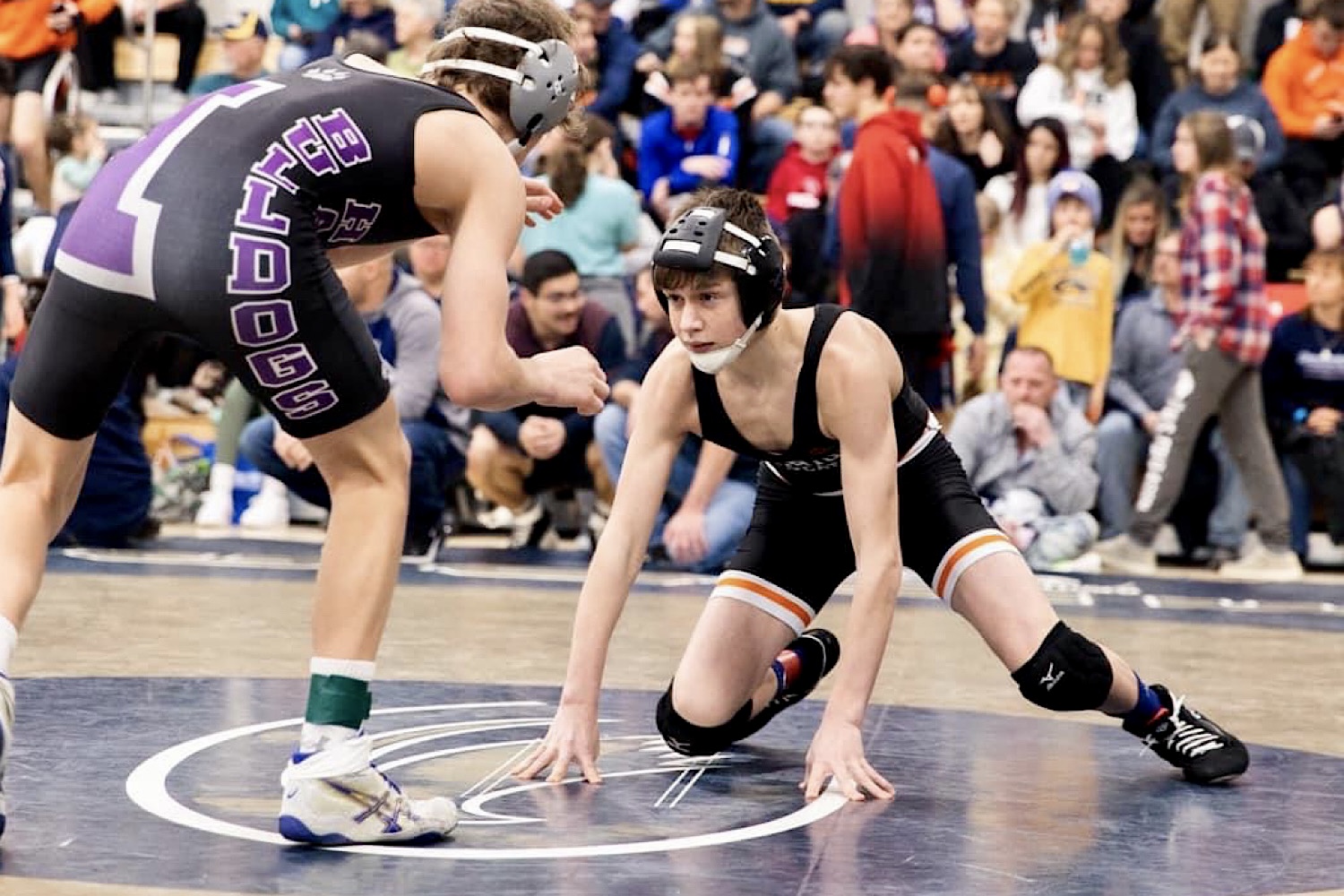 FALCONER, NY. (EYT/D9) — Logan Powell placed second at 118 pounds, going 3-1 overall with two pins and Jacob Henry (145 pounds), Mason Gourley (152) and Josh Beal (Heavyweight) all placed third to help the Clarion wrestling team to a seventh-place finish at the Patrick J. Morales Tournament at Falconer High School over the weekend.
(Pictured above, 118-pounder Logan Powell, right, in a bout at the Patrick J. Morales Tournament over the weekend)
"It was a good start to our individual season," said Clarion coach Lee Weber. "Overall, I was very pleased with our seventh-place finish with such a young team."
Powell cruised into the finals with falls in his first two bouts before a hard-fought decision in the semifinals to punch his ticket to the finals.
There, Powell lost 6-2 after leading 2-1 with 20 seconds left.
"Even though he was in control for over five minutes, in wrestling, it only takes one moment to lose momentum. That was Logan's only mistake of the whole tournament. He wrestled very well the last two days."

District 9 wrestling coverage on D9Sports.com is brought to you by Luton's Plumbing, Heating, and Air Conditioning.
Henry went 4-1 coming in as the fifth seed and battled to earn third place in a tough 145-pound bracket.
Gourley also went 4-1.
In the semifinals, Gourley fell behind 3-1 and earned an escape to close to 3-2, but gave up two points while in desperation mode to lose.
He won the next two matches to place third as well.
Beal went 5-1, dominating in all five of his wins. His only loss came when he was caught and pinned.
Still, Weber was pleased with what he saw in the tournament from Beal, who has emerged this season as a dangerous heavyweight in District 9.
"I love seeing the many good shots Josh was taking," Weber said. "This is good news for Josh and trouble for others."