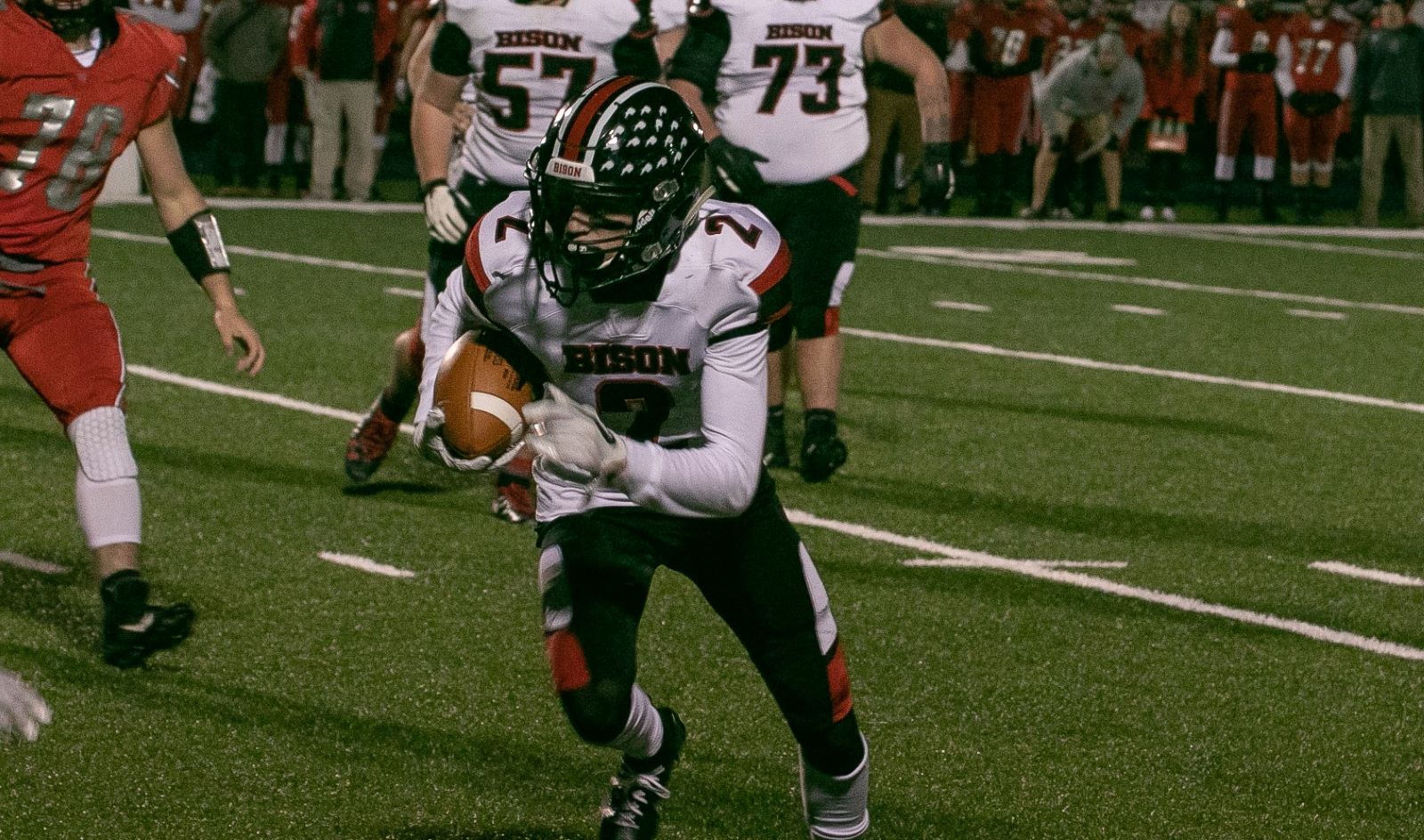 WINGATE, Pa. – CJ Funk had a 16-yard touchdown run early in the fourth quarter to break a 21-21 game and help top-seeded Bellefonte hold off a late charge by second-seeded Clearfield and earn a 35-21 victory in the District 6-9 Class 4A Championship game at Memorial Stadium at Bald Eagle High School Friday night.
(Photo by Jared Bakaysa of JB Graphics. See more of Bakaysa's work here)
See Coudersport, Redbank Valley advance to D9 1A Championship Game
Trailing 21-0, Clearfield charged back to tie the game with three minutes left in the third quarter following a 16-yard touchdown pass from Oliver Billotte to Nick Domico.
Originally, the Bison went three-and-out, but the Raiders were charged with a roughing the snapper penalty on the punt which resulted in a first down for the Bison and the score three plays later.
"Our kids fought," Clearfield head coach Tim Janocko said. "We had our chances there in the fourth quarter. They made a couple more plays than we did, but I'm happy with the way our kids fought and came back."
Bellefonte looked like they were going to run away with the game, scoring on their first three possessions and getting rushing touchdowns from Nick Caparelle (17 yards), Ethan Rossman (32 yards) and Jalen Emel (six yards).
The Raiders outrushed the Bison 209-76 in the first half.
Following the Emel score, Clearfield used a 10-play, 51-yard drive to get on the board with a 1-yard score from Brett Zattoni to cut the deficit to 21-7 with 4:34 left in the first half.
The Bison struck again to make it 21-14 right before the half after getting an interception by Hayden Kovalick to set up a quick eight-play drive that was capped off with a 1-yard run by Billotte.
Clearfield's defense forced a three-and-out on Bellefonte's first possession of the second half that set up the Domico score.
The Bison defense forced a Raiders punt and gave them a chance to take their first lead of the game.
However, a three-and-out gave the ball right back to Bellefonte, where Funk scored on the 16-yard run four plays later.
"That's the way it goes," Janocko said of Funk's performance. "That kind of player comes around every 10 years or even a lifetime."
Rossman put the game out of reach with 2:06 left in the game on an 11-yard touchdown run to finish an 84 yard, 12 play (all runs) drive.
Emel then picked off Billotte on the ensuing drive for the Bison to seal the victory.
Funk was the workhorse for the Raiders run game racking up 188 yards on 19 carries and a score. Rossman added 11 carries for 103 yards and two scores while going 4-of-7 with 45 yards and an interception.
For Clearfield, Billotte finished the night going 15-of-32 for 132 yards and an interception and added 37 rushing yards on nine carries with a score. Karson Kline was the leading receiver after Matt Pallo got hurt in the second quarter and caught eight passes for 73 yards. Brett Zattoni had 18 carries for 80 yards on the ground with a score to lead the Bison running backs.
"We had a great year," Janocko said. "(We went) 9-3, we improved throughout the year and have a lot to build on."