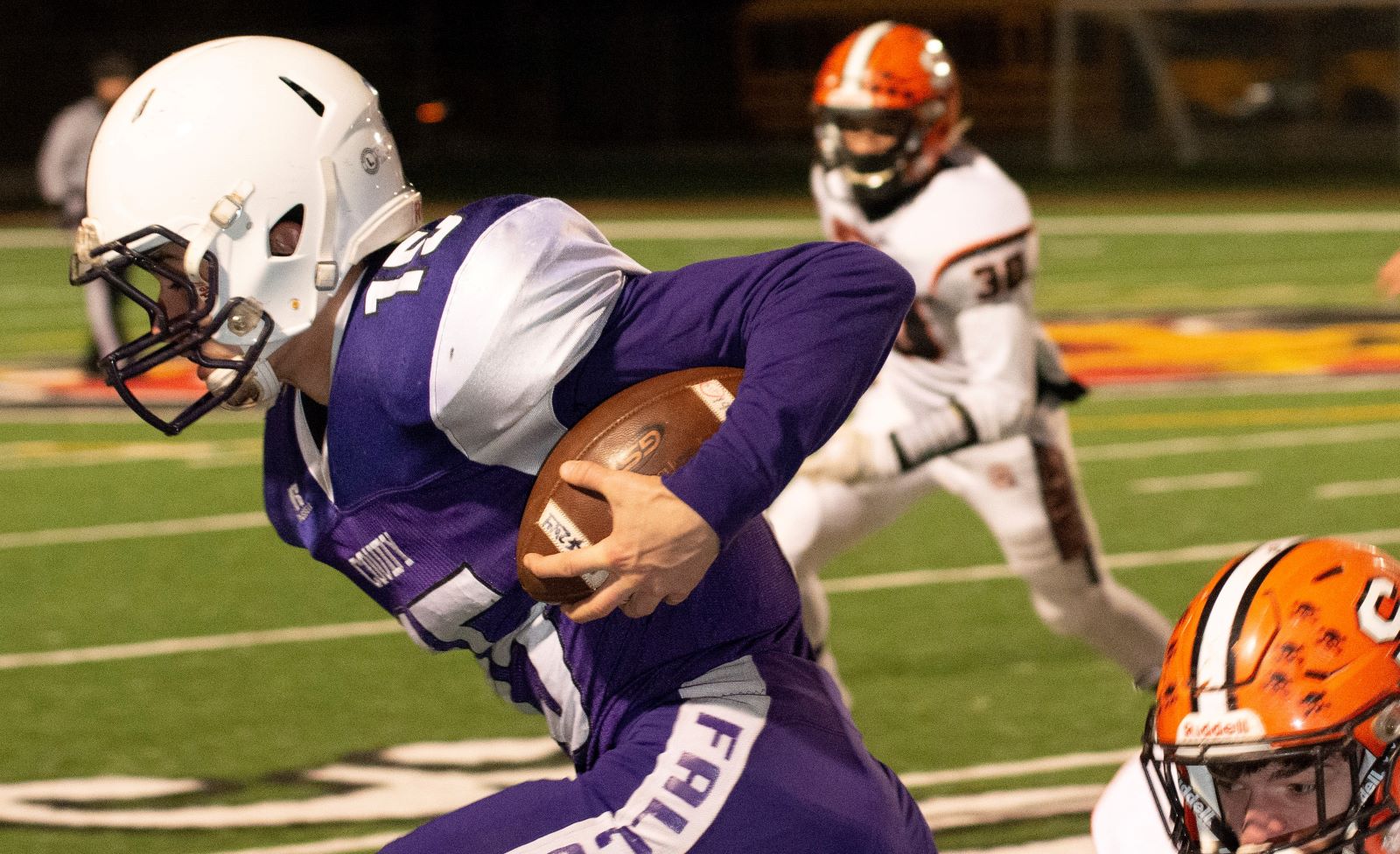 The District 9 Class 1A title game is set with the top-two seeds set to square off against each other after both top-seeded Coudersport and second-seeded Redbank Valley secured semifinal wins Friday night.
(Photo of Coudersport's John Minor, who scored the Falcons' first touchdown Friday night. Photo by Barb Davis. See more of Davis' work here)
The two will meet in the title game at 1 p.m. Saturday, Nov. 16, at DuBois' Mansell Stadium.
See Clearfield Rallies but Falls Short in Class 4A Title Game
COUDERSPORT 35, SMETHPORT 6
BRADFORD, Pa. – A pair of touchdowns 42 seconds apart sandwiched between halftime helped top-seeded Coudersport gain separation from fifth-seeded Smethport on its way to a 35-6 win over the Hubbers at Bradford's Parkway Field.
The Falcons, who beat Smethport 42-0 Oct. 18, found themselves tied at six with the underdogs late in the first half when Hayden Keck scored on a 1-yard run with just 36 seconds left in the half to give Coudersport a 12-6 halftime lead. That score was set up by a Daniel Frame interception and long return.
Then, on the first offensive play of the second half, Brandy Kightlinger broke free for a 62-yard run to make it 20-6 following a Jacob Pitcher two-point conversion run.
Keck then added scoring runs of 46 and 22 yards later in the half – one in the third quarter and one in the fourth quarter – to salt the game away.
That capped a strong night from the Coudersport quarterback, who also threw a 21-yard touchdown pass to John Minor to get the scoring started late in the first quarter.
Keck ran 14 times for 119 yards and the three scores while going 3 of 5 passing for 47 yards and a touchdown.
Kightlinger also went over 100 yards on the evening rushing 15 times for 111 yards helping Coudersport rush for 261 yards despite missing 1,000-yard rusher Travis Gleason, who missed the game with an injury, and third-leading rusher Thomas Wilson, who was also out with an injury.
After falling behind 6-0 at the end of the first quarter, Smethport tied the game at six on a 4-yard Braedon Johnson run 37 seconds into the second quarter.
But that was one of the few positive rushing plays for the Hubbers (6-5), who were limited to 11 yards on the ground on 19 carries.
Noah Lent did throw for 101 yards for Smethport going 11 of 23 with an interception. Bryent Johnson had three catches for 44 yards with Braedon Johnson added three grabs for 41 yards while rushing eight times for 20 yards.
REDBANK VALLEY 32, UNION/A-C VALLEY 6
CLARION, Pa. – Turning around a 21-point defeat three weeks ago, second-seeded Redbank Valley used a pair of pick-6s, a blocked punt that set up a short field and a fumble recovery that set up another shot field to defeat third-seeded Union/A-C Valley, 32-6, at Clarion University's Memorial Stadium.
Relisten to the game:
After taking a 6-0 lead on a 20-yard Ray Shreckengost touchdown run on the game's opening drive, the Bulldogs (9-2) quickly make it 19-0 on interception returns for touchdowns from Sam Hetrick (45 yards) and Joe Mansfield (48 yards).
Union/A-C Valley (7-4) got back within 13, 19-6, at halftime on a Luke Bowser to Colton Hoffman 24-yard touchdown pass midway through the second quarter, but Redbank Valley used the blocked punt and the fumble recovery in the second half to put the game away.
Following the blocked punt, which set the Bulldogs up inside the 15-yard line, Kobe Bonnano scored on a 2-yard run to make it 25-6.
Then, late in the game, following a fumble by Kyler Culbertson that gave the Bulldogs the ball inside the Union/A-C Valley 10-yard line, freshman Cam Wagner hit Mansfield with a 70-yard touchdown pass with 2:52 to play to set the final score.
Shreckengost ran 21 times for 113 yards, while Wagner was 10 of 22 passing for 85 yards, the touchdown and an interception. Mansfield had three catches for 32 yards, while Ethan Hetrick had two for 42 yards including a 35-yard grab that helped set up the opening touchdown.
Mansfield and Shreckengost talked about the victory.
Bowser was 5 of 20 passing for 78 yards, the touchdown and three interceptions for Union with Caden Rainey catching two passes for 38 yards.
Eli Penny led the Falcon Knights on the ground with 11 carries for 88 yards while adding two catches for 16 yards, as Union/A-C Valley was only outgained 207 yards to 176 by Redbank Valley.