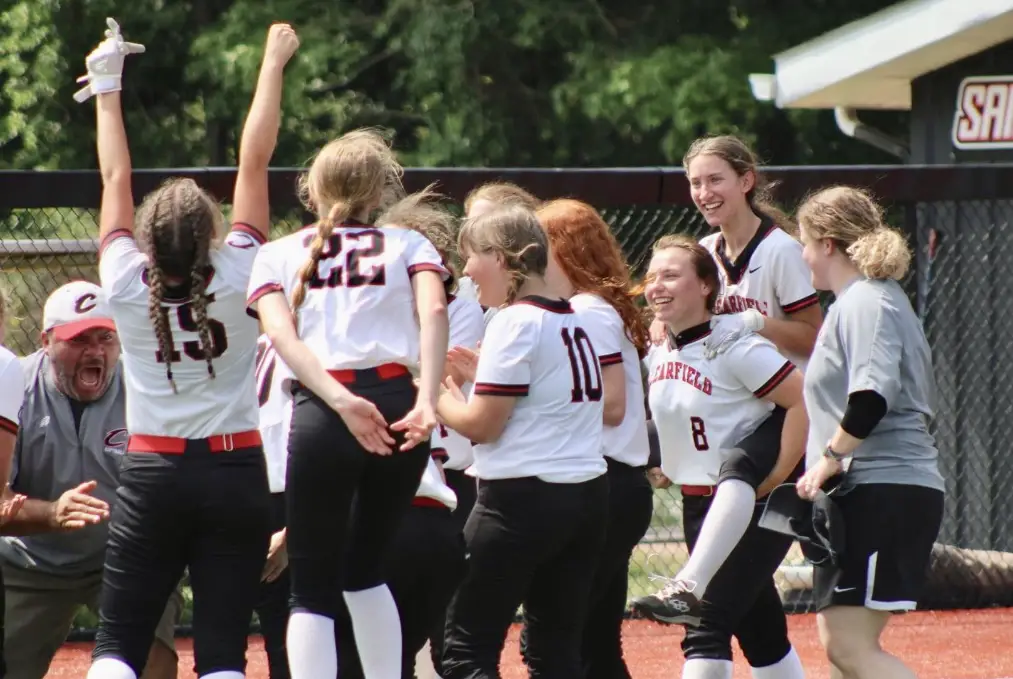 LORETTO, Pa. (EYT/D9) — With the bases loaded and two outs in a 1-1 game in the bottom of the seventh inning, Clearfield's Ruby Singleton hit a sinking liner with some serious english on it.
Like a spinning top, the ball hit the infield turf at Saint Francis University and was difficult to handle. By the time Beaver second baseman Hanna Crowe could finally gather it up and shovel it to second, Emma Hipps was already sprawled across the bag.
Hipps stood. Looked around and waited. There was no safe call.
Finally, it came. The Bison were heading to the the PIAA Class 4A championship game with a 2-1 win over previously undefeated Beaver in the semifinals.
"I was surprised," Singleton said. "I was waiting. Is she out? Then someone said, 'Hey, we won the game,' and I just ran to my teammates."
Few had given Clearfield much of a chance to beat the District 7 champ Bobcats, who had won 42 consecutive games and were the defending state champion.
Especially with Virginia Tech commit Payton List in the circle.
But Clearfield wasn't intimidated.
"We were the underdogs for sure," Singleton said. "We just wanted to show we could do it and that we were not to be underestimated."
List was as good as advertised, throwing up zero after zero on the board.
Beaver (21-1) took a 1-0 lead in the top of the third inning when Sami Springman singled home List.
It looked like that was going to be enough for Beaver and its star pitcher.
Clearfield (21-3), though, scratched across a run in the bottom of the sixth inning when Lauren Rissler doubled with two outs and came home on a single to left field by Olivia Bender to even things up at 1-1.
List got two quick outs in the seventh, but hit Alexis Benton with a pitch. Alexis Cole followed with a single and then after a first-pitch ball to Hipps, Beaver elected to issue an intentional walk to Hipps to load the bases.
Singleton made the Bobcats pay.
Singleton, just a sophomore, said she wasn't nervous stepping into the box with the stakes so high.
"All the training and hours and hard work are for times like that," Singleton said.
Hipps got the win, matching List pitch for pitch. Hipps struck out eight, walked two and only gave up four hits to a potent Beaver lineup.
Hipps, a senior and a Clarion University recruit, said her first victory came before the game even began.
The coin flip to decide the home team.
"When the coin was in the air, they said heads and Coach (Derek Danver) said, 'We wanted tails anyway,'" Hipps said. "It was tails and we were the home team. We've been playing really well as the home team. It definitely gave me the advantage. Tails never fails."
Clearfield will try to win its first state title Friday when it takes on District 2 champion Tunkhannock at 1:30 p.m. Friday at Penn State University.
Hipps thinks the Bison can beat anyone.
"Beaver was undefeated for two years in a row," Hipps said. "It just makes this 10 times better."
Hipps, though, said the team won't celebrate for long. Clearfield still has more work to do.
"We just have to all forget about this game, honestly," Hipps said. "We're all really excited right now, but we have to get ready for the next game and it won't be easy. We all need to be ready to play on Friday."
But reaching the state title game is a big deal for Clearfield, which has a roster loaded with seven seniors.
"It's exhilarating," Singleton said. "I'm so glad we get to make it there because this is so many seniors' last shot."