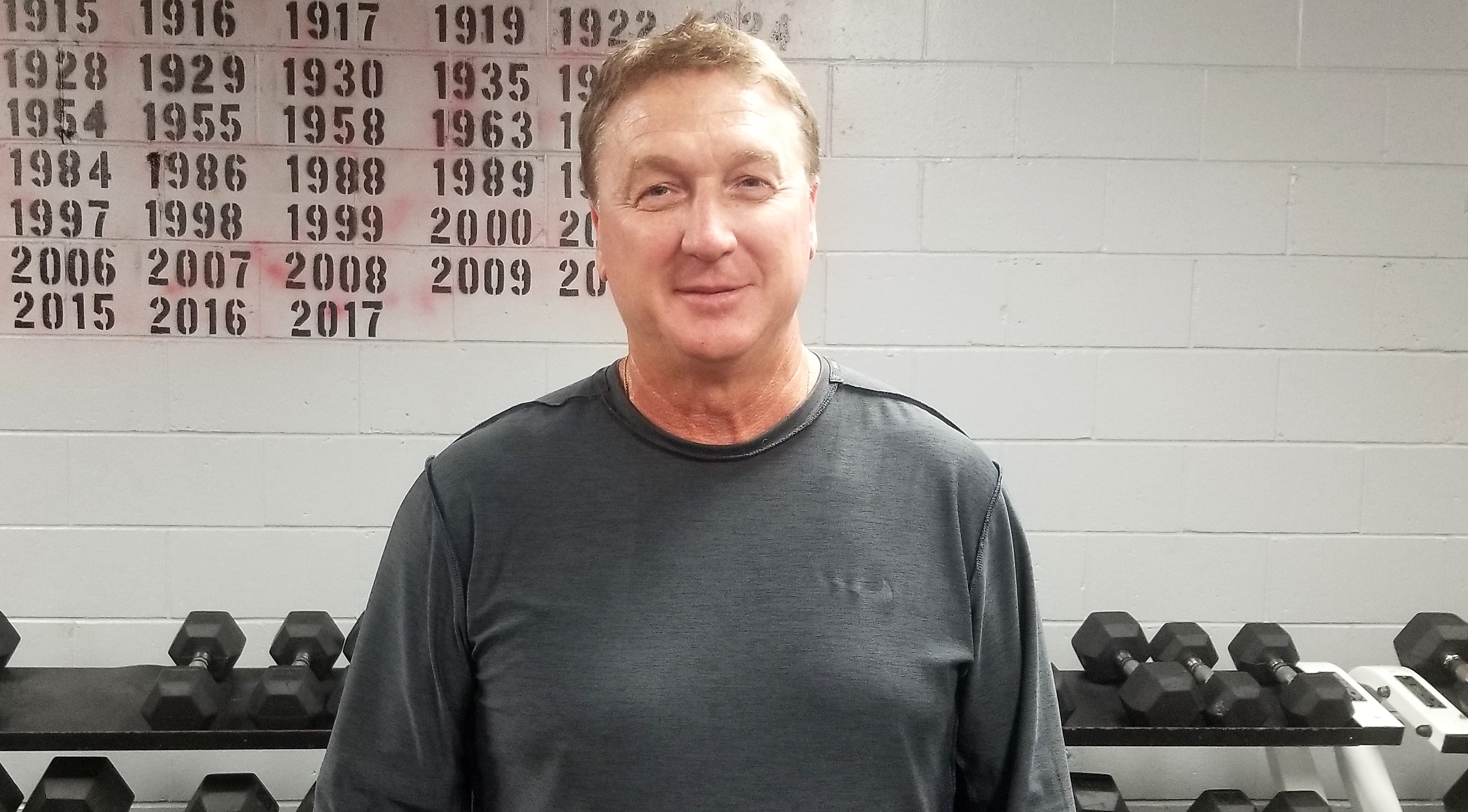 CENTRE HALL, Pa. – Clearfield head coach Tim Janocko was chosen as the inaugural PaFootballNews.com Coach's Select All-State Class 4A Coach of the Year, while 11 District 9 players earned All-State honors in either Class 2A or Class 4A.
(Photo of Clearfield head coach Tim Janocko, who was named the Class 4A Coach of the Year in Pennsylvania by PaFootballNews.com)
Janocko guided the Bison to the District 6-9 title with an unbeaten record before losing to eventual state champion Erie Cathedral Prep in the opening round of the PIAA Playoffs.
Six of Janocko's players were chosen as All-State in Class 4A, including three first-team selections and three second-team choices.
The first-team selections from Clearfield were fullback Brett Zattoni, slot Taye Lynch and guard Quinten Bloom. The second-team choices were quarterback Isaac Rumery, wide receiver Jake Lezzer and outside linebacker Oliver Billotte.
Joining those six in being honored as All-State in Class 4A was DuBois' tight end Chase Husted, a first-team selection.
Four District 9 players were selected in Class 2A with Clarion's Sam Minich (Slot) and Moniteau's James Parenti (guard) tabbed as first-team players and Brookville's Bryan Dworek and Cabe Park (both wide receivers) named to the second team.
For Rumery, Bloom, Dworek and Park it was the second All-State honor for each, as they were all chosen to the Pennsylvania Football Writers team as well.
PaFootballNews.com asked every team's head coach across the state to submit nominations for their class and others if they wished. Over 700 players were nominated across the six classifications. Once compiled, the ballots went back out and nearly 200 coaches voted on the 2018 All-State teams. The website tried to incorporate an original offense/defense scheme for each team with a first team and a second team. Some adjustments were necessary due to the number of nominations at some positions. Any ties were broken by stats and film review by the website's staff.
In addition to the Class 2A and 4A teams, the Class 6A team was also announced Thursday and can be viewed on PaFootballnews.com. The 11 selections Thursday bring the total number of PaFootballNews.com All-State choices from District 9 to 15 after four were chosen in Class 1A Wednesday. Wednesday also saw the naming of the Class 3A and Class 5A teams, which can also be viewed on PaFootballNews.com.
2018 Class 4A PAFootballNews.com Coach's Select All-State Team
Coach of the Year: Tim Janocko, Clearfield
First Team OFFENSE
QB
Chase Diehl, Bishop McDevitt 6-0, 205 senior
RB
Ian Csicsek, Saucon Valley 5-10, 185 senior
Billy Lucas, Cathedral Prep 6-0 205 senior
FB
Brett Zatoni, Clearfield, 5-10,185 junior
Slot
Taye Lynch, Clearfield, 6-2, 175 senior
TE
Chase Husted, Dubois 6-8 205 junior
WR
Mike Trimbur, South Fayette 5-10, 175 senior
Nazir Burnett, Bishop McDevitt 6-2 175 senior
Dan Deabner, Thomas Jefferson 6-0 185 junior
OG
Tom Elia, South Fayette, 6-3 286 senior
Quinten Bloom, Clearfield, 6-1 305 junior
OT
Chris Oliver, Cathedral Prep 6-4 293 senior
Brian Durkin, Valley View 6-4 270 senior
C
Dom Serapiglia, Thomas Jefferson 6-1 295 senior
Kicker
Ryan Coe, South Fayette 6-2 225 senior
ATH
Tykee Smith, RB/DB/WR, Imhotep 6-0, 190 senior
First Team DEFENSE
DT
Carter Christopher, Bishop McDevitt 6-3 285 senior
Mason Laubach, Berwick 6-1 241 soph
DE
Caleb Rockey Bellefonte 6-3 245 senior
Ryan Bodolus, Pottsgrove 6-1 220 senior
OLB
Paul Carreras, Bethlehem Catholic 6-0 220 senior
Traon Jones, Valley View 5-10 170 senior
MLB/ILB
Brandon George, Berks Catholic 6-4 240 senior
Richie Kimmel, Archbishop Carroll 6-1 225 junior
DB
Tegan Wilk, Berwick, 5-10 175 junior
Ervin Williams, Cathedral Prep 5-9 165 senior
Safety
Nehemiah Figueroa, Pottstown 5-10 170 senior
Luis Garcia Berks Catholic 5-10 175 senior
Punter
Matt Noll, Conrad Weiser 6-0 175 junior
KR/PR
Abdul MacFoy, Berks Catholic 5-7 165 junior
ATH
Terrance Quaker West Perry 5-9 160 senior
Second team OFFENSE
QB
Isaac Rumery, Clearfield, 6-0 190 senior
Jamie Diven, South Fayette 6-1, 195 senior
RB
Max Shaw, Thomas Jefferson 6-1 200 senior
Tavion Banks, Bethlehem Catholic 5-10 190 junior
Slot
Dylan Zurin, Eastern York 5-11 175 senior
TE
Demonte Martin, Eastern York 6-5 195 senior
WR
Jake Lezzer, Clearfield, 6-1, 175 soph
Zach Crum, Lehighton 6-0 170 senior
Yusuf Terry, Imhotep, 6-4, 175 senior
OG
Dalton Daddona, Bethlehem Catholic 6-3 275 senior
Parker Zimerofsky, Pottsville 6-3 265 senior
OT
Elias Marte, Bethlehem Catholic 6-2 315 senior
Tim Weaver, Saucon Valley senior 6-5 285 senior
C
Josh Dougher, Bishop McDevitt 5-11, 225 senior
Kicker
Cameron Griffin, Jersey Shore 5-8 155 senior
ATH
Kenyon Johnson, QB-DB-KR, West Perry 5-11, 180 junior
Second Team DEFENSE
DT
Liam McDaniel, Indiana 6-3 285 senior
Josiah Gibbs, Milton Hershey 5-10 234 senior
DE
Joey Scarabino, Cathedral Prep 6-3 241 senior
Luke Painton, Berks Catholic 6-7 245 senior
OLB
Luke Sittinger, Cathedral Prep 5-10 180 junior
Oliver Billotte, Clearfield 6-4, 219 fresh
MLB/ILB
Hunter O'Connor, Jersey Shore 6-0 225 172 senior
Austin Heiser, Gettysburg 6-3 234 junior
DB
Jaden Duplessis, Valley View 6-1 180 senior
Savion Harrison, York Suburban 5-7 155 junior
Safety
Alex MacKenzie, Conrad Weiser 6-2 205 senior
Shafeek Smith, Imhotep 5-11 165 soph
Punter
Mike Sereny, Pottsgrove 5-10 160 senior
KR/PR
Anthony Myers, Berks Catholic 5-10 175 Soph
ATH
Jequest Rexroth Garced WR,DB,KR Susquehanna Twp 5-10 175 senior
2018 Class 2A PAFootballNews.com Coach's Select All-State Team
Coach of the Year: Brandon Phillian, Wilmington
First Team OFFENSE
QB
Stone Hollenbach, Southern Columbia 6-3, 200 senior
RB
Gaige Garcia, Southern Columbia 5-10, 195 junior
Kameron Williams, Steel Valley, 5-11 190 senior
FB
Cody Ross, Freedom 5-11, 215 Senior
Slot
Sam Minich, Clarion Area 6-1, 207 senior
TE
Logan Snyder, Penns Valley 6-2, 200 junior
WR
Julian Fleming, Southern Columbia 6-3, 215 junior
Caleb Burke Richland 6-0 180 Junior
Aaron Tutino, Ligonier Valley, 5-10, 170 senior
OG
Dylan Dininny, Richland 6-5, 255 senior
James Parenti, Moniteau 6-1, 285 senior
OT
Jaquay Hubbard, Sharpsville, 6-6, 315 senior
Billy Anderson, Mt. Carmel Area 6'2, 280 senior
C
Gerald Comedy, Washington 6-3 278 Junior
Kicker
Alex Schmoke, Bellwood-Antis, 5-7, 155 Senior
ATH
Brady Gentile, Greenville 5-9, 175 senior
First Team DEFENSE
DT
Dalton Seace , Chestnut Ridge 6-5, 275 senior
Cole Shankweiler, Southern Columbia junior 6-0, 280
DE
Lear Quinton, Southern Columbia 6-2, 225 junior
Michael Hood, Mount Carmel 6-0, 200 senior
OLB
Zack Vogelsberger, Richland 6-0 205, Senior
Tyler Sweeney, West Shamokin 6-0, 205 senior
MLB/ILB
Colton Richards, Wilmington, 6-2, 270 senior
Cal Haladay, Southern Columbia 6-1, 190 junior
DB
Skyy Moore, Shady Side Academy, 5-10, 185 senior
Cameron Marett, Wilmington 5-8 160 senior
Safety
Dino Tomlin, Shady Side Academy, 6'-170 senior
Khalil Smith, Serra Catholic senior 5'9″ 185 senior
Punter
Nik Fedora Serra Catholic 5-10, 170 senior
KR/PR
Cole Blubaugh, Berlin-Brothers Valley, 5-10, 175 junior
ATH
Jordan Nelson, Palmerton WR/QB/ILB/P/K 6-2 185 junior
Second team OFFENSE
QB
John Caldwell, Ligonier Valley, 5-10, 150 senior
Aaron Tobias, Penns Valley, 6-2, 195 junior
RB
Kobe Brish, Schuylkill Haven 5-9, 200 junior
Christian Clutter, McGuffey 6-0, 180 senior
Slot
Jeremy Dohanic Northwestern 5-6 162 senior
Jack Chapman, Mount Carmel 6-3, 215 junior
WR
Bryan Dworek, Brookville, 5-11, 175 senior
Cabe Park, Brookville, 5-9, 165 senior
Zahmere Robinson, Washington 6-3, 175 Junior
OG
Jack Imbt, Troy 6-0, 275 junior
Ryan Felter, Avonworth 6-2, 265 senior
OT
Chase Mitchell, Washington 6-3 340 Junior
Parker Lyons Mohawk 6-4, 260 senior
C
Harris Kohl, York Catholic 6-0, 200 senior
Kicker
Seldon Rogers, Troy 6-0, 165 senior
ATH
Lonnie Rice, QB-DB, Bishop McDevitt 6-1, 195 junior
Second Team DEFENSE
DT
Mike Petrof, Ligonier Valley, 6-2, 273 junior
Jimmy Reed, Wilmington 6-0, 215 senior
DE
Jordan Gray, Wilmington 6-1, 235 senior
Collin Instone, Richland 6-3, 260 senior
OLB
Brayden Cameron Mohawk 6' 220 senior
Derek Yingling, West Branch, 5-9, 185 senior
MLB/ILB
Max Tillett, Southern Columbia 6-0, 190 junior
Todd Hill Jr. Steel Valley, 5-9 225, senior
DB
Zach Rosa, Freedom Bulldogs 6-1 175, senior
Zach Beitel, Ligonier Valley, 5-10, 160 senior
Safety
Robert Pontius, Wilmington 6-4, 195 senior
Daniel Walker, Washington 6-3, 210 senior
KR/PR
Kirk Eberly Meyersdale 5-10, 165 Senior
ATH
Macen Akers DB/QB/PKR Everett 6-0 175 senior