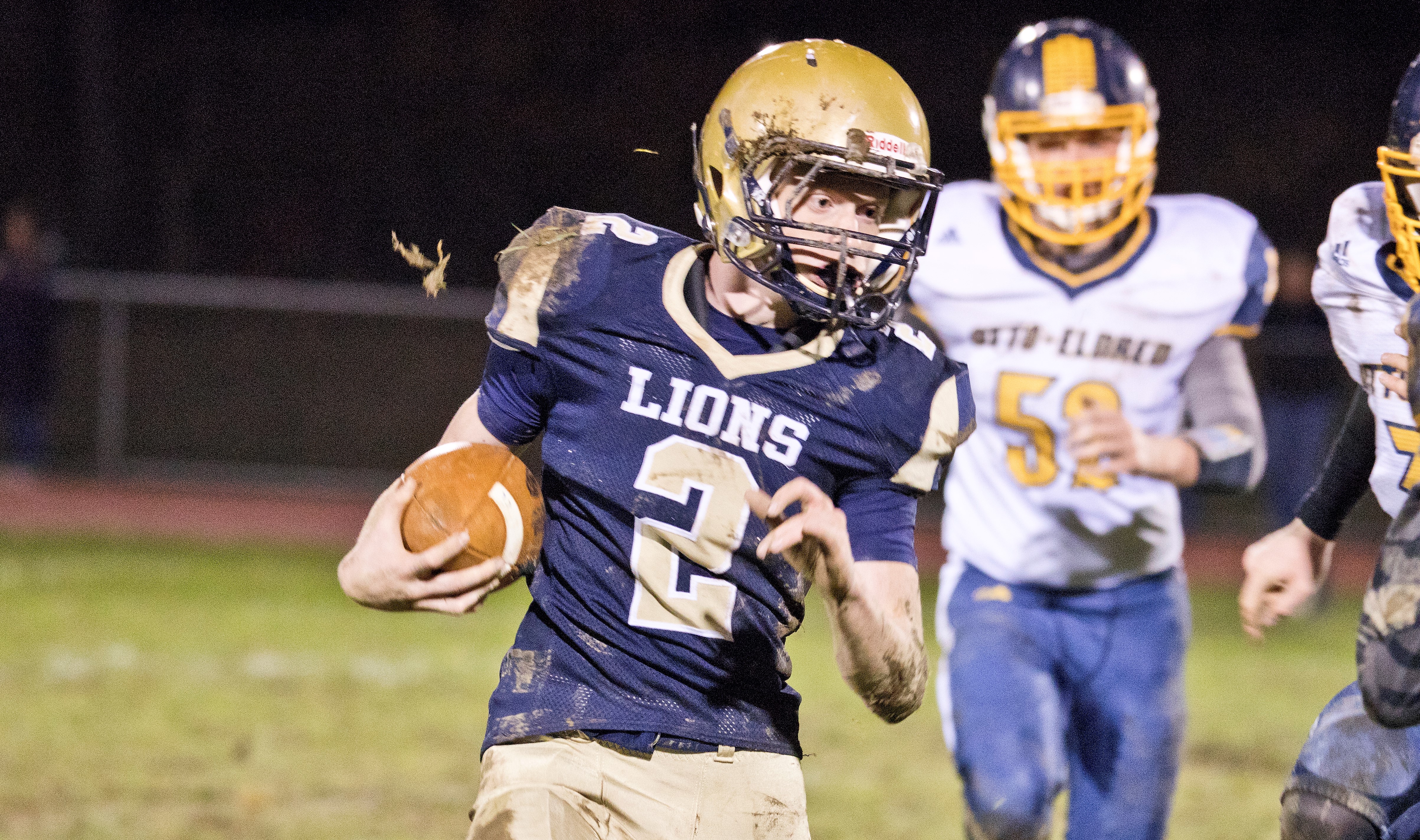 CENTRE HALL, Pa. – Four District 9 players were chosen for the inaugural PaFootballNews.com Coach's Select All-State Class 1A football team Wednesday.
(C-L's Austin Newcomb. Photo by Kyle Yates www.facebook.com/YatesPhoto)
Clarion-Limestone's record-setting running back Austin Newcomb was a first-team selection, while C-L guard Ben Smith, Elk County Catholic offensive tackle Ben Sherry and Curwensville defensive back Noah VonGunden were second-team choices.
For Newcomb and Smith, it is their second All-State honor of the year after also being named All-State by the Pennsylvania Football Writers. It is the first honor this year for VonGunden and Sherry.
PaFootballNews.com asked every team's head coach across the state to submit nominations for their class and others if they wished. Over 700 players were nominated across the six classifications. Once compiled, the ballots went back out and nearly 200 coaches voted on the 2018 All-State teams. The website tried to incorporate an original offense/defense scheme for each team with a first team and a second team. Some adjustments were necessary due to the number of nominations at some positions. Any ties were broken by stats and film review by the website's staff.
In addition to Class 1A, Class 3A and Class 5A were announced Wednesday. District 9 didn't have any Class 3A players, and there are no Class 5A teams in the District. The Class 2A, 4A and 6A teams will be released Thursday. District 9 does not have a Class 6A team.
Class 1A Coach's Select All-State Team
Coach of the Year: Jarrett Samuels, Farrell
First Team OFFENSE
QB
Brady Fyfe,Shade 6-3, 175 senior
RB
Austin Newcomb, Clarion-Limestone 5-11 145 junior
Christen Lewis, Farrell 6-1,185 senior
FB
Ray Melnikoff, Lackawanna Trail 5-11 205 Soph
Slot
Jeremy Layton, Windber 5-11 155 senior
TE
Benjamin Knapp, Canton 6-5 210 soph
WR
Jourdan Townsand, Farrell 6-185 senior
Dawson Snyder, Shade 6-2 170 Senior
Marcus Barnes, Jeannette 6-4, 185 senior
OG
Bryant Speck, Bishop Guilfoyle 6-1 265 senior
Joseph Turek, United 6-2 255 senior
OT
Kobe Hilton, Farrell 6-4, 280 senior
Nick Sifford, Northern Cambria 6-300 senior
C
Gary Satterwhite III, Farrell 6-2, 280 soph
K
Kolton McGhee, Bishop Guilfoyle 6-1, 187 senior
ATH
Nate Rolka, QB-ATH, Lackawanna Trail 6-4, 215 senior
First Team DEFENSE
DT
Spenser Dimon, Williams Valley 6-3 285 senior
Gary Hopson Jr., Farrell 6-0 302 junior
DE
Brian Hilton Jr, Farrell 6-2 180 junior
Darius Goosby, Rochester 6-3, 205 senior
OLB
Tymir Green Farrell 5-11 210 senior
Cory Myers, Conemaugh Township 6-1, 245 senior
MLB/ILB
Kyi Wright, Farrell 6-3 240 senior
Nate Garrity, Sayre 5-10 190 senior
DB
Tyler McGrath, Tri-Valley 6-0 160 junior
Juwon Samuel, Farrell 5-8 170 junior
Safety
Broc Grosser, Halifax, 6-175 senior
Connor Hazlet, Northwest 6-1 195
Punter
Nick May, Canton, 6-1, 175 junior
KR/PR
Hunter Budman, Montgomery 5-9 175 senior
ATH
Jordan Poznanski Conemaugh Twp. 5-10, 170 senior
Second Team OFFENSE
QB
Eric Wilson, Sto Rox 6-3 190 Junior
Quinn Zinobile, Juniata Valley 6-3 205 senior
RB
Noah Whiteleather, Rochester 5-11 180 senior
Clayton Parrish, West Middlesex 5-11 205 senior
FB
Jelani Stafford, California, 6-2 278 senior
Slot
Daniel Potopa, Bishop Guilfoyle, 6-0 165 senior
TE
Grant Musser Juniata Valley 6-1, 190 junior
WR
Ahmad Pack, Sto Rox 5-6 155 junior
Dylan Wilt, Muncy, 6-2 160 senior
Rahmon Hart Jr., Imani Christian Academy 6-3 216 senior
OG
Ben Smith, Clarion-Limestone 5-11 235 junior
Matt Hogan, Greensburg Central Catholic 6-0 260 senior
OT
Marc McCullough, United 6-230 senior
Ben Sherry, Elk County Catholic 6-4 225 senior
C
Brennan DeLeo, Bishop Guilfoyle 5-10, 240 senior
ATH
Kyle Silk, QB/OLB/ATH/K/P, United, 6-1 205 junior
Second Team Defense
DT
Matthew Long, Union City 6-0 250 senior
TJ Tagliati, Homer-Center, 6-2, 260 senior
DE
Kolt Schaeffer, Tri-Valley 5-11 185 senior
Myeir Woodard Sto-Rox Vikings 6-4 250 junior
OLB
Mike Kustanbauter, Muncy, 6-185 senior
Austin Mauger, Shade 6-1, 136 senior
MLB/ILB
Dom Wade, Laurel 6'0-240 junior
Rhyle Strausbaugh, Montgomery 5-10 175 senior
DB
Levi Engle, Williams Valley 6-2 175 senior
Noah VonGunden, Curwensville 5-8 145 senior
Safety
Dylan Wilt, Muncy 6-3, 165 senior
Timmy Ward, Canton 6-0 175 senior