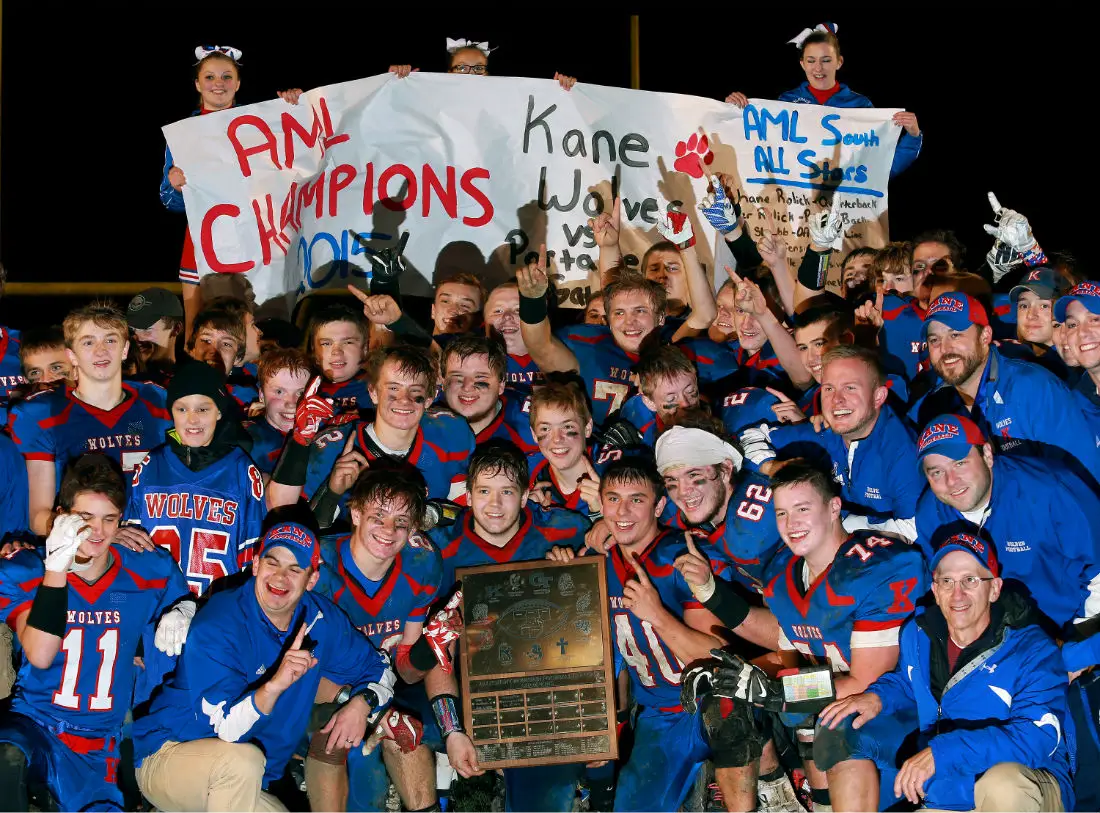 By Peter Sirianni, Special to D9Sports.com
It was a brisk, fall evening in 2007 when I realized I probably should have arrived earlier and packed another sweatshirt.
(Cover photo: Kane celebrates the 2015 AML Championship. Photo by Paul Burdick. Check out more of Burdick's work here)
When talking about playoff high school football, I'm sure I'm not the only one who has had those two thoughts, especially when the wind starts swirling at Paul R. Miller Stadium behind Kane High School. It was the 2007 AML Title Game and my school, Kane, was in the midst of its best season ever. We didn't know it yet, but there was something in the air about this team that stormed in with a 9-0 record.
On the other side of the field was an equally big and tough (and undefeated) Cameron County squad. As I stood in the aisle of a stairwell on the bleachers — being early for a prime seat isn't exactly at the top of the agenda for an eighth grader — I witnessed big play after big play from both sides, memories that still jump out at me 10 years later.
But what I remember most about that game — no, not how the Kane fans booed when the hometown public address announcer said the winner of the 50/50 drawing was from Emporium — was how physical it was between the two teams who would later play a defensive classic weeks later in the Class A District 9 title game.
On Friday night, Kane will again take the field at home playing for the AML title as Otto-Eldred comes into town in a rematch of last year's game. The winner will become the reigning league champion for the final time after last week's merger announcement between the AML and KSAC.
The AML might be dead, but the teams that it encompasses are more than just a loose collection of nearby high schools. Just ask Bradford High.
The Owls, upon joining the league last year, quickly found out just how teams in the AML play, a fast-and-physical style BHS wasn't used to seeing after playing for years in District 10 against Erie County squads. To their credit, in year two the Owls boast one of the league's most formidable defenses.
It's always been a league that adapts over the years.
Kane – the two-time defending league champs and with a win would tie Smethport for the most league titles all-time with seven — and Otto-Eldred present the latest in a recent trend of teams that like to spread it out and get athletes in space, just as Brockway did before with coach Frank Varischetti Jr. and Derek Buganza and Port Allegany with head coach Mike Bodamer and his son Matt.
Recently, the game has played a part in playoff seeding. Other times, it doesn't matter for much, except presenting itself as another opportunity for injury as other playoff teams take a bye week, as some critics have said in the past.
But there's a sort of pride in playing in and winning the AML.
As Kane head coach Todd Silfies, an Elk County Catholic graduate, said in his postgame comments last year he's been pursuing the AML plaque for years.
"I told the guys since I was 14 years old, I've been chasing this plaque around," said Silfies after Kane won at Otto-Eldred, 37-26. "Once we get it, we don't want to give it back. It hurt an awful lot a couple years ago when we had to give it back. The idea that we were able to keep it and do what it took tonight, that's all there is to it."
Whatever happens with the actual plaque is yet to be seen, as the reigning champion possesses the plaque for a year. But the title of being an AML champion?
That's something many northern District 9 athletes have been striving for for years.
Editor's Note: Sirianni is a Kane graduate and was employed as a sports writer for the Bradford Era. Sirianni now works for the New Castle News