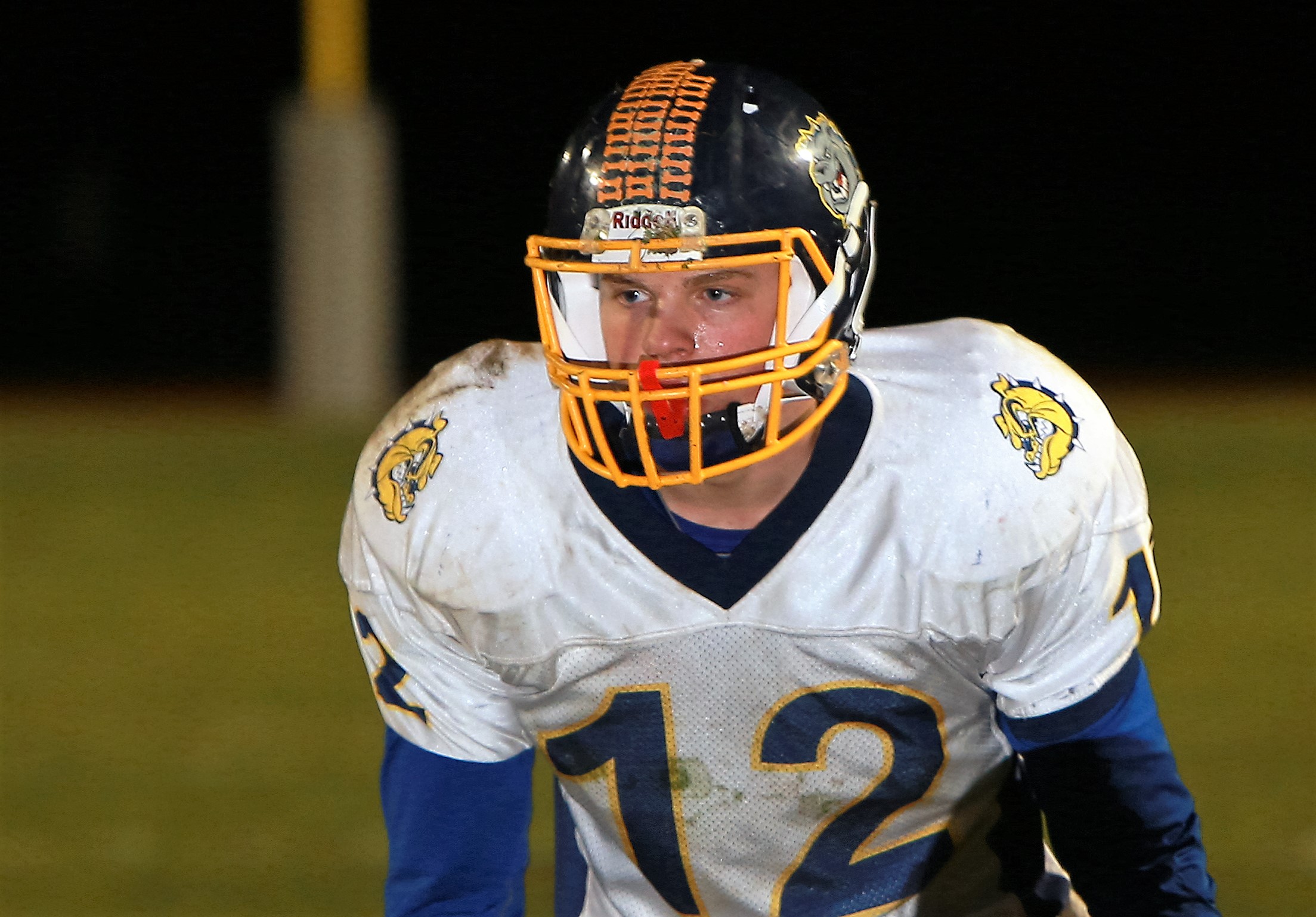 The final week of the regular season has 10 games on the District 9 schedule, with what appears to be the final Allegheny Mountain League Championship game to be played when Kane hosts Otto-Eldred.
Otto-Eldred's Sawyer Drummond leads the Terrors back to the Allegheny Mountain League Championship game for the second straight year against Kane. (Photo by Paul Burdick. Check out his work here.)
Just in case you missed it, there are changes coming next year.
Eight of the other nine games are also Friday night with one Saturday afternoon and all are non-league, non-conference matchups.
The schedule: Otto-Eldred (6-3) at Kane (9-0), Philipsburg-Osceola (1-8) at Curwensville (7-2) and Saturday afternoon's Eisenhower (3-6) at Sheffield (0-9) games are games featuring AML teams, with the addition of what's the final KSAC/AML regular-season matchup with Union/A-C Valley (1-8) at Ridgway (6-3).
In other games, it's the final KSAC Large game when unbeaten Clarion (8-0) heads to St. Marys (0-8) while the final KSAC crossover games ever scheduled have Brookville (8-1) at Keystone (3-5), Clarion-Limestone (5-4) at Punxsutawney (4-5) and Redbank Valley (5-3) at Moniteau (2-6).
And in the second 200-coaching win matchup in three weeks, it's Clearfield (5-4) traveling to Karns City (6-3).
More on all of these games below.
And a few of those games could affect how the playoffs starting this week are set up. Here's a closer look at the classification scenarios:
Class 1A
The top eight teams are finalized with Curwensville (7-2), Ridgway (6-3), Otto-Eldred (6-3), Redbank Valley (5-3), C-L (5-4), Coudersport (5-4), Keystone (3-5) and Smethport (3-6). Whether Keystone and Smethport enter the playoffs is in doubt, of course, meaning the bracket could go just six deep with the top two seeds receiving first-round byes.
Those top two spots and possible byes appear to be locked in for Curwensville and Ridgway, unless Otto-Eldred wins and one or both Curwensville and Ridgway lose this week.
If Kane indeed wins its third straight AML title, the Terrors will likely fall to the fifth seed and travel to C-L for a quarterfinal game next week while Coudersport, finished with its schedule, heads to Redbank Valley in the 3-6 matchup. And that's assuming both Redbank Valley and C-L both win their final game.
The top seed would then play the 4-5 winner with the second seed facing the 3-6 winner in the semifinals.
Class 2A
It's a locked-up semifinal setup with top-seeded Kane facing Brockway for the second time in three weeks with Brookville getting a rematch with Clarion in the other semifinal. Clarion dealt the Raiders their only loss of the season.
Class 3A
All four teams in the field could go to the postseason, but the only known team that's going to the playoffs is top-seeded Karns City, the only team with a winning record. Punxsutawney, second in the playoff standings at 4-5, may or may not go after this week's game against C-L while the other two teams, Perry (1-7) and St. Marys (0-8), are probably out.
Class 4A
Bellefonte (7-2), Johnstown (7-2), Bradford (7-2) and Clearfield (5-4) have locked up the four playoff spots, leaving DuBois, the other D9 team in the field, out of the postseason. Bradford and Clearfield will be the 3-4 teams, but Bellefonte and Johnstown could flip positions depending on how their games go this week — Bellefonte at Bald Eagle Area (4-5) and Johnstown at Cambria Heights (6-3).
Passing Honor Roll updated
Two D9 quarterbacks went over 4,000 career passing yards last week as Kane's Reed Williams and C-L's Brenden Makray were the 19th and 20th district QBs to reach that milestone.
Here is the updated list.
This week's games
Kane, Otto-Eldred square off in final AML final
The unbeaten Wolves (9-0) shoot for their league-tying seventh title in seven tries. That would tie Smethport for the all-time lead in titles.
Check out the AML title game history here.
It's a rematch of last year's title game won by the Wolves, 37-26, and that was a much closer than their regular-season matchup also won by the Wolves in a 42-7 rout. This year, the Wolves roughed up the Terrors, 56-14, so a rematch once again will see if the margin can be narrowed once again.
Wolves quarterback Reed Williams (94-for-167, 1,534 yards, 20 TDs, 6 Ints.) is the team's all-time leading passer while senior running back Erik DeLong (144-1,390 yards, 20 TDs) leads the district in rushing yards. He also went over 4,000 career rushing yards in last week's win over Brockway.
The Wolves also have senior Ange Costanzo (61-635, 11 TDs) out of the backfield while Ray Maze (26-627, 8 TDs), Jake Alcorn (24-385, 4 TDs) and J.T. Stewart (22-315, 5 TDs) are Williams' top receivers.
Aiden Hulings (8.0), DeLong (7.3) and Costanzo (6.9) are the leading tacklers on defense.
The Wolves try extend their winning streak against District 9 foes to 37 straight games.
The Terrors (6-3), who can get a home playoff game if they upset the Wolves, went 1-4 against the AML South with their lone win against Elk County Catholic, then ran the table to close the schedule with five straight wins against the AML North.
Senior quarterback Sawyer Drummond controls most of the offense as he's had a hand in 2,301 of the team's 3,294 yards from scrimmage. He's completed 126 of 201 passes for 1,882 yards with 23 TDs and 14 interceptions while rushing for a team-high 419 yards on 99 carries with two TDs.
Drummond's top receivers are Dylan Close (48-718, 8 TDs) and Cameron Magee (41-706, 7 TDs) with Garrett Babcock the team's second-leading rusher (56-332, 4 TDs) and third receiver (11-208, 2 TDs).
Drummond also leads the Terrors defense in tackles per game (6.3), followed by Charles Lee (6.2) with Lee's 6 1/2 sacks leading the team to go along with Nick York's team-high four interceptions.
Janocko, Conto collide in Karns City
Two weeks ago, the first-ever matchup of 200-win coaches in the district happened when Karns City's Ed Conto's Gremlins took on Clarion's Larry Wiser. The combined total in that one was 412 wins. This time around, it's 464 wins as Clearfield's Tim Janocko (262-107-3) treks to Butler County to face Conto (202-124-3).
It's the second meeting ever between these teams and if last year's inaugural matchup between the Gremlins and Bison is any preview to this one, it'll be another great one as the Bison squeezed out a 35-28 win in a showdown between two one-loss teams.
Bison quarterback Isaac Rumery rallied his team from a two-touchdown deficit in the second half to win that one and he's back again this year as the junior signal-caller is having another strong season throwing (132-for-204, 2,264 yards, 28 TDs, 10 Ints.) and running (80-316, 6 TDs).
Micah Heichel (36-387, 10 TDs), Taye Lynch (22-444, 6 TDs), Jake Lezzer (27-411, 4 TDs) and Spencer Graham (23-340, 4 TDs) are Rumery's leading receivers. Ty Bender (117-672, 2 TDs) leads the team in rushing.
The Gremlins have some balance out of their backfield in a mostly run-oriented offense, led by Dalton Beham (95-969, 20 TDs) who is approaching 1,000 yards for the season. They also have Clay Garing (69-533, 7 TDs) and Sebastian Troutman (51-373, 5 TDs) getting carries.
Quarterback Anthony Kamenski (50-for-105, 683 yards, 4 TDs, 2 Ints.) is coming off his career-high passing game of 155 yards in last week's win over Moniteau.
KSAC finales x 4
One of the four games involving KSAC teams counts as a divisional matchup as unbeaten Clarion (8-0) visits winless St. Marys (0-8). The Bobcats, averaging 44.3 points per game and giving up just 9.9 points, look to tune up for the postseason.
Six backs have at least 200 yards on the ground, led by Logan Minich (92-637, 8 TDs) who has taken the lead role out of the backfield with Colton Rapp (63-615, 8 TDs) recovering from an injury. Quarterback Spencer Miller (41-391, 8 TDs) is a threat on the ground along with his passing numbers (37-for-71, 572 yards, 5 TDs, 4 Ints.). Tim Beimel leads the Dutch running game with over 600 yards. The Dutch have allowed 41.4 points per game.
Brookville (8-1) visits Keystone (3-5) trying to secure its fourth nine-win season in program history. Freshman quarterback Jack Krug broke the team's  … career … TD passing mark. He passed Ben Marzullo's mark of 32 last week and now has 34 for the season, and his career (correction on Krug's season TD total from earlier posts). For the season, Krug has thrown for a team-record 2,321 yards (137-for-206) with eight interceptions. Not surprisingly, his top receiver has broken all of the team's marks as well with Bryan Dworek (68-1,231, 18 TDs). The Raiders could also get a 1,000-yard rusher with Brandon McGranor (125-895, 11 TDs) getting close to four digits. Keystone quarterback Nate Wingard (71-for-151, 1,061, 13 TDs, 7 Ints.) and Corey Rapp (63-334 rushing, 31-494 receiving) lead the Panthers offense.
C-L (5-4) heads to Punxsutawney (4-5) trying to solidify a home playoff game with a win. The Lions have one of the district's most dynamic and balanced offenses with their 448 yards per game split almost evenly (224 rush, 244 pass). Quarterback Brenden Makray (114-for-180, 2,175 yards, 28 TDs, 9 Ints.) went over 4,000 career passing yards. His top receiver is Kyle Kerle (34-864, 10 TDs) is Makray's top receiving target. Riley Hummell leads the team in rushing (80-724, 9 TDs) and is the second-leading receiver (32-569, 9 TDs). Chucks quarterback Dylan Ishman (85-for-167, 1,231 yards, 18 TDs, 4 Ints.; 303 yards rushing) and his top receiver Tyler Richardson (47-807, 11 TDs) lead the Punxsutawney offense.
Like C-L, Redbank Valley (5-3) travels to West Sunbury to take on Moniteau (2-6) needing to win to assure themselves a first-round playoff game next week. Bulldogs running back Clint Thurston (156-1,354, 24 TDs) is second in the district in rushing in just eight games and needs 134 yards to tie the team's single-season yardage record owned by Mark Strothers from 2013. Moniteau, after giving up 60 points or more in two straight losses to Brookville and C-L, played Karns City close in a 33-19 loss last week.
AML has three non-conference matchups
In the final AML vs. KSAC regular-season matchup, Ridgway (6-3) hosts Union/A-C Valley (1-8) looking to clinch a top-two seed for the Class 1A playoffs. The Elkers are giving up just 8.7 points per game. Neil MacDonald is the team's leading rusher (110-801, 11 TDs), receiver (18-237, 5 TDs) and second-leading tackler on defense (9 tpg.). Falcon Knights quarterback Lucas Bowser (86-for-197, 1,049 yards, 11 TDs, 10 Ints.) went over the 1,000-yard milestone last week.
Curwensville (7-2) also looks to solidify a top-two Class 1A playoff berth and likely first-round bye when it hosts District 6's Philipsburg-Osceola (1-8). The Tide's Nick Stewart (149-1,049, 18 TDs), the district's all-time leading rusher, just went over 1,000 yards last week in his eighth game — he missed the season-opener with an injury — to secure his fourth straight 1,000-yard season. The Mounties, who play in the same Mountain League as Clearfield, won their first game at West Branch to start the season, but have dropped eight straight, including last week's 49-7 loss to Clearfield.
It's a Warren County grudge match Saturday at 1:30 p.m. when Sheffield (0-9) hosts Eisenhower (3-6). The Knights have won two straight, including a 49-7 win over a Saegertown team that lost to C-L in the season-opener, 64-6. In their last meeting two years ago, the Knights routed the Wolverines, 66-20.
DuBois closes at home against Hollidaysburg
The Beavers (3-6) were eliminated from the postseason with last week's loss to Newport, so it'll be a finale at E.J. Mansell as they host Hollidaysburg (6-3), a Class 5A school from District 6.
Beavers quarterback Matt Miller (125-for-239, 1,778 yards, 16 TDs, 8 Ints.) goes into his final game close to two milestones — the team's all-time passing yardage mark of 7,940 owned by Gabe French and then the 8,000-yard milestone. Only two quarterbacks in district history have reached 8,000 with Port Allegany's Matt Bodamer (10,948) and Brockway's Derek Buganza (9.752).
Miller's top receiver Kyle Hopson (55-856, 8 TDs) also finishes off a record-breaking career that has him with what's believed to be a district-record 193 receptions for 3,108 yards.
Hollidaysburg has won four of its last five games, including a 52-18 win over Central Mountain last week and a 42-6 win at Taylor Allderdice three weeks ago. The Beavers lost to Allderdice, 28-27, in overtime earlier this year.
Tigers quarterback Brady Walters has thrown for 1,171 yards and 15 TDs while rushing for 480 yards and nine TDs. Patrick Young leads the team on the ground with 735 yards. Jack Sauserman (26-565, 12 TDs) is Walters' top receiver.