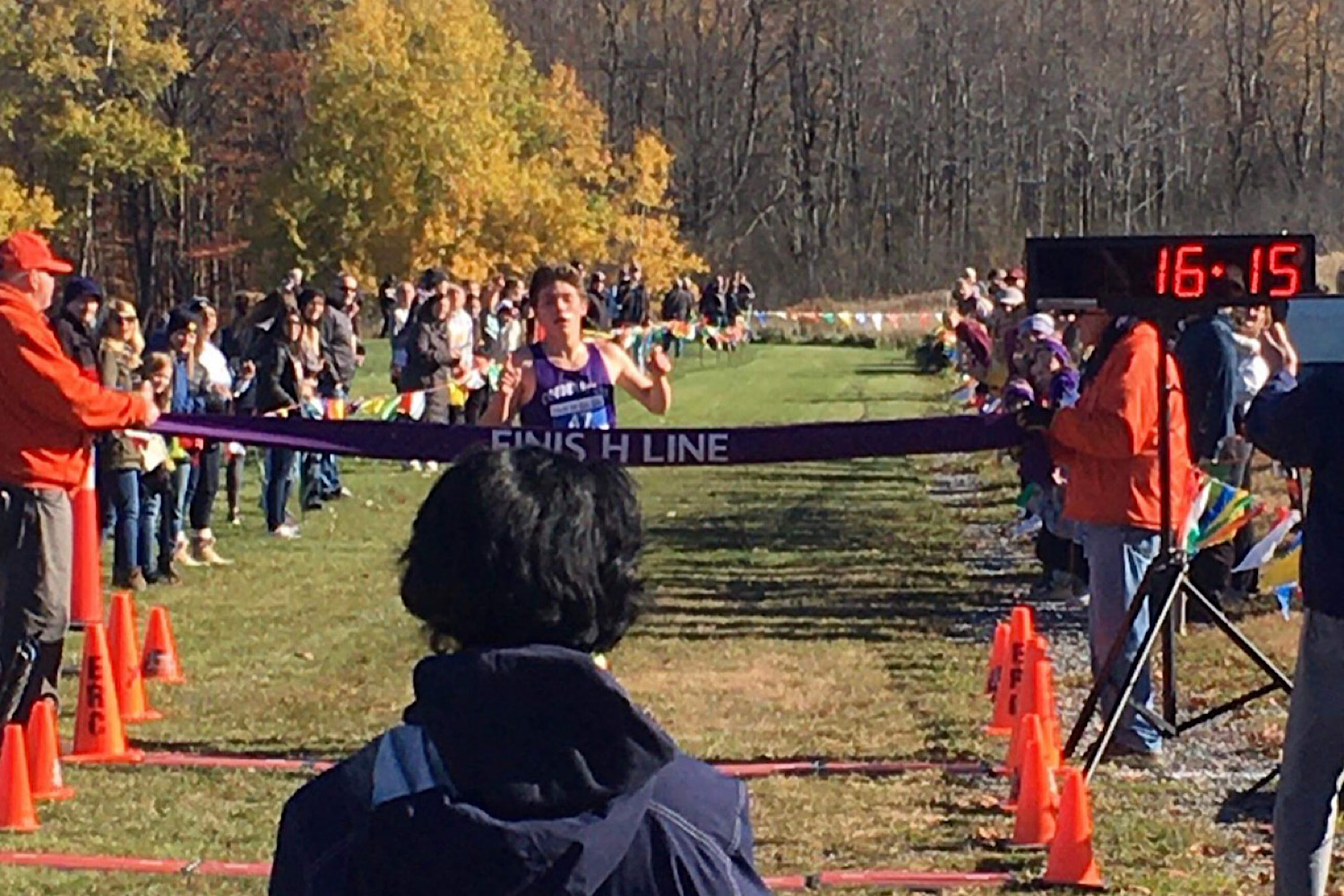 RIDGWAY, Pa. (EYT/D9) — It was a little chilly for Kevin Sherry's liking.
No matter. The Coudersport junior certainly warmed up under a sunny sky on the challenging Ridgway cross country course on Saturday morning.
(Pictured above: Kevin Sherry of Coudersport breaks the tape to win his second consecutive District 9 Class A cross country championship)
Sherry defended his Class A crown, finishing with a scintillating time of 16 minutes, 15.6 seconds at the District 9 Cross Country Championships.
"It was really cold out," Sherry said. "It was like 45 degrees, but starting out I just really got caught up in the race. I always go out pretty fast (at Ridgway) because the first time you go up that hill, you can go up it just time. The second time, it's a lot slower. I think if it was a little warmer, I could have gone a little faster."
By the time he crossed the finish line, he was a full minute ahead of runner-up, sophomore Eli Schrieber of Ridgway, who came in at 17:18.
Sherry won the title last year with a time of 17:36. He was third as a freshman.

(Kevin Sherry)
This year, there was no keeping up with Sherry.
"It just feels really good," Sherry said.
Now he has his sights set on the PIAA Cross Country Championships, which will be held Nov. 5 in Hershey.
Last year, Sherry placed 20th with a time of 17:29.50.
The winner, Thomas Smigo of Palisades, finished in 16:31.10. He is a senior this year.
The course, Sherry said, is very similar to the one at Ridgway.
"I definitely want top five," Sherry said.
Ty Fiscus of Brookville finished third. The freshman came in at 17:25.9 to help the Raiders capture the team championship for the first time since 2000.
Brookville and second-place Cranberry qualified as teams for the PIAA Cross Country Championships.
North Clarion was third, Elk County Catholic fourth and Ridgway fifth.
In Class A girls, Grace Neubert, a junior at Elk County Catholic, crossed the finish line first with a time of 19:10.2. She edged her Crusader teammate, Sophia Bille, for the title.
Neubert was second at the D9 championships last season.
The 1-2 finish for ECC helped propel the Crusaders to a district crown.
Cranberry was second.
Both teams advanced to the PIAA championships.
In Class 2A, Manny Diaz of Bradford placed first with a time of 16:51.8. The senior's teammate, Brayden Friar, was second at 17:13.2.
Still, despite the top two placers, Bradford finished second as a team behind champion St. Marys.
The Flying Dutch did it with depth with four runners crossing the finish line in the top 10, led by senior Wyatt Foster.
St. Marys edged Bradford by just two points to move on as a team to the PIAA championships.
In Class 2A girls, St. Marys had the top three finishers to win the team title.
Gabby Pistner, a sophomore, was first with a time of 19:55.8. Freshman Christine Frontz was second and sophomore Raechel Braun third.