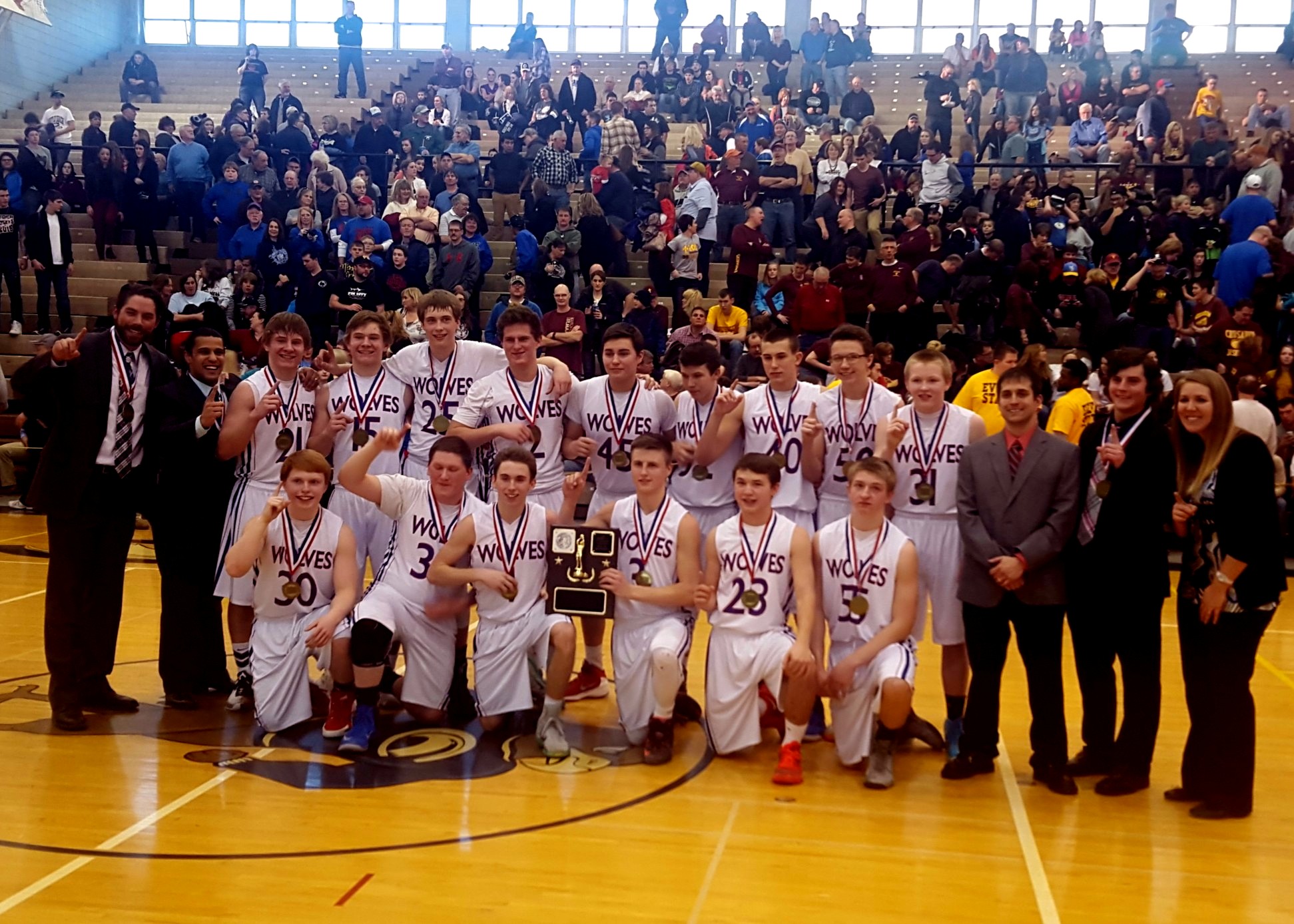 Between June 27 and July 22 we will be counting down the Top 20 Sports Stories in District 9 from the 2015-16 School Year starting with No. 20 June 27 and finishing with No. 1 July 22.
No. 16 Kane Boys' Basketball Goes from a 3-win Season to District 9 AA Champs 
Going into the 2016 season, no one was paying any attention to the Kane boys' basketball programs.
And for good reason. The excuses were plentiful.
The Wolves were coming off a 3-19 season. They were averaging four wins a year over the past five season. Kane is a football and track school where basketball is a way to stay in shape in between those two seasons.  The football team had just experienced a long run in the postseason and basketball got a late start.
But excuses weren't part of what Matt Gasbarre's team was all about in 2016.
The first hint that this year might be different was when Elk County Catholic only beat the Wolves by eight, 66-58, in Kane's season opener.
Kane shrugged off that loss and sat at 6-2 after a win over Johnsonburg Jan. 4.
But then the Wolves dropped eight of their next 10 games and things looked like the same-old-same-old in Kane, Pa.
Starting with a Feb. 3 win over Smethport, though, Kane didn't lose for over a month rolling off six straight wins.
Win No. 5 in that span was a District 9 Class AA semifinal victory over Keystone, 52-32, that saw 6-foot-6 junior Andrew Bucheit, who was the All American Awards & Engraving D9Sports.com Player of the Year in District 9, score 27 points and grab 13 rebounds.
The victory set up a showdown with AML rival Brockway, who the Wolves had split with in the regular season with both games decided by a total of seven points.
The title game was a slugfest with Brockway leading 16-14 at halftime before Kane overcame Bucheit being in foul trouble to take a 28-22 lead at the end of the third quarter thanks to five points from Davis Gardner. The lead grew to 30-22, early in the fourth before Brockway made a run that saw the Rovers get back within three on a Jake Winberg triple with just under four minutes to play. But Brockway never got closer than three down the stretch.
Even with the foul trouble, Bucheit led the way with 16 points.
Kane lost in the opening round of the PIAA Playoffs, to Penns Valley, but had a year to remember going from three wins in 2015 to 14 in 2016.
Top 20 Sports Stories in District 9 for the 2015-16 School Year
No. 20 – Punxsutawney wins 13th straight District 9 Class AAA Baseball Title
No. 19 – Clarion's Run to the PIAA Softball Playoffs
No. 18 – Elk County Catholic Boys' Basketball Back on Top
No. 17 – Keystone Girls' Basketball Wins Improbable District 9 Title
No. 16 – Kane Basketball Goes from 3 Wins to D9 Champs
No. 15 – Released July 4
No. 14 – Released July 5
No. 13 – Released July 6
No. 12 – Released July 7
No. 11 – Released July 8
No. 10 – Released July 11
No. 9 – Released July 12
No. 8 – Released July 13
No. 7 – Released July 14
No. 6 – Released July 15
No. 5 – Released July 18
No. 4 – Released July 19
No. 3 – Released July 20
No. 2 – Released July 21
No. 1 – Released July 22